The 2018 NFL league year is upon us and with that, the hustle and bustle that was the legal tampering period is over and teams can make their reported free agency signings official. With the dust settling from a few hectic days of reports, we at Pro Football Focus take an in depth look at some of free agency's biggest deals in our exclusive 2018 Free Agency Deal Grader.
Taken into our deal grades here are many contributing factors, including but not limited to scheme fit for the player signed, contract value and salary cap hit, PFF's overall grades for both player and team, and several other facets.
For more in depth insight all the league's free agents, check out the 2018 PFF Free Agent Guide, a part of your PFF Edge or Elite subscription.
Sammy Watkins signs with the Kansas City Chiefs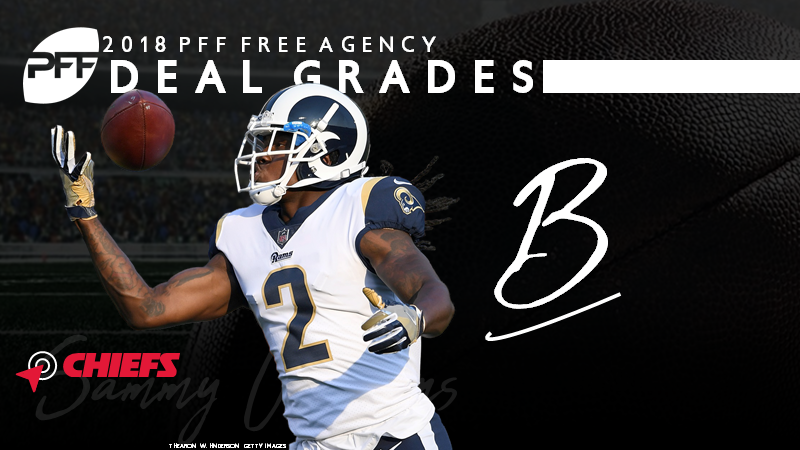 Grade: B
Contract details: 3-year, $48-million
What it means for Watkins:
After three years with mediocre quarterback play in Buffalo, WR Sammy Watkins was able to be a part of the ascension of Jared Goff and the Los Angeles Rams in 2017. When Goff targeted Watkins, his passer rating was a whopping 122.0, fifth in the league among wide receivers. That said, passer rating on targets is just one place to look, and is pretty dependent on variable things like touchdowns and interceptions. On a per-route run basis, Watkins was just 68th of 93 in efficiency, after being 22nd and fifth in 2016 and 2015, respectively.
Watkins enters a plum situation offensively in Kansas City. By all accounts, second-year signal-caller Patrick Mahomes has all of the tools to take advantage of Watkins ability downfield, where he ranked second in receiving yards generated on deep passes in 2015. With Alex Smith at quarterback, the Chiefs demonstrated the willingness to be aggressive in the passing game in 2017, giving Travis Kelce and Tyreek Hill the opportunity to lead their respective position in deep receiving yards. The only likely impediment in Kansas City will be similar to the one in LA: too many mouths to feed. Thus, his likely value will be seen in his PFF grades and how well the offense does as a whole, as opposed to his own volume statistics.
What it means for Kansas City:
After jettisoning longtime defensive stalwarts in Derrick Johnson, Tamba Hali and Ron Parker, and trading superstar cornerback Marcus Peters, there were questions as to whether the Chiefs were going to properly approach the rookie-deal window of Patrick Mahomes. With the signing of Watkins it's clear that, while their defense is likely to be an issue going into 2018, they are planning on having a high-caliber offense in Kansas City moving forward.
With Watkins and Hill on the outside, Kelce at tight end, and Kareem Hunt and Spencer Ware in the backfield, the only question mark for the Chiefs with respect to their skill positions in slot receiver, where Albert Wilson left to join Miami in free agency. Chris Conley and Demarcus Robinson have experience as starters in this offense, but their successes have been rare and their experiences in the slot minimal.  Look for the Chiefs to try to address the position in the draft, where players like Deontay Burnett (USC), Keke Coutee (Texas Tech), Christian Kirk (Texas A & M), Anthony Miller (Memphis), Dante Pettis (Washington), Tre'Quan Smith (UCF) are all slot options should the Chiefs stray from the public suggestion of drafting all defensive players.
Bottom Line:
With Watkins, Hill, Kelce and Hunt, the Chiefs are giving last year's 10th-overall pick in Mahomes the best opportunity to succeed in the NFL. Watkins' price was always going to be steep, given his age (24) and ability to stretch the defense. Given the Chiefs don't have to pay their quarterback market prices for the next few years, said price is certainly palatable. However, the question that remains is whether what might amount to somewhere between surplus and overkill at the skill positions in Kansas City will come at the expense of a playoff-threshold level of talent on the defensive side of the ball.