The 2018 NFL league year is upon us and with that, the hustle and bustle that was the legal tampering period is over and teams can make their reported free agency signings official. With the dust settling from a few hectic days of reports, we at Pro Football Focus take an in depth look at some of free agency's biggest deals in our exclusive 2018 Free Agency Deal Grader.
Taken into our deal grades here are many contributing factors, including but not limited to scheme fit for the player signed, contract value and salary cap hit, PFF's overall grades for both player and team, and several other facets.
For more in depth insight all the league's free agents, check out the 2018 PFF Free Agent Guide, a part of your PFF Edge or Elite subscription.
Malcolm Butler signs with the Tennessee Titans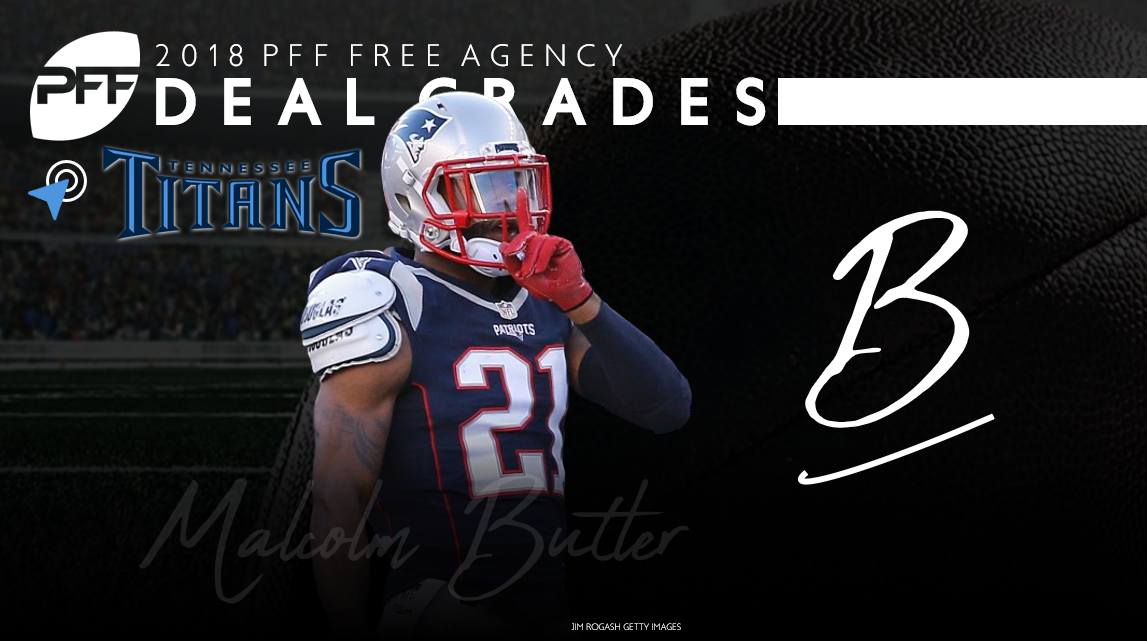 Grade: B
Contract details: 5-year, $61 Million
What it means for Butler:
Pushed out of the door and into free agency by his shock benching prior to Super Bowl LII, ex-Patriots cornerback Malcolm Butler will now get a chance at a fresh start as he joins forces with the Tennessee Titans' talented secondary.
Prior to the 2017 season, Butler was well on the way to establishing himself as one of the best cornerbacks in the game. He was coming off a strong 2016 campaign that culminated in a second Super Bowl ring and a PFF overall grade of 88.1, the eighth-best mark among cornerbacks. That year, he allowed a passer rating of just 78.2 on throws into his primary coverage (the 26th-best mark among cornerbacks) while he racked up a whopping 16 combined pass-breakups and interceptions, which was tied for the third-most among players at the position.
Unfortunately for Butler, he then endured an unsteady offseason of trade rumours and fruitless contract negotiations and when he returned to the field for the 2017 campaign he was far from the same player. All told, he allowed a career-high passer rating of 103.3 on throws into his coverage while he managed to notch just 12 combined pass break ups and interceptions, a significant drop off from the impressive marks he'd set in his previous seasons as starter. His 2017 season ended with a PFF overall grade of 79.2, 51st out of 121 qualifying players at the position.
With his future now set in a new uniform, Butler now has the chance to move on from a sour ending in New England and step right into a formidable starting secondary in the hope that he can continue his path to "shutdown corner" status.
What it means for Tennessee:
After the head-scratching decision to bench Butler for the Super Bowl, many assumed that Butler would be destined for a one-year prove-it type deal. However, in signing Butler to a five-year deal that includes $30 million guaranteed, the Titans are betting on Butler to return to the form that he's shown in seasons past.
At his best, Butler is a tough, tenacious cornerback who has an uncanny knack of finding and making a play on the football. He's more than able to step into the starting spot on the perimeter opposite second-year cornerback Adoree' Jackson and together the duo has the potential to form one of the best playmaking tandems in the NFL. Jackson is just coming off an impressive rookie season in which he recorded an impressive 15 pass breakups, tied for the second-most among cornerbacks last year, while Butler has ended all three of his regular seasons since 2015 with at least 10 pass breakups and at least two interceptions, making him one of just three cornerbacks to ever achieve that feat in three consecutive campaigns. The secondary also features ball-hawking safety Kevin Byard, who led the league in interceptions last year.
The Bottom Line:
In today's NFL, you can never have enough depth at the cornerback position and the addition of Butler solidifies a key position for the Titans already promising secondary that also includes ball-hawking safety Kevin Byard, who led the league in interceptions last year. So, if Butler does indeed manage to return to 2016 form, the Tennessee Titans just made a significant step towards building their very own "no fly zone" in the AFC South.