The 2018 NFL league year is upon us and with that, the hustle and bustle that was the legal tampering period is over and teams can make their reported free agency signings official. With the dust settling from a few hectic days of reports, we at Pro Football Focus take an in depth look at some of free agency's biggest deals in our exclusive 2018 Free Agency Deal Grader.
Taken into our deal grades here are many contributing factors, including but not limited to scheme fit for the player signed, contract value and salary cap hit, PFF's overall grades for both player and team, and several other facets.
For more in depth insight all the league's free agents, check out the 2018 PFF Free Agent Guide, a part of your PFF Edge or Elite subscription.
Jimmy Graham signs with the Green Bay Packers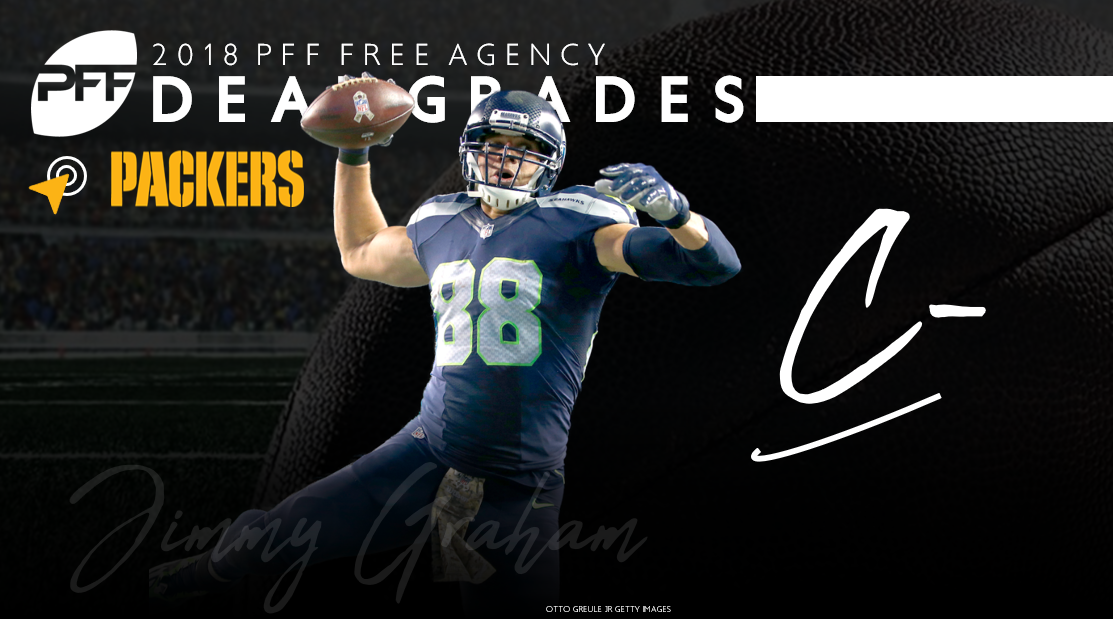 Grade: C-
Contract details: 3-year, $30 million
What it means for Graham:
Signing with the Green Bay Packers gives TE Jimmy Graham an opportunity to return to a role that he finds more comfortable, which is as a perimeter passing weapon who spends a large amount of snaps out wide or in the slot rather than as a true in-line tight end. All three seasons Graham spent with the Seahawks were spent with more time lined up as a true tight end than he had during his last year with the Saints in 2014. Graham's final year as a Saint also saw him lined up at wide receiver on 197 snaps while Seattle didn't line him up at wide receiver for 100 snaps in a season until his third and final season with the team. Additionally, Graham lined up in the slot on 304 snaps his final year in New Orleans but didn't line up in the slot for 200 snaps until 2017. The pairing of Graham with Aaron Rodgers and head coach Mike McCarthy will see Graham in a role in which he enjoys and thrives.
What it means for Green Bay:
Graham is 31 years old now, so he isn't the dominant presence he once was and is on the heels of his worst season as a pro. He can still be a highly effective mismatch player in the pass game however, and Graham has always been at his best when he can be moved around to take advantage of mismatches in coverage. In 2014, Graham caught 44 passes when he was lined up in the slot, which ranked No. 2 among all tight ends. That same season, his four touchdowns from the slot tied him for first among tight ends. Graham is likely not as fast as he once but he can still be a viable mismatch weapon from the slot for the Packers' offense. Additionally, Graham still has the freaky size and very large catching radius to be a red zone weapon in Green Bay.
Bottom Line:
Aaron Rodgers is likely giddy with anticipation to have a pass-catching weapon with the track record of Jimmy Graham on his team. Rodgers' pinpoint accuracy can also take advantage of Graham's size and catch radius, especially in the end zone, however, he is on the heels of a decline and not getting any younger. The Packers have given him a substantial amount of money on a team that had to shed the cap hit of longtime WR Jordy Nelson to make moves this offseason.