The 2018 NFL league year is upon us and with that, the hustle and bustle that was the legal tampering period is over and teams can make their reported free agency signings official. With the dust settling from a few hectic days of reports, we at Pro Football Focus take an in depth look at some of free agency's biggest deals in our exclusive 2018 Free Agency Deal Grader.
Taken into our deal grades here are many contributing factors, including but not limited to scheme fit for the player signed, contract value and salary cap hit, PFF's overall grades for both player and team, and several other facets.
For more in depth insight all the league's free agents, check out the 2018 PFF Free Agent Guide, a part of your PFF Edge or Elite subscription.
Allen Robinson signs with the Chicago Bears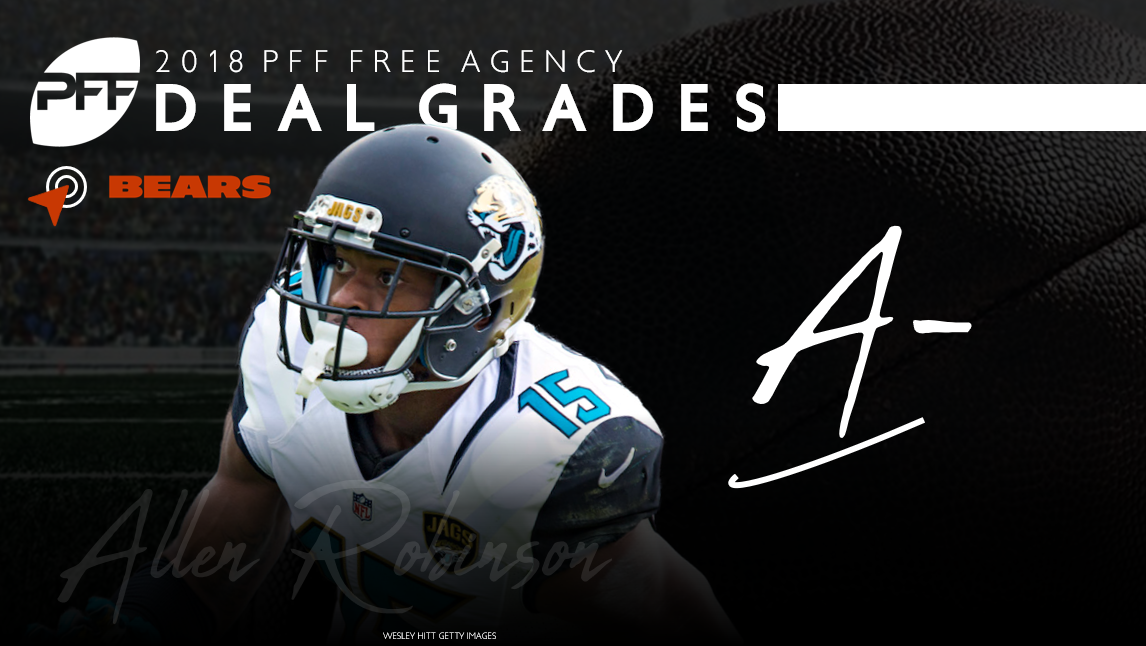 Grade: A-
Contract details: 3-year, $42-million
What it means for Robinson:
Allen Robinson is two and a half years removed from his best season at this point, but just landed himself a deal with the Chicago Bears that gives him the same annual value of players like Dez Bryant and Demaryius Thomas. He received that money based on the market and his potential. At his best in 2015, Robinson ranked 13th among wide receivers in yards per route run (2.17), 24th among receivers in passer rating when targeted (105.4) and first in the NFL in deep receiving yards (672). Robinson is gambling that young quarterback Mitchell Trubisky will improve on his rookie season and be the best signal-caller he's played with to date.
What it means for Chicago:
Chicago is taking a risk on Robinson, who took a step back in production in 2016 before tearing his ACL just three snaps into the 2017 season. However, it's dually important for them to get a big-time wide receiver, both to provide some cause for the defense to respect the passing game and to give Trubisky a potent weapon to work with on the outside. Giving a quarterback that you traded up for in the draft a mix of good weapons to work with is a key in helping him progress, and this deal seems to do that quite well.
Bottom Line:
This seems to be a classic high-ceiling, low-floor deal for both sides. The risk is less prevalent for Robinson, who locked up $25 million in guarantees and now gets to play with a promising, if mostly unproven, young quarterback. If his 2016 struggles turn out to be Robinson's level of play going forward, he's not going to live up to the deal. But if he's as good as he was in 2015, it's pretty much a home run for Chicago and for Trubisky.