The 2018 NFL league year is upon us and with that, the hustle and bustle that was the legal tampering period is over and teams can make their reported free agency signings official. With the dust settling from a few hectic days of reports, we at Pro Football Focus take an in depth look at some of free agency's biggest deals in our exclusive 2018 Free Agency Deal Grader.
Taken into our deal grades here are many contributing factors, including but not limited to scheme fit for the player signed, contract value and salary cap hit, PFF's overall grades for both player and team, and several other facets.
For more in depth insight all the league's free agents, check out the 2018 PFF Free Agent Guide, a part of your PFF Edge or Elite subscription.
Sam Bradford signs with the Arizona Cardinals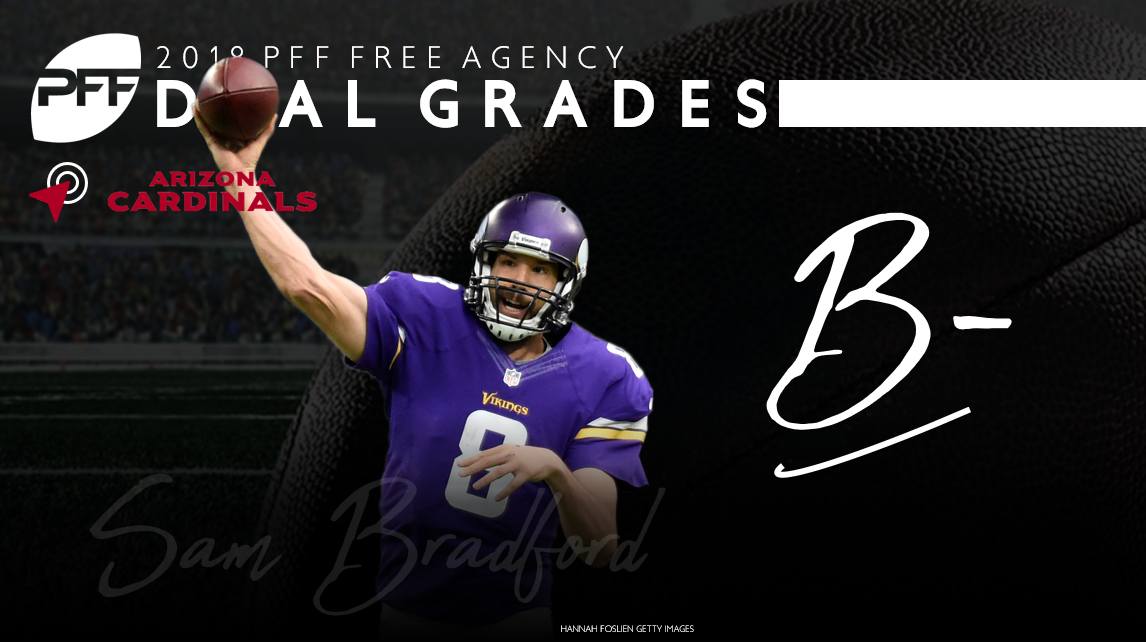 Grade: B-
Contract details: 1-year, $20-million, with a 1-year option at $20-million
What it means for Bradford:
Considering Sam Bradford's injury history, getting $15 million guaranteed and $20 million per season overall from the Arizona Cardinals really isn't a bad deal. It comes with the potential to parlay it into another sizable deal down the line too, with Bradford still going to be just 32-years old the next time he hits free agency. Ultimately that will come down to his performance and whether or not he can stay healthy.
What it means for Arizona:
The Cardinals needed a new starting quarterback after Carson Palmer's retirement, and in Bradford they are getting a low-risk, high-upside option. If Bradford can stay healthy, he has shown himself to be a more than adequate starting quarterback, producing an NFL passer rating of 87.7 on plays under pressure in his last full season in 2016. More importantly, this move doesn't tie the Cardinals to Bradford long term, so they can still look for a franchise quarterback in the draft (either this year or next), and can move on quickly if he doesn't stay healthy.
Bottom Line:
The Cardinals pick at No. 15 overall in the draft, and signing Bradford shouldn't prevent them from drafting a quarterback should the right player fall to them. What this move does, though, is give them some flexibility in when they draft a quarterback, and means they don't have to trade up or reach for the wrong player when they have a player who has produced PFF grades of 86.2 and 83.4 in 2015 and 2016, the last two seasons where he saw significant snaps.