INDIANAPOLIS — The majority of people who actually attend the NFL Scouting Combine — coaches, general managers, executives, scouts, agents, media, etc. — and like that it takes place in Indianapolis can exhale for now. It seems most likely that the combine will be staying in Indianapolis for at least one more year in 2023.
Click here for more PFF tools:
Draft Guide & Big Board | Mock Draft Simulator
Dynasty Rankings & Projections | Free Agent Rankings | 2022 QB Annual
Player Grades
---
That's what a coach told PFF on Saturday morning, though nothing is official at this point. NFL Media's Ian Rapoport reported something similar on Sunday afternoon, in what's become something of a rallying cry among those who were in attendance last week.
This was a great week. Love Indy. Love the Combine. Decent chance it's back next year, with a decision coming soon. https://t.co/YV5fg54dTR

— Ian Rapoport (@RapSheet) March 6, 2022
Outside of occasional frigid winter temperatures (which are minimized by the city's skywalks anyway), Indianapolis is a perfect place for the combine. Marriott hotels, the Indiana Convention Center and an abundance of steakhouses are connected via skyways. And Lucas Oil Stadium is a proverbial 40-yard dash and really impressive broad jump from the convention center, which houses the media center and meeting space. The city also has access to a plethora of MRI machines, which are necessary for all of the medical testing that players go through during the week.
Dallas and Los Angeles — the other potential host cities for the combine — don't have those same conveniences, although they do have better weather. The NFL would move the combine from Indianapolis to blow it out and make more money. I'm not personally making that money, so I wish it would stay in Indy and go back to holding drills in the afternoon. I'm fine with changes if the NFL wants to put some of that money in my pocket, however. (Just kidding.)
People who work in and around the NFL are certainly creatures of habit, and the combine would probably go on in some form if it moved to those other locales. But we'd almost certainly see more head coaches skipping the event, and it wouldn't force everyone into the same four-block radius for an entire week, thus making the combine less productive for everyone involved.
The current structure of the combine has everyone busy enough to be working 16-hour days (minimum) while also offering just enough time for stop and chats throughout the convention center and outside of the Starbucks on the second floor of the JW Marriott downtown. Throw car rides to a stadium into the mix, and most congregating would go out the window. And good luck finding restaurants/bars that cater perfectly to late-night drunken hangouts in a bigger city without paparazzi following famous coaches around at 3 a.m. (At one bar, if you stay late enough, they hand out Uncrustables, and helpful sources hand out their cell phone numbers.) It was a bummer that the Steak and Shake closed at midnight this year. It's usually 24 hours. And that Starbucks in the JW needs to stay open later than 2 p.m., if we're nitpicking.
Related content for you:
2022 NFL Scouting Combine: Risers and fallers following quarterback, wide receiver and tight end drills via Mike Renner 
No one, at the time anyway, admits to loving the combine. But everyone secretly enjoys the fun of seeing your NFL friends and the competition of being more productive than your colleagues. Personally, I think the combine is fun, but you couldn't pay me enough to attend another one for exactly 11 months and three weeks.
So, here's to keeping the combine in Indy. The airport is small and close to the city, the steakhouses are plentiful, and the High Velocity bar at the JW Marriott is well-lit enough that you can see which agents and NFL employees you might strike up a conversation with.
The combine officially wrapped up on Sunday night. Here's everything we're hearing now that it's over:
• It's interesting that a cornerback has never gone first overall in the NFL Draft given the importance of the position. It's the fifth-highest-paid position in the NFL behind quarterback, defensive end, wide receiver and linebacker, according to franchise tag figures, which are based on the top five salaries at each respective position. It's also the fifth-highest-paid position according to transition tag figures, which are based on the top-10 salaries at each respective position.
Since 1996, only quarterbacks, defensive ends and offensive tackles have been taken first overall. Wide receiver Keyshawn Johnson was the last outlier in 1996, when things around the league were quite different. Defensive tackle Dan Wilkinson was the first overall pick in 1994, and running back Ki-Jana Carter was the first pick in 1995. Since then, it's been all QBs, pass rushers and blockers.
Of the 22 most valuable non-QBs last season, based on PFF WAR, eight were cornerbacks. When the need is there, and the right player is available, a quarterback should be taken first overall. But in years like this when the Jacksonville Jaguars are picking first overall after taking Trevor Lawrence No. 1 in 2021, then a cornerback should at least be considered.
It won't happen, but Cincinnati cornerback Sauce Gardner has a case this spring. The Jaguars' choice will come down to Alabama offensive tackle Evan Neal, Texas A&M offensive tackle Ikem Ekwonu or Michigan edge defender Aidan Hutchinson depending on what the team does in free agency. Then the Lions will likely take the top remaining pass rusher or a quarterback (Malik Willis is one to watch).
Gardner could be taken anywhere from third overall to the Houston Texans down to eighth overall to the Atlanta Falcons. The New York Jets, New York Giants and Carolina Panthers pick in between. And the Giants pick twice. The Panthers will likely take an offensive lineman, so chances are Gardner will land with the Texans, Jets, Giants or Falcons.
He had a remarkable career at Cincinnati, finishing it with an 87.1 overall grade.
Some fun facts about Gardner:
He didn't give up a touchdown in 33 career games.

He had nine interceptions and another 17 pass breakups.

He finished his college career with a 31.8 passer rating against.

As a junior in 2021, he never allowed more than 18 yards in a single game.

He allowed three catches on four targets for 17 yards in the college playoff against Alabama.
Gardner also has elite size at 6-foot-3, 190 pounds with 33 ½-inch arms and ran a 4.41-second 40-yard dash at the combine.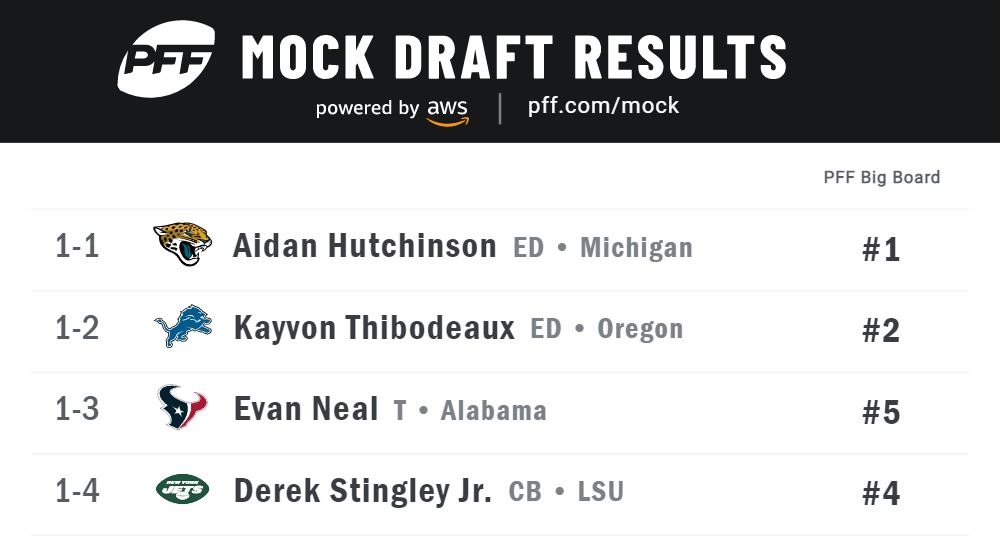 • If Cowboys wide receiver Amari Cooper indeed is released, which has been the expectation in Dallas for awhile now, then that could throw a wrench in the wide receiver market.
As it stands, before Cooper gets cut or traded, it would not be surprising to see Rams wide receiver Odell Beckham Jr., Chargers wide receiver Mike Williams, Buccaneers wide receiver Chris Godwin and Cowboys wide receiver Michael Gallup all stay put rather than hitting free agency. Allen Robinson, who was in town for the combine, will likely leave the Chicago Bears despite the new regime. Packers wide receiver Marquez Valdes-Scantling and Jaguars wide receiver D.J. Chark are likely gone and will make some cheddar on the open market. What happens with Davante Adams largely depends on the decision Aaron Rodgers makes about whether he'll return to the Green Bay Packers, retire (unlikely) or demand a trade. Rodgers should make his decision soon, though we've all been thinking that for two weeks now.
But Cooper coming available is interesting. I don't think he'll lose much money in this scenario. He was due a $20 million salary in 2022, and $4 million of that was guaranteed. At least one person I spoke to last week still considered him a $20 million wide receiver. Plenty of teams out there could use a wide receiver like Cooper, including two in the Cowboys' division in the Philadelphia Eagles and Washington Commanders.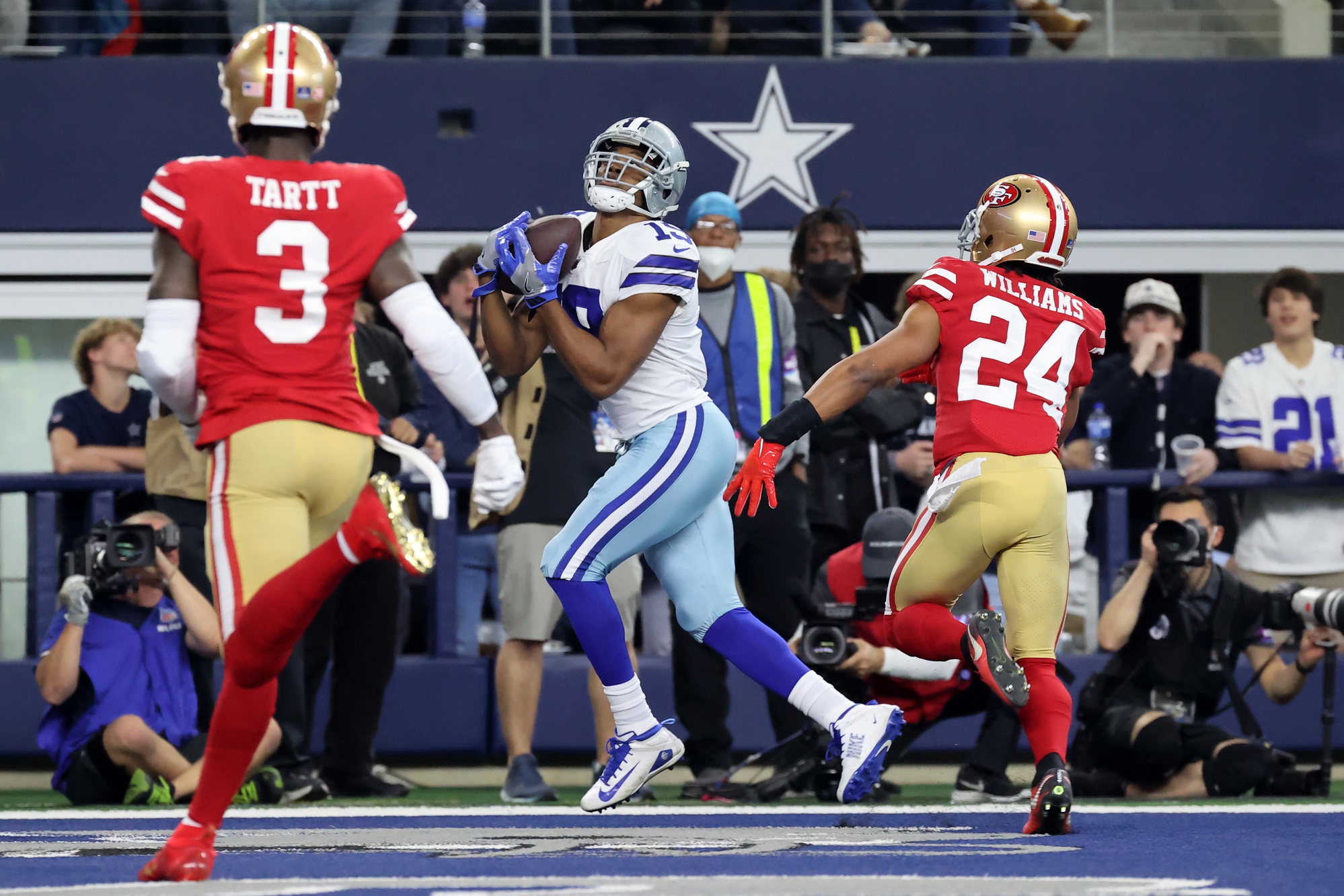 If Cooper does indeed get released, then it's possible that Dallas could keep Gallup, tight end Dalton Schultz and pass-rusher Randy Gregory. It also opens up the possibility that Schultz or Gregory could be franchise tagged.
• Nothing is going to happen with quarterback Deshaun Watson until his legal situation — 22 civil cases with allegations of sexual assault and misconduct — is settled. The Philadelphia Eagles have a lot to offer with three first-round picks in 2022 plus quarterback Jalen Hurts, but there's doubt that Watson would waive his no trade clause to land there. The Washington Commanders are perhaps the most interesting spot — adding Watson would be a blip on Washington's growing PR issues. Commanders head coach Ron Rivera acknowledged the need for a franchise quarterback, and Watson fits the bill on the field.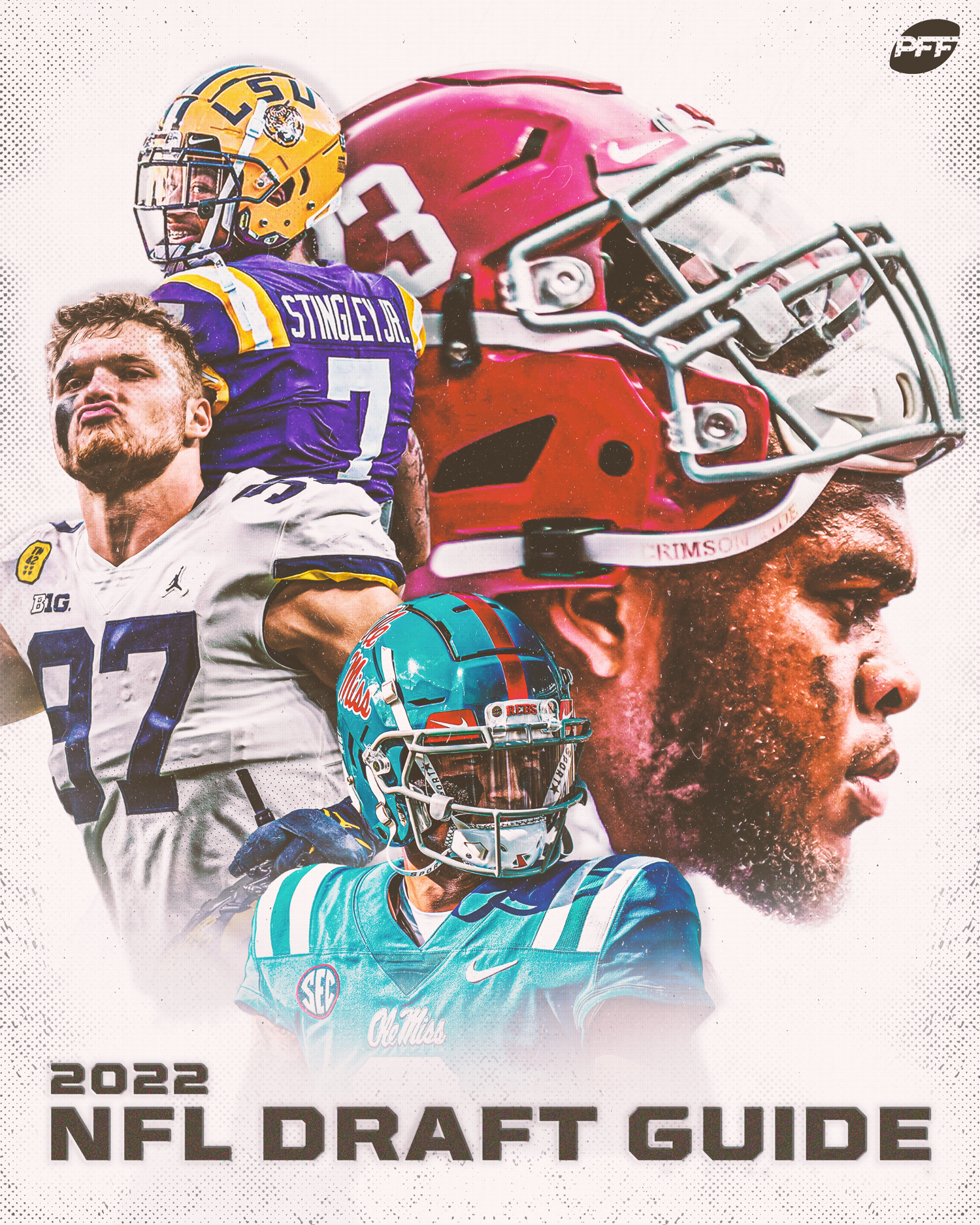 • Russell Wilson has a no-trade clause. He can flat-out say he's not leaving and won't be traded. And Seattle Seahawks head coach Pete Carroll has to agree to a trade. He can say he's not trading Wilson. The wording is still a bit flimsy.
• It will be interesting to see what the Denver Broncos do if they can't get Rodgers or Wilson. Maybe they just draft a quarterback and bring back Teddy Bridgewater for another year. Bridgewater is well-liked by teammates wherever he plays.
• Expect Mitchell Trubisky to get paid like a starter this offseason. Washington is potentially a team to watch if they can't get one of the big dogs.
---
2022 NFL Draft position rankings:
Top 10 players at every position
QB | RB | WR | TE | iOL | OT | DI | EDGE | LB | CB | S
---
• No one else in the league other than Bill Belichick could get away with having de facto offensive and defensive coordinators, but that's the way things seem to be headed with the New England Patriots this season. One former Patriots employee made a decent point late last week. The Patriots haven't officially had a defensive coordinator since Matt Patricia left after the 2017 season. Things haven't been all bad. They've won a Super Bowl and made the playoffs another two times since then. I'd say about 28 teams around the league would take that over their own past four seasons. It's still fascinating that now they'll likely be doing the same thing on offense as Belichick, Joe Judge, Matt Patricia and tight ends coach Nick Caley take on bigger roles.
• Montana State linebacker Troy Andersen absolutely annihilated the combine, running a 4.42-second 40-yard dash with a 36-inch vertical leap and 10-feet, 8-inch broad jump at 6-foot-4, 243 pounds.
A linebackers coach I spoke to on Friday night even before Andersen ran absolutely raved about the Montana State product and saw him as a Day 2 pick. And that was before he tested like a wide receiver.
•  He's an incredible story: Ferris State QB Jared Bernhardt, who won the Tewaaraton Award at Maryland in 2021 as the nation's best lacrosse player, could wind up being drafted as a wide receiver/returner in this year's draft. He was electric as he led Ferris State to a Division II national championship in his only year of college football.
• Shoutout to Agency 1 AMG for having two of the three fastest players at the combine: cornerback Kalon Barnes (4.23-second 40-yard dash) and wide receiver Tyquan Thornton (4.28-second 40-yard dash).
Prepare for the offseason with PFF:
♦ 2022 Free Agency Rankings
♦ 2022 NFL Draft Guide
♦ 2022 NFL Draft Big Board
♦ 2022 NFL Mock Draft Simulator
♦ 2022 NFL QB Annual
♦ NFL & NCAA Player Grades