While this article is titled "Risers and Fallers," it's actually more like exceeded expectations vs. fell short of expectations because disappointing at the 2022 NFL scouting combine doesn't necessarily drop a prospects stock wholesale, but it does make evaluators go back and check the tape to see if it matches up.  
---
Click here for more PFF tools:
Draft Guide & Big Board | Mock Draft Simulator
Dynasty Rankings & Projections | Free Agent Rankings | 2022 QB Annual
Player Grades
---
Quarterback 
Riser
40-yard dash: 4.52 seconds
Vertical jump: 36 inches
Broad jump: 10-foot-7
Ridder was easily the best athlete at the quarterback position in Indianapolis (Liberty's Malik Willis opted out of athletic testing). He posted some seriously athletic numbers that would make a wide receiver proud. He wasn't featured as a runner as much as some others in the class but proved he can be a weapon in that regard at the next level.
---
Faller
Hand size: 8.5 inches
40-yard dash: 4.73 seconds
Vertical: 33.5 inches
Broad jump: 10-foot-1
I'm only calling Pickett a "faller" for content purposes because everyone knew his hand size was going to be small heading into this. His hand size tied Michael Vick for the smallest among all quarterbacks who took an NFL snap. Considering that he fumbled 26 times in college, that's scary.
---
Wide Receiver
Risers
Christian Watson, North Dakota State
40-yard dash: 4.36 seconds
Vertical jump:  38.5 inches
Broad jump: 11-foot- 4
For a 6-foot-4, 208-pound receiver, Watson's combine was truly one of the best of all time. While he didn't do any change-of-direction drills, he was elite during the explosive drills. Between a scintillating Senior Bowl and an excellent combine, Watson has easily had one of the best pre-draft processes of any prospect.
---
40-yard dash: 4.32 seconds
Vertical jump: 39 inches
Broad jump: 11-foot-3
Short shuttle drill: 4.07 seconds
All those numbers come with the caveat that Austin checked in at only 5-foot-8, 170 pounds. That physical profile is eerily reminiscent of another Austin, though, as Tavon Austin went top-10 back in 2013.  Now, Calvin looks like he's solidified himself as a top-100 pick.
mik
---
40-yard dash: 4.43 seconds
Vertical jump: 39 inches
Broad jump: 11-foot-0
Three-cone drill: 6.71 seconds
Short shuttle drill: 4.15 seconds
Austin's draft stock has ascended more than most over the past year, as he recorded all of six career receptions prior to 2021 before breaking out for 48 catches and 888 yards last fall. After being listed at 215 pounds by Notre Dame, Austin came weighed in at a svelte 200 pounds and moved like a different receiver altogether. For my money, this was the most impressive combine performance so far because he not only crushed the explosive drills, but he also had the best showing in the change-of-direction drills as well.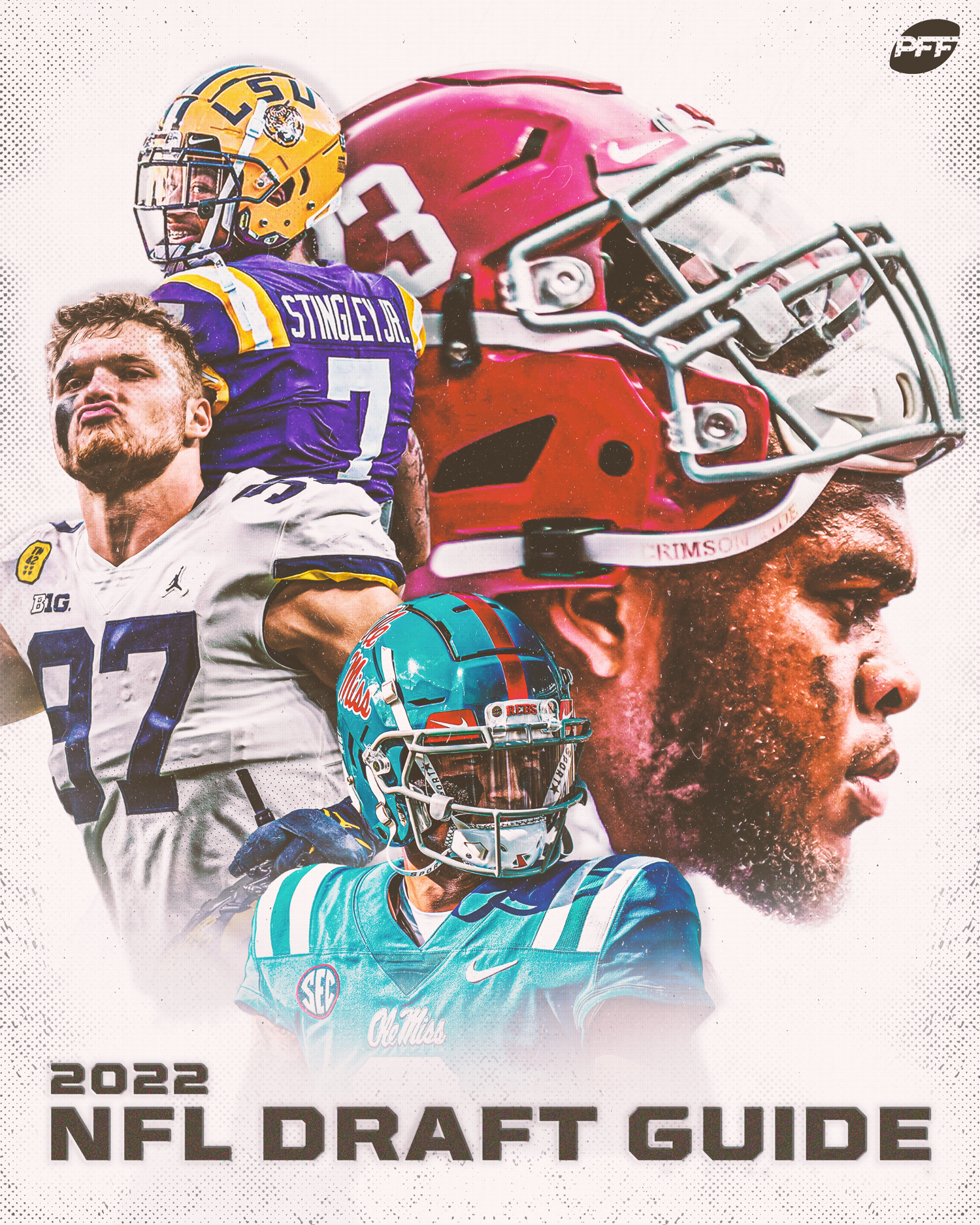 ---
Fallers
40-yard dash: 4.55 seconds
Vertical jump: 33 inches
Broad jump: 10-foot-2
Three-cone drill: 7.28 seconds
Risers and fallers are all about pre-combine expectations. Those numbers listed above aren't poor by any means for a 225-pound wide receiver, but they are disappointing given than Burks was billed as an athletic freak akin to D.K. Metcalf. Even his reported 4XL glove-wearing hands came in nearly an inch lower than expected at 9 7/8 inches.
---
40-yard dash: 4.65 seconds
Vertical jump: 33 inches
Broad jump: 9-foot-10
Three-cone drill: 7.14 seconds
Short shuttle drill: 4.57 seconds
Bell was never going to blow up the combine, but he had a rough performance. The three-cone was the only drill that scored above average by receiver standards. It's not a death knell, but there also aren't a lot of 1,000-yard receivers who have this kind of athletic testing around the league.
---
40-yard dash: 4.44 seconds
Vertical jump: 34.5 inches
Broad jump: 9-foot-10
Robinson's inclusion isn't really even about his athletic testing — even though the numbers above are fairly middling for a gadget player. Instead, this is about Robinson's frame, as his 27 5/8-inch arms will be the shortest among all drafted receiver from the last 30 years. A limited catch radius like that will it difficult to make plays outside his body and will definitely scare off some NFL teams.
---
2022 NFL Draft position rankings:
Top 10 players at every position
QB | RB | WR | TE | iOL | OT | DI | EDGE | LB | CB | S
---
Tight End
Risers
40-yard dash: 4.61 seconds
Bench press: 24 repetitions
While Woods knew what he was doing when he skipped the three-cone and short shuttle drills, his linear explosiveness was off the charts for a massive tight end (6-foot-7, 259 pounds with 34 1/8-inch arms). Considering that a lot of a tight end's route tree relies solely on speed to get open (seams, overs, flats, etc.), Woods looks tailor-made to be an offensive weapon. He's still a project on the whole, but he firmly stamped himself as the kind of elite athlete teams want to develop.
---
40-yard dash: 4.7 seconds
Bench press: 16 repetitions
Vertical jump: 34 inches
Broad jump: 10-foot-2
Three-cone drill: 7.05 seconds
Short shuttle drill: 4.37 seconds
Dulcich was one of the few in Indianapolis who went through a full slate of athletic testing and ticked every single box along the way. None of his numbers are elite, but they all are above average for the position, which matches the tape for the former walk-on wide receiver who's put on 40 pounds since coming to UCLA.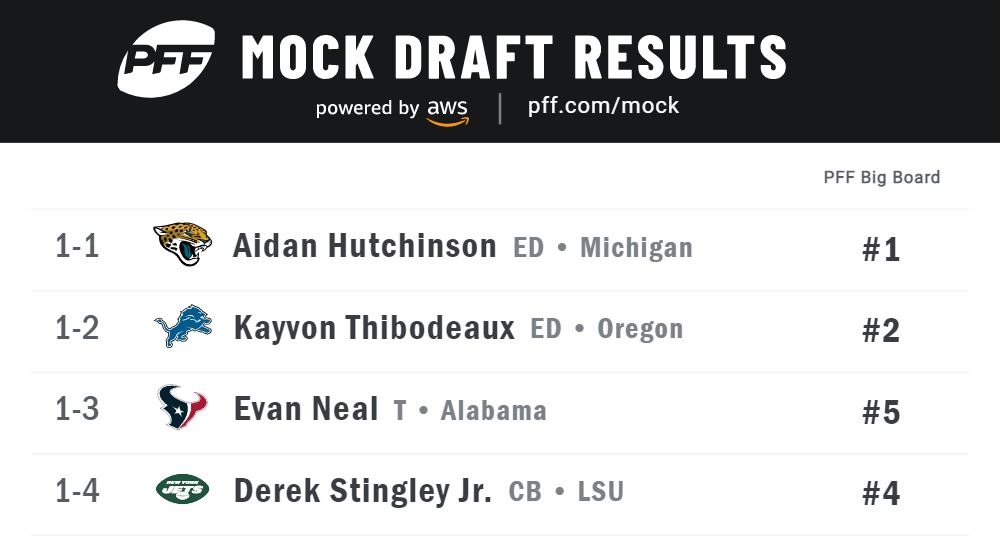 ---
Fallers
40-yard dash: 4.81 seconds
Bench press: 15 repetitions
Vertical jump: 31.5 inches
Broad jump: 9-foot-10
Three-cone drill: 7.03 seconds
Short shuttle drill: 4.48 seconds
Ferguson simply doesn't have the kind of juice that the tight ends who accumulate 800-plus yards per season around the NFL do. His athletic testing basically limits him to blocking tight end status in most offenses.