From a talent standpoint, the NFL is in a good place. Young and exciting players like Patrick Mahomes, Deshaun Watson and Lamar Jackson have emerged atop the quarterback position, while the 2019 rookie wide receiver class produced quite a few names that were worthy of this list. Meanwhile, a new breed of defender — the Jamal Adamses and Derwin Jameses of the world — wears multiple hats and does it all at a high level.
This list is meant to recognize the young players who figure to be the face of the game for years to come. And while much of what we do here at PFF heavily factors positional value, this list does not. It's merely meant to serve as a nod to the league's best young players across all positions, and it considers PFF grades, signature stats and team impact over the course of the players' respective NFL careers.
Here are the 25 best players — regardless of the position they play — who will be under 25 years old by Week 1 of the 2020 NFL season, using September 10 as the presumed cutoff date.
[Editor's note: Subscribe to PFF ELITE today to gain access to PFF's Premium Stats and new Player Grades experience in addition to the 2020 NFL Draft Guide, 2020 Fantasy Rookie Scouting Report, PFF Greenline, all of PFF's premium article content and more.]
Age at kickoff: 24 years, 11 months, 24 days
This was a no-brainer — there is no quarterback in the NFL teams would rather have moving forward than Mahomes. Not only does he produce the jaw-dropping, highlight-reel plays, but he is just about as good as anyone in the league at hitting the easy throws and limiting mistakes. Mahomes is among the five best quarterbacks in the NFL in negatively graded throw rate since 2018. And that is what has made him the most valuable player in the NFL over the last two seasons by nearly a full win above replacement. 
Age at kickoff: 24 years, 5 months, 22 days
Nelson was about as easy an NFL projection as you can get coming out of Notre Dame, and it's no surprise that he has wasted no time in cementing his spot as one of the best guards in the NFL. He raised his grade from 79.4 as a rookie to 91.2 this past season, and his 88.8 grade over the last two seasons combined is higher than any other interior offensive lineman in the league over that span. To be as dominant as Nelson has been at his age is a rarity in the NFL.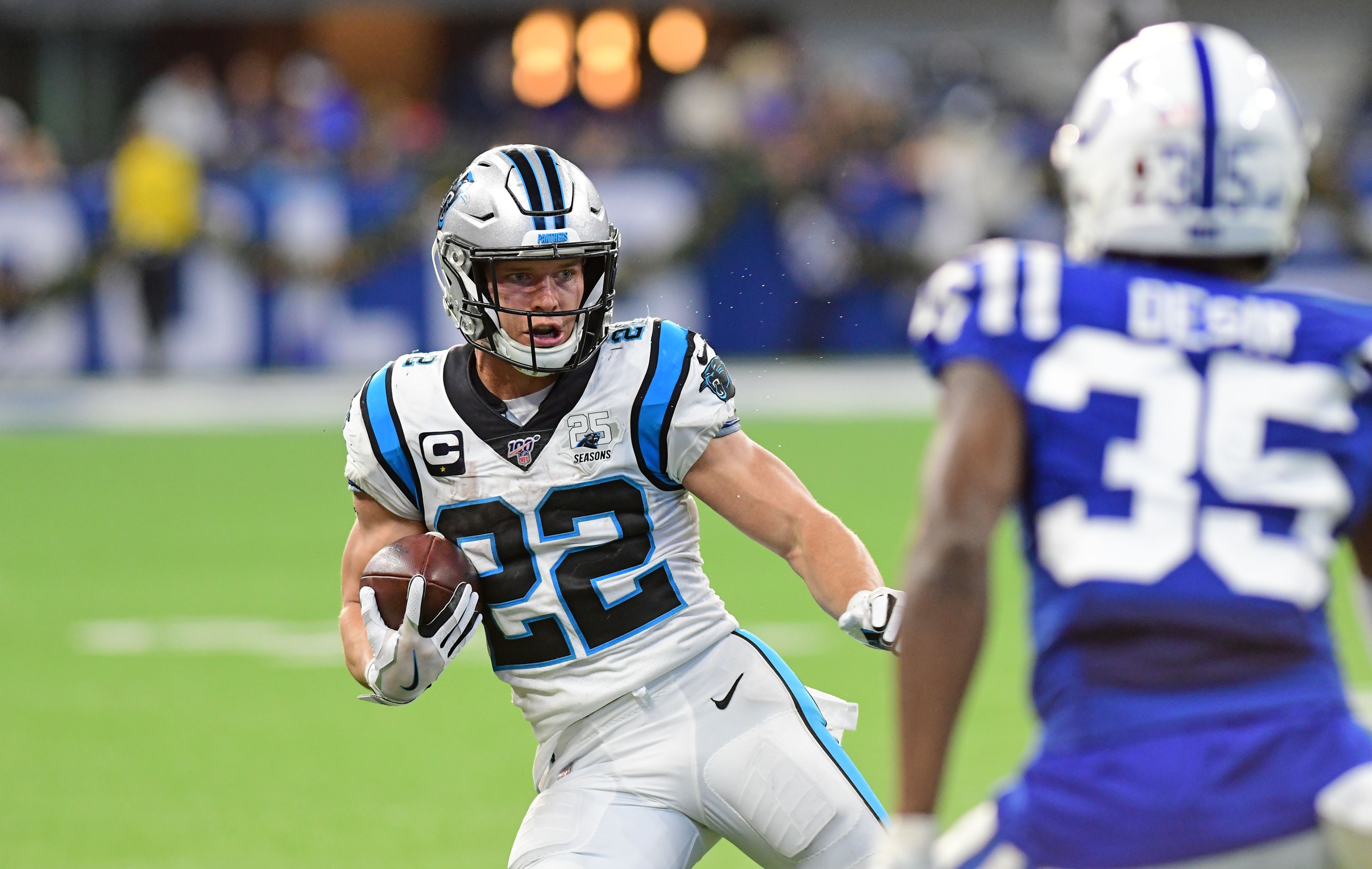 Age at kickoff: 24 years, 3 months, 3 days
McCaffrey is the ideal modern NFL running back. He has been the most valuable player at the position since stepping foot on an NFL field in 2017, and he has developed into one of the more dangerous threats in the league as both a runner and as a receiver out of the backfield. McCaffrey joins Alvin Kamara and Todd Gurley as the only three backs with 1,000 rushing yards between the tackles and 1,500 receiving yards over the last three seasons. He can do everything you would want a running back to do, and he'll continue to do so for the Panthers given that he's coming off a freshly-inked contract extension.
Age at kickoff: 24 years, 1 month, 7 days
We only really have one season to go off with James as he missed most of 2019 with injury, but he did exactly what we expected him to do in that 2018 rookie season coming out of Florida State. Like Jamal Adams, James is a versatile defender who can produce high-quality play in all phases of the game, as evidenced by his 80.0-plus grades in run defense, coverage and as a blitzer as a rookie. He did much of the same upon his return to the field in 2019 (82.5 overall grade), and it's hard to see him not playing at that same level next season.
Age at kickoff: 24 years, 10 months, 24 days
Adams does it all on the Jets' defense. In 2019 alone, he played 75 or more snaps at edge defender, in the box, in the slot and deep at free safety, and he did it all well. Adams has earned grades of 75.0 or higher as a run defender, tackler, pass-rusher and coverage defender in each of the past two seasons — at times even serving as the Jets' best edge rusher. There have been trade talks and speculation surrounding Adams as he awaits a contract extension, but he deserves to get paid. You don't want to make a habit of letting multi-faceted, elite defenders like him walk.
Age at kickoff: 24 years, 6 months, 14 days
Godwin was another easy choice here. You don't earn the highest overall grade in the NFL among wide receivers at 24 years old — as Godwin did in 2019 — and miss out on this list. After earning grades of 81.9 in 2017 and 80.4 in 2018, Godwin took his game one step further this past season, breaching the elite at the position. Interestingly, he did it at a high level in both the slot (63% of his routes in 2019) and out wide. He is at the forefront of the talented receiving options at Tom Brady's disposal in his first year with Tampa Bay.
Age at kickoff: 24 years, 11 months, 27 days
Watson isn't without his faults — namely his penchant for holding on to the ball too long and inviting pressure upon himself — but that shouldn't detract from the fact that he has been one of the league's best quarterbacks over the last two seasons, ranking seventh in PFF grade among qualifiers over that period. He's been particularly adept pushing the ball down the field, with top-five marks in passing grade and yards per attempt (14.6) on passes thrown 20 or more yards downfield over the last two years. With the speed Houston now has in its wide receiver room, that figures to be something they could feature heavily in 2020.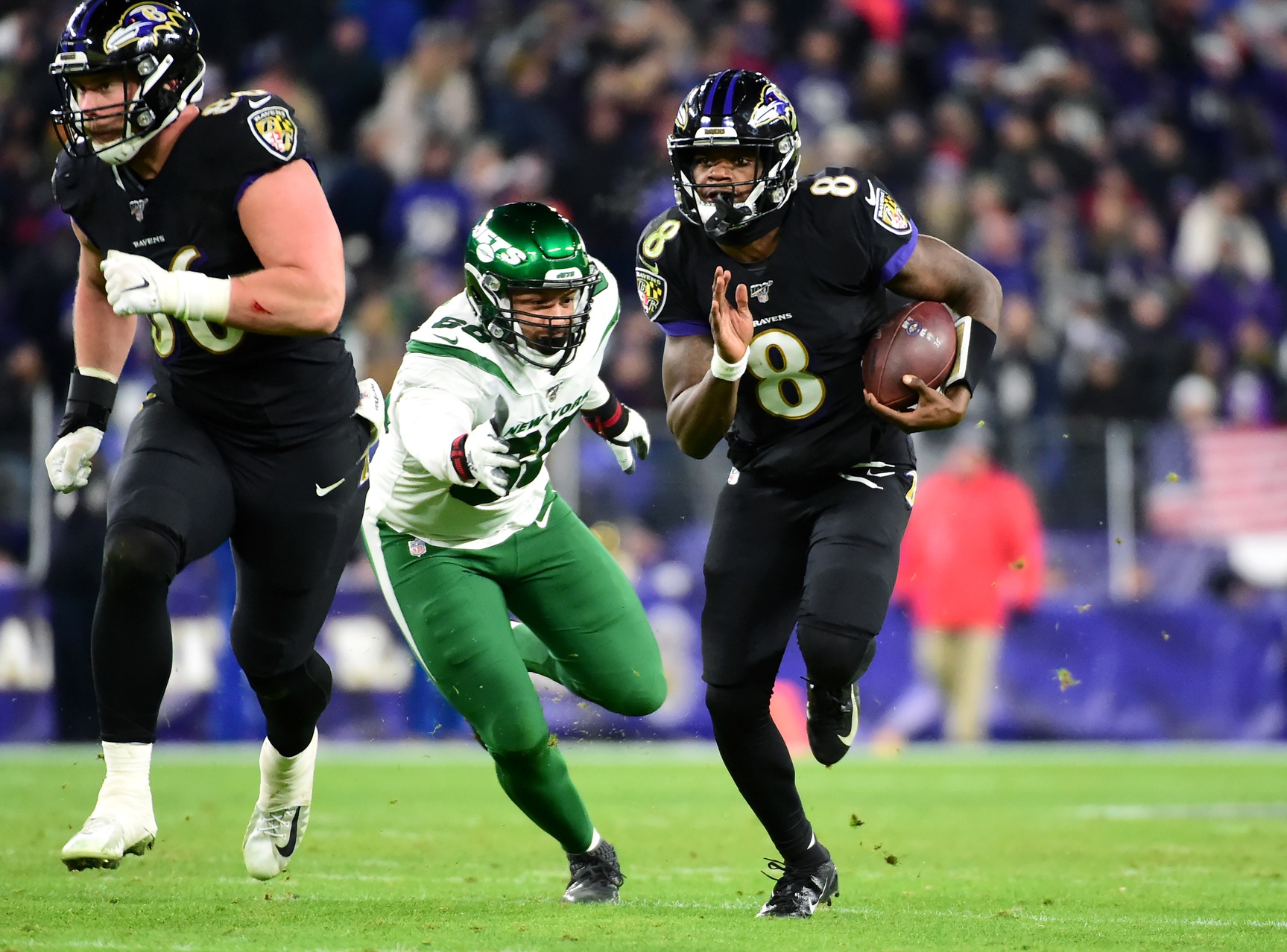 Age at kickoff: 23 years, 8 months, 3 days
This time last season, there were still a lot of questions about Jackson as a passer, but he answered some of those in 2019 with an 82.5 PFF passing grade that ranked sixth among qualifiers. Jackson still wasn't a beacon of accuracy, but when you bring the dynamic ability he does as a runner, that simply doesn't matter as much. As for those contributions on the ground, Jackson has no peers at the quarterback position. He forced 42 missed tackles as a runner in 2019, more than double that of the next closest quarterback (Josh Allen, 20).
Age at kickoff: 24 years, 8 months, 12 days
Garrett was on his way to a career year as a pass-rusher before his suspension last season. Through Week 11, his 91.6 pass-rushing grade ranked first among qualifying edge defenders, and his 25% pass-rush win rate trailed only Joey Bosa and J.J. Watt. Winning in the trenches at a young age is not easy to do. It's hard to understate how impressive three consecutive seasons of 80.0 overall grades out of the gate is for a player like Garrett. His return to the field will give the Browns a boost as they look to realize the lofty expectations that they had heading into the 2019 season.
Age at kickoff: 22 years, 10 months, 18 days
Bosa did things as a rookie that we haven't seen since the PFF era began in 2006. His 80 total pressures in 2019 were the most recorded by a rookie in the PFF era, easily beating out Aldon Smith's previous record of 64 in 2011. His 17.2% pressure rate trailed only his brother, Joey Bosa, and the aforementioned Smith among rookies with 250 or more pass-rushing snaps over that same time frame. His numbers weren't just impressive compared to rookies, either. Bosa's 89.8 overall grade in 2019 ranked third among all edge defenders. It would've been hard to draw up a better debut for the Ohio State product.
Age at kickoff: 24 years, 11 months, 6 days
Modern NFL nose tackles are rarely anything more than space-eaters and early-down run-stuffers. Clark is an exception, as his 90.9 pass-rush grade when lined up over center in 2019 was tops among any player who had a significant sample size. He has now graded above 70.0 in each of his first four NFL seasons and is coming off back-to-back years with pass-rushing grades above 87.0. With the kind of production he's put up, it's going to be hard for the Packers not to get a new deal done with Clark.
Age at kickoff: 24 years, 3 months, 22 days
Lattimore is part of the talented group of secondary players who were taken in the 2017 NFL Draft, and if you look back over his first three years in the NFL, his PFF grade of 84.9 ranks 10th at the cornerback position. His grade may have trended in the wrong direction in 2018 and 2019 after an impressive rookie campaign where he notched 18 combined pass breakups and interceptions, but at worst, Lattimore has been a solid starter in the Saints' secondary. You'll take that as an NFL team 10 times out of 10.
Age at kickoff: 23 years, 7 months, 1 day
Barkley's inclusion on this list is based on the obvious talent he showcased as a rookie in 2018 rather than the relatively disappointing, injury-plagued sophomore campaign we saw from him this past season. As a rookie in 2018, Barkley's 86.3 receiving grade was a top-five mark at the position, and his 31 missed tackles forced after the catch led all NFL players by eight. That elusiveness — both as a runner and a receiver — is what makes him so dynamic in open space and what earns him a spot on this list.
Age at kickoff: 24 years, 8 months, 14 days
Since he was drafted in the second round of the 2018 NFL Draft, no running back has graded out higher than Chubb as a rusher. In fact, his 92.1 rushing grade over the last two years is the only mark above 90.0. That mainly comes down to the fact that getting Chubb to the ground has been much easier said than done. His 110 missed tackles forced are more than any other player, and his 1,980 rushing yards after contact are fewer than only Derrick Henry. If you're looking for a pure runner, there are few players in the league right now that I would take over Chubb.
Age at kickoff: 24 years, 0 months, 2 days
Williams has very quietly played like one of the best safeties in the NFL over the last three seasons. His PFF grade ranks fourth at the position since 2017, and he's been the eighth-most valuable safety in the league by PFF WAR over that same three-year stretch. As a free safety, Williams doesn't see the ball come his way all that often as the primary coverage defender, but he has put up at least eight combined interceptions and pass breakups (on 25 or fewer targets) in both 2017 and 2019. He is just another player on the list of recent Saints draft hits.
Age at kickoff: 23 years, 4 months, 27 days
Moore hasn't had the best of quarterback circumstances, given that he's had to deal with an injured Cam Newton and an uninspiring Kyle Allen/Will Grier duo for much of 2019, but he's been able to produce despite those limitations, putting up a receiving grade over 80.0 across his first two NFL seasons. He's been particularly dangerous over the middle of the field. Moore has earned 62 targets on slant and in-routes since 2018 (fourth most in NFL), and his 94.9 receiving grade on those routes trails only Deandre Hopkins and Michael Thomas. Expect him to put up even bigger numbers in Year 3 with Teddy Bridgewater at quarterback in Joe Brady's offense.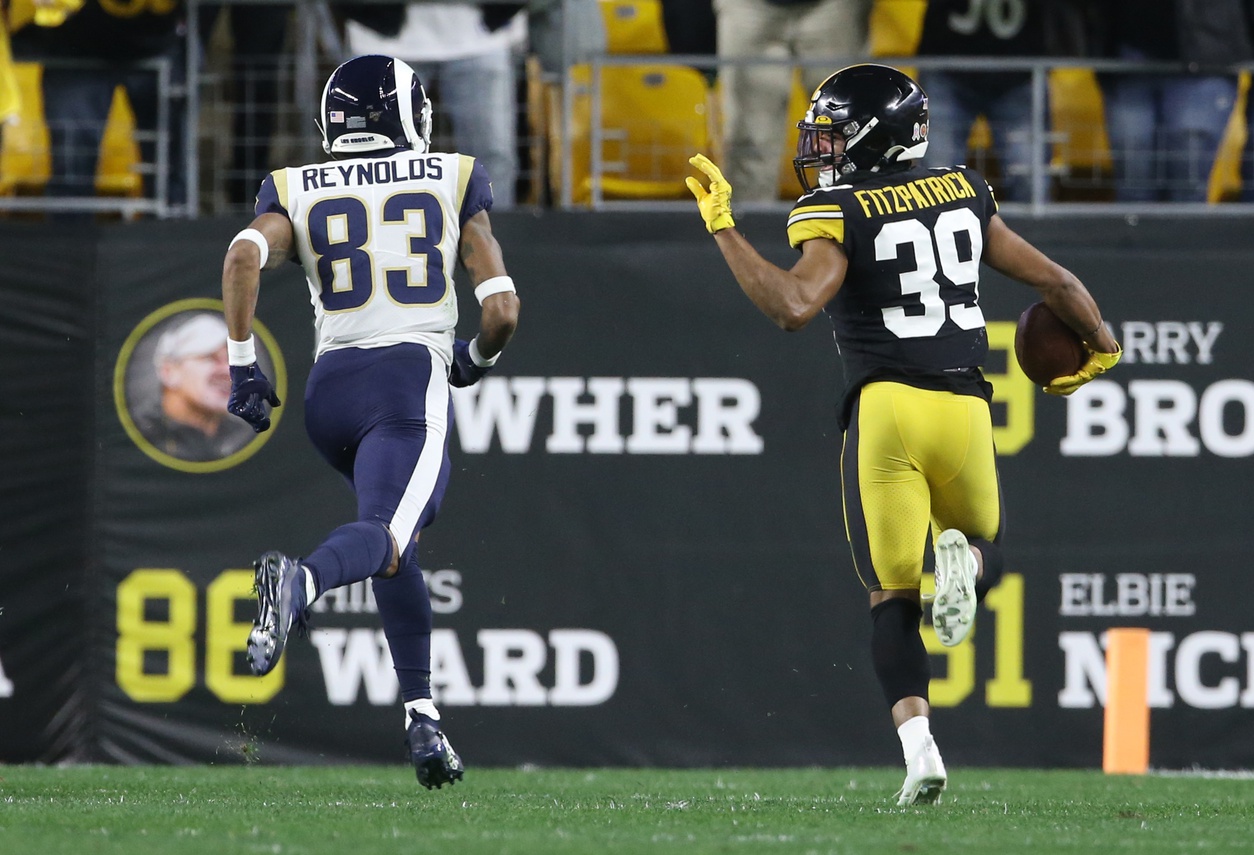 Age at kickoff: 23 years, 9 months, 24 days
The Steelers didn't have a first-round pick in the 2020 NFL Draft, but that's because they spent it on a 23-year-old safety whose 84.4 overall grade ranked sixth at the position after landing in Pittsburgh prior to Week 3. You don't want to make too many conclusions based on two-week sample sizes, but it's hard not to see the kind of effect Fitzpatrick had on the Pittsburgh defense from his free safety position after joining the team. Over the first two weeks of the season, the Steelers allowed 155 passing yards on throws 20 or more yards downfield (t-11th most). That number was just 376 over the remaining 14 games (second lowest).
Age at kickoff: 24 years, 2 months, 2 days
The Ravens have one of the most talented secondaries in the NFL, and Humphrey has been a big part of that group. Humphrey has been a playmaker regardless of where he has lined up, notching 47 forced incompletions over the last three seasons (fourth in the NFL behind Stephon Gilmore, Darius Slay and Kyle Fuller). Don't expect that to change on a defense that should only get better in 2020.
Age at kickoff: 24 years, 11 months, 23 days
Jackson doesn't get enough appreciation for how solid he's been to start his NFL career. He's put up three consecutive seasons with overall grades of 73.0 or higher on 750 or more defensive snaps, and that culminated in an 82.5 coverage grade this past season that ranked sixth among qualifying cornerbacks. He's been tested deep a fair amount since 2017, but Jackson's speed means that he rarely gets beaten over the top. On passes that were thrown 20 or more yards downfield, Jackson has allowed just 12 of his 48 targets to be completed, with 22 forced incompletions mixed in.
Age at kickoff: 23 years, 7 months, 1 day
I'll start this out by saying that Alexander has had his fair share of losses at the catch point, which is why his grading has been good but not great thus far, but he's one of the more aggressive and skilled cornerbacks in the NFL when it comes to making plays on the ball. His two-year contested-target percentage and forced incompletion rate both rank among the top 10 players at the position. Just last year, Alexander's 20 forced incompletions were second at the cornerback position behind Carlton Davis. There are a lot of things to like about his ability to stick with NFL wide receivers.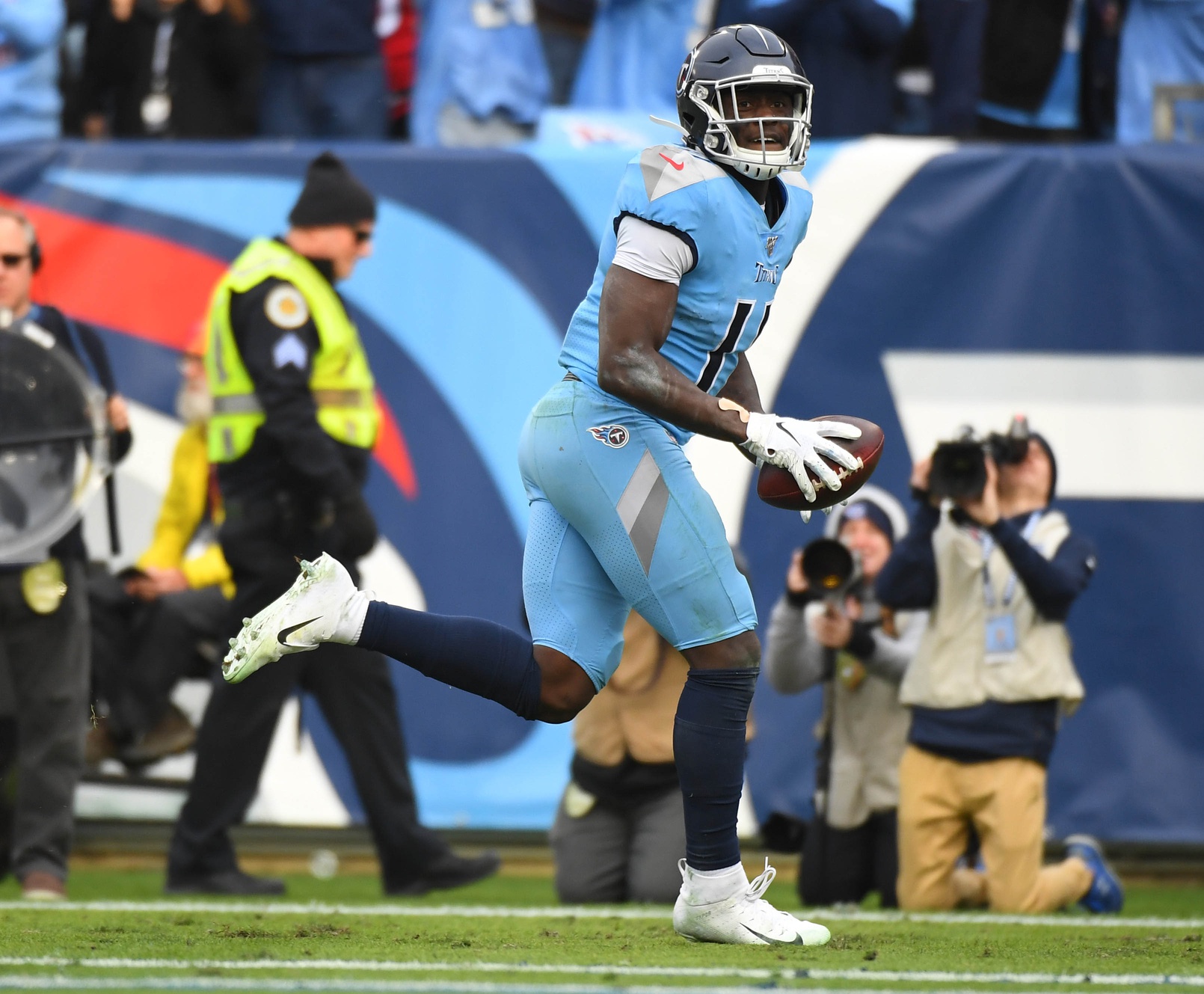 Age at kickoff: 23 years, 2 months, 11 days
We saw Brown's after-the-catch ability in the Ole Miss offense, and that translated immediately to the NFL level. A season ago, Brown's 8.9 yards after the catch per reception led all wide receivers regardless of experience, and that came despite a healthy 13.6-yard average depth of target. His 16 forced missed tackles after the catch were a top-five mark at the position, as well. Being able to produce with the ball in your hands matters. Brown quickly showed he was already one of the better receivers in the league in that regard as a rookie in 2019.
Age at kickoff: 24 years, 11 months, 26 days
McLaurin entered the NFL landscape last season as an older rookie — a third-round pick with limited expectations. He quickly crushed those expectations, turning into the bonified top option in the Redskins' passing attack. When you look at the company McLaurin is keeping when it comes to receiving grade as a rookie, it's hard not to get excited about his prospects in 2020. This is the list of rookies with receiving grades of 80.0 or higher on 250 or more routes over the past 10 years: Odell Beckham Jr., Keenan Allen, Michael Thomas, Mike Evans, Chris Godwin, Doug Baldwin and the two 2019 rookies A.J. Brown and McLaurin. Expect big things from McLaurin next year.
Age at kickoff: 24 years, 11 months, 0 days
Sutton wasn't sniffing this list after a rookie season where he earned just a 63.8 overall grade and dropped nine passes (second most in the NFL). Credit where credit is due, though. Sutton stepped into the No. 1 void left after the Broncos parted ways with Emmanuel Sanders, and he developed into a legitimate top option in their passing game. Sutton's 83.1 PFF grade was a top-10 mark at the wide receiver position in 2019. The drop issue that plagued him as a rookie was eradicated, as well. Sutton dropped just three of his 115 targets last season.
Age at kickoff: 24 years, 0 months, 4 days
At just 23 years of age, Andrews was the clear-cut top receiving option on the most efficient offense in the NFL last season. Granted, it was the run-heaviest team in the NFL, but Andrews still proved to be a legitimate downfield threat over the middle of the field. His 2.89 receiving yards per route run trailed only George Kittle at the tight end position in 2019, and he was one of three qualifying tight ends to put up an average depth of target of 11 yards or more, joining Jared Cook and Mike Gesicki.
Age at kickoff: 23 years, 9 months, 19 days
It's easy to get dispirited with Smith-Schuster after the 2019 season, attributing all his struggles in his third season to the fact that Antonio Brown wasn't there to draw away attention. That could certainly be part of it, but the truth is there were other contributing factors — from injury to brutal quarterback play on the least efficient offense in the NFL — that also played a role. The percentage of accurate passes he received dropped from 61.4% in 2017 and 2018 to 50.8% in 2019. Next year is a big year for JuJu to prove last season was an aberration, but we're going to give him the benefit of the doubt after two strong seasons to open his career. On a side note, the fact that he won't even be 24 to start his fourth NFL season is absurd.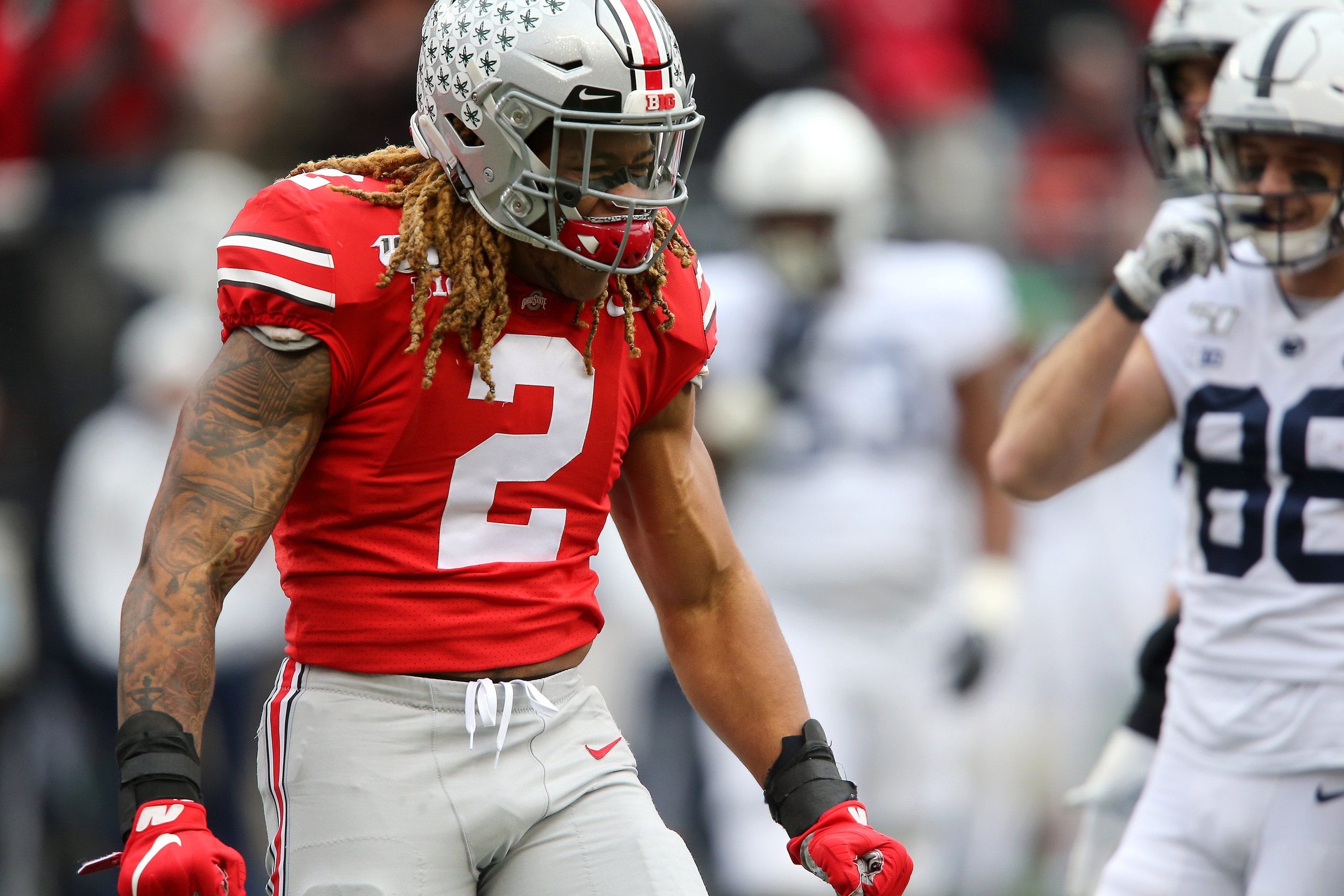 Age at kickoff: 21 years, 4 months, 27 days
Young's mention here was earned here by just how dominant of a prospect he was — he's the best edge defender prospect that PFF has scouted since 2014. He is coming off a 2019 season that earned a 96.0 overall grade, and he produced two consecutive seasons with an elite pass-rushing grade (90.0-plus) and over 50 quarterback pressures. PFF's lead draft analyst Mike Renner said that Young was the second prospect he felt comfortable calling a future Hall of Famer coming out of college, joining only Quenton Nelson. Young could very well deserve a spot on this list without even playing a down in the NFL.