What a difference a year makes.
Just one year after the 2021 NFL Draft quarterback class debuted in training camp, we asked sources around the NFL how they believe Trevor Lawrence, Zach Wilson, Trey Lance, Justin Fields, Mac Jones and Davis Mills will stack up after the 2022 season concludes.
While pre-draft scouting is still an important factor in expectations for the upcoming season, other elements play key roles, as well.
"The systems they will be used in, coaching and supporting casts come into play in my stack more than just the individual skill set of each player," one AFC executive said.
Improvement is expected in a quarterback from Year 1 to Year 2, but it's not guaranteed. Since 2006, 54 quarterbacks played a minimum of 150 snaps in both their rookie and sophomore seasons. Of those 54 quarterbacks, 34 saw their PFF grades increase in Year 2, while 20 passers saw their PFF grades decrease. The average rate of improvement from Year 1 to Year 2 was a 5.04% increase in PFF grade.
Jones was the only rookie quarterback to generate a PFF grade over 65.0 last season.
| | | | | | | |
| --- | --- | --- | --- | --- | --- | --- |
| | Trevor Lawrence | Zach Wilson | Trey Lance | Justin Fields | Mac Jones | Davis Mills |
| Team | Jaguars | Jets | 49ers | Bears | Patriots | Texans |
| Drafted overall | 1st | 2nd | 3rd | 8th | 15th | 67th |
| Snaps | 1,077 | 741 | 179 | 634 | 1,124 | 743 |
| PFF grade | 59.6 | 59.3 | 59.9 | 64.2 | 80.0 | 58.5 |
| Passing grade | 58.2 | 54.8 | 61.1 | 60.8 | 78.5 | 59.0 |
| Big time throw % | 3.4% | 2.5% | 3.9% | 6.1% | 4.4% | 3.8% |
| Turnover-worthy play % | 3.7% | 3.8% | 4.3% | 3.7% | 2.5% | 4.3% |
| Average depth of target | 8.2 | 8.0 | 10.3 | 10.1 | 8.3 | 7.8% |
| Accuracy % | 53.5% | 44.1% | 38.5% | 48.9% | 59.8% | 60.9% |
It's not out of the realm of possibility for all of Lawrence, Wilson, Lance, Fields and Wilson to grade highly in 2022. Current Los Angeles Rams quarterback Matthew Stafford saw a 44.7% increase in his PFF grade from his 2009 rookie season to 2010. Derek Carr and Lamar Jackson's PFF grades increased by over 30% from Year 1 to Year 2.
"I believe all of those guys are solid and are going to see improvement," an AFC quarterbacks coach said of the second-year passers.
Here's how polled league sources believe the second-year quarterbacks will stack up after the 2022 season.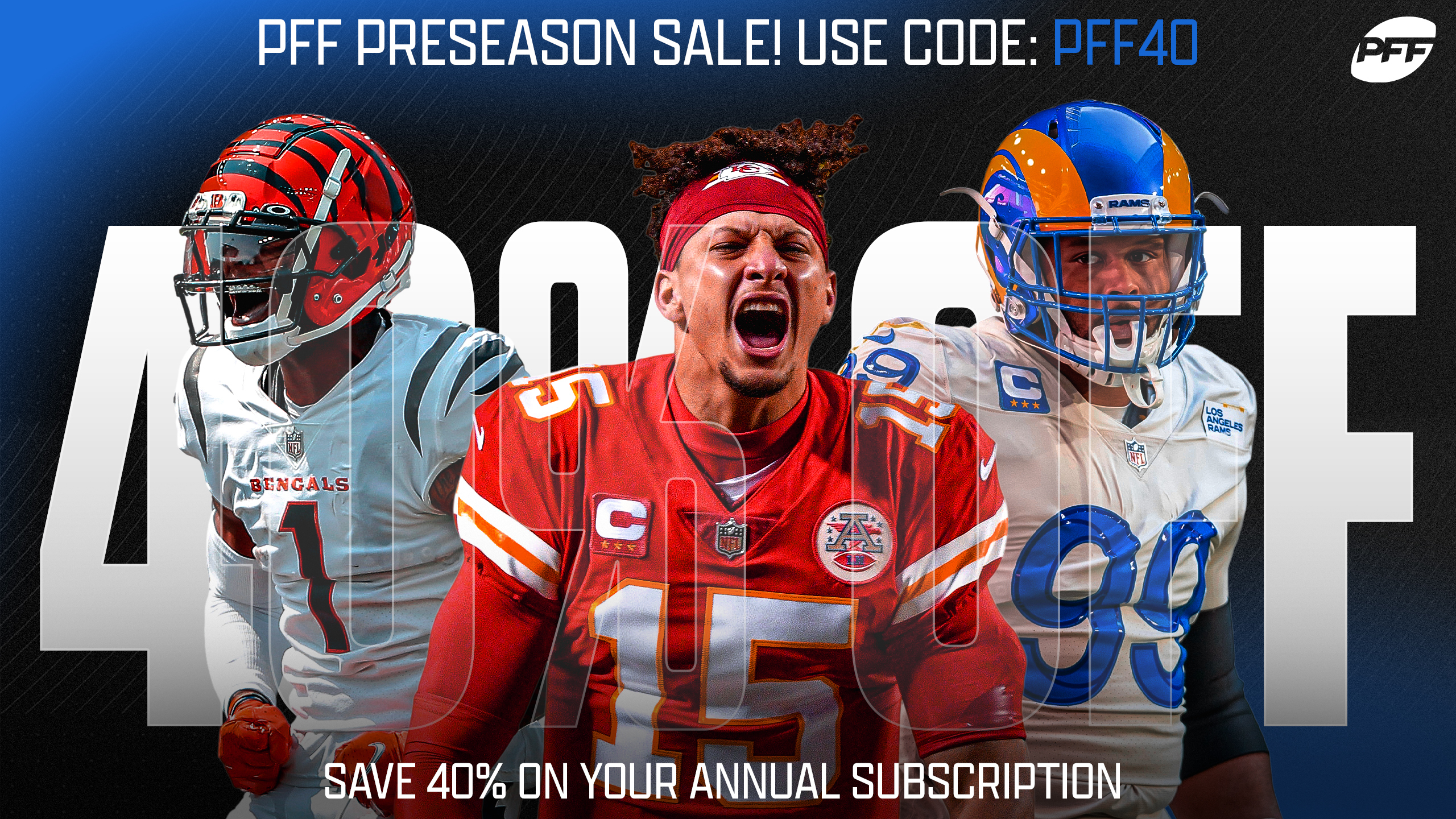 The No. 1 overall pick in the 2021 NFL Draft, Lawrence had a disappointing rookie campaign, but people around the league believe that can be explained away by the lack of a supporting cast and general turmoil surrounding the Urban Meyer head coaching experiment.
While Lawrence must learn a new playbook in 2022 under new head coach Doug Pederson, he lacks excuses if he struggles again this season. One can grumble about how the Jaguars spent their money in free agency, but they certainly added talent around Lawrence, signing wide receivers Christian Kirk and Zay Jones, tight end Evan Engram and guard Brandon Scherff. Lawrence is also getting former college teammate Travis Etienne back from a foot injury that cost the running back his entire rookie season.
"I think Lawrence and Wilson are going to be in a much better situation with more weapons around them," said an NFC West scout who ranked Lawrence No. 1.
Lawrence didn't rank lower than No. 2 on any poll. NFL sources expect the biggest second-year jump from him out of this group of quarterbacks based on his skill set and the improved environment around him.
Jones was the best rookie quarterback of the bunch in 2021, according to one AFC personnel director. But Jones "has a narrower range of outcomes," an NFC analytics executive said.
The Alabama product was the only rookie quarterback last season to lead his team to a winning record and a playoff spot. But he still carries the stigma that led him to fall until the middle of the draft's first round. NFL scouts believe he has a high floor and a relatively low ceiling in comparison to his peers based on his relative lack of athleticism and arm strength.
Jones ranked first on a handful of sources' polls and came in as low as fourth in one poll.
"Jones will play well and be better than last year," an NFL personnel director said. "He'll be the most consistent QB of the bunch, but physical limitations and ceiling will show up again."
New England and Jones lost offensive coordinator Josh McDaniels, and it's unclear who, between head coach Bill Belichick, quarterbacks coach Joe Judge or offensive line coach Matt Patricia, will call plays for the offense this offseason.
One source believed the uncertainty on the offensive coaching staff would stunt Jones' development at quarterback.
The Patriots did acquire wide receiver DeVante Parker in the offseason but overall have a below-average set of pass-catching playmakers for Jones in Parker, running backs Damien Harris, James White and Rhamondre Stevenson, wide receivers Jakobi Meyers, Kendrick Bourne and Nelson Agholor and tight ends Hunter Henry and Jonnu Smith.
Lance ranked first on one source's poll and last in another set of rankings. Another source wouldn't even rank him based on the lack of tape over the past two seasons. Lance played only one game in 2020 at North Dakota State before declaring for the draft and was limited to 179 snaps as a rookie while serving as a backup.
"Lance has the upper hand with (Kyle) Shanahan as head coach," one AFC scout said while ranking the 49ers quarterback third ahead of Mills, Fields and Wilson.
The AFC executive who ranked Lance first said they did so with system, coaching staff and supporting cast in mind.
Another source said they believed Lance and Lawrence have the best chance of a breakout season in 2022.
Lance is being handed the reins at quarterback after San Francisco allowed Jimmy Garoppolo to pursue a trade. He has perhaps the two best playmakers out of any quarterback on this list in wide receiver Deebo Samuel and George Kittle, and the 49ers' roster was good enough to make the NFC Championship Game last season with Garoppolo at the helm.
"Lance has the best playmakers around him and the best play caller, and he will be able to execute enough while showing flashes of high-end talent," the NFC personnel director said. "He just won't quite be consistent from game to game yet."
Based on our polling, there was a pretty clear divide between Lawrence, Jones and Lance and a Tier 2 of Wilson, Mills and Fields, all of whom finished closely based on average poll position.
Wilson didn't need to deal with his head coach getting fired midway through the season, but his Jets were clearly in a rebuild during his rookie season during which he missed four games due to injury. Now entering Year 2, Robert Saleh and Mike LaFleur have settled into their roles as head coach and offensive coordinator, respectively, and the Jets added running back Breece Hall, wide receiver Garrett Wilson, tight ends C.J. Uzomah and Tyler Conklin and guard Laken Tomlinson this offseason.
Wilson ranked first on the list of one league source but otherwise was no higher than third.
"I think Wilson, Fields, and Mills are at a disadvantage with their supporting casts," one source said.
"I'm still betting on the talent and skill set of most of those guys," an NFC South scout said.
An AFC personnel director believed Mills was the second-best rookie quarterback last season. The Stanford product completed 66.8% of his passes for 16 touchdowns with 10 interceptions, and it was enough, up to this point, for Houston to abstain from upgrading the position via trade, free agency or the draft. Garoppolo is still floating out there as a potential trade candidate, however.
The NFC analytics executive believed that Mills, like Jones, has a narrow range of outcomes but that he also has a lower ceiling.
The Texans and Atlanta Falcons have the lowest NFL win total betting odds listed for the 2022 season at an over/under of 4.5 wins. Houston still isn't providing Mills with considerable help, as his top playmakers are wide receivers Brandin Cooks, Nico Collins and Chris Conley, running backs Rex Burkhead, Marlon Mack and Dameon Pierce and tight ends Pharaoh Brown and Brevin Jordan.
"Mills just doesn't have enough help around him, but I do like him and his coaches, and he knows how to play the position," a source said.
The 2023 NFL Draft quarterback class is expected to be considerably better than 2022's, which was one of the worst in recent history. If Mills and the Texans struggle, then Houston could have its pick of next year's class.
Fields enters a tough situation with a new head coach and offensive coordinator and little in the help of offensive playmakers or line play.
"If you have nothing around you and shitty coaching, you're dead," one AFC executive said.
The Bears fired head coach Matt Nagy and general manager Ryan Pace this offseason and replaced them with head coach Matt Eberflus and general manager Ryan Poles. Ex-Packers quarterbacks coach Luke Getsy was hired away from Green Bay to be Chicago's offensive coordinator.
Fields' top playmakers are wide receivers Darnell Mooney, N'Keal Harry, Velus Jones Jr., Byron Pringle and Equanimeous St. Brown, running backs David Montgomery and Khalil Herbert and tight ends Cole Kmet and James O'Shaughnessy.
"I like Fields, but I don't think they did enough to help him, and I don't think he's good enough to overcome it right now," an AFC scout said. "If they don't do anything for him this year and next year, I'd trade for him if I was running a team."
Fields' sixth-place ranking has much more to do with his situation and supporting cast than his actual skill set.
"There will be growing pains," a source said.