•  New York Jets quarterback Zach Wilson suffered what could be a torn ACL, putting his season in jeopardy.
• RB D'Andre Swift and WR Amon-Ra St. Brown helped the Detroit Lions score touchdown on their first drive — the only one that Detroit's starters participated in.
•  Jacksonville Jaguars RB Travis Etienne received double-digit touches in his first game in nearly a full year.
---
PFF's fantasy football recap focuses on player usage and stats, breaking down all the vital information you need to achieve fantasy success in 2022. This is only focused on the players who are relevant in fantasy football leagues.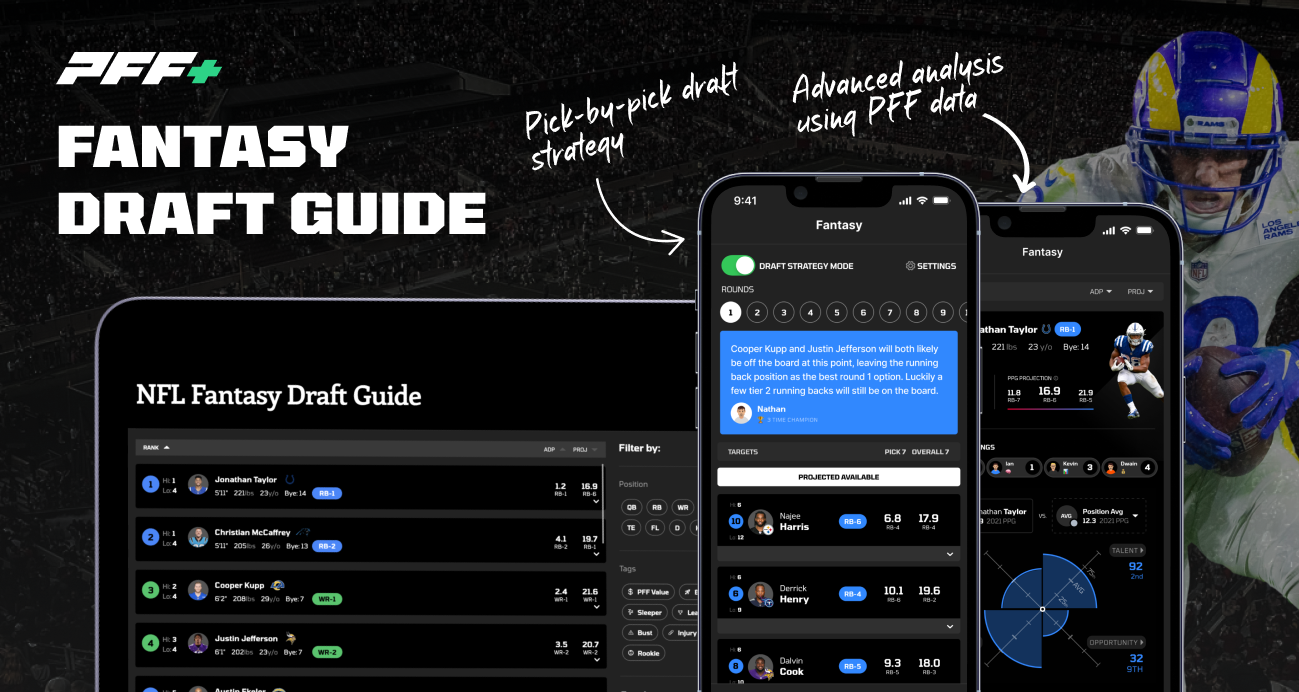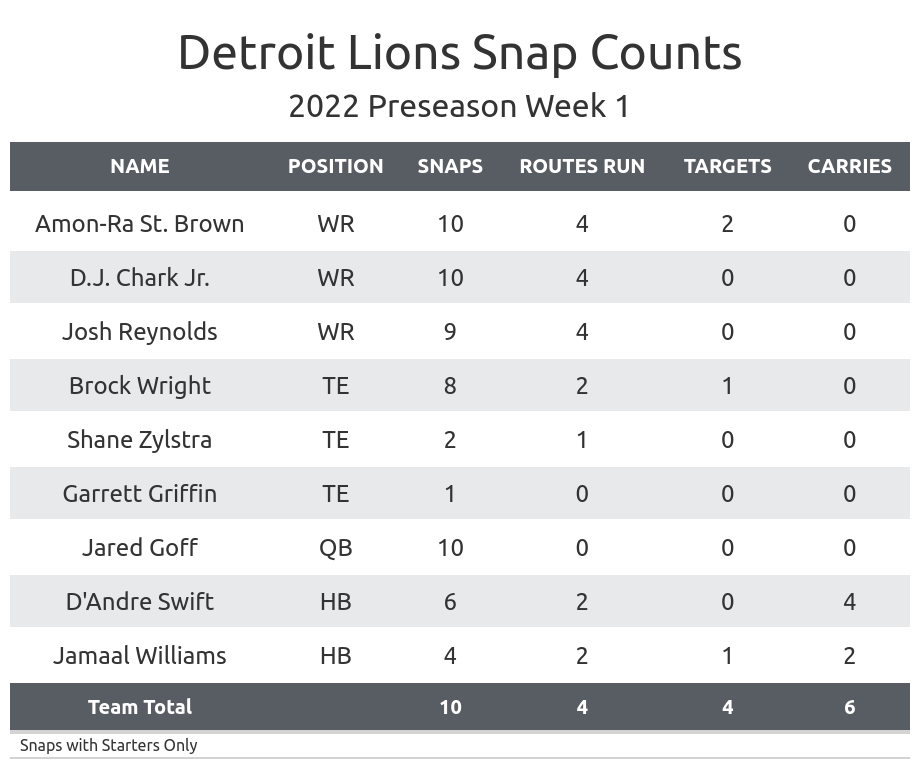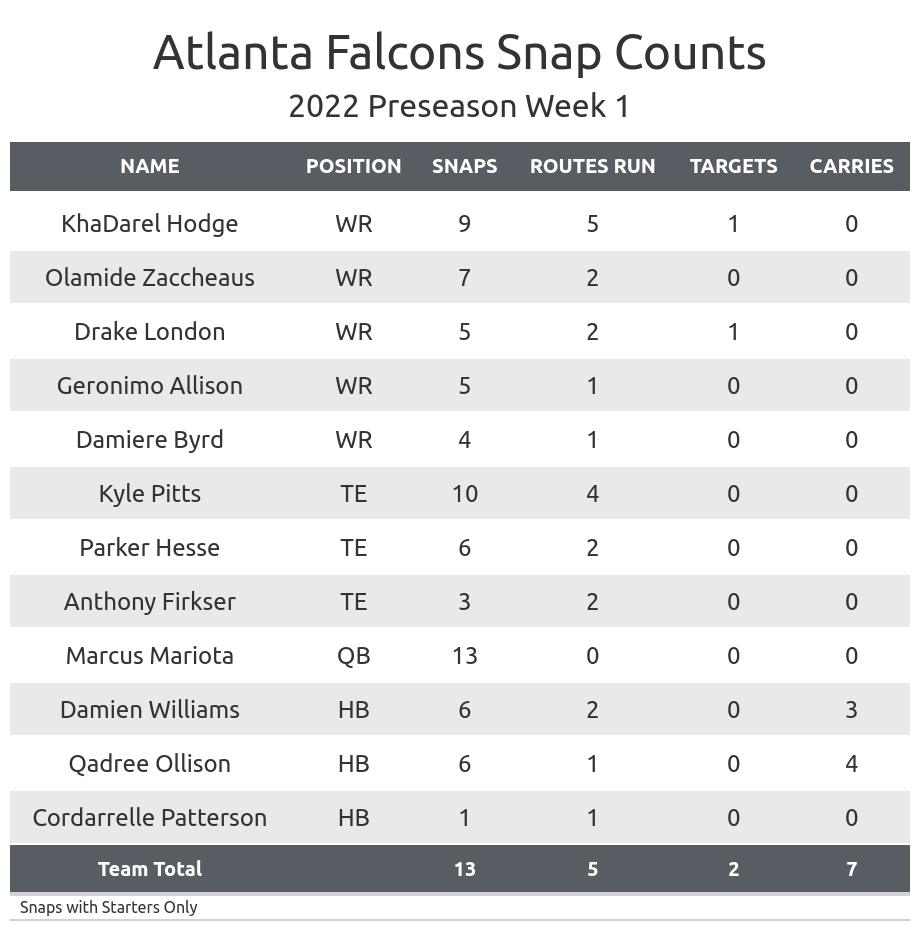 Draft Amon-Ra St. Brown: St. Brown was a top-10 fantasy wide receiver in five of his last six games. St. Brown, free agent addition D.J. Chark Jr., and Josh Reynolds were the Lions' starting wide receivers. The second-year receiver was targeted on two of Jared Goff's four passes, catching both for 29 yards. Most importantly, when the Lions used a two-receiver set, St. Brown and Chark stayed on the field while Reynolds came off the field. 
Rookie wide receiver Jameson Williams will not play Week 1 according to reports earlier in the week, so he probably won't take St. Brown's spot in two receiver sets anytime soon, if at all. As long as St. Brown almost never comes off the field, he will have plenty of chances to rack up fantasy points.
Buyer beware on D'Andre Swift: The Lions running back was off to a strong start with four carries for 20 yards and one touchdown. The only problem was that while he was RB 1A, Jamaal Williams was RB 1B. Swift was never in for more than two plays in a row before Williams took over. He is still a clear starter, which makes him a top-20 fantasy back, but he will have a difficult time providing top-five upside as long as Williams is healthy.
Avoid the Falcons running backs: The Falcons used a heavy rotation of three running backs during their one drive with the starters. Cordarelle Patterson only played two snaps with one coming on a penalty, which could signify things to come or just a sign of a veteran player getting more rest. Qadree Ollison and Damien Williams split the rest of the snaps with the starters. Tyler Allgeier is many's favorite sleeper running back, but the fifth-round rookie wasn't on the field when the backups came in, as Caleb Huntley actually had that honor. Ideally, one back would emerge as the change-of-pace back with Patterson, but if it's two players, then neither can be relied on for fantasy purposes. Patterson still has some upside in PPR leagues, but it seems like the team's leader in rushing attempts could change each week.
Monitor the Drake London injury: London played the offense's first five snaps and caught a 24-yard pass before being quickly ruled out of the game with an injury. He was the only Falcons wide receiver the team trusted, as they rotated four other receivers throughout the first drive. London is the only Falcons receiver who should get drafted, even if this injury is season-ending. The injury is not believed to be serious, but there will be more testing on Saturday, per ESPN's Adam Schefter.
---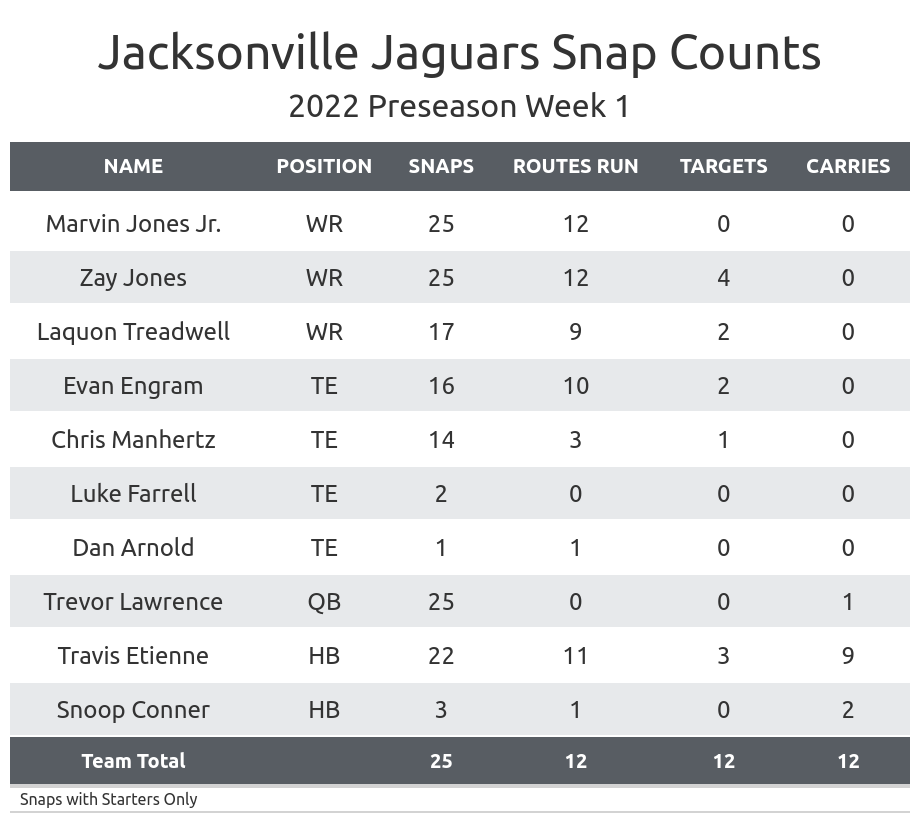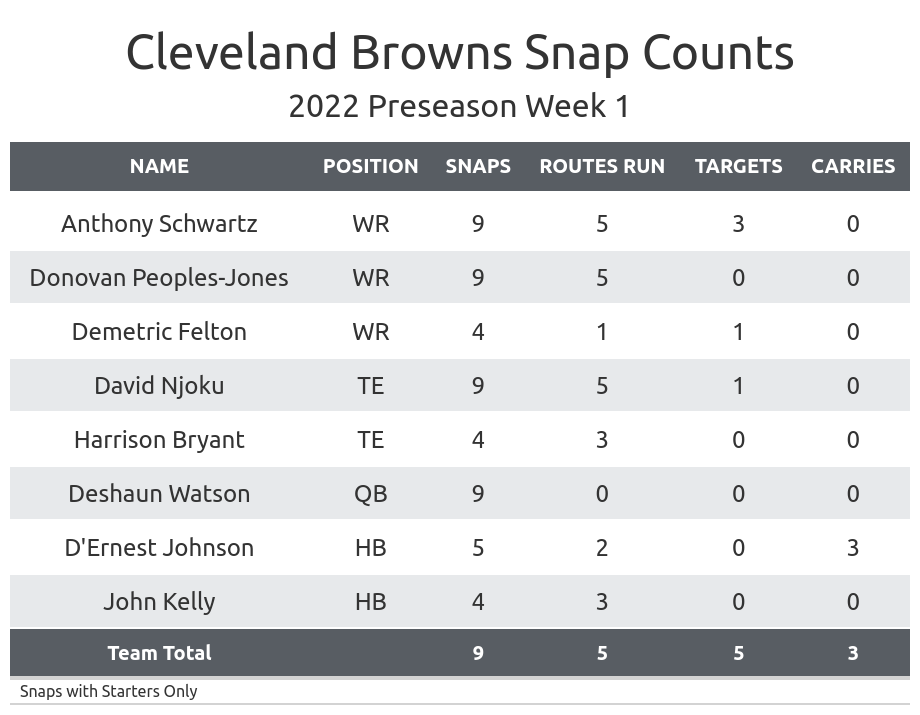 Draft Travis Etienne: The second-year running back played in his first game since last year's preseason on Friday. He not only started but played each of Jacksonville's first 20 offensive snaps. It's great to see that the Jaguars view him as a player who won't come off the field long stretches of time. It will be hard to know how to value Etienne until James Robinson is healthy, but until then, Etienne has top-10 fantasy running back potential.
Don't Draft Evan Engram: The Jaguars tight end is considered a late-round sleeper after coming to the team via free agency. Typically, for a tight end to be a fantasy starter, they need to consistently play on first downs. However, Chris Manhertz played most of the first down snaps, including nearly half of the second-down snaps. Luke Farrell also played some snaps in two tight-end sets with the starters. The only way tight ends can overcome this kind of usage is by scoring a lot of touchdowns, but it's unlikely the Jaguars offense will be in the red zone enough for Engram to be that kind of player. Dan Arnold should be completely off fantasy radars, as he was the fourth tight end to play Friday night.
Take a late-round flier on David Njoku: The Browns tight end is considered a sleeper this season, as he is now the Browns' full-time starter with Austin Hooper in Tennessee. It's unclear how good the Browns offense will be this season, but Njoku will at least play enough to be a fantasy starter, as he never left the field while the starters were on the field Friday night. The Browns lack depth at wide receiver, which was apparent in this game and should lead to Njoku receiving plenty of targets regardless of the quarterback. He's worth the risk at tight end and would be good to pair with a more established tight end on fantasy rosters.
---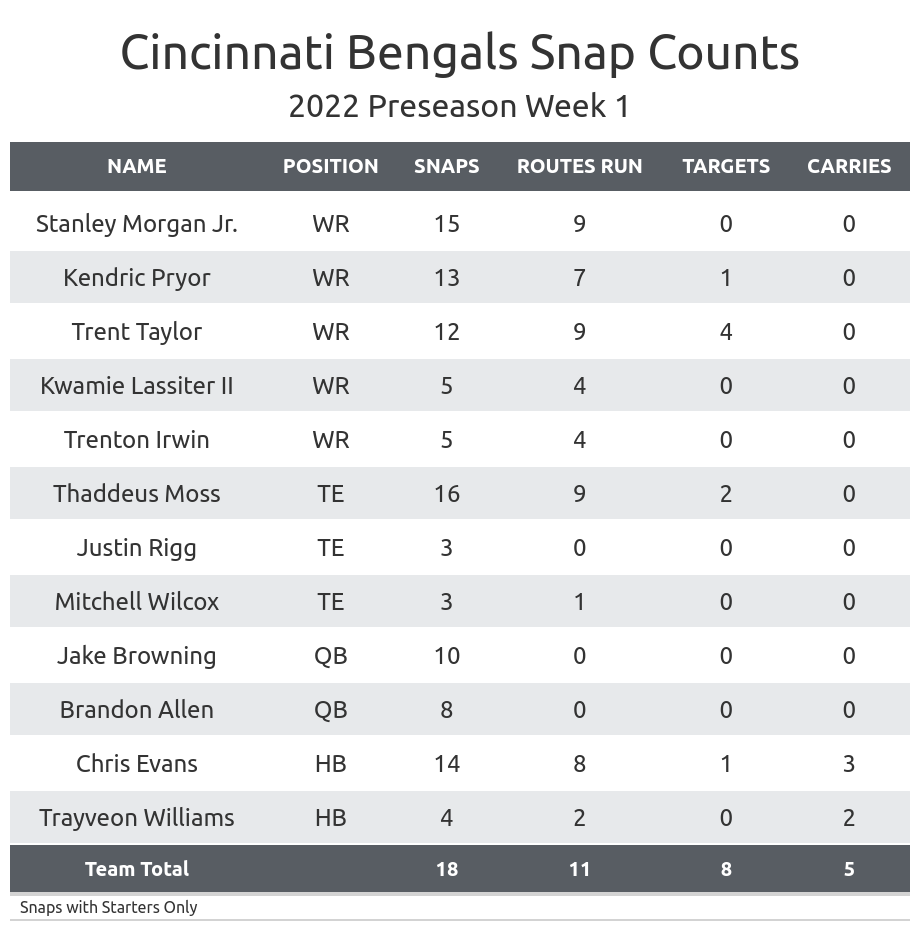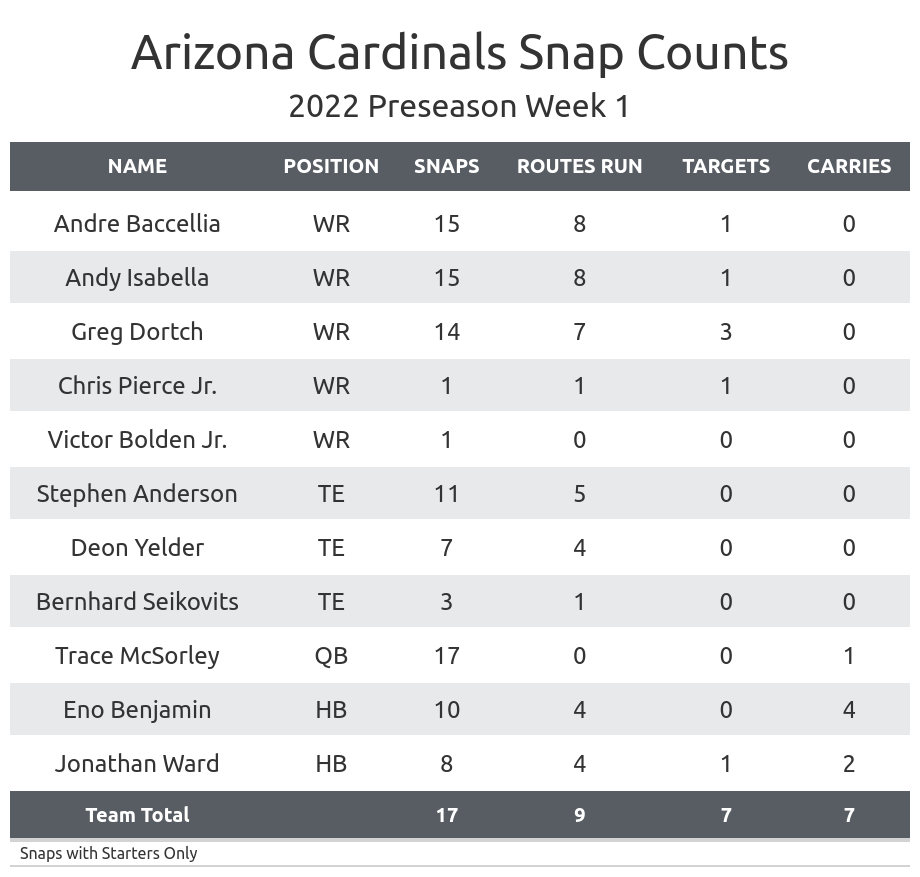 Treat Samaje Perine as Joe Mixon's handcuff for now: The Bengals rested their starters and several key backups today, including Perine, which left sophomore running back Chris Evans as the starter Friday night. Evans continued to play on and off into the third quarter — a good sign that Perine remains ahead of Evans for the backup job. There is a chance Cincinnati could look elsewhere if Mixon gets injured, but Perine can be a solid late-round roster stash just in case.
Treat Darrel Williams as James Conner's handcuff for now: The Cardinals similarly rested their starters and key backups, including Williams, which left Eno Benjamin as the starter Friday. Sixth-round rookie Keaontay Ingram didn't play until the third quarter. Benjamin could still see some playing time this season, but Williams seems to have a hold on the No. 2 spot.
---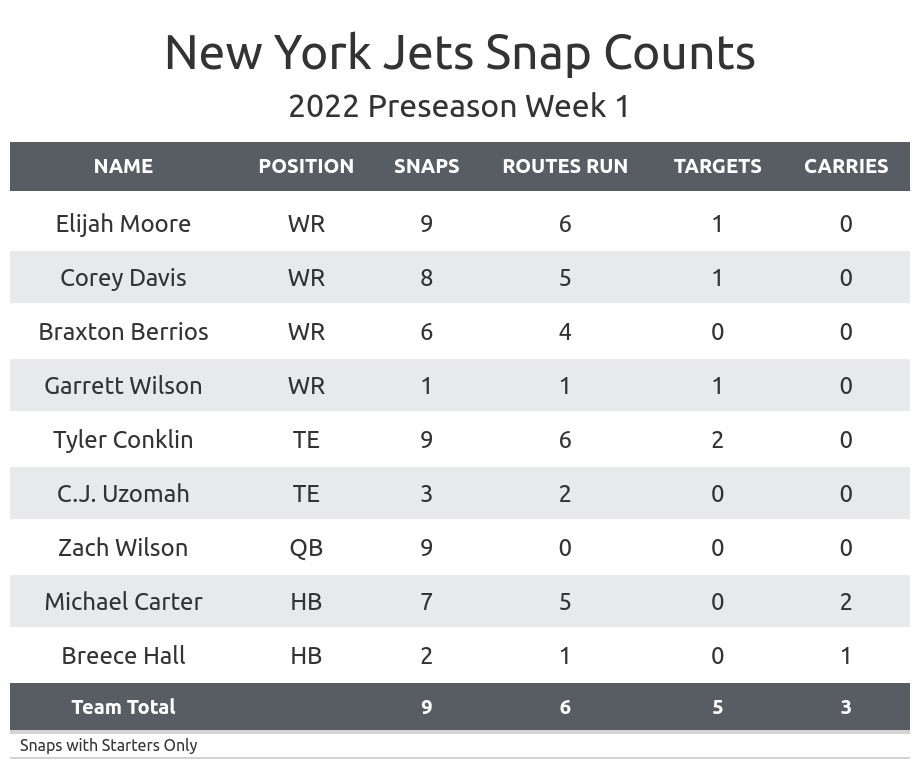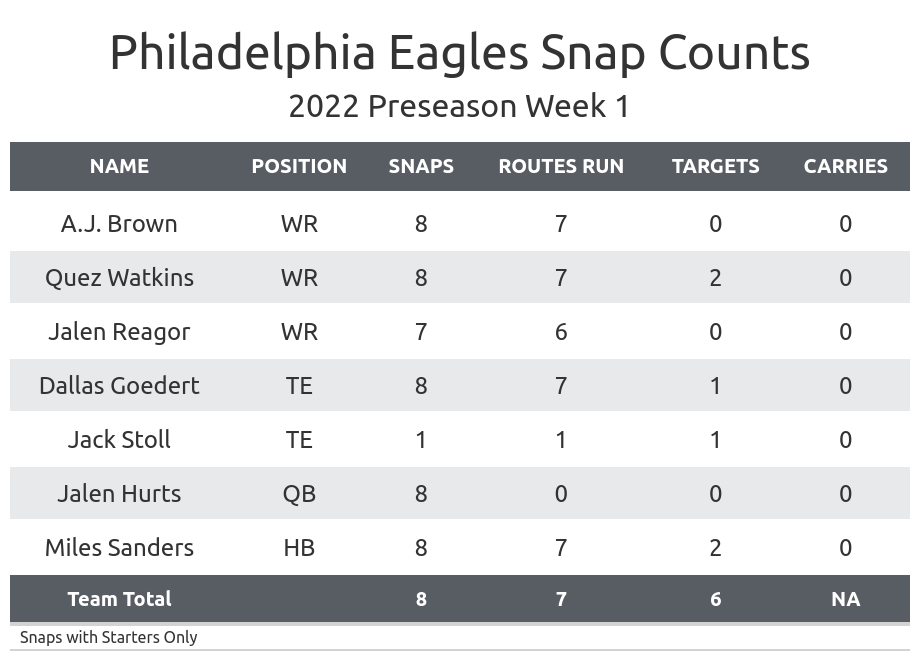 Monitor Zach Wilson's injury: The Jets sophomore quarterback went to the locker room after injuring his knee on a non-contact run. PFF injury analyst Mario Pilato fears that it could be an ACL tear. Mike White replaced him, but Joe Flacco would likely start if Wilson misses significant time. The Jets could join the Jimmy Garopppolo trade conversation if the injury is serious, as he could be reunited with former passing game coordinator Mike LaFleur. The Jets skill players' upside would be hurt if Wilson's injury is serious and the Jets don't make a move. 
Expect slower starts but still draft Breece Hall and Garrett Wilson: The first- and second-round draft picks played on a limited bases with the Jets starters. Once Zach Wilson went down with an injury, Elijah Moore and Corey Davis also stopped playing, giving Garrett Wilson much more playing time with some starters. Similarly, Michael Carter and Hall rotated a little more with some starters after Wilson left the game.
The fact that they played a few snaps with the first team rather is a good sign, but it might take until mid-season for both players to be fantasy starters. The Jets similarly brought Carter and Moore along slowly last season, and both broke out mid-year. They should still be drafted highly, but fantasy managers need to have a backup plan for September.
Draft Tyler Conklin in deeper leagues: The former Minnesota Viking is the early favorite to be the Jets starting tight end. He never left the field when Wilson played, and C.J. Uzomah only played in two tight end sets. The Jets rotated their tight ends a little more during the second drive once Wilson left the game. Conklin caught three passes for 23 yards, whereas Uzomah was held without a catch. This situation could evolve to more of a timeshare as the season progresses, but for now, Conklin has a chance at fantasy relevancy.
Get excited about the Eagles passing game: The Eagles had one successful drive with the starters and called it a day. We know A.J. Brown, Dallas Goedert and DeVonta Smith will rarely leave the field when healthy, leaving the running backs as the only interesting battle. Neither Kenneth Gainwell nor Boston Scott played Friday due to injuries, so there was nothing to learn from the backs.
It was good to see the Eagles mostly stay in 11 personnel while passing on every play of the first drive. It's hard to take too much away from preseason run/pass splits, but Friday night's passing frenzy wasn't a bad sign for the Eagles receivers.
---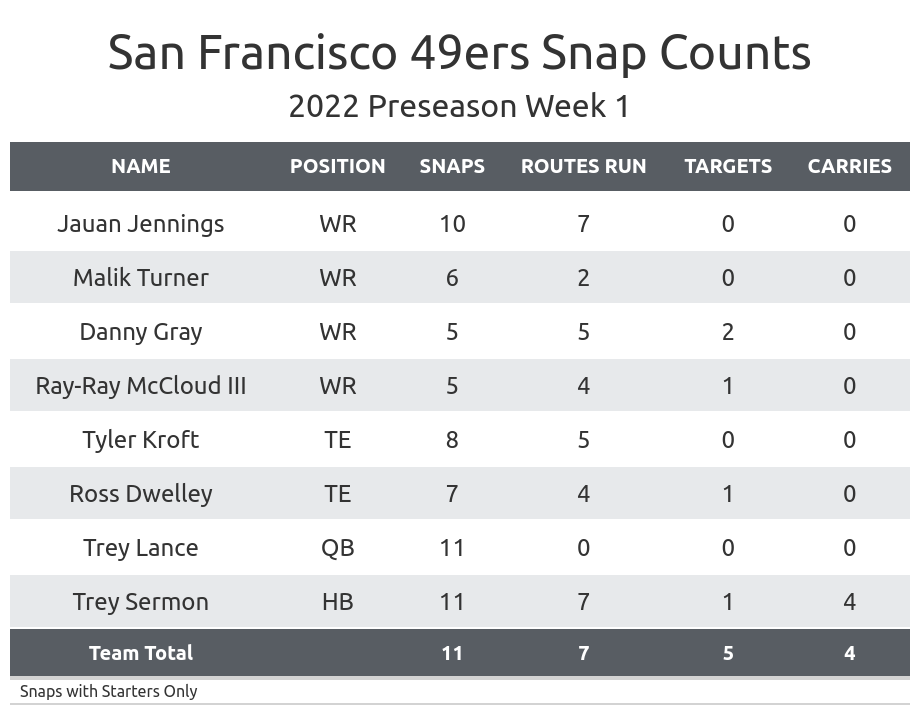 Don't forget about Trey Sermon: The 49ers rested most of their starting skill players, including both Elijah Mitchell and Jeff Wilson Jr., who appears to be the top backup. Sermon started ahead of fourth-round rookie Tyrion Davis-Price. Wilson has typically been more of a receiving back, so Sermon could be the top rusher if Mitchell goes down with an injury. Wilson is the backup worth a late-round draft pick, but Sermon would be worth a waiver wire add if Mitchell gets hurt.
Don't read into the Packers' offensive snaps: The Packers rested 33 players Friday, including most starters as well as several injured players. It was surprising to see Josiah Deguara play significant snaps after being the Packers primary receiving tight end last season, but between injuries and letting the 38-year-old Marcedes Lewis have the night off, Green Bay only had four healthy tight ends.
On one hand, it was surprising to see Romeo Doubs play so much with backups after his hype-filled training camp. On the other, a fourth-round rookie playing significantly in the first half of a preseason game is normal. We'll get a better sense of the Packers' opinion on Doubs once other wide receivers play more.
---
Table Notes
Snaps include plays called back due to penalties like offensive holding or defensive pass interference. The other three stats have these plays removed.

Targets may differ from official NFL sources. The most likely discrepancy would be from a clear thrown away pass, where the NFL may give the target to the nearest receiver, while this data will not.

Carries are only on designed plays. Quarterback scrambles won't count for the total number of carries in the game.