The 2020 college football regular season has officially come to a close, and now it's time to recognize all of the top players at every position in every conference with our All-Conference teams. And this year in particular, these top performers deserve more recognition than ever considering the COVID-19 impacted environment. So with the help of PFF grades and advanced statistics — which are now available to PFF's CFB Premium Stats+ Subscribers — we present to you the PFF 2020 All-SEC team.
QUARTERBACK
Jones enters the College Football Playoff as not just the highest-graded quarterback in college football this season but the highest-graded quarterback of the PFF College era.
The Bama signal-caller has posted a 95.3 PFF grade this season, which is just ahead of the three best single-season marks we have ever seen: Joe Burrow's 94.9 in 2019, Kyler Murray's 94.6 in 2018 and Baker Mayfield's 94.6 in 2017.
All three of those quarterbacks won the Heisman Trophy in those record-setting years.
Second-Team: Kyle Trask, Florida
Third-Team: Matt Corral, Ole Miss
Honorable Mention: Connor Bazelak, Missouri
RUNNING BACK
Rodriguez showed in 2019 that he was at the very least going to be a quality back for the Wildcats in 2020, but no one was quite expecting him to be the second-highest-graded running back in the entire FBS like he was. Inside zone is Kentucky's bread-and-butter, and there wasn't a better back on those runs in college football this year than Rodriguez.
Second-Team: Jerion Ealy, Ole Miss
Third-Team: Kevin Harris, South Carolina
Honorable Mention: Isaiah Spiller, Texas A&M
Harris made ample plays in the ground game as his ninth-best rushing grade in the FBS can attest to (89.5), but his greatest attribute is the value he generated in the passing attack. He hauled in 20 passes that resulted in a first down or touchdown this season (trailing only Travis Etienne for most at the position) while breaking an FBS-high 17 tackles after the catch and not recording a single drop. No running back had more catchable targets without a drop in the FBS this year than Harris.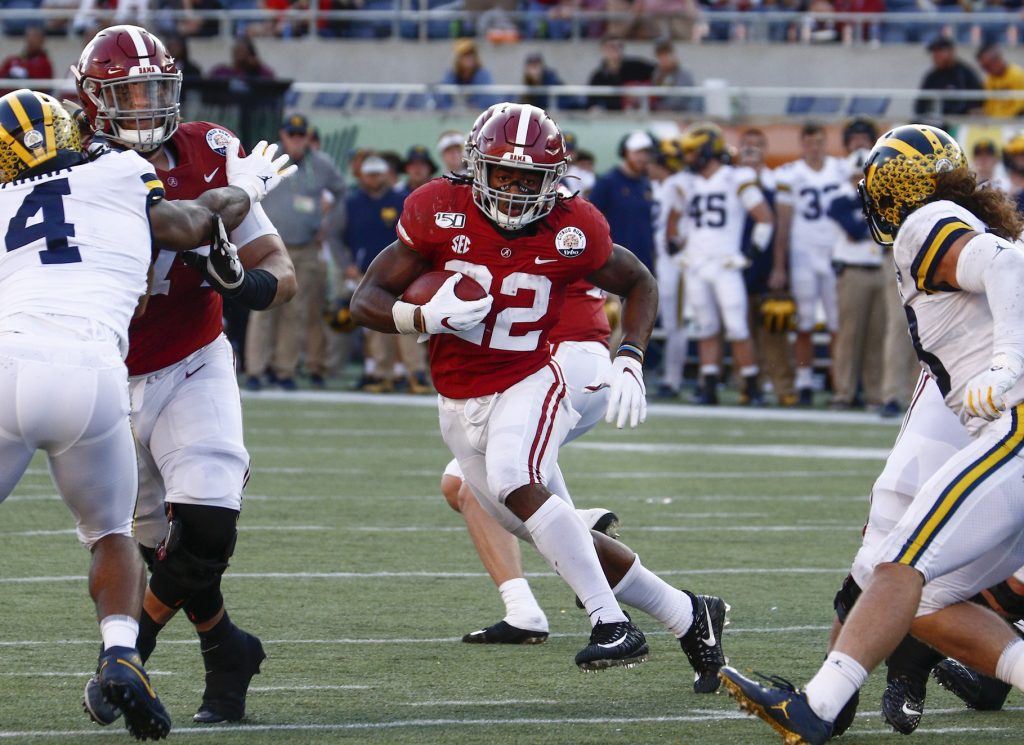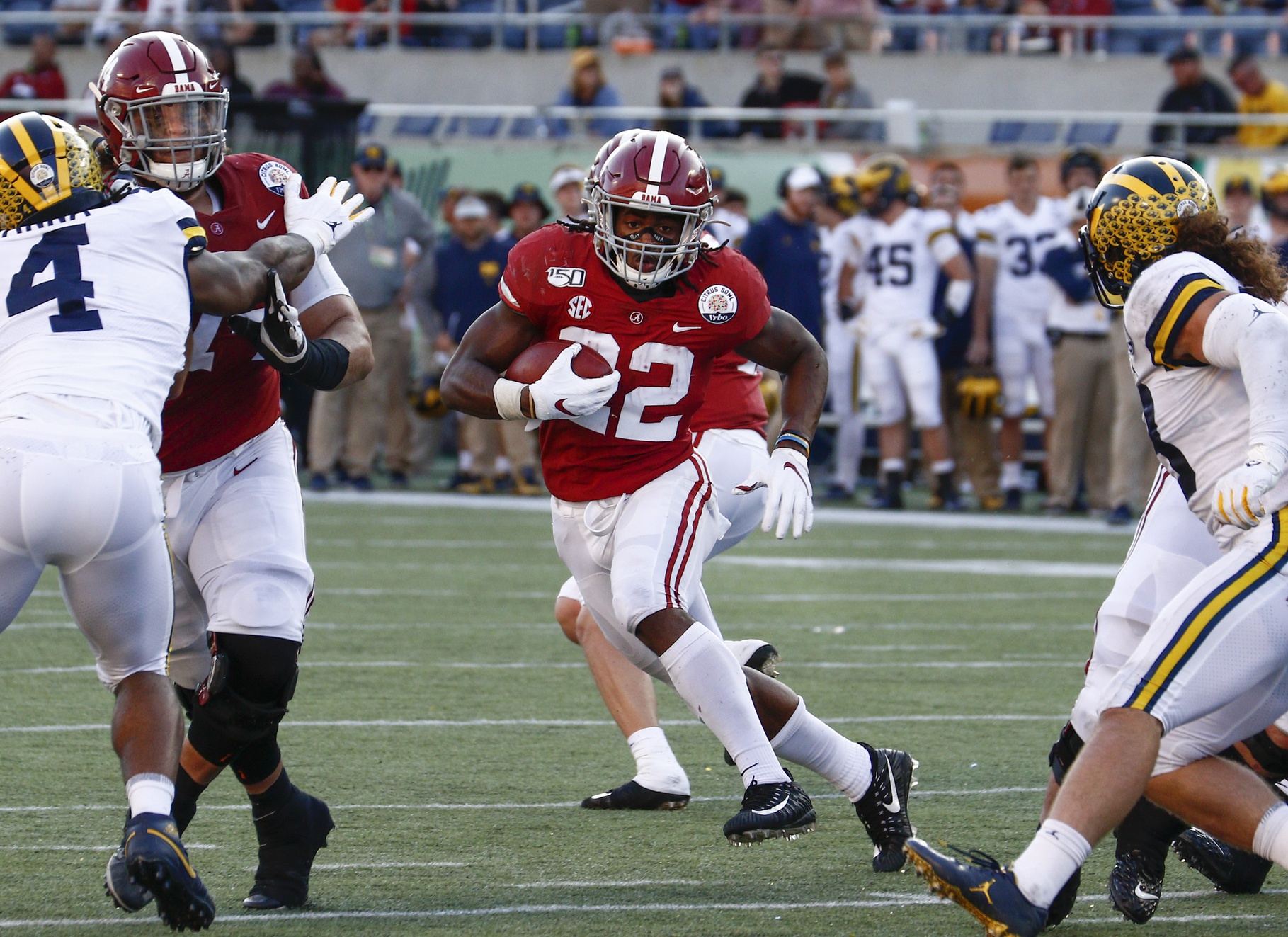 Second-Team: Tank Bigsby, Auburn
Third-Team: Brian Robinson Jr., Alabama
Honorable Mention: Zamir White, Georgia
WIDE RECEIVER
Even in a year where we have seen a quarterback — Mac Jones — post the highest single-season PFF grade we have ever recorded, wide receiver DeVonta Smith still has a shot at winning the Heisman Trophy. He's been that good this year.
Smith has earned a 94.3 receiving grade this season, topping the previous best season at the Power 5 level by more than a full grading point (Amari Cooper's 92.9 in 2014).
The Alabama receiver's 35 receptions of 15-plus yards are seven more than anyone else in college football. There truly is not a defensive back in college football who can effectively shut him down over the course of an entire game. That, right there, is dominance in its purest form.
Second-Team: Treylon Burks, Arkansas
Third-Team: Kearis Jackson, Georgia
Honorable Mention: John Metchie III, Alabama
Moore was Matt Corral's go-to weapon this year, and understandably so. Outside of DeVonta Smith, he was the most reliable receiver in the country.
The 5-foot-9 slot receiver caught 97.7% of his catchable targets this season, the second-highest rate in the nation, and he also recorded the fourth-highest contested-catch rate in the FBS.
Moore has a penchant for finding holes in zone coverages, but he also showed that he could win by separating against single coverage. The Ole Miss wideout ultimately earned the third-best receiving grade we have seen by an SEC wide receiver, behind only Smith and Amari Cooper.
Second-Team: Terrace Marshall Jr., LSU
Third-Team: Damon Hazelton, Missouri
Honorable Mention: Kayshon Boutte, LSU
There is no one in the country that can make guys miss more in an open field or has better balance than Kadarius Toney. He has broken a total of 27 tackles on his touches this season, more than any Power 5 wide receiver. Toney's elusiveness and explosiveness has helped him rack up the second-most receptions of 15-plus yards in the Power 5 with 27.
Second-Team: Shi Smith, South Carolina
Third-Team: Cam Johnson, Vanderbilt
Honorable Mention: Anthony Schwartz, Auburn
TIGHT END
DeVonta Smith hasn't been the only record-setting receiver in college football this season, as Florida tight end Kyle Pitts has also earned the highest PFF grade ever given to a player at his position.
Pitts has earned a 96.0 receiving grade on the year while racking up a position-best 3.26 yards per route run. Pitts' ability to go toe-to-toe against press-man out wide is truly special. He has picked up seven receptions of 15-plus yards against press coverage when lined up out wide — the rest of the FBS tight ends have just six combined.
Second-Team: Jalen Wydermyer, Texas A&M
Third-Team: Arik Gilbert, LSU
Honorable Mention: Nick Muse, South Carolina
LEFT TACKLE
Salyer got off to a slow start in his first year in the starting job with a 69.2 PFF grade in his first four starts. That isn't necessarily bad, but it wasn't first-team worthy either. In his next five games, though, Salyer more than proved he was deserving of this top spot. He led all SEC left tackles in PFF grade in that span by over 10 grading points (88.9).
Second-Team: Alex Leatherwood, Alabama
Third-Team: Landon Young, Kentucky
Honorable Mention: Stone Forsythe, Florida
LEFT GUARD
There were some consistency issues throughout Shaffer's first year starting full-time on the Georgia offensive line with a couple of PFF grades in the low 50s and a couple in the 80s. Despite that, Shaffer still managed to be the highest-graded left guard in the conference.
Second-Team: Sadarius Hutcherson, South Carolina
Third-Team: Trey Smith, Tennessee
Honorable Mention: Ed Ingram, LSU
CENTER
Jackson was really the only player in the country to challenge Iowa's Tyler Linderbaum as college football's best all-around center. He and Linderbaum were the only players at the position in the entire FBS to earn an 80.0-plus grade as both a pass- and run-blocker.
Second-Team: Landon Dickerson, Alabama
Third-Team: Trey Hill, Georgia
Honorable Mention: Michael Maietti, Missouri
RIGHT GUARD
Cleveland anchored this Georgia offensive line and was one of the best guards in college football protecting the passer. The season-opener against Arkansas was underwhelming for Cleveland with three pressures allowed, but he bounced-back big after that. He allowed just three pressures combined in the eight games after the 2020 opener, paving the way to the third-best pass-block grade among Power 5 guards on the year (86.2).
Second-Team: Emik Ekiyor Jr., Alabama
Third-Team: Dareuan Parker, Mississippi State
Honorable Mention: Ty Clary, Arkansas
RIGHT TACKLE
Kinnard maintained his status as one of the top tackles in the run game this year, raising his run-block grade from 89.1 in 2019 to 92.3 this season. That was anchored by the third-highest positively graded run-block rate among FBS tackles.
Second-Team: Larry Borom, Missouri
Third-Team: Evan Neal, Alabama
Honorable Mention: Carson Green, Texas A&M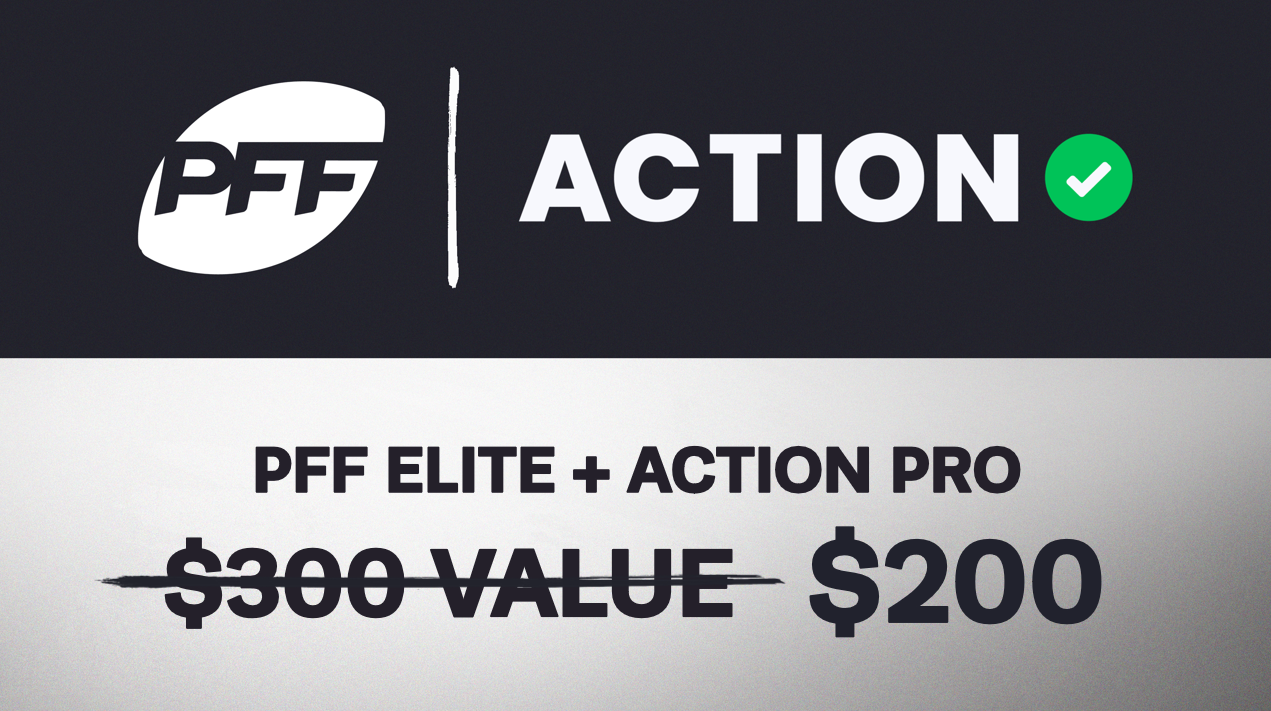 INTERIOR DEFENSIVE LINE
Barmore didn't quite have that Quinnen Williams-esque rise that we were expecting from him this season, but he was still one of the best pass-rushers in all of college football. He came away with the second-best pass-rush grade (89.7) and win rate (18.8%) among Power 5 interior defensive linemen.
Second-Team: Phidarian Mathis, Alabama
Third-Team: Tedarrell Slaton, Florida
Honorable Mention: Jayden Peevy, Texas A&M
Marshall didn't sniff Barmore when it came to pass-rush production, but he sure as heck did against the run. The 6-foot-3, 317-pound nose tackle consistently controlled the run with ease and led the SEC in both run-defense grade (80.8) and run stops (20).
Second-Team: Quinton Bohanna, Kentucky
Third-Team: Devonte Wyatt, Georgia
Honorable Mention: Keir Thomas, South Carolina
EDGE
Ojulari was one of the most productive edge rushers in college football this season with a 20.5% pressure rate. That was over two percentage points higher than anyone in the SEC and the third-highest in the Power 5. Not even the best offensive lines in the SEC like Alabama and Kentucky could stop him. In those two matchups, Ojulari posted an impressive 21.6% pass-rush win rate.
Second-Team: DeMarvin Leal, Texas A&M
Third-Team: Brenton Cox Jr., Florida
Honorable Mention: Josh Paschal, Kentucky
Vandy has been an afterthought from the entire college football these last couple of seasons and that caused the few bright spots they had — Mintze and his teammate Dayo Odeyingbo on the All-SEC third-team — to not get the credit they deserved. Mintze was a top 10 graded player at the position in the SEC last year and elevated his play even further in 2020. He recorded an 87.7 pass-rush grade this season that tied for the eighth-best in the entire Power 5.
Second-Team: Will Anderson Jr., Alabama
Third-Team: Dayo Odeyingbo, Vanderbilt
Honorable Mention: Ali Gaye, LSU
LINEBACKER
The run-defense on this Cat is nothing short of exceptional. Davis led all SEC off-ball linebackers in run-defense grade at 89.0. His tackling was also arguably the best in the entire group as well with just eight misses on 104 attempts this season.
Second-Team: Jabril Cox, LSU
Third-Team: Nick Bolton, Missouri
Honorable Mention: Ventrell Miller, Florida
While Davis was the top run-stuffer in the conference, Morgan was the top dog in coverage. The Razorback ranked second among all Power 5 off-ball linebackers in coverage grade at 84.5, while leading that entire group in passing stops (14) and forced incompletions (six).
Second-Team: Monty Rice, Georgia
Third-Team: Nakobe Dean, Georgia
Honorable Mention: Ernest Jones, South Carolina
CORNERBACK
Surtain may have given up a 50-yard touchdown in the 2020 SEC Championship Game, but that was truly one of the few bad plays he had all season long. He is a physical corner who trails only Hodges-Tomlinson for most forced incompletions among Power 5 outside corners (12). As you may have seen in the 2021 PFF NFL Draft Guide, Surtain's greatest attribute is his press skills, and this year has verified that. He comes in at No. 1 among all FBS cornerbacks in press-coverage grade.
Second-Team: Martin Emerson, Mississippi State
Third-Team: Kaiir Elam, Florida
Honorable Mention: Eric Stokes, Georgia
Ricks was one of Ed Orgeron's blue-chip recruits from the 2020 class and somehow managed to surpass his already lofty expectations. The five-star true freshman was tasked with playing a lot of single coverage in Bo Pelini's defense and he looked like a seasoned vet. Ricks' 90.1 coverage grade in single coverage is over six grading points higher than any other Power 5 corner.
Second-Team: Roger McCreary, Auburn
Third-Team: Jaycee Horn, South Carolina
Honorable Mention: Myles Jones, Texas A&M
SAFETY
It was a tale of two halves for Battle this season. In the first five games of the season, the true sophomore recorded a poor 59.4 coverage grade. Though Battle turned a hard corner after those first five games. From Week 9 on, Battle posted a near elite 87.5 coverage grade that led all SEC safeties and was the fourth-best in the FBS.
Second-Team: Yusuf Corker, Kentucky
Third-Team: Christopher Smith, Georgia
Honorable Mention: JaCoby Stevens, LSU
Catalon took a redshirt in his first-year with Arkansas in 2019, but he flashed some playmaking in his lone game with significant reps. He earned a starting job in 2020 and was that same playmaker week in and week out for the Razorbacks. Catalon led all SEC safeties in passing stops with eight, while intercepting three and forcing five incompletions.
Second-Team: Smoke Monday, Auburn
Third-Team: Lewis Cine, Georgia
Honorable Mention: Demani Richardson, Texas A&M
FLEX D
Among all Power 5 cornerbacks to play at least 150 coverage snaps on the outside, none allowed fewer yards per coverage snap than Jobe at 0.4. The fact he did that playing solely SEC competition is incredible. Jobe also forced more incompletions (12) than first downs allowed (nine). That right there is the definition of lockdown.
Second-Team: Malachi Moore, Alabama
Third-Team: Nehemiah Pritchett, Auburn
Honorable Mention: Derek Stingley Jr., LSU
KICKER
First-Team: Cade York, LSU
Second-Team: Anders Carlson, Auburn
Third-Team: Harrison Mevis, Missouri
Honorable Mention: Will Reichard, Alabama
PUNTER
First-Team: Jake Camarda, Georgia
Second-Team: Max Duffy, Kentucky
Third-Team: Nik Constantinou, Texas A&M
Honorable Mention: Paxton Brooks, Tennessee
KR/PR
First-Team: Tank Bigsby, Auburn
Second-Team: DeVonta Smith, Alabama
Third-Team: Kadarius Toney, Florida
Honorable Mention: Kearis Jackson, Georgia