Matthew Stafford and the Detroit Lions have mutually agreed to part ways this offseason, as first reported by Tom Pelissero of NFL Network. The team will begin looking for potential trade partners for the former No. 1 overall pick, who has been the Lions' starting quarterback since 2009.
Stafford earned an overall PFF grade of 82.0 in 2020, second only to his career-high a year ago in a season that was cut short due to injury. That 82.0 grade ranked 13th this season due to the explosion of offense league-wide.
This was a season where many offensive players had career years, and if anything, Stafford's season will look a little disappointing given what he was doing last year before injury shut him down.
The question surrounding the 2009 first overall pick's ceiling has always been an interesting one. Stafford has always been one of the most physically gifted quarterbacks in the league, capable of sublime play and "wow" throws. Still, the closest he has ever come to putting it all together over a season was that half a season in 2019.
A pessimist would look at his career and brand him fools gold, a mercurial player whose high-end play teases a level he never reaches; an optimist would look at the sequence of head coaches that he has had and wonder what Stafford could achieve if paired with a creative offensive mind, the likes of which have recently helped steer other quarterbacks to outstanding performances.
Wherever you fall on that spectrum, Stafford represents a good starting quarterback at the minimum, even at 33 years old (which he will be by the time the 2021 season begins). And that is a major upgrade for several teams that have been unable to solve their quarterback questions.
Let's take a look at some potential trade partners.
The 2020 campaign was ugly for the Patriots — they lost the division and missed the playoffs for the first time in over a decade.
The notion of rolling into the 2020 season with Jarrett Stidham as the starter was absurd all along, and the last-second switch to Cam Newton didn't fare an awful lot better. To rub salt into the wound, they had to watch Tom Brady steer the Tampa Bay Buccaneers into the playoffs and go on a postseason run.
New England's roster is not in good shape, but they were hit hardest by COVID-19 opt-outs, and their single biggest issue was the passing game. They have a lot of salary-cap space to play with (fourth-most, according to OverTheCap.com), and this is an excellent group of free-agent wide receivers.
Adding Stafford to the roster alone wouldn't fix everything, but if the Patriots swing hard at a top wide receiver to pair with Stafford, it could propel this team back to contention in the short term and stave off the prospect of a full rebuild.
Washington making the postseason this year was remarkable, given their quarterback situation and the fact their head coach was battling cancer for a good portion of the season. In a way, they lucked out due to the standard of play within the NFC East, but the downside of that is that they do not have a great draft spot but a clear need at quarterback.
Alex Smith was a comeback story for the ages, but he just earned an overall PFF grade of 66.0 (28th among signal-callers) and is almost 37 years old. Meanwhile, Dwayne Haskins was released, Kyle Allen isn't the answer, and Taylor Heinicke may be coming off a 92.3 PFF grade for his late-season cameo, but the 75 dropbacks he took to get to that mark represent more than half of his career snaps in the NFL.
Washington is trying to build things the right way, but they represent a team that already made the playoffs and could be propelled to contender status with a legitimate quarterback like Stafford.
Indianapolis is another team that definitely falls into the category of "just needing a quarterback," as the Colts could look to replace the retiring Philip Rivers and head right back to the playoffs.
Rivers himself was brought in because the team believed they had a playoff-caliber roster and just didn't have the quarterback capable of getting them there. Rivers had a solid year (77.2 overall PFF grade, 17th among QBs), but at his age, he isn't capable of doing what Stafford is now. The Colts have one of the league's best offensive lines and an offensive-minded head coach, and while their receiving corps isn't spectacular, this is a good year to need receiver help.
The Colts have already been named as a team that may target Philadelphia's Carson Wentz, given his connection to head coach Frank Reich. While Wentz is much younger than Stafford, he would represent significantly more risk as well as a much more complicated deal to orchestrate, given the contracts at play.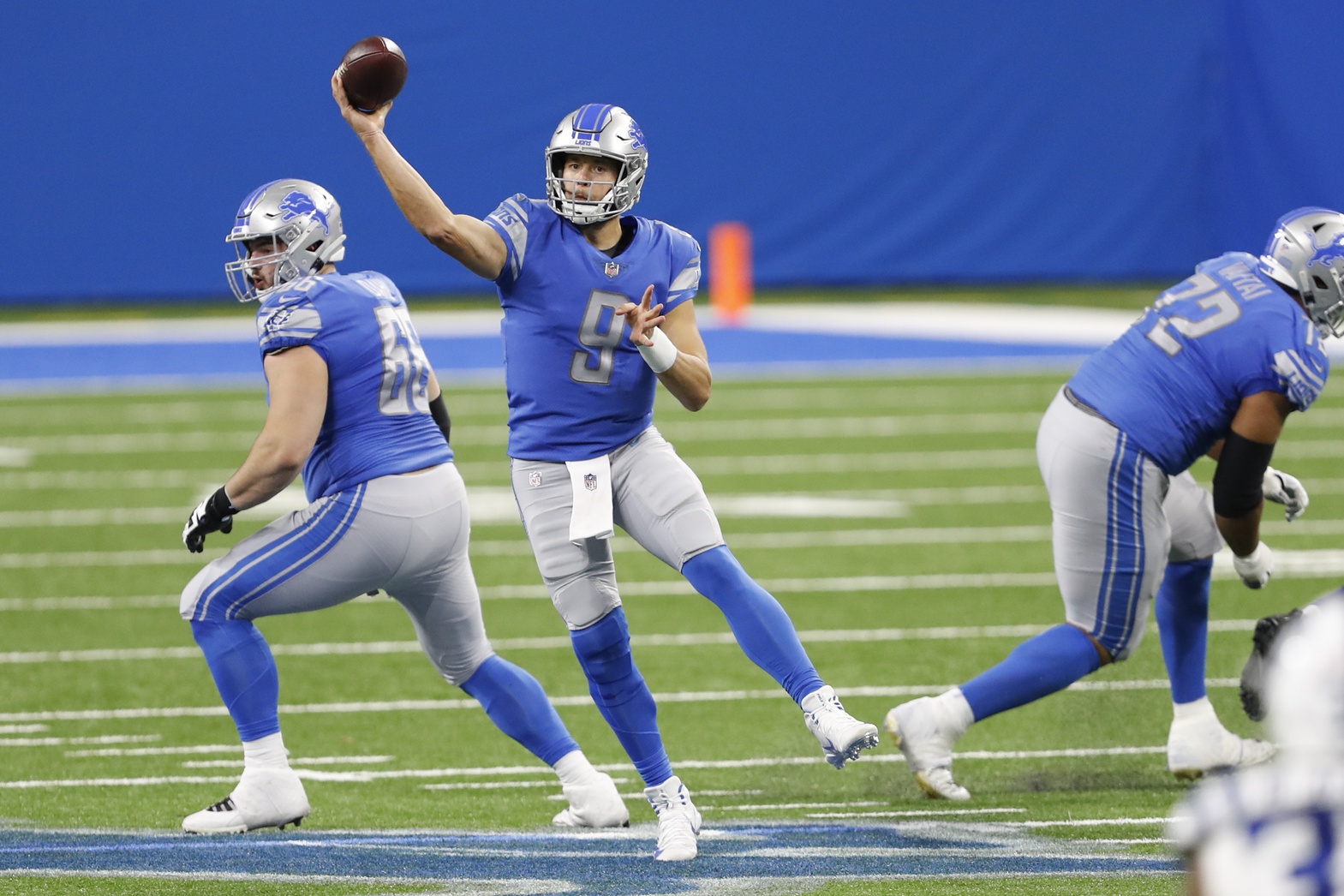 Denver surrounded Drew Lock with an arsenal of receiving weapons in an effort to help him succeed in 2020, but it wasn't enough to help him grade any higher than 63.5 this season, 34th out of 42 qualifying quarterbacks.
Lock recorded an adjusted completion rate of just 68.7%, the lowest of any starter in the league, and he couldn't put the ball in the same area code as his receivers half the time. On the few occasions that he did string together some impressive throws, his receivers seemed so shocked that they dropped the football, with rookies K.J. Hamler and Jerry Jeudy ranking No. 1 and No. 2 in drop rate this year.
Stafford would provide the Broncos with a baseline of good play at the position and allow the team to evaluate the youth they have at receiver, rather than allow the entire group to plummet into the death spiral of untapped potential.
The Bears can't have bought into the late-season surge from Mitchell Trubisky, coming as it did against three of the four worst defenses in the entire league and the Minnesota Vikings, who ranked anywhere from 25th to 28th depending on the metric you use.
Trubisky remained one of the league's most inaccurate passers — his 72.2% adjusted completion rate finished 36th out of 42 qualifying QBs — and he threw for under 200 yards when he had to face a better defense in the playoffs
Trubisky and Nick Foles held a good Bears team back in 2020, but Stafford wouldn't do that. Chicago is another team that must be getting desperate just to solidify a position they have been struggling with for years, as last year's move for Nick Foles suggests. Stafford represents quarterback nirvana for a team like the Bears, but it would require getting a trade done within the division. Does Detroit think that little of Stafford now?
Long Shots:
Houston Texans: Houston has no money or draft picks to play with, but they have a disgruntled quarterback of their own who is potentially worth far more than Stafford.
San Francisco 49ers: The Niners have the capacity to cut bait with Jimmy Garoppolo and are armed with a magician in Kyle Shanahan, but would they want to give up that much for a quarterback like Stafford, given what Shanahan has already achieved with less?
Pittsburgh Steelers: Big Ben doesn't have much left in the tank and may consider walking away this offseason. The Steelers don't want to miss a window if that happens and could jump at a short-term fix.