Late Thursday night, NFL Network's Ian Rapoport reported that Houston Texans star quarterback Deshaun Watson is "extremely unhappy" with how the organization has handled its general manager and head coach searches. Rapoport made it a point to later clarify that Watson isn't upset specifically with the Texans hiring former New England Patriots director of player personnel Nick Caserio but, rather, with the process that led to his hiring.
Houston tried to pry Caserio away from the Patriots last offseason, but New England rejected the move. This offseason, Watson sent a list of candidates and met with team CEO Cal McNair, who hired a search firm to provide its own list of candidates. In the end, there was never actually a general manager search. Houston fired Bill O'Brien and then went straight back to the New England talent pool without genuinely considering anyone else — the definition of bad process.
With all of this taking place, Watson has apparently gone so far as to explore the idea of requesting a trade from the Texans. No one can blame him for his frustration, even after signing a four-year, $156 million extension just four months ago. Watson understands he's the most important person in that building (it's not even close), so for the Texans to not even extend an interview request to his preferred head coach — Kansas City Chiefs offensive coordinator Eric Bienemy — is just blatant disrespect to the face of your franchise. 
The thing folks may be missing here is the full impact of the player empowerment era we're in now in professional sports. Of course, the Texans will do everything in their power to smooth over this relationship and keep Watson in Houston. And of course, they have no desire to move one of the most valuable players in all of sports. But if Watson refuses to play another game in Houston, the franchise may not have much of a choice.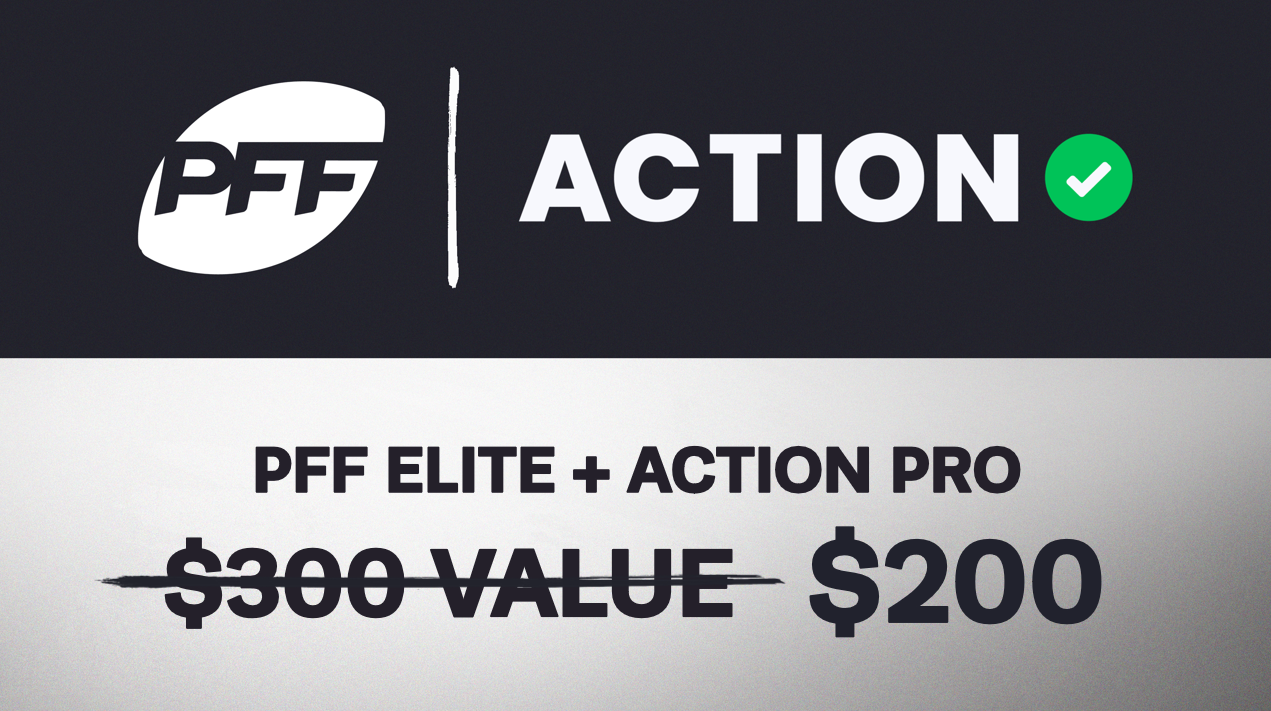 But can he really be traded?!
It's actually not as crazy as you might think. First and foremost, though, Watson would have to approve the trade, as his extension includes a no-trade clause. But from a financial perspective, Watson's deal is undoubtedly "tradeable." 
As a result of the ongoing pandemic, many of the big extensions signed this offseason (Patrick Mahomes and Watson, among others) are light in terms of upfront cash flow. Watson's contract came with just a $27 million signing bonus, and the remaining $21.6 million in signing bonus proration charges is the only dead money that would arise from a hypothetical trade (the Texans would also lose $5.66 million in 2021 cap space). For reference, Carson Wentz — who signed his extension a year earlier — would still leave the Eagles with $33.8 million in dead money if traded on the first day of the 2021 league year, March 17.
Of course, the biggest hurdle in Watson's case is probably not the cap implications but, rather, which team is willing to give up a king's ransom to acquire him. The new team would get Watson on a five-year contract with the following breakdown:
| | |
| --- | --- |
| Year | Cap Hit |
| 2021 | $10,540,000 |
| 2022 | $35,000,000 |
| 2023 | $37,000,000 |
| 2024 | $32,000,000 |
| 2025 | $32,000,000 |
This deal is an absolute bargain for a player of Watson's caliber, though with nothing guaranteed after 2023, odds are he'll be looking for a new deal after three seasons. 
Who can afford to give up the picks necessary to acquire Watson?
This is where things get interesting because a trade of this magnitude is truly unprecedented. We've never seen a bona fide top-five quarterback traded smack dab in the middle of their prime — and it's particularly rare to see a move like this right after the player signs a monster extension. The best comparison in this respect is Cleveland Browns wideout Odell Beckham Jr., who signed a five-year, $90 million extension in August of 2018 with the New York Giants and was traded to Cleveland in March of 2019. 
The only comparable quarterback trade is probably Jay Cutler moving from the Denver Broncos to the Chicago Bears back in 2009 — which is especially fitting because another New England Patriots disciple in Josh McDaniels was on bad enough terms with Cutler to the point where the quarterback requested a trade. As Watson himself said in a now-deleted tweet, "Some things never change."
Denver received two first-round picks, a third-round pick and quarterback Kyle Orton from the Bears in exchange for Cutler. This is still probably too thin for what Houston will want for Watson, and it's notable that Chicago had to extend Cutler after the trade, thus bearing the full brunt of his mega-deal. Because Watson already signed, he's even more valuable to a potential acquiring team. Here's how the two stacked up early in their careers on the field:
| | | | | | | |
| --- | --- | --- | --- | --- | --- | --- |
| Player | Age | PFF Grade | EPA/Play* | Air Yards % | BTTs/TWPs | ANY/A |
| Cutler (07-08) | 26 | 78.1 (11th/48) | .143 (5th/48) | 57.8% (22nd/49) | 1.25:1 (14th/49) | 6.48 (12th/49) |
| Watson (19-20) | 25 | 91.7 (4th/42) | .207 (6th/39) | 59.8% (12th/57) | 1.92:1 (7th/57) | 7.46 (7th/57) |
*On plays with win probability from 5-95%; BTTs — Big-time throws; TWPs — Turnover-worthy plays; ANY/A — adjusted net yards per attempt
Working off the Cutler deal, we would expect Houston to hang up the phone unless a team was offering, at minimum, multiple first-round picks and then some.
As we saw with the Cutler trade, the Broncos drafted Tim Tebow to replace him. Tebow was one of the most decorated college football players of all time, and while he was never believed to become as good in the NFL as Trevor Lawrence or Justin Fields, he showed pretty quickly he didn't even belong in the league altogether. It's always a gamble in the NFL draft, but Deshaun Watson has already proven he can play at an elite level in the league: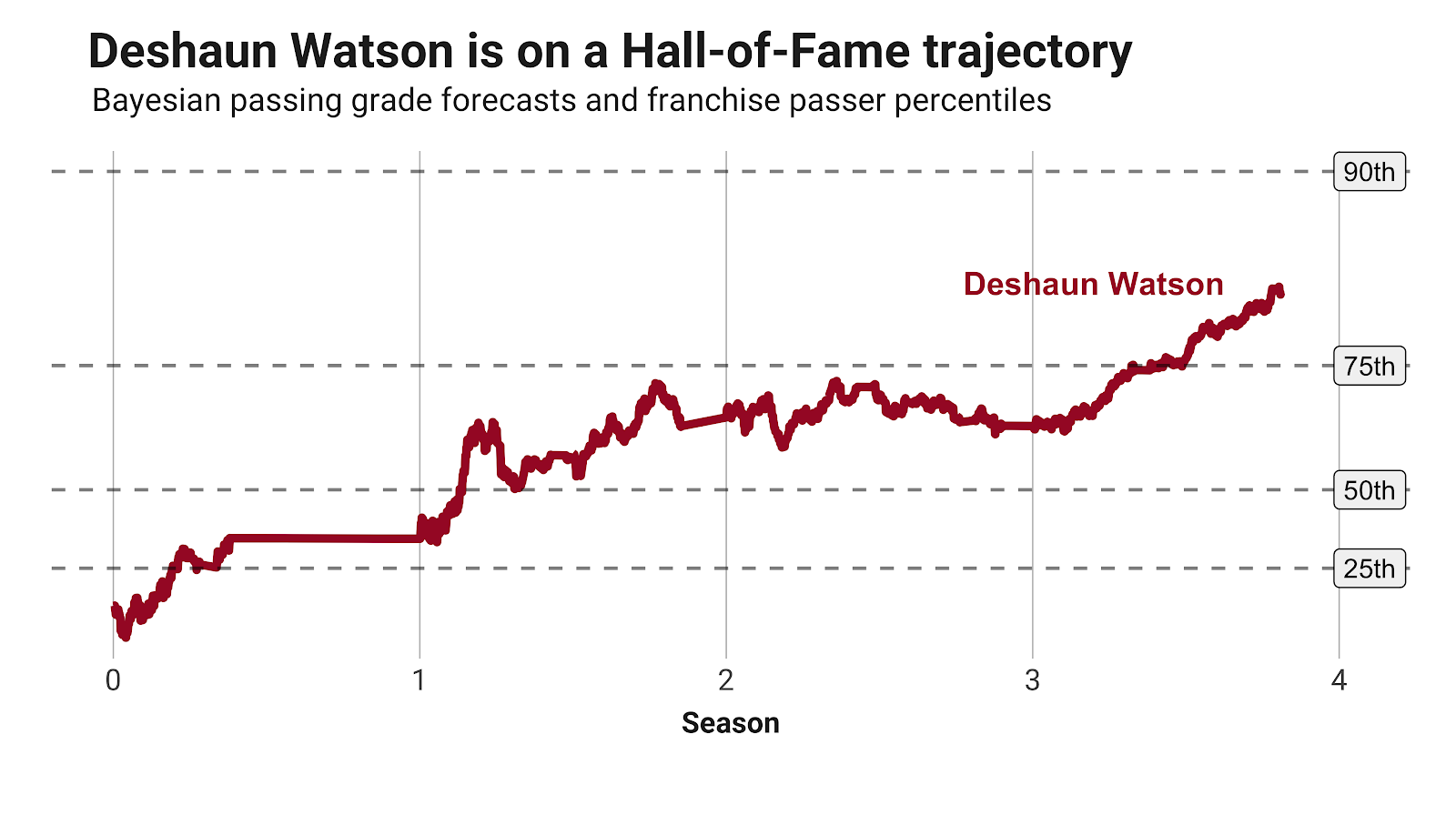 PFF's Kevin Cole provided a Bayesian forecast for Watson through his first four seasons, illustrating he's currently playing his way into the Hall of Fame if he continues in his current form. On the other hand, none of the highly touted quarterbacks this year — Lawrence, Fields and Zach Wilson — project at that level: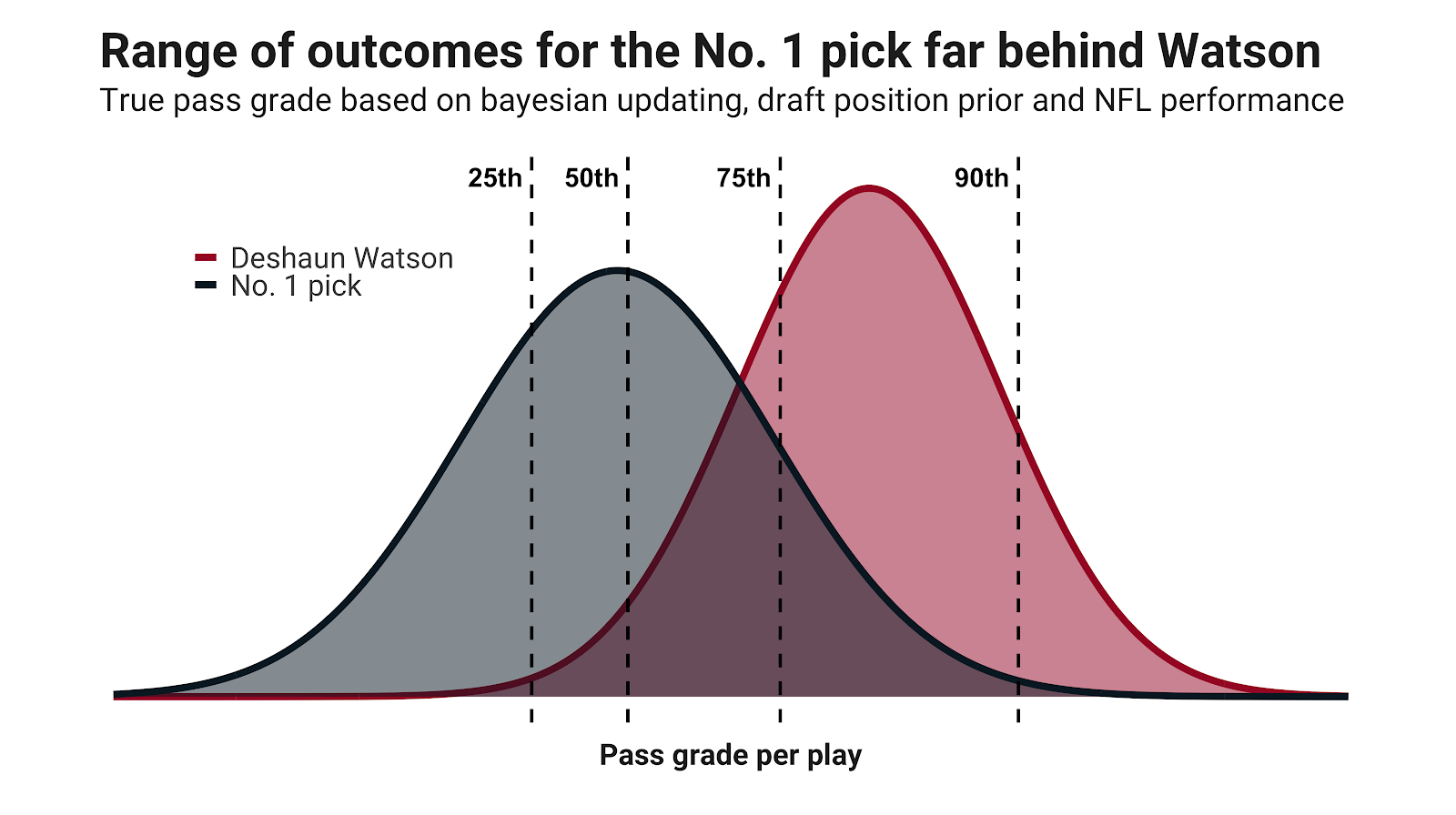 With the stage set, let's get into some potential trades. Even though we understand it's not likely Watson gets moved, anything is possible. 
Hypothetical Trade #1:
Miami Dolphins → No. 3 (acquired via Houston), No. 18, 2022 1st, Tua Tagovailoa
Just imagine the headlines if Miami sent the draft pick they acquired from Houston in the Laremy Tunsil trade back to Houston in exchange for Deshaun Watson. The DeAndre Hopkins trade would look like a slam dunk for the Texans by comparison. Including Tagovailoa here will certainly be controversial, as he's started only nine NFL games and has not definitively shown one way or the other whether he'll carve out a career in the league for himself. Joe Burrow and Justin Herbert completely distorted our perception of Tagovailoa, as well, as he had an above-average rookie season for a quarterback but appeared to struggle by comparison to his draft cohorts.
Nevertheless, Houston gets the ransom they're looking for, and Miami gets the franchise quarterback they set out to land when they decided to bottom out and restart.
With Tagovailoa included here, Houston could use the No. 3 pick on a player like LSU WR Ja'Marr Chase and forget all about DeAndre Hopkins once and for all.
Hypothetical Trade #2:
New York Jets → No. 2, No. 27 (acquired via Seattle), 2022 1st, Sam Darnold
As the first draft pick included goes up, the total compensation package can come down. The more certainty Houston has that it can land its desired quarterback prospect, the less the team may ask for. Here, Sam Darnold is still included in case Houston wants to go the direction of building up a team around the quarterback and then taking their guy in 2022 (the opposite of what they did with Watson, which clearly has not been successful). 
They could flip the No. 2 pick to a different team for another ransom and have a bevy of top-100 picks over the next two drafts. 
Hypothetical Trade #3:
Jacksonville Jaguars → No. 1, No. 21 (acquired via LA Rams), No. 33
This one is the biggest longshot because the Jacksonville Jaguars are a division foe. It's one thing to trade away your star quarterback in the middle of his prime, and it's another to trade him to a team you'll face twice a year. Nevertheless, a swap of two legendary Clemson signal-callers (with the Texans drafting Trevor Lawrence in this hypothetical) would be epic. 
Even though pundits believe Trevor Lawrence is as close to a sure thing in the 2021 NFL Draft as you could ever imagine, a sure thing in the NFL draft does not exist. There is no guarantee that Lawrence pans out in the NFL, even if it's highly probable. Maybe Jacksonville reflects back on Blake Bortles and Blaine Gabbert and decides it would rather go with the known entity in Watson. 
The lack of any future picks may seem off, but it's very rare that a team can effectively trade three first-round picks in one draft, which is essentially what Jacksonville does here by including No. 33. 
Hypothetical Trade #4:
San Francisco 49ers → No. 12, No. 43, 2022 1st, 2023 1st, Jimmy Garoppolo
This trade is most similar to the Kyle Orton exchange (no offense to Garoppolo). Houston gets a viable NFL quarterback and uses the exorbitant draft capital to build a team around him. Garoppolo is still only 29 years old, and a trade would leave the 49ers with just $2.8 million in dead money. 
Honorable Mentions:
A few other teams that are in desperate need of a quarterback and could try to sell the farm for Watson are the Chicago Bears, New England Patriots and Washington Football Team.
Chicago Bears
Chicago famously did not even fully evaluate Deshaun Watson, skipping the steak dinner offer they extended to Mitchell Trubisky and Patrick Mahomes (maybe the ketchup turned them off to any more steak dinners). They traveled to North Carolina multiple times to meet with Trubisky but somehow failed to find the time to swing over to South Carolina while Watson was in the middle of his second consecutive national championship run. 
Would Watson be willing to accept a trade to a team he feels totally overlooked him? If he can get past that, it wouldn't be a bad idea at all, as this Chicago Bears roster with Deshaun Watson probably becomes an immediate contender in 2021. 
New England Patriots
The Patriots are flush with draft capital and cap space, and with head coach Bill Belichick probably not looking to go through a full-scale rebuild, he may not care about all those draft picks headed out the door. Maybe they can convince new Texans general manager Nick Caserio to send them a parting gift. The entire NFL ecosystem would probably explode if a team sent an MVP-caliber quarterback to Belichick and the Patriots, but that's just what they do. 
Washington Football Team
This destination might actually make the most sense for all parties. The Texans get Watson out of the AFC, and he goes to a team with a lot of pieces already in place. Football Team head coach Ron Rivera has the utmost respect from his players and just from around the league in general, so this union could truly be special. Add another wide receiver to pair alongside Terry McLaurin, and this team would be among the Super Bowl favorites in 2021 with Deshaun Watson running the show.