Tom Brady appeared to have finally hit his "cliff" after the 2019 season. That year, Brady posted his worst PFF passing grade since 2006 (76.0) and earned career-lows in QBR, yards per attempt and big-time throw rate. PFF's Ian Hartitz recently took a look at Brady's 19 seasons as a starter, finding that the 2019 version of Tom Brady was arguably the worst version of himself (statistically speaking).
Ultimately, the New England Patriots and Brady decided to part ways, and the GOAT ended up moving on to Tampa Bay for his age-43 season. 
Now TB12 is heading to his 10th Super Bowl in pursuit of his seventh ring.
So how did this happen? How could a quarterback at Brady's age follow up a down season like 2019 with such an elite season and three-straight road playoff wins en route to his 10th Super Bowl appearance?
DEEP PASSING ATTACK
Brady deserves a lot more credit than the superficial narratives about avocado ice cream or the TB12 method.
Brady morphed his game to fit Bruce Arians' "no risk it no biscuit" scheme and finally got the opportunity to be aggressive downfield. Brady led the league in deep-ball yards and attempts, ranked second in deep-ball pass rate (16%) and was PFF's fifth-highest graded passer (95.3) on throws 20-plus yards downfield. 
Such aggressive play-calling has caused issues for other quarterbacks. Andrew Luck, Carson Palmer and Jameis Winston all had at least 40 turnover-worthy plays during their first seasons under Arians.
Brady has just 17 turnover-worthy plays all season. That led to the league's lowest turnover-worthy play percentage (2.2%) — slightly less in 2020 than it was in the dink-and-dunk Patriots offense from 2018-2019 (2.7%). 
The Brady-Arians combination has turned the Bucs offense into one of the most efficient operating units. It's been all biscuits with Brady at the helm.
TB12 leads the NFL in big-time throws (55) — that is just one fewer than he had in his last two seasons combined in New England. His big-time throw rate (7.2%) ranked fourth this season after ranking 27th in the prior two years combined (3.9%). 
What has really benefitted Brady — and maybe best describes how he was able to overcome struggles that other QBs have felt in Arians' offense — is his quick decision-making. 
Despite throwing so many passes downfield, which usually requires more time in the pocket for players to get open, Brady's average time to throw (2.42 seconds, sixth-fastest) was faster than his past two seasons with the Patriots (2.54 seconds). It was also the fastest time a quarterback has thrown playing under Arians in their first season.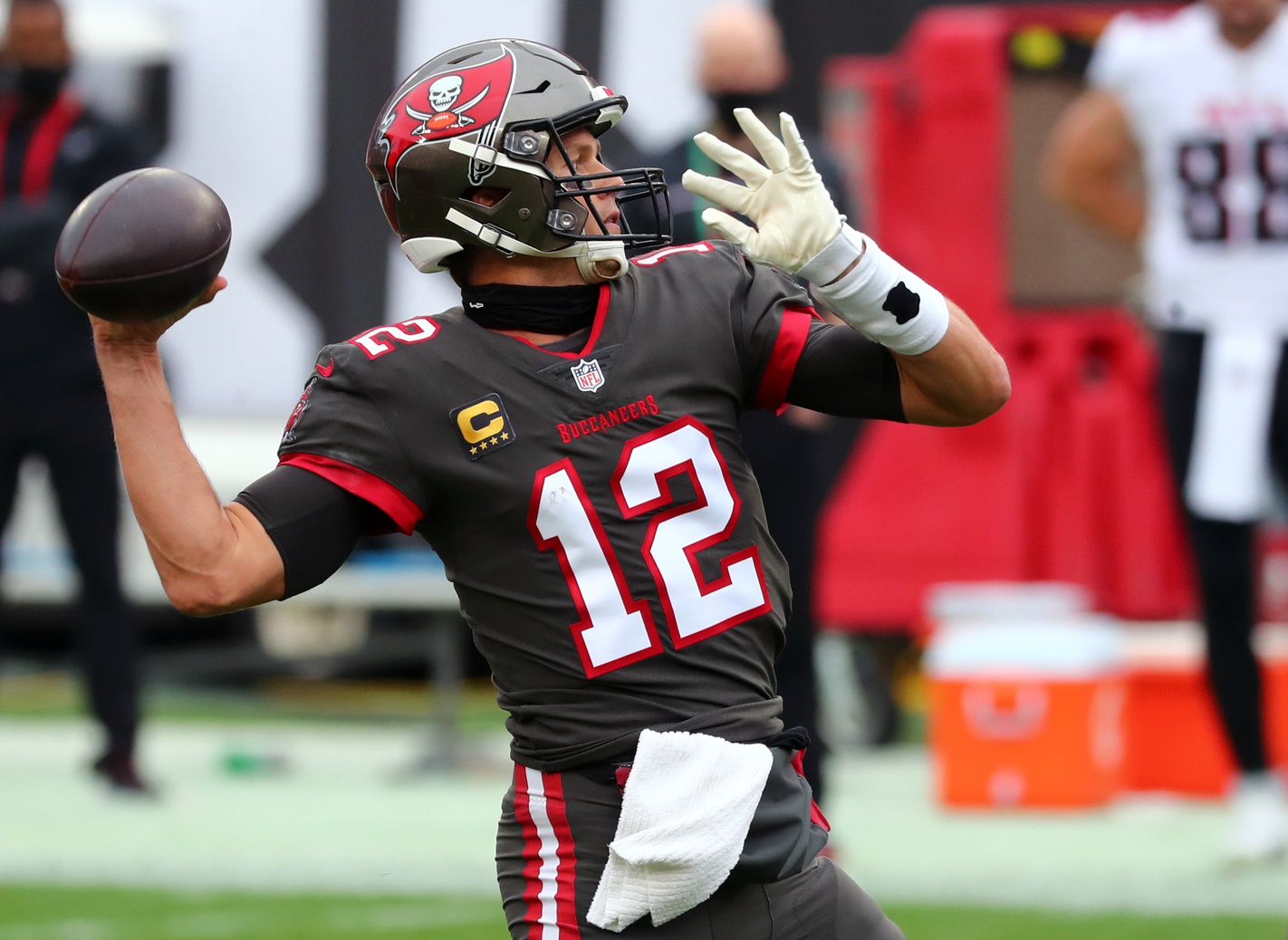 On first read-throws, Brady was second in PFF passing grade (93.2), second in passing touchdowns (37), first in aDOT (12.5) and fifth in average time to throw (2.35).
The Bucs' signal-caller ranked seventh in PFF passing grade (89.4), 10th in passing touchdowns (37), 45th in aDOT (9.5) and finished with an almost identical average time to throw (2.36) in 2020 as he had from 2018-2019. 
The combination of an aggressive play style with a quarterback who can also be efficient in reading defenses is a big reason why Tampa's offense has been so effective this season. 
New England's lack of surrounding receiver talent last season overshadowed the fact that Brady could still be effective throwing the deep ball. His PFF passing grade (92.9) ranked eighth and his accuracy per the 2020 QB Annual was inside the top-five on passes 20-plus yards downfield. 
He was 14th overall in PFF's ranking of the top deep-ball passers during his final year in New England. So it should come as no surprise that we saw his deep passing game skyrocket in 2020 with the upgrades to his offensive arsenal.
BETTER SUPPORTING CAST
Brady's supporting cast played a massive role in helping him find success this season. TB12 earned a 90-plus PFF passing grade when targeting either Mike Evans or Chris Godwin.
Brady had one "receiver" with a 90-plus receiving grade in his last two seasons in New England: running back James White (90.3). Maybe it made sense to check-down to his running back rather than throw deep to a lesser receiver.
Brady wasn't the problem when the Patriots weren't throwing the ball deep. He couldn't throw the ball downfield because he simply didn't have the offensive personnel to do so.
Slot wide receiver Julian Edelman caught 11 passes in two seasons that were on targets 20-plus yards from Brady. That was the most of any Patriots receiver. Evans (14), Scotty Miller (eight) and Chris Godwin (eight) nearly matched Edelman's production in one season. 
And, unlike New England, the Buccaneers' pass-catchers could beat man coverage. Rob Gronkowski (91.5) and Evans (87.1) both posted top-notch PFF grades against man. Over the past two seasons in New England, no player graded higher than 85.0 versus man coverage — and that grade was earned by Gronk in 2018 before he "retired" in 2019.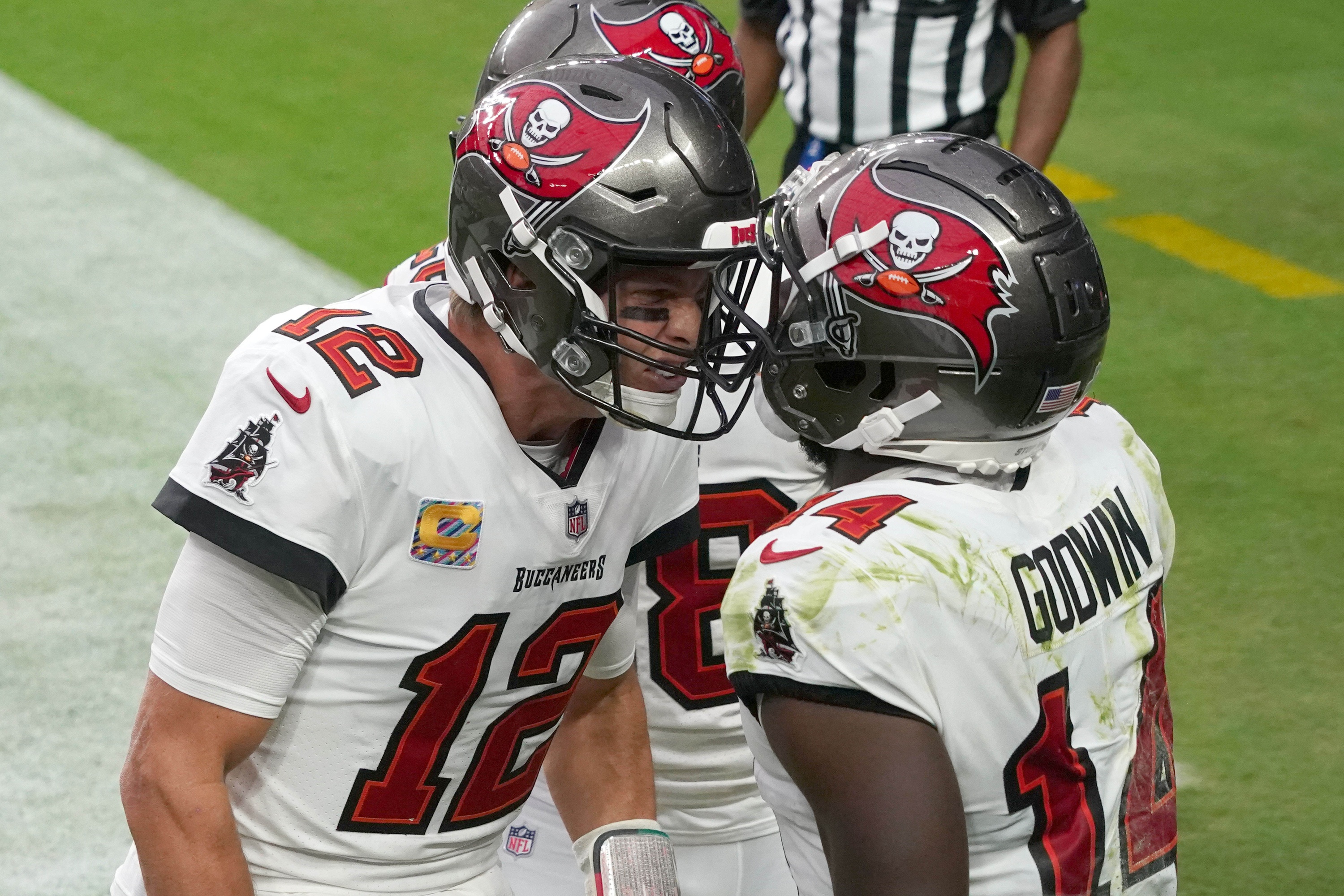 Needless to say, Brady got the chance to play with arguably some of the best receivers in his career in 2020, which just wasn't going to be the case with the salary-stricken 2020 Patriots. 
The struggles the Patriots faced in the passing game may have been covered up better by Brady had he remained up north, but I doubt even he would have salvaged one of the league's worst receiving corps this season.
Brady also made the wise decision to take his talents to a team that would allow him to operate in a clean pocket. He was pressured at the third-lowest rate in the NFL this season (24.1%). 
The Buccaneers' quarterback ranked first in big-time throws (42), second in PFF passing grade (94.7) and second in touchdowns (43) from a clean pocket. When Brady has time to throw in in the pocket, defenses can't stop him.
PLAY-ACTION USAGE
This might be the most impressive reality about Brady's season — the team hasn't even relied on play-action. The Buccaneers rank 30th in play-action passes this season, with Brady using it on just 20% of his throws. That rate isn't too different from his 2019 New England days (25%), but the results of the play-action plays differ dramatically.
Tom Brady passing stats on play-action throws
| | | |
| --- | --- | --- |
| | 2019 | 2020 |
| Yard per attempt | 8.1 (22nd) | 10.2 (2nd) |
| Passing touchdowns | 5 (20th) | 17 (4th) |
| Passing yards | 1,365 (8th) | 1,514 (4th) |
| Passer rating | 91.5 (31st) | 127.8 (3rd) |
| PFF passing grade | 70.8 (27th) | 94.5 (2nd) |
Brady went from producing mediocre numbers off play-action in 2019 to leading the league in yards-per-attempt differential (3.2) between play-action and non-play-action throws. Play-action is supposed to make life easier for a quarterback, but it was fooling nobody in New England. 
Brady's PFF passing grade off play-action throws in 2019 (70.8) was worse than hisPFF passing grade in 2020 (89.0) on non-play-action throws. 
Again, this improvement in play-action efficiency can be tied back to the deep passing game. When New England ran play-action last season, they couldn't go deep effectively.
On play-action attempts of 20-plus yards, Brady completed just 40% of his throws for 10.4 yards per attempt with a 68.6 PFF passing grade (23rd). That's horrible.
Fast forward to the Buccaneers, and it's a completely different story. On play-action attempts of 20-plus yards, Brady completed 56% of his throws for 17.4 yards per attempt with a 98.9 PFF passing grade (second). That's deadly. 
The Buccaneers further optimized Brady's play-action throws. The only question I have is: Why not incorporate it more? 
There wouldn't be a better time or place to deploy such a strategy than against the Chiefs in the Super Bowl. When these teams last met, Brady posted a perfect passer rating when using play-action (158.3). 
FINAL THOUGHTS
To bring this back full circle, I'll refer back to Brady's 2006 season when he posted a 76.0 PFF passing grade — one of the worst of his career. That season is remembered as the year the Patriots were up big on the Indianapolis Colts in the AFC Championship despite having an extremely thin receiving corps. 
They ended up losing that game and responded by acquiring as many weapons as possible. The following season's Patriots went down as one of the best offenses in NFL history.
Move ahead to 2019 and, again, Brady was met with a similar situation coming off a disappointing year. But instead of waiting for New England to reload, the 43-year old quarterback took matters into his own hands and got the upgrades he wanted/needed in Tampa.
Brady bet that he could still ball out with the 25-year-olds of the NFL under the right circumstances, and he found the perfect situation to prove it with Bruce Arians in Tampa.