Just as it is for the professional level, the quarterback position is far and away the most important position in football at the college level. A team has to have a viable signal-caller in order to sniff the College Football Playoff or even have a shot at a conference championship, and you most certainly have to have a top-tier passer to take home the ultimate honor of being named national champions.
This, of course, begs the following question: Which programs are in the best and worst shape at the quarterback position as we look forward to the 2020 college football season?
With the help of PFF College's advanced database — which has now been made available to subscribers for the very first time — we can proceed to answer that question and provide you with the most accurate college football quarterback rankings out there.
Taking into account each projected starter's play-by-play grading profile in addition to several other data points, we present to you our college quarterback rankings for all 130 FBS programs.
Players like Trevor Lawrence simply don't come around often. The Clemson quarterback produced a PFF grade above 90.0 in each of the last two years, which is something only Tua Tagovailoa managed to match. The best part? Lawrence did that as a true freshman and true sophomore.
Lawrence earned 1.4 win shares (WAA) in his 2018 freshman season, which was a mile ahead of anything any other Power 5 true freshman has done in the PFF College era. His arm strength, mobility and pocket presence are all elite, and there really is nothing that he does poorly. Not only is Lawrence the best quarterback of this season, but he is also in the conversation as one of the best quarterbacks we have ever seen.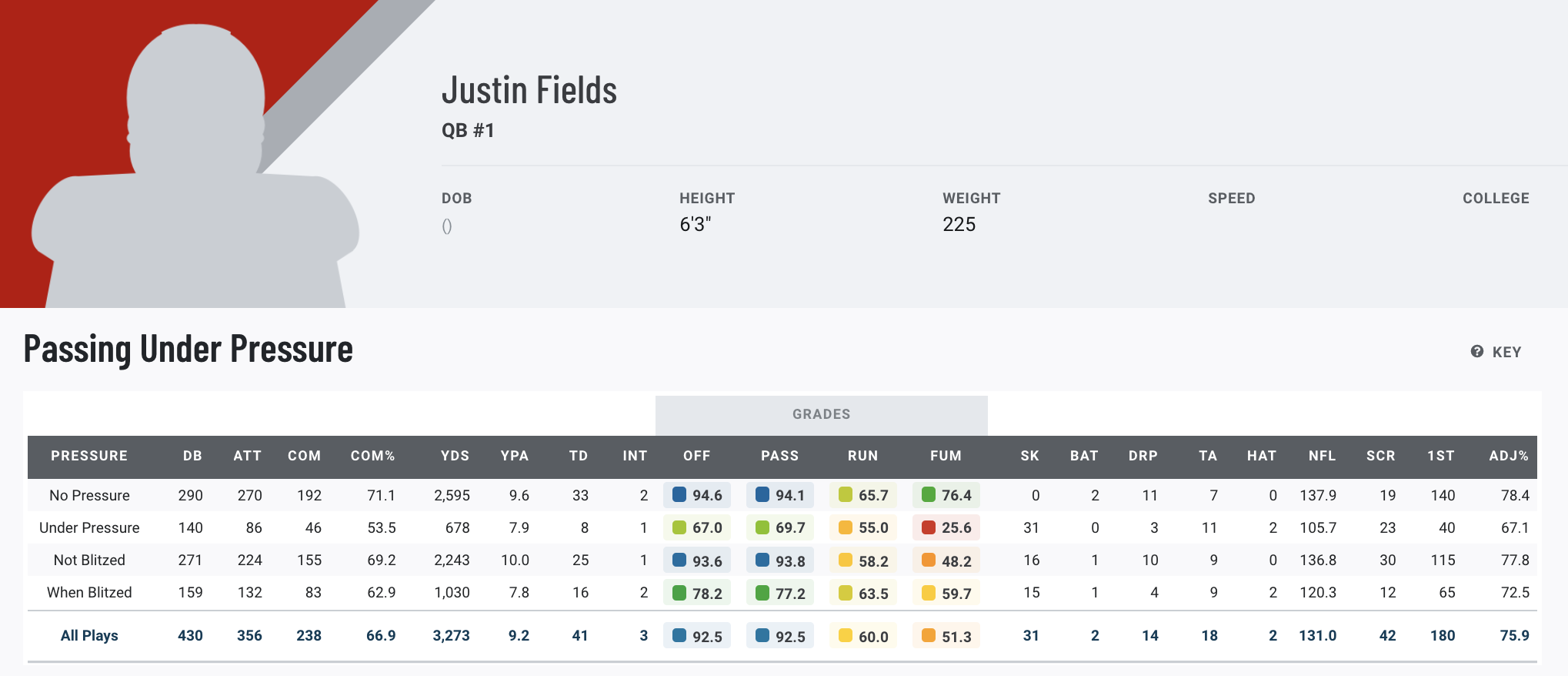 If it weren't for the unheralded play of Joe Burrow in 2019, Fields would have been the best quarterback of the 2019 season. While Lawrence edges him out here due to having consecutive seasons of dominant play as an underclassman, it's Fields who had the better 2019. In fact, it was the 10th-most valuable season we have ever recorded at the position (since 2014), per WAA.
Fields recorded a 92.4 passing grade in his first season as a Buckeye, posting the nation's third-best big-time throw rate and 16th-best turnover-worthy play rate. As we stated in the PFF College Magazine, Fields routinely finds the open receiver and delivers an accurate ball, hardly ever making a mistake. Whether it be via the air or on the ground, Fields can go toe-to-toe against the best defenses in the country and actually projects better to the next level than anyone on this list.
There might not be a more underrated player in college football than Newman, who is set to join Georgia from Wake Forest. Wake didn't cater to Newman's arm talent as much as it should have, as they instead relied heavily on his athleticism in the ground attack. Newman's mobility is a great attribute, but his arm talent is far superior. His touch downfield is arguably the best in the country, and it was instrumental in him producing the second-best deep (20-plus-yard throws) passing grade among Power 5 quarterbacks.
The new Georgia signal-caller wasn't necessarily in an ideal situation at Wake Forest, given his usage, the RPO-heavy offense and the lack of separators in the receiving unit. He actually had to throw into a tight window at a higher rate than any quarterback in the country, yet he overcame that and earned the second-best passing grade on such throws. Now, Newman will go to a Todd Monken-led offense at Georgia that will cater to his strengths and is boosted by an incredible supporting cast. Dawg nation is in line for a lot of success with Newman — and not J.T. Daniels — under center.
Mack Brown has the North Carolina program on the rise, and the move to kick off this particular butterfly effect was him flipping Sam Howell's commitment from Florida State. Howell had an outstanding true freshman campaign in 2019 that saw him accumulate the second-most-valuable true freshman season ever recorded by a Power 5 quarterback. The Tar Heels have one of the most potent deep passing attacks in the country with Howell leading the charge; he showed exceptional placement downfield last year, and his 29 big-time throws on deep balls in 2019 — tied for third-most in college football — reflect that.
Morgan's 2019 season was one of the most significant year-to-year improvements we have ever seen by a Power 5 quarterback. He took his passing grade rank from 104th in 2018 up to eighth in 2019. His anticipation is precisely what you want at the position, and it played a big part in his success last season. The Minnesota scheme and great supporting cast certainly played a role in him producing the second-best positively graded throw rate in the country last year. However, it takes two to tango, and Morgan certainly did his part.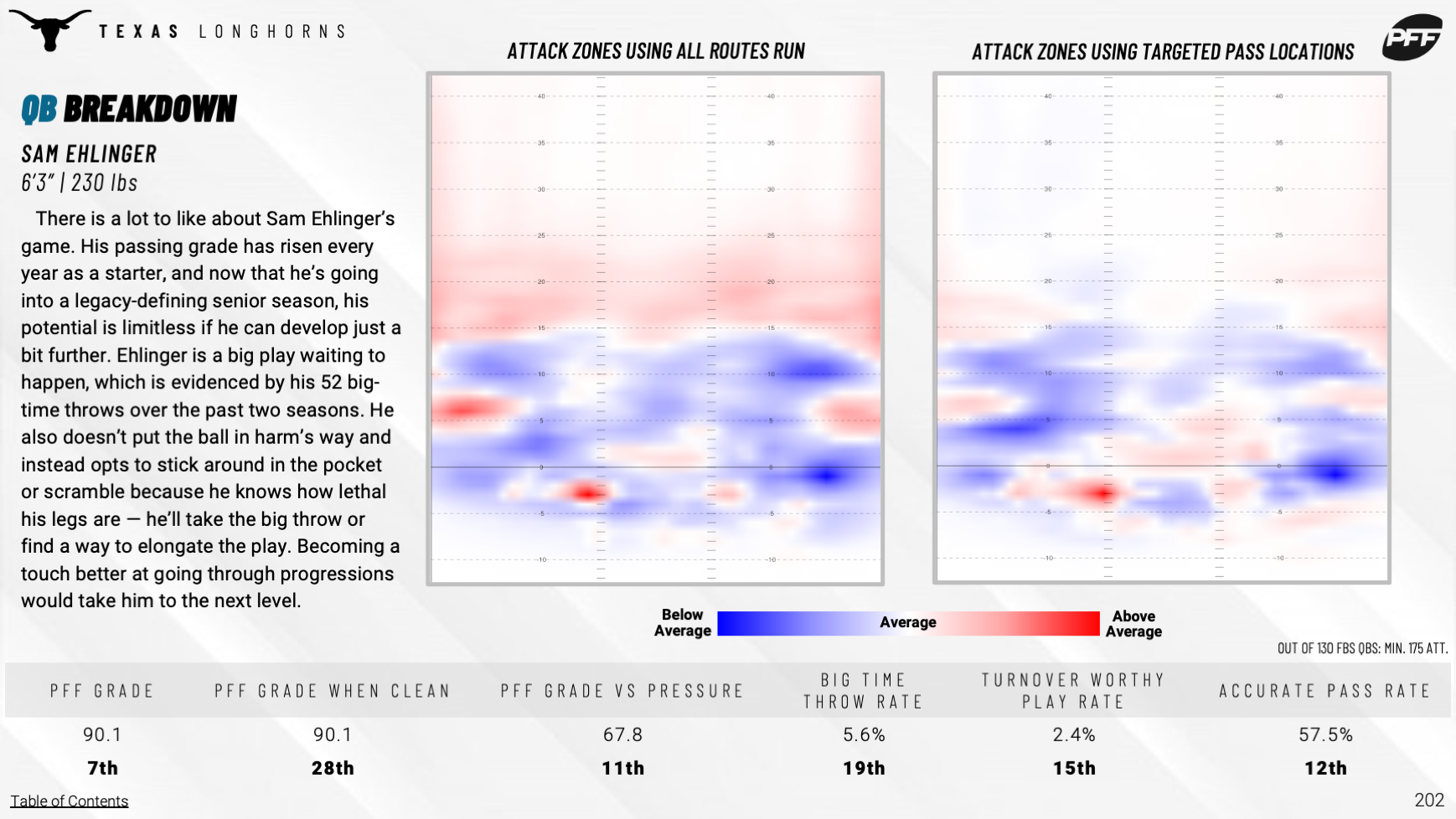 Texas might not have the same "elite program" status as they did in the early 2000s, but it's far from Ehlinger's fault. He posted an impressive 85.7 PFF grade in 2018 before improving that to an elite mark of 90.1 in 2019. Ehlinger produced 33 big-time throws last year, tying for the second-most in the country. He makes good decisions with the ball, he has excellent accuracy and mobility for a college quarterback, and he can take his play even further if he cuts down on his tendency to bail out of clean pockets.
Few expected Slovis to look like one of the best quarterbacks in college football after he was thrust into the starting role in Week 1 of 2019. Yet Slovis, a three-star true freshman last year, was the only other quarterback to rival Joe Burrow's historically good accuracy over the course of the college football season.
Slovis ranked second to only Burrow in the percentage of accurate passes thrown beyond the line of scrimmage. He also maneuvered the pocket exceptionally well and made magic on long-developing plays — he even earned a 90.1 PFF passing grade on pass attempts that took longer than 3 seconds from snap to pass, almost 7 grading points clear of the next returning signal-caller. If he cuts down on the fumbles in 2020 — something we'd expect from him with a year under his belt — Slovis will shoot even further up this list.
Purdy might not have taken that next step in 2019 — or even matched what he did as a freshman in 2018, for that matter — but he's still very much one of the top quarterbacks in the country. As an underclassman over the last two years, Purdy has earned passing grades of 88.0 and 82.2, respectively. He put up some of the best anticipatory throws in the country over that span and hardly ever commits a mistake when he's in rhythm. He has a gamer mentality, as PFF lead draft analyst Mike Renner likes to say, but sometimes can play with fire when creating outside the structure (eight turnover-worthy plays on 60 such dropbacks in 2019). If Purdy cleans that up, he'll skyrocket.
Our top Group of 5 quarterback is none other than Kent State's Dustin Crum. The dual-threat quarterback produced a 91.7 PFF grade in his first year as a starter for the Golden Flashes, third in the FBS. He also avoided negatively graded throws at an exceptional rate — only Joe Burrow had a better negatively graded play rate in 2019. Crum has some real-deal arm talent, and it shows deep downfield. He put up 12 big-time throws on 40-plus-yard attempts, three more than any other FBS quarterback. If you hadn't heard of Crum until now, be sure to take note of this hidden gem.
Hatcher is currently locked in a quarterback competition with Logan Bonner, but this should be Hatcher's job to lose. Hatcher, who spent a year with Nick Saban and Alabama before transferring to Ark State, produced a 90.0 passing grade — sixth in the FBS — in his first game action at the college level when he took over from Bonner. Ark State produced just 0.06 EPA per pass play with Bonner under center, but that jumped to 0.151 with Hatcher at the helm — the best the Red Wolves have ever had with a single quarterback for a season in the PFF College era.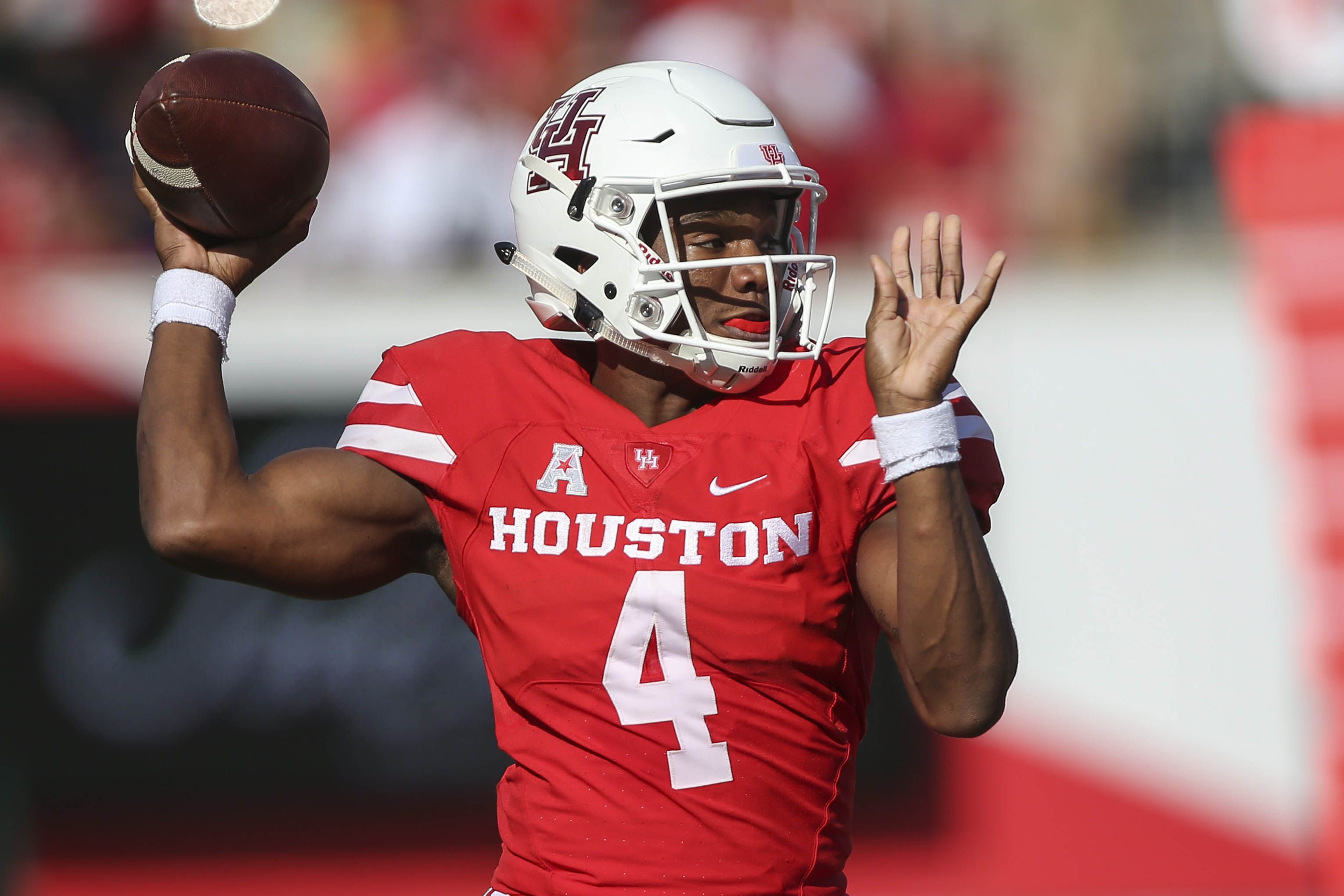 King was quite easily one of the best quarterbacks in the country in 2018. The true dual-threat produced a 91.2 PFF grade, second to only Kyler Murray that year, but then everything came crashing down under a new regime in 2019.
King played in only four games before taking a redshirt, and in that small sample, he produced just a 59.9 passing grade in Dana Holgerson's Air Raid offense. King was still lights out as a runner in those four games, though, so it's not surprising to see that he's averaged 4.5 yards after contact (first among FBS quarterbacks) and produced a 10-plus-yard carry on 26.9% of his carries (second) over the past two seasons. Rhett Lashlee, Miami's new offensive coordinator, has a past with mobile quarterbacks and will almost certainly bring out the best of King.
We only saw Penix play in six games last year, but we still saw enough to call him the 12th-best starter in the country. He has every trait you want in a quarterback: accuracy, decision-making, arm strength, mobility, pocket presence — Penix is well above average in all of these critical facets of play. He ended up recording an 83.5 passing grade across his 165 dropbacks in 2019, which ranked behind only Justin Fields and Tanner Morgan for best in the Big Ten. With a clean bill of health, Penix is set to break out and become a household name.
Gunnell had just three starts and a total of 185 dropbacks in his true freshman campaign last year yet still performed beyond expectations right out of the gate. His accuracy is what truly stood out, and it is right behind Slovis for best in the country. Gunnell threw an accurate pass on 65.9% of his throws beyond the line of scrimmage, which would have ranked third in college football had he qualified for a rank. Like Penix, Gunnell is a breakout waiting to happen.
Ramsey had an underappreciated 2019 season as he filled in for the injured Penix in Indiana. While he didn't have many big-time throws to his name, he also made very few mistakes, ultimately finishing eighth among FBS quarterbacks in turnover-worthy play rate (1.8%). He can extend plays with his legs — evidenced by his 76.4 rushing grade — and he recorded the lowest negatively graded play rate of any quarterback in the FBS on his dropbacks under pressure. Northwestern suffered some of the worst quarterback play in the nation a season ago but hit the jackpot by snagging Ramsey from the transfer portal. The question now is, will the depleted wide receiver room do its part?
Gabriel was among the handful of true freshman quarterbacks to exceed expectations right away. He posted in an 81.4 PFF grade on the year, which is a great mark for someone with no collegiate experience. It's quite rare to see a freshman quarterback display the same decision-making abilities that Gabriel showed — his 1.6% turnover-worthy play rate was fourth among FBS quarterbacks in 2019. He's a star in the making for UCF.
Mond plays exceptionally well on the move. He's put up a 75.0 rushing grade and 1,368 yards on the ground since 2018, and he has also produced the fourth-best grade in the FBS when throwing from outside the pocket. That said, he falls to 16th here due to his inconsistencies from inside the pocket. Mond has actually earned a higher grade outside the pocket than inside the last two years, which isn't common at all. Perhaps we will see an improvement in this regard as he enters his third year in Jimbo Fisher's difficult pro-style offense.
While his 2019 production was skewed heavily by three lights-out performances against the bad defenses of New Mexico, Bowling Green and Navy, Book had very few errant throws to speak of over the year, finishing the season with the fifth-lowest rate of QB-fault incompletions in 2019. The reason to worry about Book in 2020 is the 29 sacks he has invited since 2018, the most in the FBS over that span.
Costello suffered an injury-riddled 2019 and looked nothing like the top-tier passer we saw in 2018 when he was taking the field for Stanford. His 82.8 PFF grade from 2018 took a dip to 63.7 in 2019, but assuming the injury bug doesn't hit him again, we are confident in him thriving in Mike Leach's infamous Air Raid attack. He certainly has the accuracy to do so, as he was 38th in accurate-pass rate beyond the line of scrimmage in 2018 (53.3%) and looked sharp in four-open sets, which is something he will see a lot with Leach pulling the strings.
Buechele turned his career around with SMU after struggling for Texas early on. He was one of just four quarterbacks to produce top-15 marks in big-time throw rate and turnover-worthy play rate in 2019, and he showed off a really nice deep ball all year long. Buechele ranked second to only Burrow in deep completions, with 40. His accuracy is well below average, but that didn't stop the Mustangs from having the 10th-most efficient passing offense in the FBS in 2019.
Rattler coming in at No. 20 is solely a projection, as we saw very little of the five-star recruit in 2019. In Lincoln Riley's five years at Oklahoma, the Sooners' starting quarterback has ranked second, first, first, first and second in PFF grade among all FBS quarterbacks. It's lofty to expect Rattler to continue that trend, but given his high recruiting status, the slew of weapons at his disposal and the quarterback-friendly offense in which he's set to play in, Rattler is set up for success in 2020.
There were points last year when it certainly didn't look as if Garbers would ever crack the top 25 in our quarterback rankings, but something clicked in Week 4 to change that. The Cal signal-caller earned just a 60.7 passing grade from Week 1 of 2018 to Week 4 of 2019, but in his six starts after that — he missed time due to injury — he improved that mark to 88.6. Garbers was fifth in big-time throw rate and 17th in turnover-worthy play rate in that span and just looked far more comfortable on the field.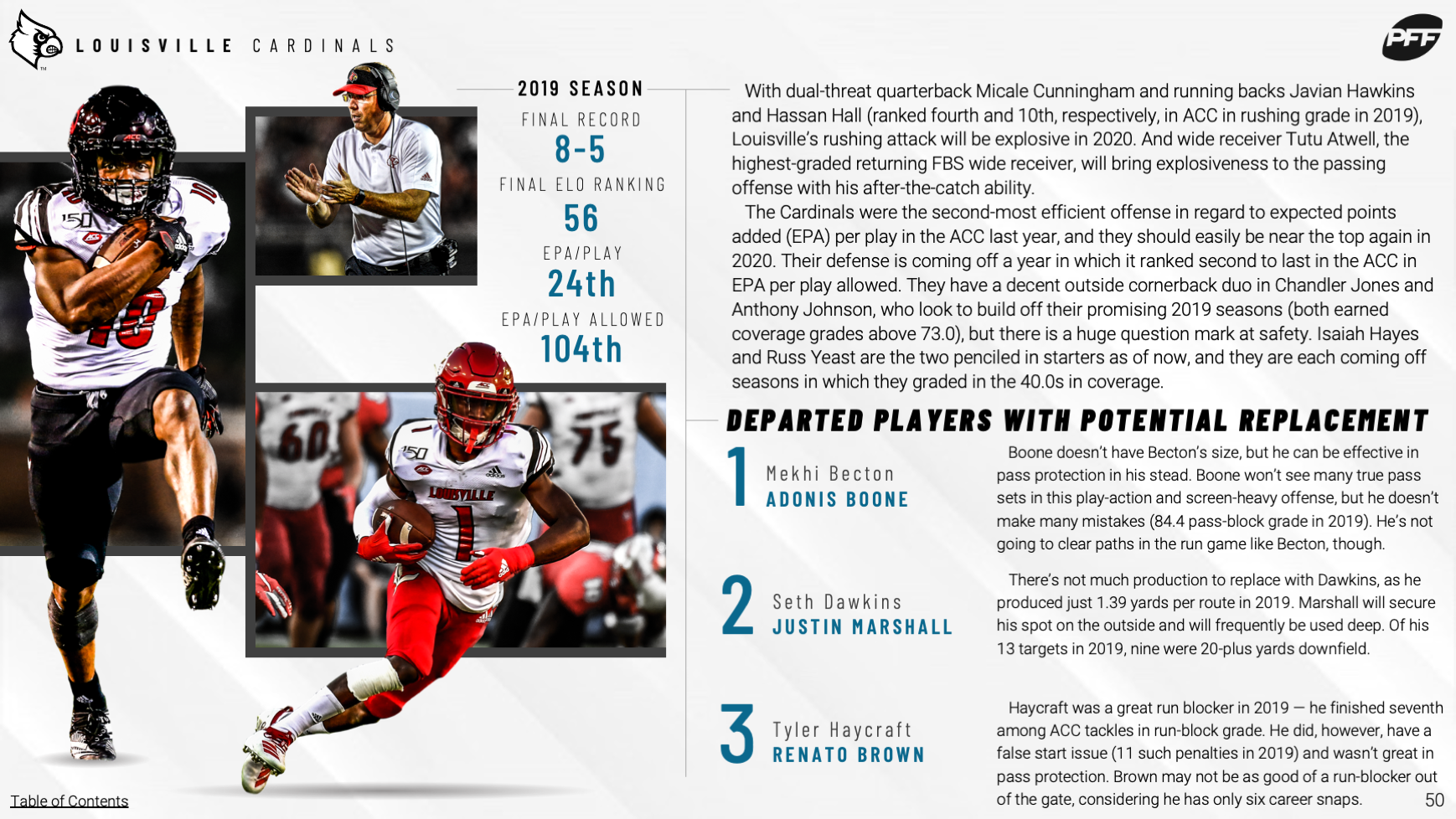 Cunningham's rushing ability is his greatest strength — he averaged 7 yards per attempt on read-option plays as defenses struggled to deal with his dynamic combination of speed and shiftiness. He is also more than capable of doing damage with his arm, as he earned the third-best passing grade from a clean pocket last season. Cunningham still has room to grow as a passer and will always be more of a threat as a runner, but he helps form a genuinely potent offense alongside Tutu Atwell and Javian Hawkins. 
O'Hara's mobility is Middle Tennessee's greatest asset. No current college quarterback produced a higher rushing grade than O'Hara in 2019 — you really do have to get a square shot on him. The Middle Tennessee signal-caller ranked fifth in the entire FBS — and this list includes running backs — in total runs that came with 10 or more yards after contact. O'Hara also recorded a gain of 10-plus yards in every single game of his 2019 season, with all but one game having more than one of those runs. And yes, his accuracy downfield is a bit of a concern, but he also showed promising signs of development as the 2019 season progressed. O'Hara earned a 78.3 passing grade over his final four starts in 2019, improving from a 57.3 passing grade in Weeks 1-9.
Jones is no Tua Tagovailoa, but he's more than capable of leading Alabama's loaded offense to success. He is a sharp decision-maker — he had only four turnover-worthy throws last year — and he has the ability to tie his feet and eyes together to get through reads. There is, however, one glaring concern we have with Jones going into his first year as the Crimson Tide starter: His negatively graded play rate on throws from a clean pocket (screen passes excluded) ranked 131st of 150 FBS quarterbacks. It's a relatively small sample, but it is something to keep in mind.
Thompson is a reliable game manager for the Wildcats. He rarely made mistakes from a clean pocket, generating the highest clean-pocket passing grade in the Big 12 while recording a 20-to-2 big-time throw to turnover-worthy play ratio. Considering the offense Kansas State runs, the Wildcats' passing attack will continue to be a big-play threat with Thompson under center.
Brewer's arm talent isn't anything special, but he can lead an efficient/winning offense if he is able to return to his 2018 form. His passing grade went from 90.0 that year down to 76.1 in 2019, and he nearly doubled his turnover-worthy play total.  Baylor needs to load up the playsheet with play-action passes and RPOs if they want to get the very best out of Brewer in 2020. 
Coan had an impressive breakout year in 2019. He went from a 41.4 PFF grade on a limited sample in 2018 to a grade of 78.5 in 2019, the sixth-best PFF grade among Big Ten quarterbacks. He could look to improve his deep ball, as he tended to force deep throws into tight coverage (seven turnover-worthy plays to his first read on deep balls last season, third-most in FBS). That said, you have to love the way he performed in the difficult Wisconsin offense.
Brice could very well end up as the best quarterback Duke has ever had. Seeing game action only in blowouts the past two years, Brice has made very few mistakes and has recorded a solid 82.4 passing grade in the process. His downfield accuracy is a bit of a concern — and that will be something to monitor — but Brice looks every bit like an average Power 5 quarterback, which is something that would greatly benefit Duke considering what they have had at the position as of late.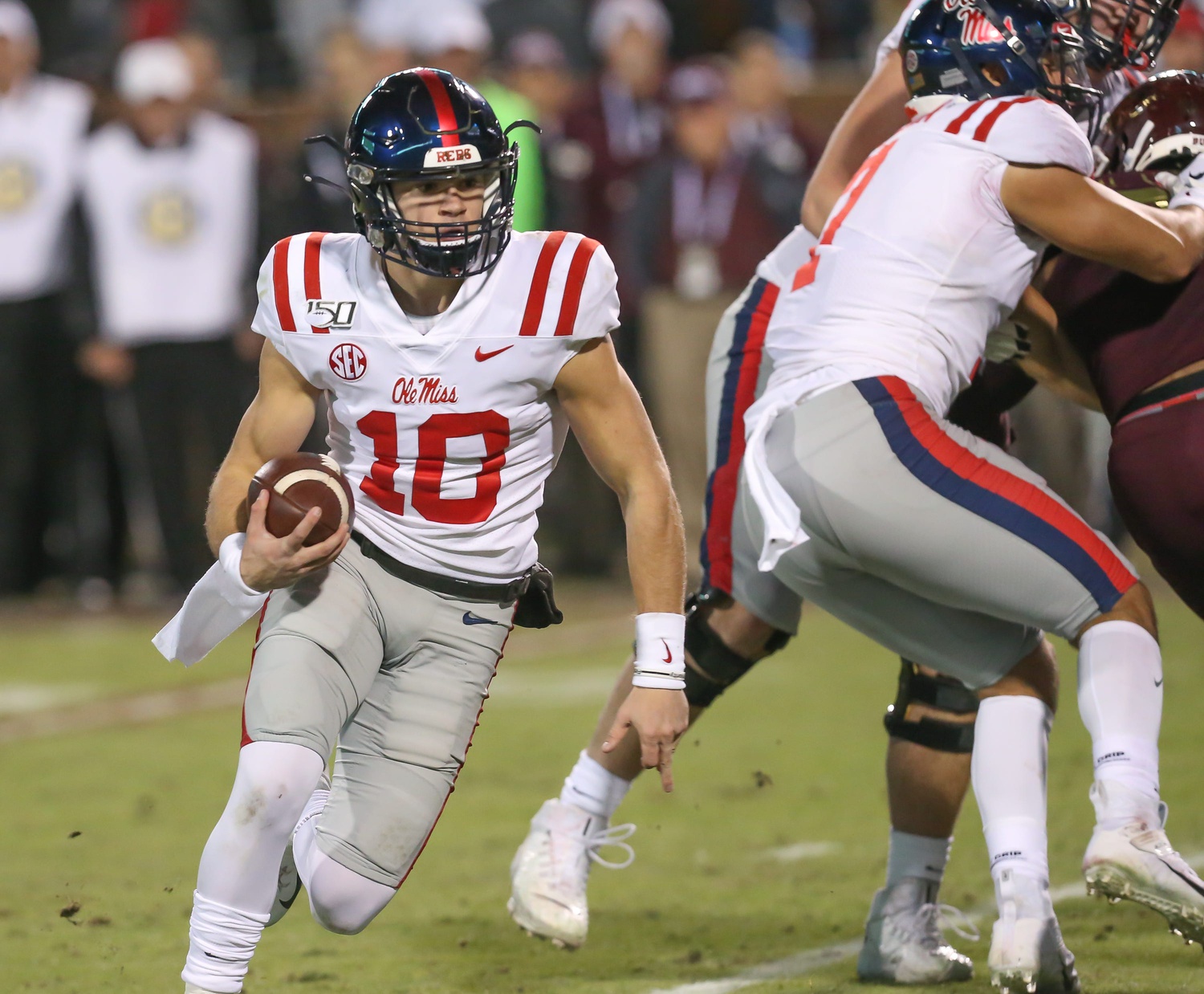 If you want to watch some eye-popping quarterback runs, just turn on Ole Miss — that's precisely what you are going to see with Plumlee at the helm. His mobility is the best in the country — he runs a 4.4 40-yard dash — and he averaged 7.5 yards per designed rush attempt in 2019, the highest among returning Power 5 quarterbacks with at least 60 such attempts. Plumlee also broke a tackle on a quarter of those 130 carries.
On top of that, the Ole Miss QB produced 10 runs of 30-plus yards, six more than any other returning FBS quarterback. However, as electric as he is as a runner, Plumlee isn't much of a threat with his arm, as he earned only a 60.1 passing grade in his freshman campaign. Lane Kiffin might be able to squeeze out some passing success with play-action concepts, but Plumlee has a long way to go at this stage.
Reynolds' value in both the running and passing game makes him one of the top quarterbacks in the Group of 5. In 2019, Reynolds produced a 77.5 rushing grade and bust off 32 runs that resulted in a 10-plus-yard gain, a figure that put him among the 10 best quarterbacks in the FBS. He also earned a 73.0 grade as a passer, and if you throw out his really poor game against a daunting Clemson defense in Week 4, that grades spikes to 78.1.
Whether he's carrying the ball or catching the defense off guard with a deep shot, Hammond consistently provides value for this Air Force offense. He's a big reason why the team had the eighth-most-efficient offense among all 130 FBS teams in terms of EPA per play this past season. Hammond produced rushing and passing grades that both sat above 79.0 this past year.
*Future with Air Force currently uncertain. 
You never know what you are going to get with Johnson — he is essentially the college version of Jameis Winston. A season ago, the UAB quarterback ranked first in big-time throw rate and last in turnover-worthy play rate, and while there is a lot of bad that Johnston has to clean up to take UAB to that next level, he also had a whole lot of good that landed him here at No. 32. Most notably, he produced 14 deep passing touchdowns in 2019, tying for the fifth-most in the FBS.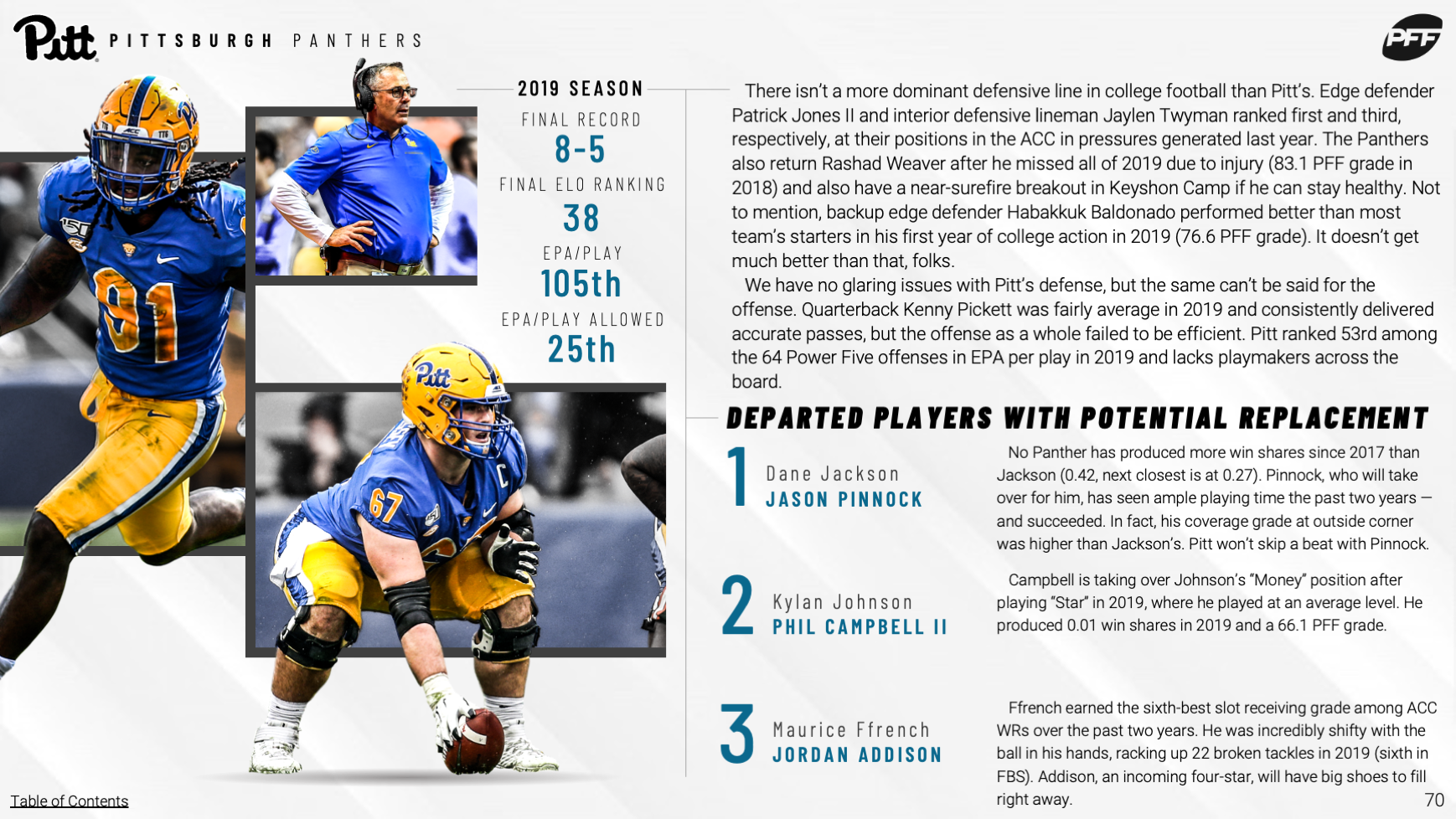 With Jamie Newman now gone, Pickett is in the conversation for the most accurate quarterback in the ACC, as his uncatchable-throw rate on passes thrown past the line of scrimmage was first in the ACC in 2019. His performance under pressure was exceptional this past year, too, as he converted pressure to sacks at the third-lowest rate in the Power 5 while earning a 27th-ranked passing grade under pressure. That said, Pickett failed to crack the top 100 when it came to big-time throw total, so he'll want to change that in 2020.
The backbone of Wilson's success is his ball placement on underneath throws. He ranked 17th in passing grade on passes thrown less than 9 yards downfield in 2019, consistently delivering a catchable ball. Unfortunately, his decision-making wasn't always great when he looked to throw deeper down the field. On throws of 10-plus yards, Wilson produced a turnover-worthy play rate that failed to rank in the top 100 in the FBS. 
Hooker played reasonably well during his time as the Virginia Tech starter. He produced a 76.6 passing grade from Week 6 on, tied for 38th in the FBS over that span, and he also limited uncatchable throws downfield. Hooker routinely made great throws outside the numbers and was actually fifth in college football in his time as the starter in passing grade on such throws. However, we need to see him make more throws over the middle of the field.
Accuracy is a massive issue with Guarantano — in terms of accuracy rate, he actually ranks last among FBS quarterbacks with at least 160 pass attempts that traveled 10 or more yards since 2018. He has, however, taken very good care of the football. Since 2018, his turnover-worthy play rate ranks 11th of 90 FBS quarterbacks. Just as we said in the PFF College Magazine, Guarantano commands the offense and understands timing and footwork; he just needs to find some consistency within his play. His accuracy is likely going to remain unchanged at this stage in his career.
Hartman has good arm strength and does a great job of taking care of the ball, but he struggles with accuracy and touch, making it hard to get anything going deep. He was last among ACC starters in big-time throws in 2018 and third-to-last in the FBS in big-time throw rate. Throughout his 2018 freshman campaign, though, Hartman did show some promise, as he produced a 75.0 passing grade that ranked fourth in the ACC.
Bentley was a distinctly average quarterback during his time at South Carolina, posting passing grades of 67.1, 67.2 and 73.7 from 2016 to 2018, respectively, though his deep ball did improve some in his final year. Utah is certainly going to miss the play of Tyler Huntley, who was one of the 10 highest-graded quarterbacks of the 2019 season. Things could be better at quarterback for Utah, but they could also be a lot worse.
Vantrease had an under-the-radar breakout year in 2019, as he produced an 83.1 PFF grade that would have ranked 21st in the FBS had he qualified for a rank. His success is largely because of how much he took advantage of clean pockets, where he improved his PFF grade rank to 18th. The future looks bright for the Buffalo quarterback.
White's 2019 season ended on an uncharacteristically bad run. After producing an 80.3 passing grade in 2018, he dipped slightly to 75.6 throughout the 2019 season, but he sat at 86.8 before his final four games. He routinely hit his receiver downfield, ranking second to only Burrow in uncatchable passes thrown 10-plus yards in 2019 before his last four games.
Ridder's rushing success carried his 2019 season — his 75.1 rushing grade ranked 15th while his 65.0 passing grade ranked 86th among FBS QBs. He's had the great misfortune of playing behind a bad offensive line, and when you pair that with his panicky nature under pressure, you get some disastrous plays. Ridder has fared pretty well from a clean pocket these last couple of years, as he has produced the 12th-most big-time throws on such dropbacks in that span, with 36. If he can just be a little bit more poised under duress, Ridder and the Bearcats will be in great shape.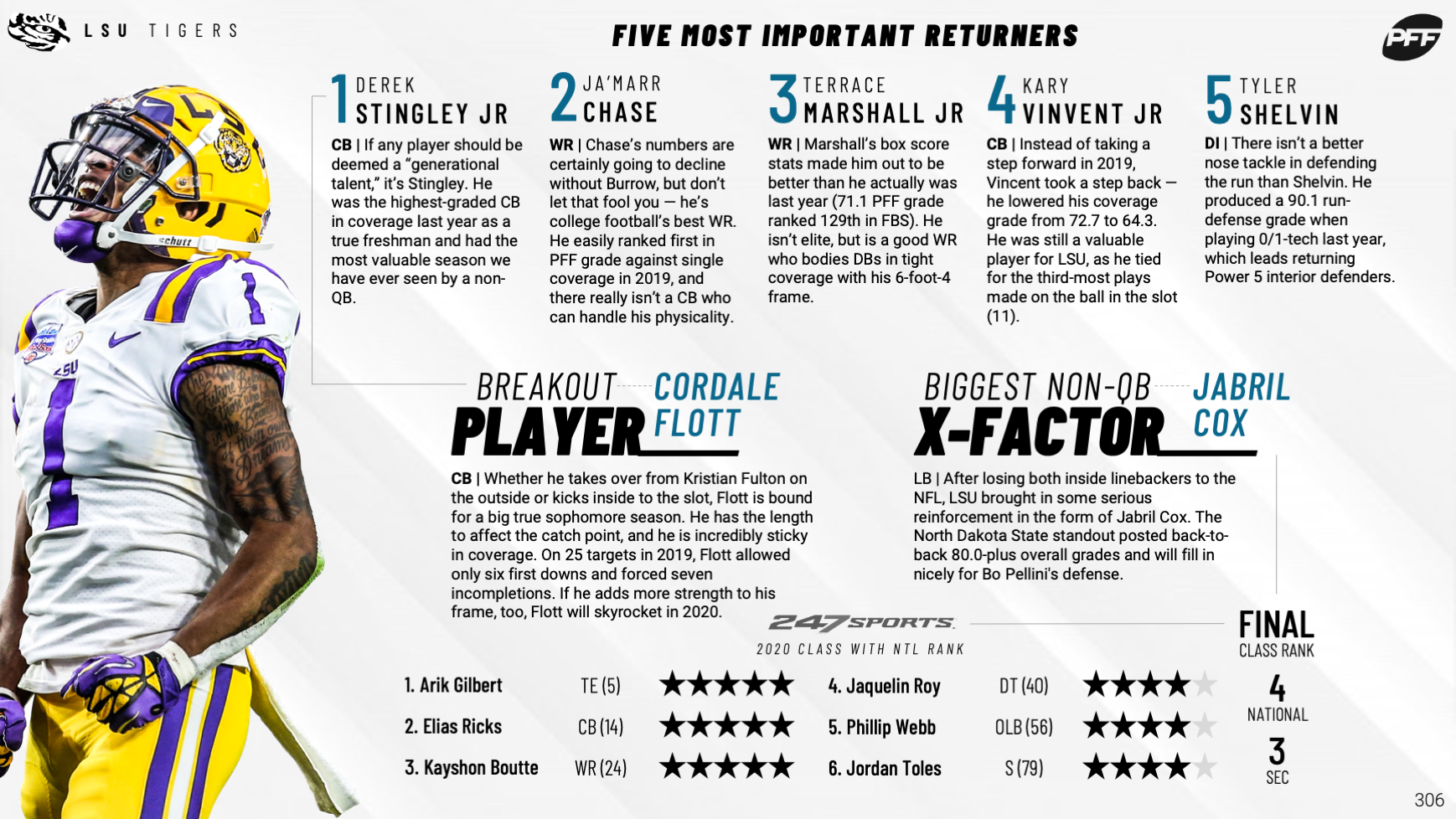 Expectations for Brennan need to be tempered. Even with the supporting cast around him, LSU is very likely going to see a huge step back in their next season of play. What Joe Burrow did for the Tigers in 2019 was unlike anything we have ever seen — he generated 2.95 win shares, nearly six-tenths more than any other player in the PFF College era. So, while Brennan is in a position to succeed, he's just not at the level of Burrow.
Instead of taking a big step forward in 2019 after a solid 2018, Russo took a big step back — he went from an 82.2 passing grade in 2018 to a grade of 71.5 in 2019. He was an exceptional downfield passer in 2018, and he saw fewer opportunities in 2019 as his average depth of target dipped by 1.7 yards. And even when he did get the opportunity, Russo made a significantly higher rate of bad decisions to the intermediate level of the field. 
Thomas was inconsistent in 2018 as a passer but had a few nice games to carry him to a solid 76.6 passing grade. In 2019, however, he had far more bad performances, especially when asked to win with his arm. His passing grade dipped all the way down to 66.8. That said, Thomas' athleticism still shined in the ground game, as he had up the highest percentage of designed carries resulting in a first down or touchdown at the position in 2019.
O'Brien has some real-deal arm strength. It might not be the most valuable trait for a QB to carry, but it certainly helped him make a handful of special, big-time throws in 2019. He actually had five big-time throws that were 40-plus yard shots (just one of 17 in the FBS to reach that mark). On throws of 10-plus yards, he posted a respectable FBS grade rank that was 41st and an uncatchable pass rate that was 16th.
Abraham is coming off a big improvement year. After earning a 63.4 PFF grade in 2018, Abraham raised his grade to 78.0 in 2019. And that included a really bad performance against FAU in which he had a 32.2 passing grade. Abraham played at a relatively consistent, solid level in 2019 as he earned a passing grade above 70.0 in over half his games. He just needs to get rid of those one or two horrid games that bring down his year (like FAU in 2019).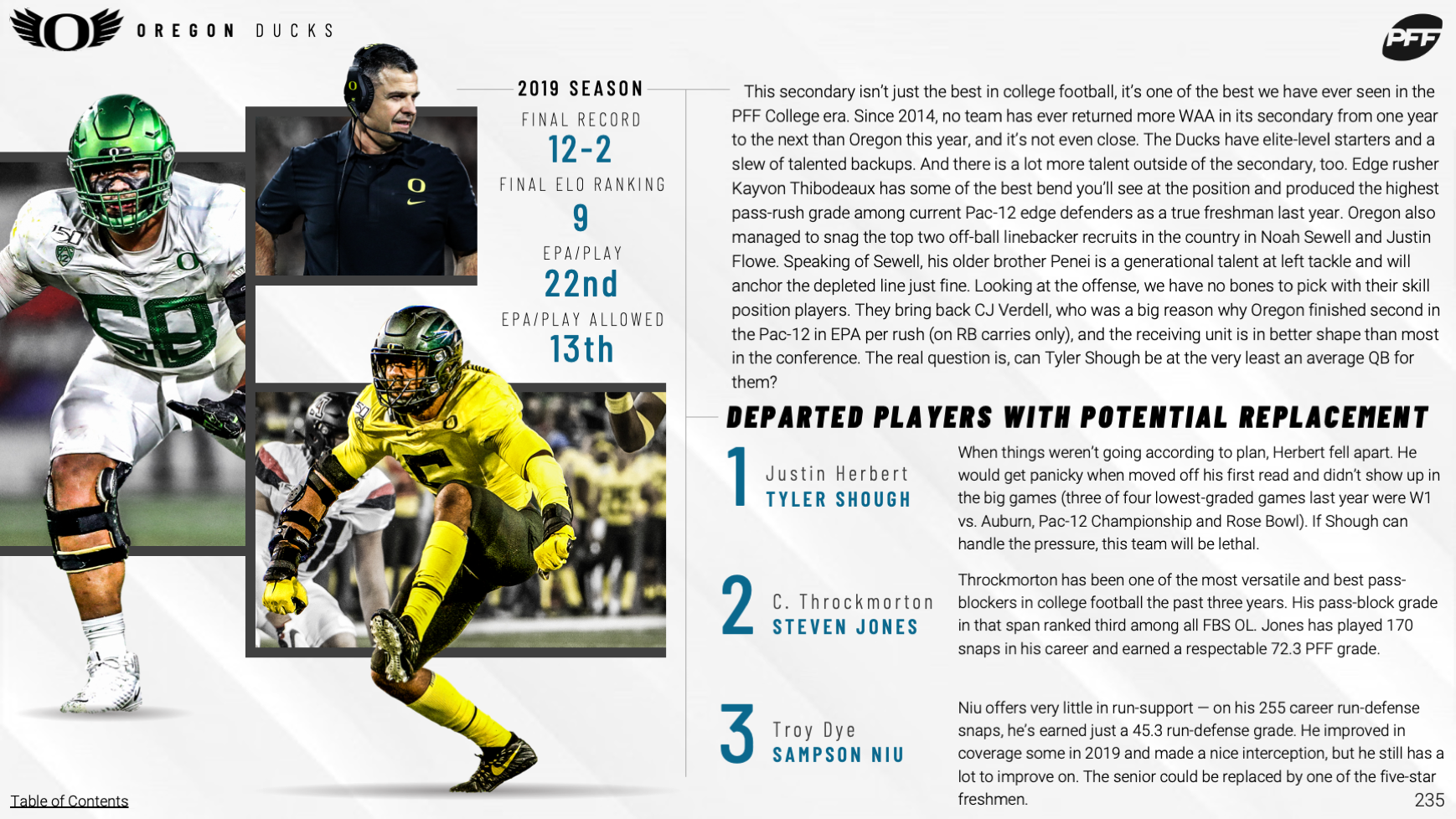 Our biggest knock on Oregon's previous starter and now Los Angeles Charger, Justin Herbert, was how he failed to show up when the Ducks needed him most. The three biggest games of Oregon's 2019 season were Week 1 against Auburn, the Pac-12 Championship and the Rose Bowl, and those three happened to be Herbert's three lowest-graded games of the year. They'll need Shough to reverse course from that, and from the very limited snaps we have seen from him, it looks like the former four-star recruit might just do that — specifically with his accuracy, an area in which Herbert struggled.
Trask displayed dependable accuracy (11th in FBS in accurate pass rate beyond the line of scrimmage), which again is the top trait you want in a quarterback, but also had really poor decision-making. He had a -13 differential in big-time throws and turnover-worthy plays last year (9:22), which was tied for fourth-worst in the country. For perspective, only two other SEC quarterbacks had a negative differential, and they both sat at -1. In terms of big-time throw rate and turnover-worthy play rate, Trask ranked 116th and 110th in the FBS. He got extremely lucky on most of those turnover-worthy plays, which made his box score stats look better than he actually was. 
Lewis is right there with Layne Hatcher as the most accurate in the Sun Belt. On throws of 10-plus yards, he ranked second to Hatcher in accurate pass rate. His TD-to-INT ratio is misconstrued (e.g. eight turnover-worthy throws that weren't an INT), but he's still an above-average quarterback.
Bowman won't have any magical plays by creating outside the structure. He's a one-read QB, but there's nothing wrong with that. Rarely will he misfire at an open target. In 2018, he led Power-5 QBs in completion rate to receivers with separation and ranked 27th in the FBS in accurate passes thrown beyond the line of scrimmage. His tight window passing, however, has been extremely poor (115th in percentage of accurate passes thrown into a tight window since 2018).
We saw a massive improvement in Ahlers to close out the 2019 season. Over the last four games, Ahlers produced a PFF grade of 91.3 (54.7 PFF grade in all games before that in 2019). He had an impressive 15 big-time throws in that span, which tied for the second-most in the FBS. Ahlers looked far more comfortable in the pocket, and he will skyrocket up the list if we see that same type of play in his next year taking the field.
Doege transferred to West Virginia after years of ordinary play at Bowling Green and immediately looked far better off. His accuracy is in the upper echelon, and he earned a passing grade from a clean pocket that would have ranked 12th in the FBS had he qualified for a rank. Doege is a prime breakout candidate after impressing on a limited sample in 2019.
Franks is no top-tier quarterback, he will certainly make the offense remarkably better in tandem with incoming offensive coordinator Kendal Briles — specifically within the deep passing attack (Franks had a 14-to-3 big-time throw to turnover-worthy play ratio on deep passes in 2018). Keep in mind, though, he did that with a great slew of receivers at Florida. While Arkansas will have an improvement at the quarterback position in Franks, it's a marginal change and he will likely be at best an average quarterback considering the supporting cast.
Clifford was significantly aided by playmakers in 2019. He almost always threw to the right receiver and displayed solid decision-making (33rd of 130 FBS quarterbacks in turnover-worthy play rate), but he struggled to fit the ball in tight windows with his poor accuracy as he sat outside the top 100 in accurate pass rate beyond the line of scrimmage. Clifford's not a liability for Penn State, but he's not going to generate many big plays without his receiving corps doing most of the work for him.
Mills made six starts this past year and was really a mixed bag in those. He had two really great games against Oregon State and Washington in Weeks 5 and 6 (PFF game grades of 88.6 and 87.3) but was nothing more than average in the other four (sub-65.0 passing grades in all four). He made some nice throws in a collapsing pocket, which helped him earn the 13th-best passing grade under pressure in 2019, but as we know those aren't stable year-to-year.
We have seen two different versions of Starkel in his collegiate career: an above-average quarterback with Texas A&M in 2017 (75.7 passing grade) and a poor one with Arkansas in 2019 (57.6 passing grade). Starkel struggled to get anything moving downfield with the Razorbacks. The lack of separators in the receiving unit contributed somewhat, but he just didn't elevate the supporting cast like he did with Texas A&M in 2017. Considering he'll no longer be facing SEC defenses and has a great receiving arsenal at his disposal at San Jose State, it wouldn't be a surprise to see Starkel bounce back to his 2017 above-average form.
Gabbert had a solid rate of big-time throws in his true freshman 2019 season that sat right around the 70th percentile in the FBS. He wasn't afraid at all to push the ball downfield and showed promising signs of development as the season progressed. Gabbert struggled to start the year, posting a 51.0 passing grade through Week 7. From Week 8 and on, though, he didn't look like an unrefined freshman anymore as he posted a passing grade of 75.2.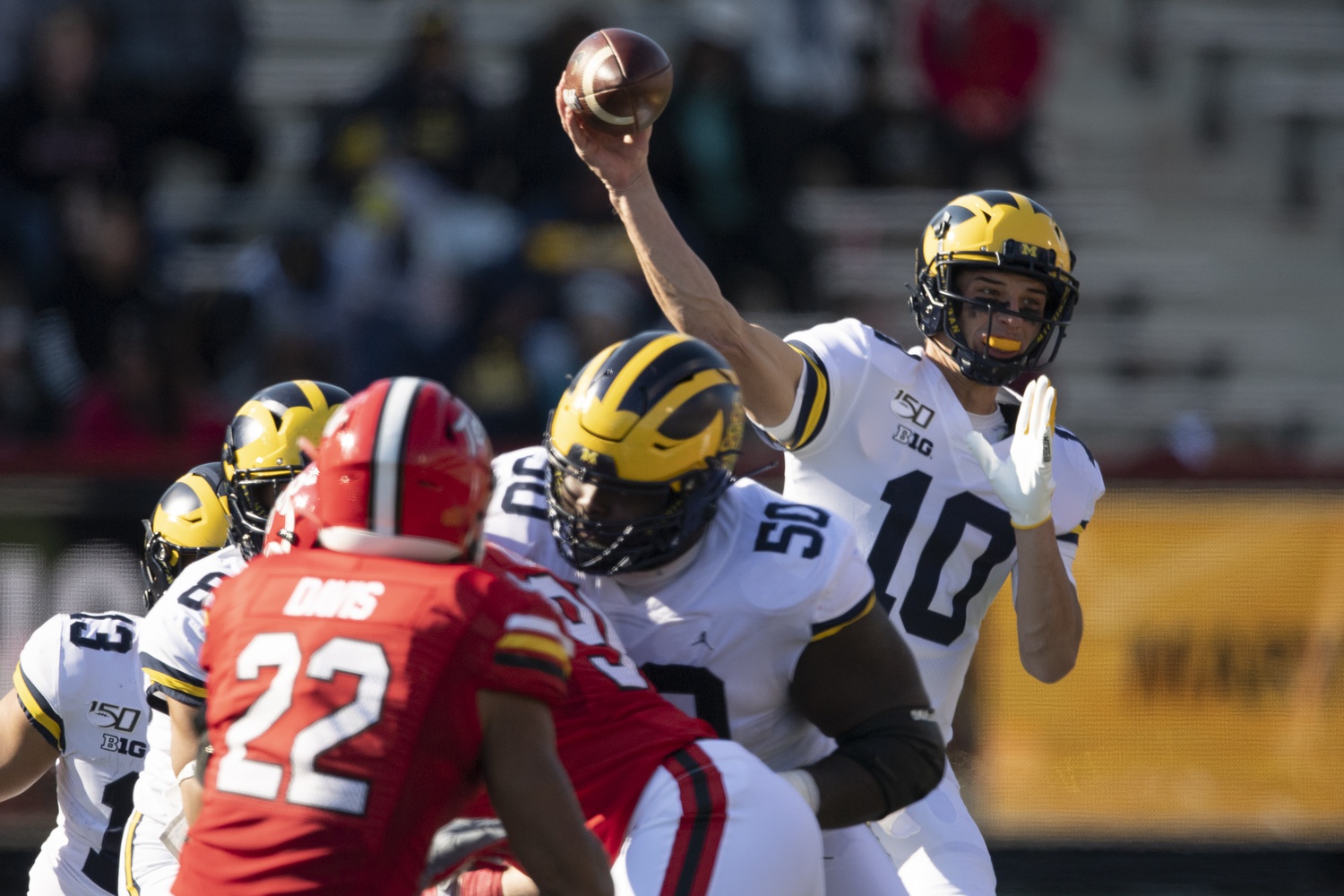 Shea Patterson was the Wolverines' most valuable player in each of the past two seasons in regard to PFF WAA and will be replaced by McCaffrey, a former four-star with only 42 career dropbacks. While you shouldn't put much stock into that limited sample, it's worth noting he had four turnover-worthy plays. As noted in the PFF College Magazine, McCaffrey understands how to get through progressions, he just needs more reps.
Purdue's quarterback situation is in better shape than most make it out to be — it isn't great, but it is by no means the reason for the team's massive struggles. Plummer flashed some potential in his time as starter, taking care of the ball extremely well and posting the 11th-best negatively graded throw rate in college football. O'Connell came in when Plummer got hurt and showed that he can provide explosive plays for Purdue — he had a 5.8% big-time throw rate, which was over two percentage points more than Plummer. But he will be far less stable on a throw-for-throw basis than Plummer. Either way, Purdue is average at the position.
Duggan is this high on the list because of what he does with his wheels in the run game. He's an uber-athlete, and that played a big part in him earning a 77.2 rushing grade and the sixth-highest rate of carries resulting in a 10-plus yard gain among FBS quarterbacks in 2019 (26.4%). That said, his accuracy is truly as bad as it gets for the position. Just 20% of his passes 10-plus yards downfield were deemed accurate last year, the worst rate in the FBS by four percentage points. 
Jurkovec, an incoming transfer and former 2018 four-star recruit (83rd nationally, according to 247Sports), has the chance to be the best quarterback the program has had in the PFF College era. No Eagles starter since 2014 has produced a season passing grade above 70.0. Jurkovec took only 22 dropbacks in 2019 at Notre Dame and earned a 72.0 PFF grade (take that with a grain of salt)
UTSA got a decent transfer in Adkins who comes from New Mexico State. While playing for the Aggies in 2019, Adkins performed really well against non-Power-5 foes. The SEC defenses of Alabama and Ole Miss ate him up for poor game grades of 40.5 and 46.5, but there was really only one other bad game in his season. Against non-Power-5 defenses, Adkins produced a 79.5 passing grade.
Daniels is a sharp decision-maker as a passer, which isn't common for an incoming true sophomore. He had just a 2.4% turnover-worthy play rate in 2019, ranking 14th in the country. But the big concern — and the reason why we aren't optimistic for his 2020 — is that 17% of his passes in 2019 resulted in a QB-fault incompletion. Daniels' accuracy is well below-average, but the natural talent is certainly there.
Plitt was a mixed bag in his limited reps prior to the 2019 season, and his first full year as starter really wasn't much different. He had a 63.6 passing grade throughout the 2019 season but looked significantly better in his final three games as opposed to the rest of his year. In that stretch, Plitt earned an 82.8 passing grade.
Outside of the Las Vegas Bowl when he got eaten up by the Washington defense (31.0 passing grade), Bachmeier was consistently an average passer for the Broncos in his true freshman campaign. He impressed downfield and had the second-best big-time throw rate in the MWC but recorded a turnover-worthy play in all but one of his game appearances.
Tronti can do a lot of damage with his legs. He saw 49 designed carries in 2019 — nine of those resulted in a gain of 10 or more yards, and he added 13 broken tackles. As a passer, he's yet to see really substantial reps. Tronti attempted only 20 passes last year and did produce a big-time throw. Every single one of those passes were deemed catchable, but 11 of those were behind the line of scrimmage. He'll have big shoes to fill, as the Owls had the most efficient passing attack in EPA per pass play in C-USA last year.
Illinois took baby steps in the passing game with Brandon Peters under center, producing an expected points added per pass figure that bested the previous three years by a considerable margin. It still wasn't a positive total, but it was progress, nonetheless. Peters did have an impressive 5% big-time throw rate that was 29th in the FBS, but we have huge concerns with his propensity for negatively graded throws when in a clean pocket (112th in negatively graded throw rate when clean).
Nate Stanley was a great decision-maker and protected the ball well in 2019, which helped him produce an 87.6 PFF grade that trailed only Justin Fields in the Big Ten. That said, he didn't have the downfield accuracy to really elevate Iowa's offense — that's the biggest thing Iowa needs from Petras, and from what we have seen in very limited game action, we aren't sure if he has it. The good news is that he'll be helped out immensely with the top-tier Iowa receiving unit.
Laws will take over the starting role in 2020. While the signal-caller has flashed as a passer (three big-time throws on 13 attempts that traveled 10-plus yards in 2019), what matters most to Army is what he brings to the rushing attack — he has proven to be an incredibly dangerous ball carrier. He's a monster through contact, as 17 of his 73 carries in 2019 came with five-plus yards after contact.
Smith has proven to be an effective downfield thrower, as he posted the third-best passing grade in the AAC on 10-plus yard throws in 2019. But he protects the ball poorly under pressure — his 13 turnover-worthy plays under pressure tied for the fifth-most in the FBS in 2019.
The last time we saw Shelley take any significant reps under center was during the back half of 2018 when he filled in for an injured Tyler Huntley, and he certainly proved to be dynamic with the ball in his hands. On 55 total rushes in 2018, he broke 20 tackles. As a passer, there was definitely a learning curve, and it showed up when pressure arose. Shelley had some panic in him on those plays but wasn't bad from a clean pocket, as he was 39th in uncatchable pass rate on such plays. He might not make the offense much better than what it was in 2019 with Jordan Love, but he won't make it much worse, either.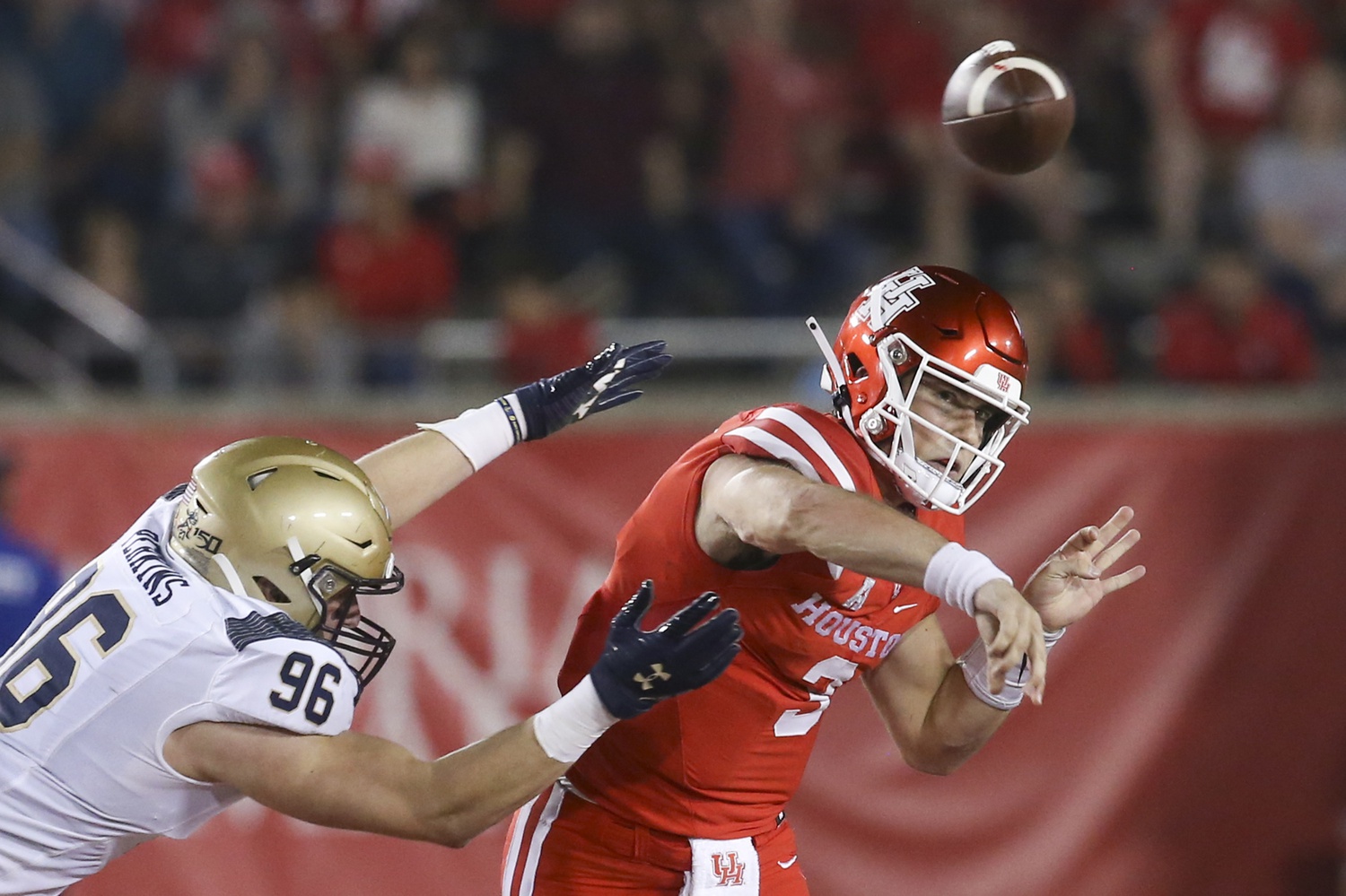 We saw Tune have a couple starts in his first year of collegiate action in 2018 and it didn't quite go so well. When he came in last season after the D'Eriq King situation transpired, there was some real progress within his game. He took advantage of a clean pocket and delivered some nice big-time throws on a handful of go balls. Tune ended up earning a passing grade of 77.3 when clean, which isn't great but not a liability, either. He still made some bad decisions under pressure, though, and had poor pocket presence, which lands him here.
Tuiti was really solid as a passer to the short and intermediate levels. He tied for 18th in uncatchable pass rate on throws of 19 yards or less and was seventh in passing grade. Most of that success was built off of play-action or RPO concepts, and his play did take a dip on true dropbacks on those throws, but he did exactly what New Mexico needed him to. Tuioti's deep ball, however, is brutal. His passing grade on 20-plus yard attempts was the lowest in the FBS. 
Chambers rings in near the FBS average not because of his arm but because of his legs. He had an 80.8 rushing grade in 2019, ranking eighth among FBS quarterbacks. Chambers also picked up a first down or touchdown on 42.2% of his runs, ranking third among the same group. That said, it's never a good thing when you have twice the amount of turnover-worthy plays than big-time throws, as Chambers did in 2019 (12 to six).
Keytaon Thompson, a Mississippi State transfer, could challenge for the job with his rushing ability, but Armstrong has more potential as a passer. We only saw him attempt 20 passes in 2019, but he performed well (neither interceptions of his were a turnover-worthy play). Really, it won't be too difficult to bolster the passing attack from what it was in 2019 as Bryce Perkins produced just a 58.5 passing grade.
Wilson could help boost a passing game that slowly slipped away in 2019. However, last year's Lynn Bowden-led offense generated more EPA per play than the Wilson-led one of 2018, and we still have concerns with Wilson's ability as a passer. His performance under pressure was frightening (he ranked 129th in passing grade in 2018), and his downfield passing was inconsistent. Wilson is dynamic as a runner but nowhere near the level of Bowden.
The big thing we want to see from Sirmon is composure in a collapsing pocket — an area Eason massively struggled in — but that's being optimistic for someone with so little experience. That said, there's reason for hope with Sirmon in the long run. He is a former four-star who fielded offers from Alabama, LSU and Georgia before settling on Washington and, as noted in the PFF College Magazine, he threw an impressive deep-over route on one of his four dropbacks in 2019. 
Carpenter started the final six games for Coastal Carolina and was up and down throughout those matchups. He was used extensively in the rushing attack but found minimal success, as he had just a 57.7 rushing grade on the year. As a passer, he was wildly inconsistent — 11 of his 45 passes that traveled 10-plus yards downfield were a big-time throw but 18 were a quarterback-fault incompletion. Overall, he had a PFF grade of 67.3 on the year. 
Blackman faced an astronomical rate of pressure in 2019 behind the lowly Florida State offensive line, which played a role in him forming a poor turnover-worthy play rate that ranked 108th of 130 FBS quarterbacks. That, however, isn't much of an excuse as he was still a poor passer from a clean pocket, ranking just 87th in passing grade on such plays. A change in the offensive scheme, as well as the playmakers he has at his disposal, might help Blackman improve some in his next season, but he has a long way to go.
Trotter gave the suffering South Alabama Jaguars a glimmer of hope to close out the 2019 season. He started the final four games and led an aggressive passing attack, as he had the seventh-highest rate of 20-plus yard pass attempts, and it worked out for Trotter and South Alabama. He came away with six deep touchdowns, which tied for the fourth-most in that span. Trotter's 47.5 passing grade on true dropbacks is our big concern, along with his willingness to scramble at an extraordinary rate when he shouldn't.
After a strong year in 2018 when filling in for a few games for Mitchell Guadagni, Peters struggled mightily in his limited action in 2019. His ball security was a constant issue and led to a poor 8.7% turnover-worthy play rate, which would have ranked at the bottom of the FBS had he qualified. This is a bit odd because it was nowhere near an issue in 2018. Peters actually earned a solid 79.3 passing grade in 2018. If he can get back to that form, he'll rise up this list significantly, but we now have our reservations after what we saw from him in 2019.
McCloud, last year's starter for USF, is penciled in here as USF's starter for 2020. Inconsistent is perhaps the best way to describe his 2019 campaign. McCloud had a few solid performances, like against a stout Cincy defense when he posted an 82.1 passing grade, but a few really bad ones. In three games (BYU, Navy, Memphis), he earned a PFF grade in the 30s. He is a mobile quarterback and can make plays off structure, but he has a lot to improve on with his decision-making.
Nelson's accuracy has always been an issue, but he was able to get by and earn a 74.5 passing grade in 2018. His success that year was built off the deep ball, but that was taken away from him in the new offense — his aDOT was lowered by 3.5 yards and his passing grade fell with it (58.6).
Sanders does his best work as a runner, where he earned a 70.4 grade on designed carries. As a passer, he did not fare well, and that's not viable for an Oklahoma State offense that requires him to throw downfield a considerable amount. On throws of 10-plus yards downfield, Sanders tied for 99th in passing grade. Oklahoma State can make some noise, but they'll need Sanders to step up significantly as a passer to do so.
Gebbia will replace one of the most underappreciated quarterbacks in college football from 2019 in Jake Luton, who produced an 88.5 PFF grade. Gebbia has one start under his belt and it came against a very strong Oregon defense. As noted in the PFF College Magazine, Gebbia showed promise, as he found open receivers but didn't have the accuracy to deliver. He ended up posting just a 58.3 PFF grade.
UNLV has an interesting situation at quarterback with Olbad and incoming TCU transfer Justin Rogers, who was a four-star and the 43rd-ranked recruit nationally in the 2018 class. But Rogers has yet to secure a waiver, so we roll with Oblad as the starter. Oblad won the starting job midway through his redshirt freshman year and wasn't bad considering his experience — he produced a 68.0 passing grade over the course of the season.
Hutchinson has one start in his college career (Week 8 2019 vs. Western Michigan), and he played pretty well in that appearance. He earned a 91.6 passing grade and made three big-time throws. Hutchinson did make an appearance a couple of games after, but he was eaten up by Buffalo's daunting defense for a few turnover-worthy plays. Still, he has the potential to skyrocket up this list if he continues to have performances similar to that of his lone start.
While Cole McDonald was incredibly volatile as Hawaii's starting signal-caller in 2019, he led an efficient downfield passing attack. It doesn't look likely that Cordeiro can match that production. On his 45 pass attempts that traveled 10 or more yards in 2019, Cordeiro was inaccurate and produced a far lower rate of big plays than McDonald, leading to a 67.4 passing grade on such throws. That said, Cordeiro did show a lot of potential in the running game. He generated an 86.8 rushing grade on 36 attempts, with 11 resulting in a gain of 10-plus yards.
We got a taste of Eleby as a true freshman in 2018 when Jon Wassink went down due to injury, and the results were as you'd expect from a first-year quarterback thrown into action. He earned a 63.7 PFF grade over five games and struggled to move the ball downfield, posting a lowly 28.3% accurate pass rate on throws of 10-plus yards. Eleby's underneath passing was pretty sharp, though, and he can be effective on quick-game concepts.
Strong struggled mightily in his first year starting for Nevada in 2019. He had his best game of the year against a lowly Purdue defense in Week 1 before earning his four lowest game grades of the year in his next four starts. In that four-game stretch, he recorded a big-time throw to turnover-worthy play ratio of 0 to 8. Then, something clicked for Strong in Week 10. From that point to the end of the year (five starts), Strong looked far more comfortable as he produced a 73.0 passing grade and hardly ever put the ball in harm's way. He'll climb up this list if we continue to see that type of play in 2020.
Baker has only one start in his career at San Diego State, but he really impressed. Against BYU in Week 14 last year, Baker produced a 74.3 passing grade and three big-time throws while having no turnover-worthy plays. We just need to see the former two-star recruit play more before we move him any higher on this list. The good news is that he will be aided with a great supporting cast on both sides of the ball.
Leary performed well in his first time seeing substantial action last year against Boston College, as he earned an 83.3 passing grade. He was inaccurate but connected on three big-time throws. After that, though, he did not look ready at all. Leary made six turnover-worthy plays in his next game against Wake Forest and went on to earn a 46.2 passing grade in his last five starts.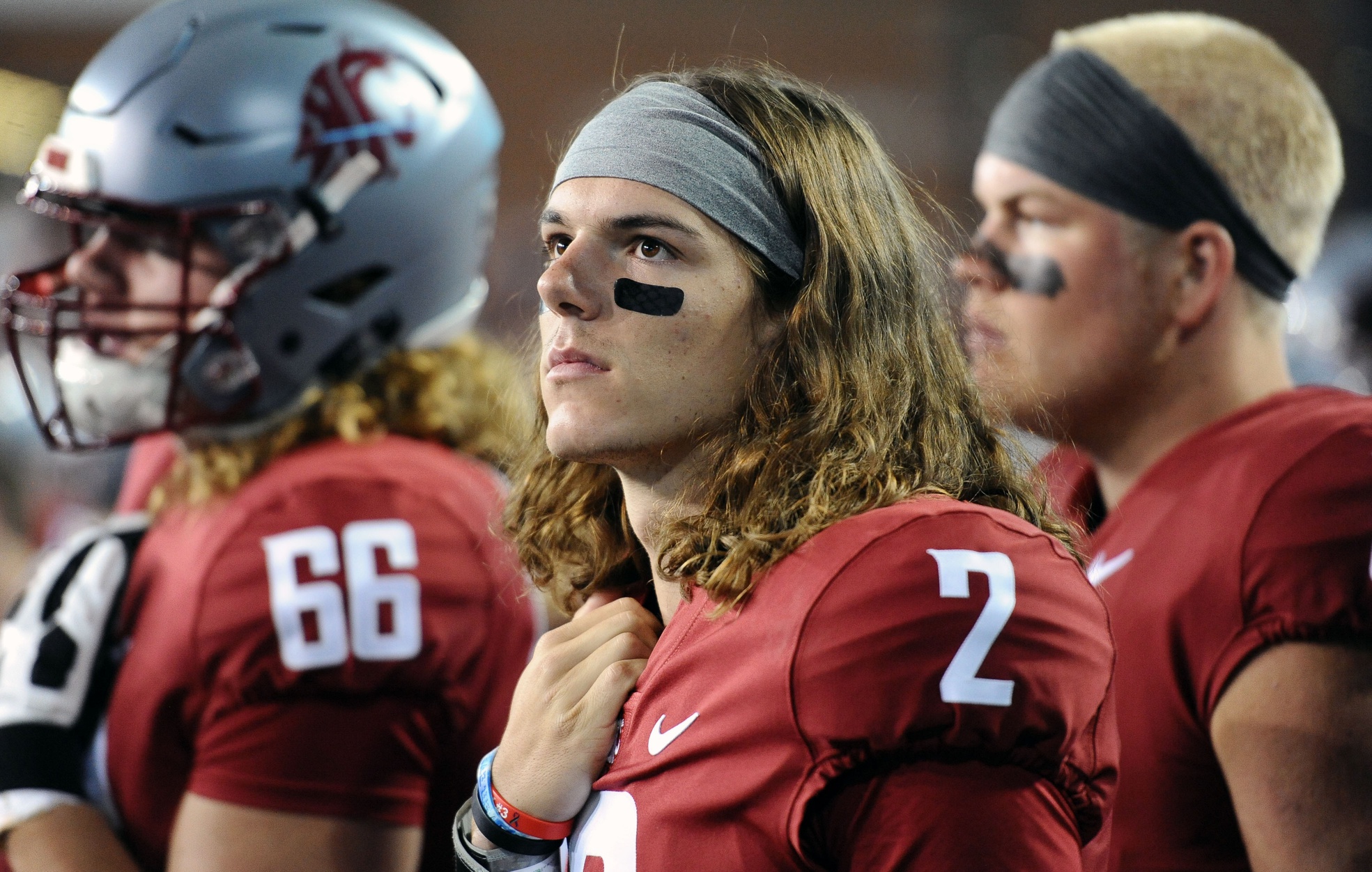 Washington State's passing attack was gutted with the losses of quarterback Anthony Gordon, wide receivers Brandon Arconado, Easop Winston Jr., Dezmon Patton and the mastermind of the scheme, Mike Leach. The Cougars do bring in a great offensive mind in Nick Rolovich, who led Hawaii to the MWC's second-most efficient passing attack in 2019, to replace Leach, but they will likely take a step back due to Cooper's inexperience.
Pigrome saw the most playing time of his four-year career at Maryland in 2019, garnering 146 dropbacks and three starts. The results were no different from what we saw in his limited action in the three years prior. He earned a 57.3 passing grade, struggling against the lowly defenses of the Big Ten.
Nix may have won SEC Freshman of the Year, but he really didn't play like it. When kept clean, Nix earned a 69.2 passing grade, which ranked 107th among 130 FBS quarterbacks. As said in the PFF College Magazine, he struggled to move the ball on schemed plays and has suspect downfield accuracy. Nix may have been a five-star recruit and the No. 1-ranked dual-threat quarterback coming out of high school, but we just haven't seen enough from him to make us believe he will ever live up to that hype.
Let's start with the good: Thompson-Robinson is a great athlete and can create big plays with his legs. He had two or more carries that resulted in a 10-plus yard gain in eight of his 11 games in 2019. Now, for the bad: Thompson-Robinson has a maddening tendency to miss open receivers, and he struggled to protect the ball. He had 22 QB-fault incompletions in which the targeted receiver had open separation, the second-most in the FBS. He also had a 5% turnover-worthy play rate, which ranked 107th in the FBS.
Dating back to his days at Southern Miss, Howard has produced a career turnover-worthy play rate of 6.3% — for context, that would have been one of the worst marks in college football last year. While he did struggle against Power Five defenses when playing for Southern Miss (26.7 passing grade, 43 dropbacks), he played decently well against Group of Five foes (76.6 passing grade in 2017, 132 dropbacks).
Bowers first entered college in 2015 at Cal but didn't see the field until 2017. He was fairly average as the Golden Bears' starter that year, producing a 69.7 passing grade, with his four best games coming in the back half of the season. Bowers played in only one game in 2018 before coming to Northern Illinois in 2019 and struggling, as his passing grade lowered to 59.4. Bowers' positively graded throw rank of 111th says a lot about both him as a passer and the Northern Illinois offense as a whole.
DeVito didn't put the ball in harm's way often in 2019, as he had a 2.5% turnover-worthy play rate that ranked 18th in the FBS. Other than that, though, he looked unrefined, especially under pressure. He had no poise, producing a 29.2 passing grade under duress that ranked 123rd in the country. On top of that, he converted pressure to sacks 29.4% of the time (worst rate among Power Five quarterbacks). There's a lot DeVito has to improve on if he is to climb up this list.
Hilinski was one of the most conservative quarterbacks we saw last season. He had an average depth of target of just 7.1 yards, the third-lowest mark in the FBS. In turn, South Carolina had a lethargic offense that ranked 115th in expected points added per pass play. And when Hilinski did throw it downfield, the results weren't pretty. He had an uncatchable pass rate on throws 10-plus yards downfield of 53.3%, the third-worst in the FBS. No risk it, no biscuit.
Haener finally gets his shot at a starting job after rarely seeing the field at Washington and having to sit out the 2019 season due to transfer rules. Haener appeared in three games for the Huskies in 2018 and was boom-or-bust on a very limited sample. Against North Dakota, he attempted four passes beyond the line of scrimmage and flashed some legit arm talent with three big-time throws. In his next game appearance against California, Haener once again attempted four passes beyond the line of scrimmage, but this time he had two turnover-worthy throws — one of which was intercepted. He'll be an interesting quarterback to watch when he plays a full game.
Lousiana Tech's J'mar Smith was one of the best quarterbacks in the Group of Five in 2019, producing an 82.8 PFF grade. Allen will have a tough act to follow, and he gave us a sneak peek at what we should expect in 2020 after filling in for a couple of starts in 2019. Considering his experience, or lack thereof, and the fact that he was playing on the road against two tough defenses in Marshall and UAB, Allen didn't play terribly. However, he was far from great (60.3 passing grade).
Wiggins might just be an upgrade over James Morgan for FIU. He finally saw some game action in 2019 and made one start against New Hampshire. He looked solid in that outing, both through the air and on the ground. Wiggins had a 73.3 passing grade, but he proved in that lone start that he can win with his mobility. He had 17 carries against New Hampshire, including seven runs of 10-plus yards. Granted, the quality of competition was low, but his athleticism shines when he carries the ball. Once we see him have those types of performances against somewhat decent defenses, Wiggins will move on up this list.
Seals is not a lock for the job, but the incoming true freshman might be the best choice to helm Vanderbilt's offense. He was a three-star recruit who ranked 510th nationally in the 2019 class, according to 247Sports. Regardless, Vanderbilt can't be much worse in 2020. The Commodores ranked 125th of the 130 FBS teams in expected points added per pass play and 128th in team passing grade (39.7). They may have lost a bevy of key skill position players, but Seals should outperform their 2019 quarterback situation.
From 2018 up until Week 11 this past year, Vitt was consistently performing at a poor level, recording a lowly 56.7 pass grade. However, he closed out the year looking like a completely different quarterback. Over his final four games of 2019, Vitt earned a 79.6 passing grade. If he finds some consistency within his game and plays like he did down the stretch last year, he'll creep up this list.
Rice has been in the bottom two in the C-USA in team passing grade for three straight years now. Collins, a transfer from TCU, will try and help snap that streak. He took only a few reps in 2019 but started four games and attempted 142 passes the season prior for the Horned Frogs. From that sample, it looks like Collins will only marginally improve Rice at best. He played well against a bad Kansas defense but underwhelmed against every other team en route to a 56.7 PFF grade.
Carter Stanley, Kansas' starting quarterback in 2019, was as responsible as anyone for the team's struggles last year. He had a whopping 26 turnover-worthy plays, tying for the fourth-most in the FBS. The most likely replacement is MacVittie, who attempted only one pass in his first year with the Jayhawks after coming over from JUCO. That pass was intercepted. If MacVittie doesn't earn the job, it'll be Kendrick, who hasn't taken a dropback since Week 4 of 2018.
Marshall was average at best at quarterback a few months ago with Isaiah Green, but he suddenly decided to transfer. That left The Herd with Wells, who has almost no game experience (just one snap). Wells was a three-star recruit in the 2019 class, ranking as the 77th-best pro-style quarterback in the country. That said, it'd be hard for Marshall's passing offense to get much worse than it was in 2019, ranking 12th among the 14 teams in the C-USA in expected points added per pass play.
Rutgers ranks 109th solely because of Noah Vedral. Without him, they are significantly lower. Vedral isn't the saving grace to Rutgers, but he can be a massive improvement over the team's recent quarterback play. He has attempted only 90 passes in his career but has limited uncatchable throws and produced seven big-time throws. Sitkowski is also in the running for the starting job once again. He has underwhelmed throughout his Rutgers career and attempted only 68 passes in 2019. Back in 2018, he was the full-time starter and produced just a 27.0 PFF grade. Again, Vedral still has a lot to prove, but he is the better option.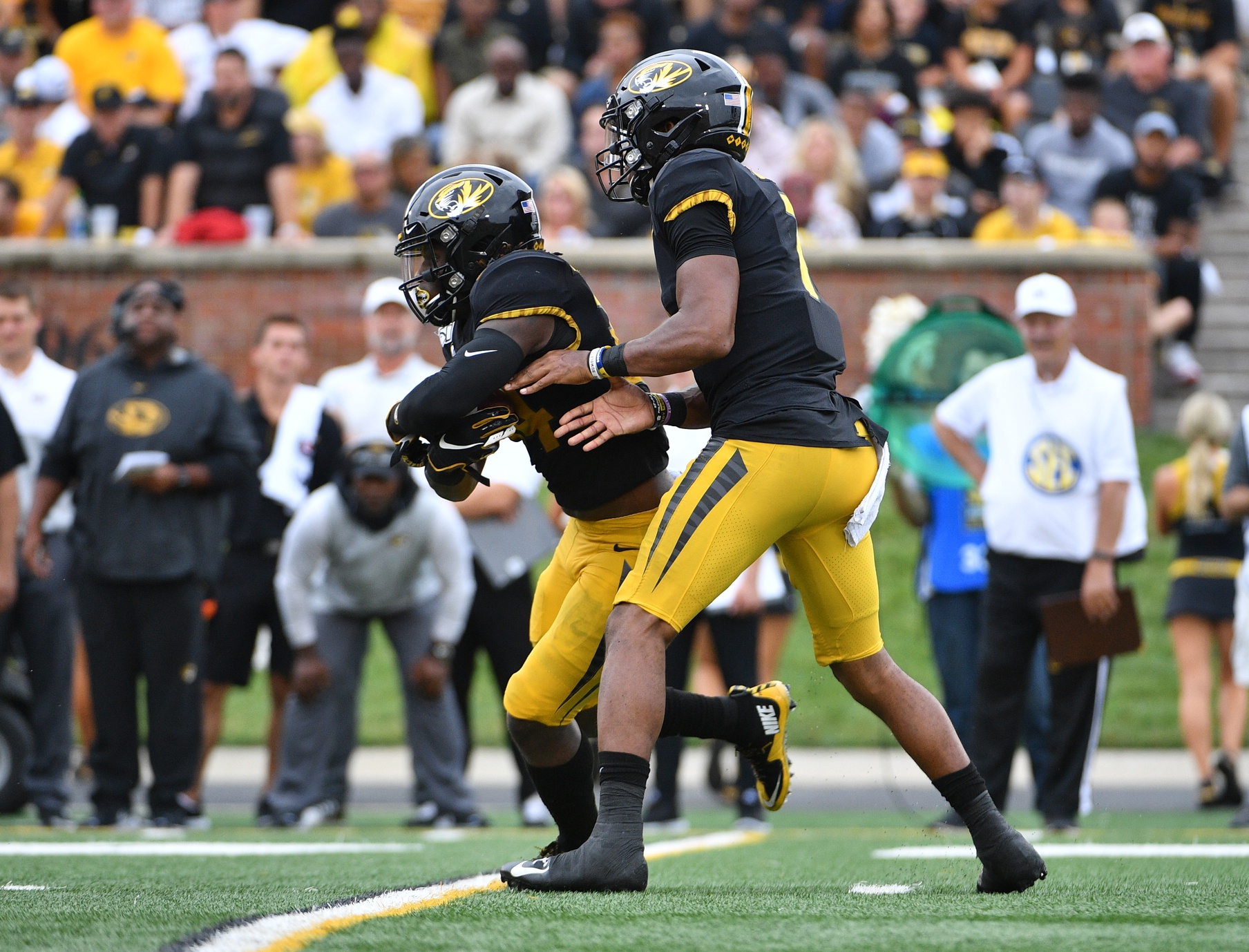 The Eli Drinkwitz era will likely kick off with Robinson under center after he had to sit out 2019 following a transfer from TCU. Robinson started seven games in an injury-plagued 2018 season for the Horned Frogs and had some serious ball protection issues. He had a 6.9% turnover-worthy play rate, ranking 130th among 139 qualifying FBS quarterbacks. Robinson can make some big plays with his legs, but he has to improve his decision-making. Otherwise, SEC defenses will shred Missouri's offense.
Watson is penciled in as the starter for Troy following the departure of Kaleb Barker, who had a 76.4 passing grade in 2019 that ranked third in the Sun Belt. Watson has attempted only 34 passes in his career, and nearly half of those came behind the line of scrimmage. Only one of his eight passes 10-plus yards downfield was deemed accurate, and he had two fumbles on just a handful of designed carries.
UTEP is suffering from inexperience at quarterback. Hardison is the team's only signal-caller with previous college game time and is the favorite to snag the starting job. He struggled in his limited time on the field, though. Hardison took 64 dropbacks over the course of two games in 2019 (Week 12 at UAB and Week 14 vs. Rice) and produced a 48.1 PFF grade. His accuracy was a concern, too, as only 39% of his passes were deemed accurate.
Steven Montez was never in the top-tier of Power Five quarterbacks, but he was consistently reliable for Colorado, never posting a single-season PFF grade below 73.4 in his four years. With his departure, Colorado will have one of Tyler Lytle, Brendon Lewis or Sam Noyer take his place. Lytle has taken only 11 dropbacks in his career, producing two turnover-worthy plays on those. Lewis is an incoming dual-threat recruit who cracked ESPN's 2020 Top 300. Noyer is entering his fifth year with Colorado and is a quarterback-turned-safety (in 2019 only) who is now back to quarterback. However, he has a mere 41 pass attempts and a lowly 40.5 passing grade over his career. Lewis offers the most upside, but regardless of who gets the job, the Buffs are going to take a step back at the position this year.
Losing Mason Fine is a damaging blow for North Texas. He produced a passing grade above 78.0 in each of his last three seasons starting for the Mean Green. Aune and Bean are set to battle for the starting job, and neither have any significant experience under their belts. From what we have seen — and it's a very small sample — Aune might be the better bet. He took two true dropbacks (five in total) in 2019 and had a big-time throw on each, while Bean had a 46.5 passing grade and five turnover-worthy plays (one big-time throw) on 38 dropbacks.
Nathan Rourke was nothing short of spectacular in his three years serving as Ohio's starting quarterback. The dual-threat signal-caller posted PFF grades of 86.3, 90.5 and 86.7. His younger brother Kurtis is now the frontrunner to replace him. Kurtis Rourke saw the field for just a handful of snaps in his first year with the Bobcats in 2019. He should bring value to the rushing attack like his brother did, but it's lofty to expect him to be the same type of passer.
Brown isn't a lock for the starting job, but he's seemingly the most likely heir to Dan Ellington, who produced a solid 73.5 PFF grade in 2019 and is now on the coaching staff. Brown has attempted only 27 passes in his collegiate career.  He didn't fare too well in that limited action, recording a 55.7 passing grade and three turnover-worthy plays.
A big reason why UL-Monroe was able to reach five wins in 2019 was because of quarterback Caleb Evans, who earned an 89.5 PFF grade that ranked ninth in the FBS. With Evans departing, Suits is set to take over. He'll clearly have big shoes to fill, and despite seeing just a small sample of him on the field, there's reason to worry about how he will fare. He had three turnover-worthy plays on 21 dropbacks in 2019.
Whether it's Rocky Lombardi or Theo Day, things are not looking great for the Spartans at quarterback. Lombardi couldn't grab the job from Brian Lewerke in 2019 and has produced just a 54.0 passing grade on his 188 career dropbacks. In addition, he has produced just a 2% big-time throw rate and a 37.4% accurate pass rate on throws beyond the line of scrimmage — both of which would rank near the bottom of the FBS had he qualified. There's more hope with Day, as he hasn't shown any poor play on a minimal three dropbacks in his career. But if he's on the field, I wouldn't expect anything glamorous right away.
Brito is likely to start again this year after seeing six starts in his first season with UMass in 2019. While he did miss some time due to injury, Brito showed no signs of progression throughout the year and produced a lowly 47.4 PFF grade. Given that he won't get much help from his supporting cast in 2020, things aren't looking good for UMass' passing offense in the short term.
Werts has been one of the most inconsistent quarterbacks in college football over the past few years, earning PFF grades of 54.0 (2017), 82.7 (2018) and 56.5 (2019). He does his best work on the ground, but even then, Werts has struggled with protecting the ball (second-most fumbles by a quarterback since 2017). Things have been worse for Werts through the air — he has produced a 48.6 career grade on true dropbacks (no screen, RPO, play-action pass, designed rollout).
Central Michigan had a brutal quarterback situation last year. Quinten Dormady couldn't put it together, generating a big-time throw to turnover-worthy play ratio of 4 to 21.
Richardson will start the year as Central Michigan's QB1, but it's far from a guarantee that he'll improve their passing attack. He's undersized at 5-foot-9 and had a turnover-worthy throw on one of his three pass attempts in his first year in 2019. Take that with a grain of salt, but that's not a good sign. On the bright side, he will have a good receiving arsenal at his disposal.
Bowling Green was in the bottom tier of the FBS in passing last year. Of the 130 FBS programs, the team ranked 121st in passing grade. McDonald is set to take the reins but is a huge unknown, as he has seen only nine dropbacks in his college career, all of which came in 2018 with Boston College. And outside of tight end Quintin Morris, McDonald lacks receiving weapons, which is likely to make this a bumpy ride.
Willis is the likely replacement to Stephen Clavert, who produced an above-average 76.2 passing grade in 2019. Willis does bring some great rushing ability to the table. Prior to joining the Flames in 2019 (sat out due to transfer rules), he saw limited action with Auburn. He did look like a breakaway threat on the ground with his speed, as 10 of his 28 carries resulted in a 10-plus yard gain. His capability as a passer is a complete unknown.
Malcolm Perry was the heart and soul of Navy's offense in 2019 and a big reason why the team ranked second to only Clemson in expected points added per rush play. Olsen is in line to take over the offense, and based on what we saw from him in 2019, Navy is set for a big regression. Olsen had 35 carries on the year and fumbled as many times as he produced a 10-plus yard carry (three). He averaged only 2.6 yards per carry en route to a 51.3 rushing grade.
Whether it's Wolff or Smartt under center for the Monarchs, their passing attack won't be pretty. Smartt saw more action than Wolff in 2019 and wasn't a terrible ball-carrier when given designed carries, but he put up a lowly 49.8 passing grade. Wolff is the likely starter in 2020. However, we didn't see anything from him as a true freshman to indicate he's going to revamp this offense or hold the spot for the entirety of the year (52.9 passing grade).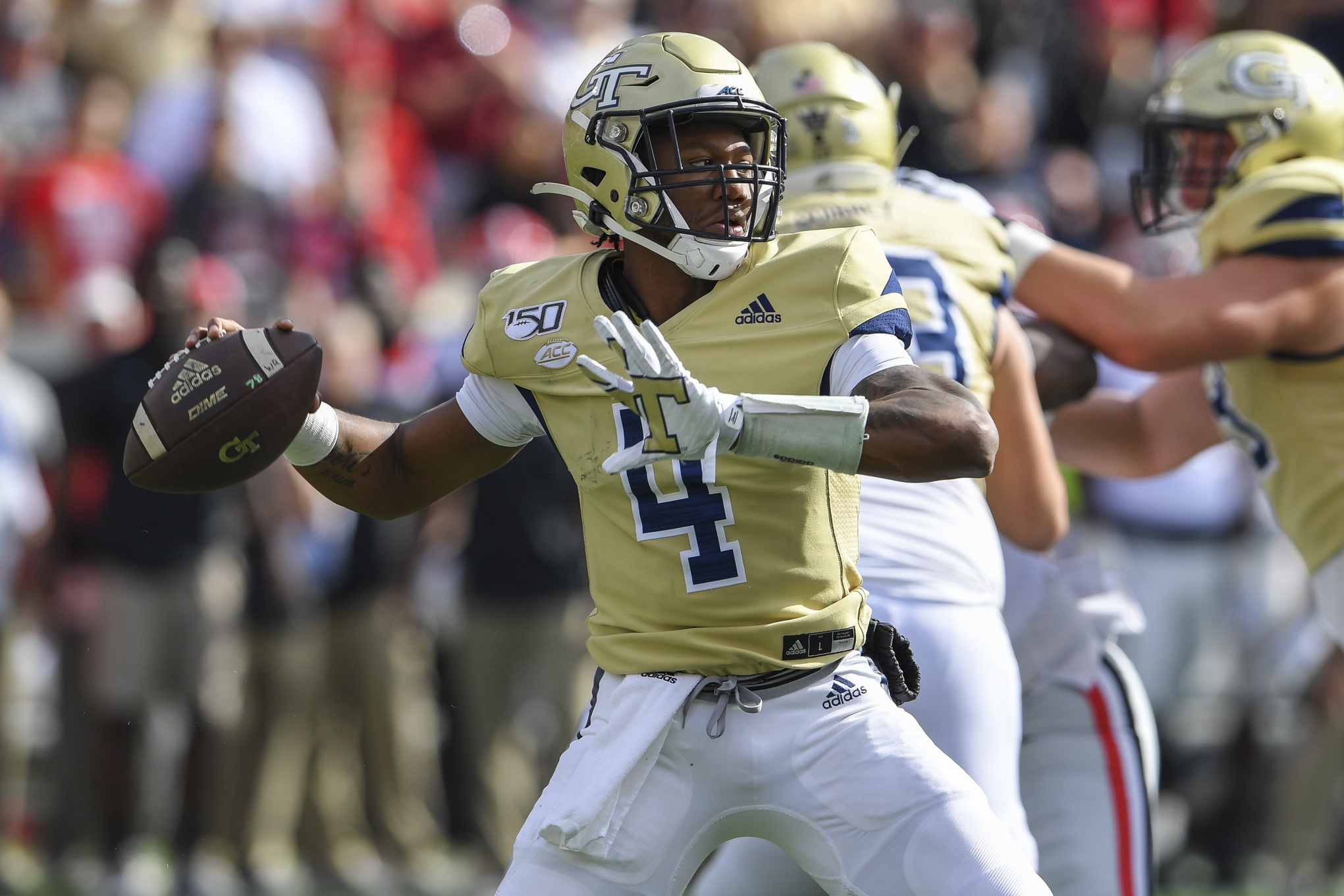 There's no doubt Graham's supporting cast was among the worst in the country last year. But at the end of the day, he's the one responsible for his inaccuracies. No quarterback recorded a higher rate of uncatchable passes thrown 10-plus yards downfield in 2019 than Graham. He did manage to produce a big-time throw rate of 5.6% that ranked 21st, but that's one of the few positives here.
This very well could have been Taulia Tagovailoa's job, as he was granted a waiver from the NCAA after transferring, but Jackson was seemingly the frontrunner if he hadn't opted out. Jackson struggled at Virginia Tech, and things got a lot worse in his first season starting with the Terps. His 43.3 PFF grade in 2019 ranked second to last among FBS quarterbacks. There's hope with Tagovailoa, but I wouldn't expect him to play at the same level as his older brother right out of the gate.
*As you'll find in the PFF College Magazine, all opt-outs are included in our preseason rankings
New Mexico State suffered a huge blow with Josh Adkins transferring to UTSA. The Aggies were above average at quarterback with Adkins, and even then, they finished 117th in expected points added per play on offense. Now, incoming JUCO product Jonah Johnson is set to take the reins of one of the most underwhelming offenses in the country.
Martinez had extremely lofty expectations for Nebraska entering 2019 — some had him as a Heisman candidate, and some called him the next up-and-coming star in college football. However, those presumptions were unrealistic, and Martinez verified that throughout the season. When in a clean pocket, which is one of the most stable metrics for a quarterback, Martinez produced a 55.3 passing grade, ranking 123rd of 130 FBS quarterbacks. His big-time throw rate was 130th among the same group. As said in the 2020 PFF College Magazine, Martinez just lacks the basic accuracy required for the position. There still is hope at quarterback for the Cornhuskers, but it's with Luke McCaffrey. The dual-threat McCaffrey racked up nine 10-plus-yard gains on 24 carries while recording one big-time throw on 12 passes in 2019.
The quarterback position is Connecticut's Achilles' heel. Zergiotis struggled massively in his true freshman campaign in 2019, recording a 45.3 PFF grade while fumbling seven times. He did have a great game against East Carolina in Week 13 (83.5 passing grade), but the bad ball protection, as well as his inconsistencies downfield, is too much to overcome.