It's time for every football fan's favorite position: the interior offensive line. Unheralded at pretty much every level, interior offensive linemen are consistently one of the lowest-valued positions in the NFL draft. The teams that can scout and develop them, though, are able to consistently field quality starting offensive lines with mid-round investments. These are the players we'll be keeping an eye one for the 2021 NFL Draft.
[Editor's Note: PFF's advanced statistics and player grades are powered by AWS machine learning capabilities.]
1. Wyatt Davis, Ohio State
From a grading standpoint, Davis narrowly edged out Jonah Jackson (third round, Detroit Lions) last season, earning an 82.6 mark compared to Jackson's 78.5. All the more impressive was that Davis did so while being two years younger. He's the much more physically gifted of the two, as well. He has exceptional balance, and it's a big reason why he didn't allow a single sack or hit in pass protection last season. Davis also plays with a powerful base and can execute any block asked of the position. If he makes the same sort of leap in performance we saw from 2018 (60.8) to 2019, he could be special.
2020 Outlook
Davis is easily the most polished interior offensive lineman in the class, so he realistically doesn't have too much more to prove to be drafted early. However, if we see Davis go from good to dominant in Year 4, he will be a first-rounder next April.
2. Trey Smith, Tennessee
How high Smith's ceiling can go as a prospect remains to be seen. He's one of the nastiest offensive linemen in all of college football, as he posted nine big-time blocks last season. Smith is the type of offensive lineman who will dive to block players already on the ground. His tape will be a guilty pleasure for offensive line coaches around the NFL.
That said, he's still a work in progress. Smith has missed parts of seasons and offseasons over the past couple of years with blood clots in his lungs, and that's stunted his development considerably. When we finally saw him settle in last season, Smith allowed only seven pressures over the final 11 games of the campaign.
2020 Outlook
Smith is yet another player who could end up in the first round if we see that leap toward more consistent play in 2020. He yet again couldn't catch a break with a pandemic-threatened offseason, but at least his blood clots look like a thing of the past. Circle his matchup with Alabama's Christian Barmore this year on your calendar, as it will be a heavyweight brawl from start to finish.
3. Tyler Linderbaum, Iowa
Linderbaum has, without a doubt, the best movement skills of any interior offensive lineman in college football. He can flat out fly for an offensive lineman. Now, it helps that he's listed at 288 pounds for this upcoming season — well below where you'd like to see an interior lineman — but his performance was still lights out at that size in 2019.
Great cutback by true fr Goodson, Tyler Linderbaum with the absolute pancake pic.twitter.com/sp5uR7PM4O

— MASK ON 4 HEAVENS SAKE (@HeavensFX) September 7, 2019
Linderbaum was an accomplished wrestler in high school, and it shows on the football field. He rides defensive tackles like a cowboy unwilling to get bucked off a bronco. Despite being undersized, he can still move defenders off the line of scrimmage with how he plays with leverage. Of course, it wasn't uncommon to see him get overpowered, and that size is still a massive concern. Still, he allowed only nine pressures on 441 pass-blocking snaps last season. Oh, and it was his first season playing offensive line for the Hawkeyes — he played defensive tackle in his first year on campus.
2020 Outlook
Realistically, Linderbaum is probably more than one season away from entering the NFL draft. With how slight he was in 2019, it's difficult to see him getting to NFL size in one quarantined offseason. Seeing him maintain that level of athleticism with some added mass is the most important thing for him this season.
4. Alijah Vera-Tucker, USC
When watching Vera-Tucker's 2019 tape, one question was at the forefront of my mind the entire time: How the hell was this guy not starting his first two years at USC? He takes some of the most beautiful pass sets of any guard in college football and finished with the second-highest pass-blocking grade of any Power Five guard in the country (87.9).
The difference between him and the two guys above him on this list purely comes down to personal preference. Vera-Tucker will likely never be described as a "freak" like those two, but he has tremendous awareness and feel for the position. Things like passing off stunts and combo-ing to the second level come easy to him. That sort of reliability can bring a lot of value to the table at guard.
2020 Outlook
Vera-Tucker will assuredly be a PFF favorite if he declares for the 2021 NFL Draft — almost regardless of what he does in 2020. That's how solid and consistent he was in 2019. You can chase some higher-end traits with others, or you can know you're getting a solid guard with Vera-Tucker.
5. Creed Humphrey, Oklahoma
The fact that Humphrey — a player many considered to be the top interior offensive lineman heading into the 2019 season — ranks fifth on this list shows just how talented of a class it really is. Some of that is on Humphrey, though, as he allowed more pressures in his final six games of 2019 (11) than he did in 14 games as a redshirt freshman in 2018 (10).
Put bluntly, Baylor nose tackle Bravvion Roy ate Humphrey's lunch in the Big 12 title game last season. Humphrey is a high-cut center at 6-foot-5 and was unable to out leverage the 6-foot-1, 333-pound Roy in the run or pass game. The Oklahoma center allowed five pressures in that contest, and it likely played a factor in his decision to return to school.
One game isn't going to completely torpedo his stock in our eyes, though, as he's been solid over the course of his Oklahoma career. Humphrey plays a calm and collected brand of football, and even when he loses, it rarely gets too ugly. At his size, he may even end up at guard in the NFL.
2020 Outlook
Humphrey quite obviously has to avoid any more stinkers in 2020. Playing with better leverage and being able to reset his hands when they don't land where they should will be key this fall. He would have likely been a Day 2 pick if he declared last year, so it would be surprising to see him fall out of that range in 2021.
6. Ben Cleveland, Georgia
Cleveland may very well be the most powerful returning interior offensive lineman in college football. He was ranked 20th on Bruce Feldman's Freaks List and is said to be a serious contender to break the combine record of 49 bench reps. Unsurprisingly, it's rare to see Cleveland moved backward on tape. It's not simply his upper body that's strong, but he also has a thick lower half on his 335-pound frame.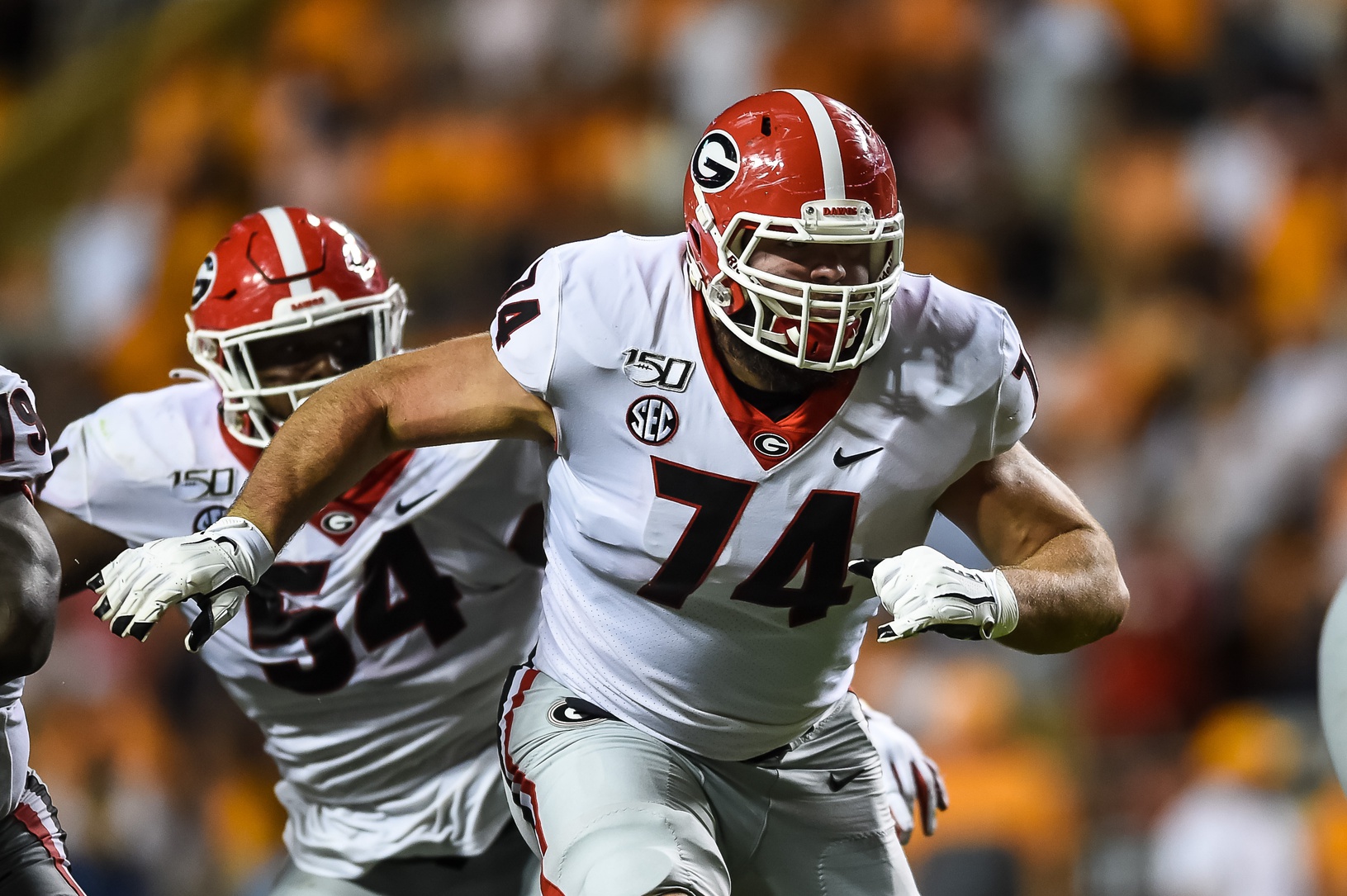 The problem is that we've only seen 475, 208 and 361 snaps from him in the past three seasons, respectively, due to numerous injuries and off-field issues. He's also not nearly as smooth as any of the guys above him on this list and is far more of a phone-booth player. Still, he's got a devastating first punch that can make up for those agility concerns in pass protection.
2020 Outlook
Academic issues have caused Cleveland to miss time in the past, and he can't have that be the case again in 2020 if he expects to be drafted highly. The tools are there, but we need to see them for a full season — or at least something close to it.
7. Josh Myers, Ohio State
Myers is a linebacker's nightmare when climbing to the second level unfettered. He pancaked multiple linebackers on contact last year without even engaging. That's the type of offensive lineman Myers is — if he hits you, he's going to make sure you feel it.
However, Myers is only a rising true junior and is no sure thing to declare. He's a bit stiff in pass protection with a constant forward lean at his waist, which leads to some balance issues. His 15 pressures last season is a high number for a center, and that led to a 72.8 pass protection grade.
2020 Outlook
Myers' pass protection needs to take a considerable leap forward in 2020. Showing he can reset his hands more effectively when they're swatted away and maintain balance better will be the two biggest things to watch.
8. Zion Johnson, Boston College
After transferring to Boston College from Davidson prior to last season, Johnson struggled with the transition at the start of the year. The speed of the game got to him the first few weeks, but by the end of the season, he was one of the best guards in college football. After allowing four pressures in his first four games, Johnson allowed only four more over the final nine.
Johnson is one of the most cut-up guards you'll see in college football, as he has vascularity in his arms at 310 pounds. That loaded frame led to eight big-time blocks last season, which ranked sixth among all guards in his first season of FBS play.
2020 Outlook
We're excited to see how Johnson progresses in his second season with major college coaching. Here's hoping that, with A.J. Dillon gone to the NFL, the Boston College offense will have a little more run-pass balance in 2020. Johnson's eight pressures allowed last season look great, but when you consider his 77 true pass sets ranked 244th among all guards in the FBS last season, it's far less impressive.