The offseason's quarterback carousel has now ended, with several prominent passers finding favorable landing spots. As things stand, as many as eight teams will enter the season with new signal-callers and will be hoping for better days as a result. Here, we examine the teams that should be excited about their new quarterback along with the teams that should be, at least, cautiously optimistic.
[Editor's note: Subscribe to PFF ELITE today to gain access to PFF's Premium Stats and new Player Grades experience in addition to the 2020 NFL Draft Guide, 2020 Fantasy Rookie Scouting Report, PFF Greenline, all of PFF's premium article content and more.]
One year after being selected in the fourth round of the 2019 draft, Jarrett Stidham has been tabbed to replace the G.O.A.T as the New England Patriots' new starting quarterback in 2020. During his rookie season, Stidham only threw the ball four times, compiling 14 yards on two completions while also recording one sack and one interception. His small NFL sample size offers no indication of future performance, but his work in college, where he struggled with negative throws, could be a foreshadow of things to come.
The most stable metric to evaluate any quarterback is their ability to avoid inaccurate or negative throws when operating in rhythm with no pressure. During Stidham's final college season at Auburn, he attempted 152 passes while throwing in rhythm with no pressure, but just over 50% of those passes were charted as "accurate" (50.3%), per PFF's QB charting system, which ranked 29th among 34 qualifying draft-eligible quarterbacks in 2018. Another 28.7% of those attempts were deemed uncatchably inaccurate, which ranked 33rd among that same group of qualifiers. So, even when operating within ideal conditions, Stidham has shown to be inaccurate on what should be easy NFL throws.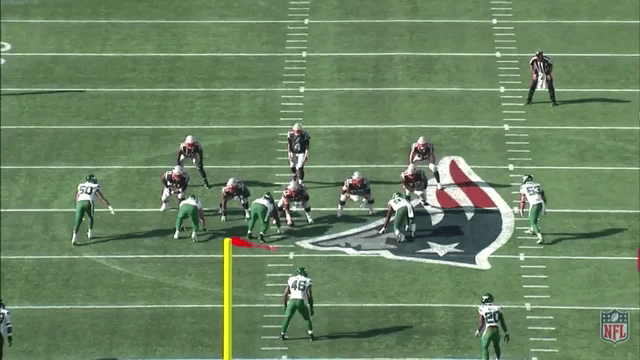 In fairness to Stidham, I expect him to show vast improvement from his limited performance with the Patriots in 2019. His time as Tom Brady's understudy and now-unlimited practice reps will help Bill Belichick manage Stidham's talent in a positive and productive environment.
Tyrod Taylor has started 46 regular-season games and logged 3,163 snaps during his nine seasons in the NFL. However, he only attempted six passes last year in his first season with the Los Angeles Chargers. On his 1,362 career passing attempts, Taylor has produced a 71.7% adjusted completion percentage and an average of 7.0 yards per attempt, tied for 32nd and tied for 34th, respectively, among the 51 quarterbacks who have thrown at least 1,000 passes since 2011. His PFF passing grade of 88.6 on downfield throws of 20 plus yards ranks 31st among the 60 players who have attempted at least 100 deep throws, but Taylor's best-known characteristic is still the way in which he takes care of the ball. Over the last decade, Taylor's turnover-worthy play rate of just 2.8% ranks fourth among all signal-callers who threw the ball at least 1,000 times, and it's behind only Tom Brady, Aaron Rodgers and Alex Smith.
Taylor is considered a placeholder for one of the league's most talented teams until its first-round draft pick, Justin Herbert, is ready to become the starting quarterback.
Herbert has all the physical talents to become the Chargers' franchise signal-caller, and he has the aptitude to quickly digest an NFL playbook. He also has a big-time arm to stretch the field, and his mobility, matched with his 6-foot-6 frame, provides a rare combination of size and speed. Herbert's strong arm helped him to earn a passing grade of 90.0 on deep passes of 20 yards or more downfield last season. However, despite his many physical gifts, Herbert will still need to improve in two critical areas: anticipation and accuracy.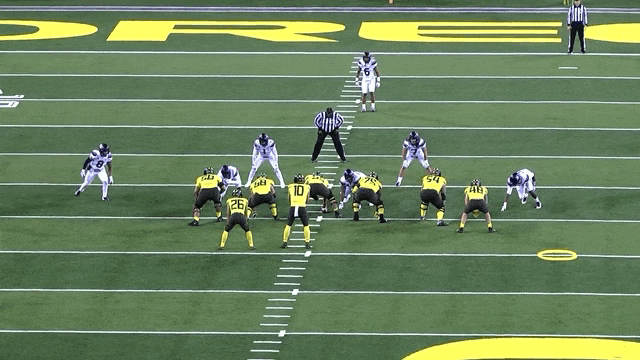 During his final season at Oregon, Herbert had a 20.5% uncatchable, inaccurate pass rate on his in-rhythm throws without pressure, 15th among 41 qualifying college quarterbacks, while his 55.5% accuracy rate ranked 25th among that same group. His high percentage of negative throws while in favorable situations is an example of where Herbert still needs further development. However, he will be surrounded by skilled players who last season produced the league's 11th-best team receiving grade (77.1) and the fourth-most explosive plays of 15 plus yards. So, while Herbert has landed on a team rich with talent, he will need to compete and quickly blossom. 
The Miami Dolphins competed well down the stretch last season yet still earned the right to select Tua Tagovailoa with the No. 5 overall pick. All indications point to Tagovailoa being fully recovered from the Nov. 18 surgery to repair his right hip, but as an understudy to 15-year veteran Ryan Fitzpatrick, Tua will have more time to both learn and fully heal without taking the unwarranted risk.
In Tua, the Dolphins have a proven leader and a promising talent, and his upside is bolstered by his familiarity with the operations of a pro-style offense. While in Tuscaloosa, Tua often demonstrated his ability to set protections, checking out of less favorable plays and quickly communicating and coordinating a more effective alignment.
The 2018 Heisman nominee showed poise against the blitz pressure throughout his college career and took a sack on just 12.5% of those pressured dropbacks. He also recorded only 24 turnover-worthy plays during his entire three-year college career, which spanned 753 dropbacks.
For those who negate Tua's success by suggesting that he only connected with receivers who were wide open, watch below as he throws his intended receiver away from tight coverage.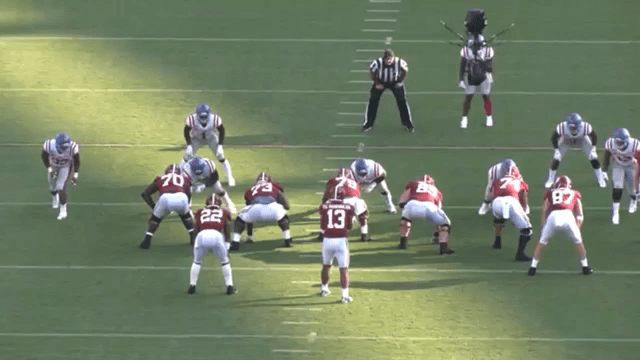 Even in a shortened 2019 season, Tua further proved his talents by earning an accuracy rating of 63.0% on his 126 pass attempts while throwing in rhythm with no pressure. Dolphins fans should be happy to know that Tua's poise and accuracy remained at its best in big games, but more importantly, that he has the proven work ethic and positive mentality needed in South Florida to help erase the years of disappointment.
Drafted with the fourth overall pick of the 2004 NFL Draft, Philip Rivers spent 16 seasons with the Chargers, with 14 of those seasons coming during the PFF era (2006 – present). Rivers has graded above 70.0 in 12 of those 14 seasons and earned a career passing grade of 92.6 since 2006, the seventh-highest grade among qualifying quarterbacks during that time.
Last season, Rivers' decline was evidenced by his career-high 30 turnover-worthy plays and his passing grade of 73.6, which was a long way off his 2018 grade of 87.4. 
In 2020, Rivers will serve as the quarterback for the Indianapolis Colts, where head coach Frank Reich believes the 17-year veteran will regain his prominence with better pass protection and a scheme that allows him to get rid of the ball much quicker than he's been used to. As a stationary pocket passer, Rivers can expect a clean pocket and more time to throw behind the Colts' dominant offensive line.
Los Angeles Chargers vs. Indianapolis Colts: Offensive line stats in 2019
| | | |
| --- | --- | --- |
| Stat | Los Angeles Chargers | Indianapolis Colts |
| Pass-blocking snaps | 636 (15th) | 576 (24th) |
| PFF pass-blocking grade | 59.9 (31st) | 75.1 (11th) |
| Total pressures allowed | 209 (30th) | 169 (21st) |
| Pass-blocking efficiency | 81.5 (31st) | 84.0 (24th) |
| Sacks allowed | 26 (26th) | 15 (5th) |
| QB hits allowed | 50 (31st) | 34 (27th) |
| QB hurries allowed | 133 (25th) | 120 (18th) |
| Average time to throw | 2.52 (32nd) | 2.90 (4th) |
It is clear that the Colts' offensive line and scheme is a better fit for Rivers, and he will also be a significant upgrade over Jacoby Brissett, who accounted for 44 pressures on his own due to his tendency to hold onto the ball for too long. This is in stark contrast to Rivers, who was only responsible for 14 of the Chargers' total pressures allowed.
It remains to be seen if Rivers can fully regain his form while reunited with Frank Reich, who once served as Rivers' quarterbacks' coach and offensive coordinator with the Chargers. The future Hall of Famer has never lacked belief in his ability to perform, and now his biggest challenge is to turn Colts fans into believers once again.
Not even the offering of a king's ransom could sway the Cincinnati Bengals from taking Joe Burrow with their first overall pick. After earning the highest passing grade ever awarded to a college football player at (94.1), Joe Burrow returns home to the Buckeye State with all signs pointing to him being a sure-fire franchise quarterback.
Burrow checks all the boxes as a mature and proven leader who was trained in a pro system by former LSU offensive coordinator Joe Brady. Burrow learned to set protection and recognize blitzing defenses with acute awareness. In 2019, his passing grade of 80.5 when pressured was the best in college football, and on throws 20 plus yards downfield against pressure he produced 11 big-time throws with zero turnovers and zero sacks.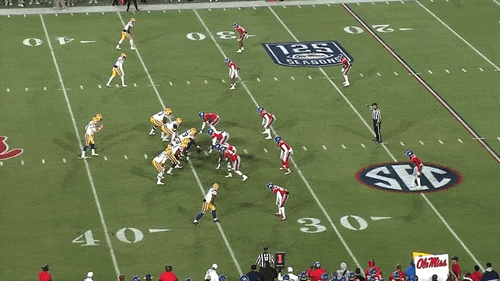 Burrow's ability to remain poised under pressure while keeping his eyes downfield was a hallmark of his record-setting performance last season. However, he will need to be even better behind a Bengals offensive line that has allowed a league-high 115 quarterback sacks over the last four seasons and earned a PFF pass-blocking grade of 70.6 (26th) over that same stretch. His 60.6% accuracy rate versus pressure — second to only Jalen Hurts last year — proves that Burrow is as prepared as anyone could ever expect of a rookie quarterback. His early survival is key to his long-term success in the Queen City.
During his eight seasons in the NFL, Nick Foles' career has resembled the highs and lows of a groundbreaking tech stock on Wall Street. At his best, he is a Super Bowl-winning quarterback, but at his worst, he is a free-agent failure who nearly walked away from the game after hitting rock bottom in 2015 with the St. Louis Rams.
The Chicago Bears will be hoping to get the Nick Foles who outdueled Tom Brady to win the Lombardi Trophy just three years ago. Bears head coach Matt Nagy, who served as Foles' quarterback coach in Kansas City, has a better feel for the good, the bad and the not so pretty parts of Nick Foles' game — he knows that Foles is at his best when operating in a play-action and run-pass option (RPO) system. In 2017, during his six-game run to help the Eagles win a championship, Foles produced the league's second-most touchdown passes (11), completions (124) and the fourth-most big-time throws (9) while functioning primarily in Doug Pederson's RPO-heavy scheme. 
During his eight-year career, Foles has consistently been at his best on play-action passes designed to get him out of the pocket and create easier downfield throws.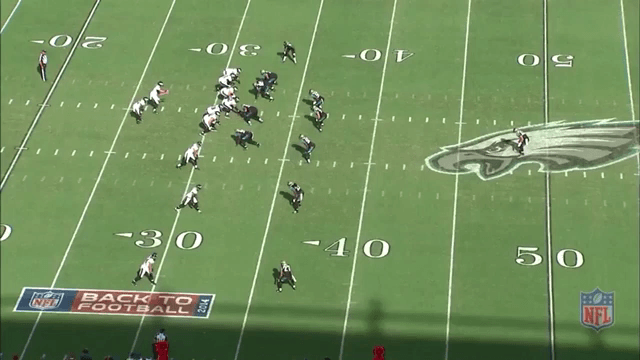 Foles will now be expected to beat out the struggling Mitchell Trubisky and provide consistency to a Bears' passing attack that earned a 23rd-ranked PFF passing grade of 65.3 one year ago. Last season, the Bears ran 168 run-pass option plays, second to only the Chiefs (201), which is already good news for the Bears' faithful.
Early reports already suggest that Foles is already more familiar with the Bears' playbook, which could prove vital in developing Foles' comfort level in Chicago and seems absolutely necessary for his success.
Bridgewater is set to take the reins as the Carolina Panthers' starting quarterback after overcoming a devastating injury that nearly ended his career.
His work ethic and infectious positive attitude had made him a valued leader in both Minnesota and New Orleans; he has won 22 of his 34 career starts, including all five starts last season while replacing the injured Drew Brees. A side-by-side look at Bridgewater's production during those five games last season compares more favorably than Kyle Allen's first five games in relief of Cam Newton.
Teddy Bridgewater vs. Kyle Allen: Performance from Week 3 to Week 7
| | | |
| --- | --- | --- |
| Stat | Teddy Bridgewater | Kyle Allen |
| PFF passing grade | 78.9 | 62.4 |
| Pass attempts | 165 | 122 |
| Completions | 115 | 80 |
| Average depth of target | 6.1 | 8.5 |
| Yards per attempt | 7.3 | 7.4 |
| Big time throw rate | 4.1% | 5.6% |
| Turnover-worthy play rate | 1.8% | 5.6% |
| Passer rating from a clean pocket | 121.4 | 112.5 |
The Panthers' new offensive coordinator, Joe Brady, worked closely with Teddy while serving as the Saints' offensive assistant in 2017, so the pairing of the two by head coach Matt Rhule is a clever move for a rookie coach. Because Bridgewater is already familiar with the offense, he will most likely be the most prepared player once the Panthers return to offseason activities.
That said, Brady must convince Bridgewater to stretch the defense by attacking more frequently with downfield throws. Bridgewater's 6.1-yard average depth of target during his five-game stretch ranked near the bottom of the league (27th). And during that same time, 62.4% of Bridgewater's 1,205 passing yards came when throwing short of the first down marker, where he left it up to his players to create after the catch. This is now Bridgewater's chance to prove that he is the player we all thought he was — a proven winner.
Even after winning six Super Bowls during his 20 years of NFL domination, Tom Brady has arrived in Tampa with plenty still to prove. Two things the G.O.A.T has never done is win without Bill Belichick or play at an elite level at the ripe old age of 43. In 2020, Brady is determined to do both.
Brady's arrival in Tampa Bay has now made the Buccaneers a Super Bowl contender. However, after his decline in production last season, many are beginning to question if we have seen the last of Tom Brady at his best.
Tom Brady's performance under pressure: 2015-18 vs. 2019
| | | |
| --- | --- | --- |
| Stat | 2015-18 | 2019 |
| PFF passing grade | 81.0 | 49.7 |
| Adjusted completion percentage | 67.3% | 59.5% |
| Yards per attempt | 7.4 | 4.1 |
| big-time throw rate | 8.0% | 2.2% |
| Turnover-worthy play rate | 3.8% | 3.3% |
| Perfectly placed throw percentage | 24.5% | 18.4% |
| Passer rating | 88.9 | 51.8 |
Brady has always been at his best while under pressure. From 2015-18, Brady won two Super Bowl titles in four seasons while shredding the blitzing defenses that dared to try and bring pressure. Brady's performance last season, however, was far below what we had come to expect from him.
As a quarterback who beats pressure with throws that require anticipation, Brady was often left frustrated by his receivers, who regularly ran inconsistent routes when their quarterback faced pressure. But by choosing to play in Tampa, it shows that Brady chose wisely when deciding to play with receivers who performed well last season when their quarterback was under duress.
Patriots receivers vs. Buccaneers receivers: Performance on pressured-passing situations in 2019
| | | |
| --- | --- | --- |
| Stat | New England Patriots | Tampa Bay Buccaneers |
| Team receiving grade | 60.3 | 76.5 |
| Yards per play | 3.6 | 4.9 |
| First down/touchdown percentage | 15.5% | 20.0% |
| Drop rate | 16.9% | 2.4% |
| Yards per reception | 11.6 | 15.2 |
All quarterbacks, even the great ones, need help. And in Tampa, Tom Brady will have the league's best receiving corps at his disposal, and he'll have all the help he needs from players like Mike Evans, Chris Godwin, O.J. Howard and Cameron Brate. To further fortify Brady's trust in his surrounding cast, the Bucs then added Rob Gronkowski via trade.
If all goes right here, the Buccaneers could be the first team in league history to hoist the Lombardi Trophy in their home city.