• Howie Roseman, Brett Veach have built strong foundations: The Eagles and Chiefs, two of the NFL's best franchises in recent years, are guided by Tier 1 general managers.
• Duke Tobin, Jerry Jones and Bill Belichick round out Tier 1: Tobin has the Bengals set up well for the long haul, Jones continues to facilitate the addition of elite talent in Dallas and Belichick expertly navigated the Tom Brady era in New England.
• Draft and trade for yourself: Try PFF's Mock Draft Simulator — trade picks and players and mock for your favorite NFL team.
Estimated Reading Time: 36 minutes
---

Many attempts have been made to properly contextualize everything that goes into a general manager's contributions to a football team, and no method is necessarily right or wrong.
We can better analyze the processes that each general manager implements, attempting to account for the variance that comes with draft results and not rewarding an executive too much for simply owning the No. 1 overall pick when a generational quarterback prospect is available, for example.
There are also responsibilities outside of talent acquisition — namely, the hiring of head coaches — that play a huge role in the success of the team. And while we may identify hirings that land in the outlier range on either end of the spectrum, this won't be a major component of our analysis.
Finally, the conditions each general manager is operating under is an underrated element of success, given the financial resources not only related to roster construction but also in terms of scouting staff, analytics departments, training facilities and much more.
We're primarily focusing on the following categories:
Draft pick production compared to expectation
Positional value consideration
Draft trade value
Free-agent signing value compared to expectation
Early extensions
We've written about the first two topics extensively. Below is a table looking at our third category — how each general manager has navigated the draft from a trade perspective.
There is overwhelming historical evidence that trading down is a positive-expected-value move within the current construct of how draft picks are valued. However, maneuvering up and down can yield value, and opinions on pick values are starting to change. The Fitzgerald-Spielberger chart methodology is explained here, with the value of each pick listed.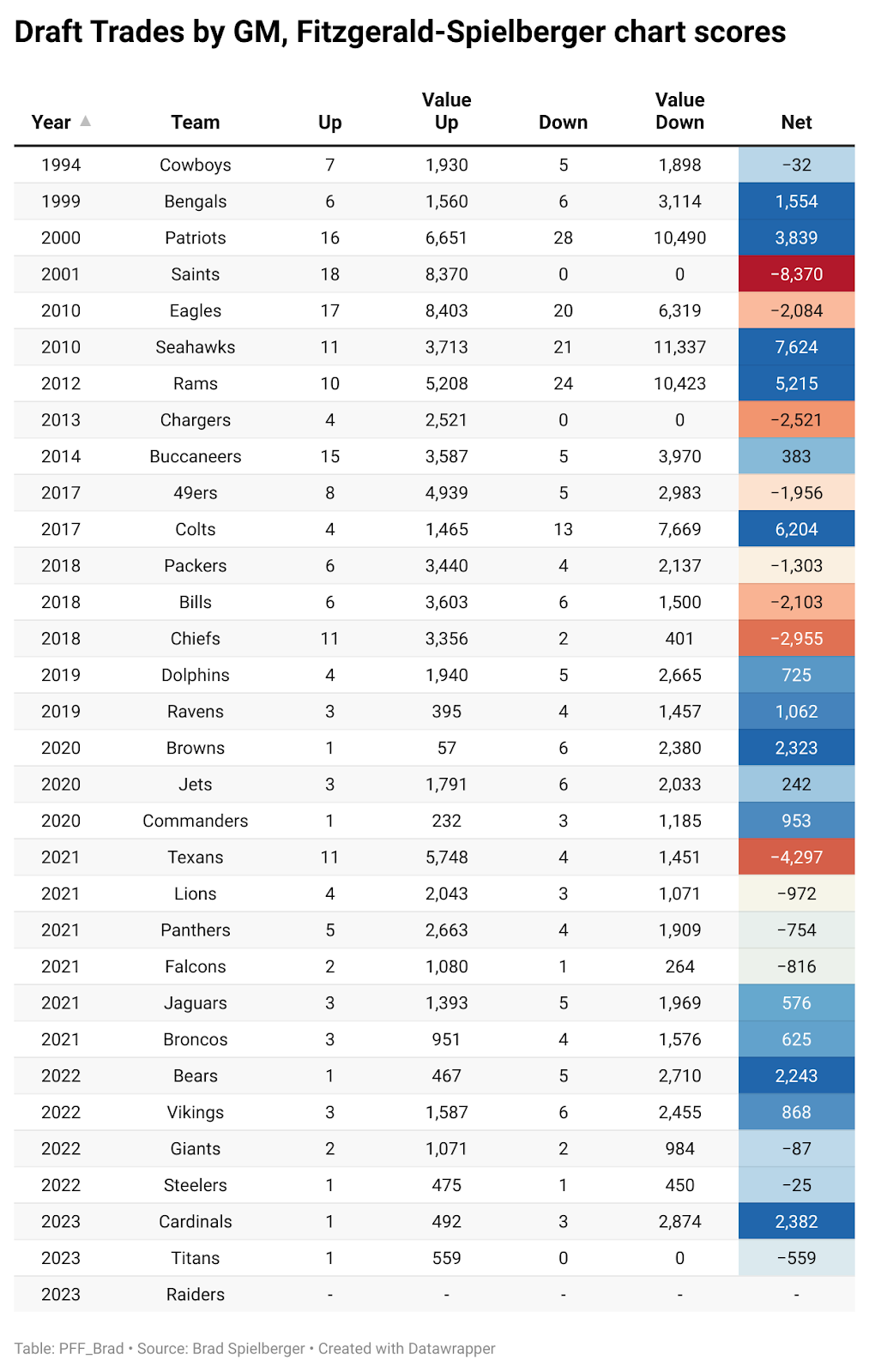 Our fourth category looks at how teams get the most production out of free agents and has also been covered at PFF, most notably by Timo Riske and myself.
The analysis below looks at the work we generally do behind the scenes, comparing our projected values for each player and measuring that against the contracts they sign.
Of course, there are off-field factors we are not privy to, but the same analysis was applied to all 32 teams in free agency for more than a decade, so misses in either direction because of variables we cannot capture should largely level out.
We have this analysis dating back to 2013, but to provide a visual that isn't too messy (but still a bit messy), here's an illustration for just the three-year window from 2021 to 2023.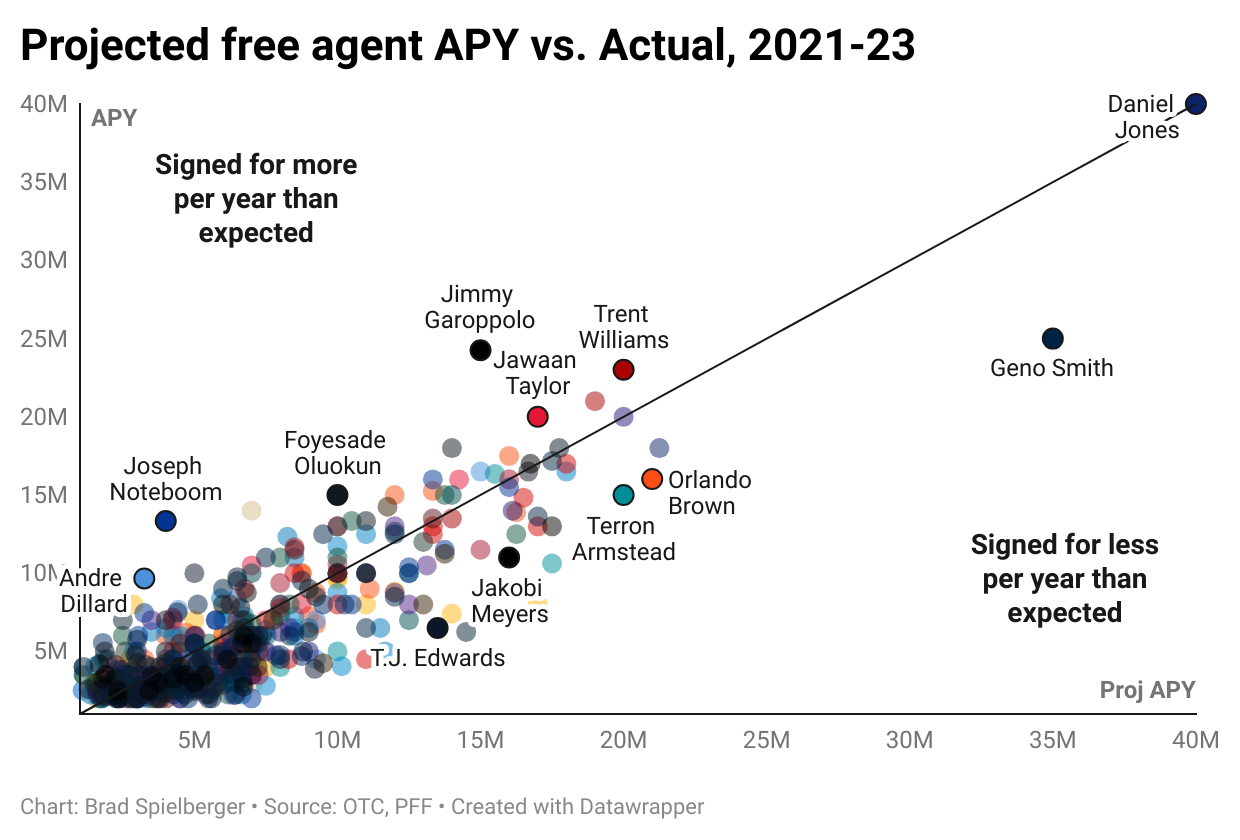 A few notes:
• Average per year is not a perfect metric. For example, San Francisco 49ers left tackle Trent Williams signed for a larger APY than we projected, but he signed a six-year deal at 33 years old. We adjust for true contract values and cash flows in our full analysis.
• We have missed in either direction, as we tried to illustrate with Foyesade Oluokun, who has played to the level of his very strong free-agent deal in Jacksonville.
• Over our full sample, players who sign for more than we expected are more likely to underperform compared to the expected production based on their contracts. Players who sign for less than we expected are more likely to overperform. There are, of course, examples in the opposite direction, but based on the entire data set, we are more than comfortable saying this analysis provides a relevant data point, even with the existing blind spots.
With all of these ideas in mind, we set out to tier the general managers who have been on the job for at least three years. This removes seven new general managers from the sample, leaving us with a group of 25.

Tier 1: Clear vision, sound process, balance of short- and long-term objectives
No one wheels and deals like Howie Roseman, and his willingness to turn over every stone and think outside the box is why the Eagles are a consistent winner. Early extensions for left tackle Jordan Mailata, PFF's third-highest-graded tackle in 2023, and edge defender Josh Sweat, who ranks 21st in pass-rush grade among edge defenders, underscore just how ahead of the game Roseman is compared to the rest of the league.
A trade to acquire a future first-round pick from the New Orleans Saints, which turned into one of the best rookies of the PFF era in Jalen Carter — whose 90.6 grade through Week 10 ranks second among interior defenders — was a masterpiece.
Last but certainly not least, drafting quarterback Jalen Hurts in the second round of 2020 with Carson Wentz still on the roster was as sharp a move as any over the past decade. Other general managers are reportedly sick of hearing about how great Roseman is, but frankly, he isn't praised enough. And despite what they say, teams are looking to emulate what Philadelphia is doing, evidenced by one general manager in Andrew Berry and four assistant general managers recently being poached from the Eagles' front office.
Even though Veach played a key role in trading up for and drafting phenom quarterback Patrick Mahomes, he has, in a weird way, had to overcome the outsized benefit of that move in rankings like these. However, Veach has grown and adapted in the role and tried new approaches to maintain a consistent contender as opposed to a flash in the pan.
The Chiefs made the tough decision to trade away wide receiver Tyreek Hill, and while they have question marks at wide receiver, they saved at least $75 million over three years. Oh, and the two first-round picks from that draft class turned into cornerback Trent McDuffie — PFF's ninth-highest graded cornerback this season (81.5) — and edge defender George Karlaftis, whose 17.2% pressure rate ranks 10th at the position through Week 10.
Overall, Kansas City's defense is the youngest in the NFL by average age, and they're currently third in the NFL in expected points allowed.
Technically, owner Mike Brown is the Bengals' general manager. But Tobin runs the personnel department, and arguably no one has been as consistent over the past three or four years as Tobin in both the draft and free agency.
Cincinnati is the first of a few teams where we'll talk about how their recent willingness to deviate from long-held precedents and organizational norms is reaping benefits, particularly with free-agent additions Trey Hendrickson, D.J. Reader, and Chidobe Awuzie, among many others. This offseason, tackle Orlando Brown Jr. was one of the best value signings across the league.
The Bengals have been hitting at such a strong clip recently that they've now been able to bolster depth and draft for the future instead of the present, notably including back-to-back first-round picks in defensive back Daxton Hill and edge defender Myles Murphy. Hill hardly played last season but is rarely coming off the field this season as he's transitioned to a full-time free safety, and Murphy is also being brought along slowly but has three pressures on 26 pass-rush snaps across his two most recent outings.
Even after making quarterback Joe Burrow the highest-paid player in NFL history, Cincinnati is working to ensure it won't have major holes across its roster, even as the team inevitably loses some veteran talent. The Bengals have positioned themselves to have the luxury of addressing long-term needs instead of short-term needs, and if they keep hitting even near this rate, we will continue to see AFC Championship appearances.
First and foremost, we have to mention Cowboys vice president of player personnel Will McClay, who deserves as much credit for what Dallas does year in and year out as anyone.
Dallas has the highest ratio of homegrown to external talent in the NFL, truly taking the draft-and-develop approach to heart and consistently winning football games as a result. While this is the most sustainable and repeatable roster-building philosophy, Dallas showed this offseason in trading for wide receiver Brandin Cooks and cornerback Stephon Gilmore that it will supplement the roster with outside talent when the timing is right and the reinforcements are necessary.
"America's Team" gets a lot of flak for coming up short in the playoffs over the past few decades, and what makes them sustainable arguably limits their ceiling at times, as well, but the consistent influx of elite talent in Dallas is undeniable. The Cowboys finally started to extend players like cornerback Trevon Diggs this past offseason to early extensions, which was a major weak spot in their operation for years.

We're considering an entire body of work here, and the idea that the Patriots were successful from 2000-2019 solely because of Tom Brady is one of the more absurd, unsubstantiated notions in sports history. Belichick has his blind spots, including a complete disregard for consensus draft opinions in recent years and a puzzling inability to identify good wide receiver talent early in the draft, but his positives dramatically outweigh his negatives.
Rant aside, Belichick the general manager has made it difficult for Belichick the head coach over the past few years, with this roster looking nearly devoid of blue-chip talent to build around as foundational pieces on offense. A big offseason ahead, with what should be the earliest draft slot Belichick has had in at least 15 years and the second-most projected cap space, will likely dictate whether Belichick stays in this category or needs moving.
Tier 2: Clear vision, mostly sound process, sometimes focused on "windows"
This cluster is hard to distinguish from week to week and can fluctuate.
Brandon Beane, Buffalo Bills (since 2018)
There has been so much good from Beane, most notably a handful of very sharp early extensions beating other teams to market. The Bills signed cornerback Tre'Davious White, linebacker Matt Milano, tackle Dion Dawkins and quarterback Josh Allen to deals that immediately aged wonderfully, which has enabled Buffalo to continue to be aggressive with moves like the trade for wide receiver Stefon Diggs and signing of edge defender Von Miller.
Beane's greatest move was trading up to secure franchise quarterback Josh Allen, but he has since traded up in the early rounds with varying levels of success, netting Tremaine Edmunds (not re-signed), Cody Ford (traded), Dawson Knox (extended), Kaiir Elam (not a contributor as a 2022 first-round pick) and Dalton Kincaid (rookie, TBD). That comes out to five trades within the top 100 picks, for an off-ball linebacker, a guard/tackle, two tight ends and a cornerback whowas jumped on the depth chart by a sixth-round rookie and doesn't appear to be in the team's long-term plans after a year.
There have been some nice finds over the years, undoubtedly, but the misses in the early rounds are compounded if they also require extra draft capital from trades, and the Bills have the third-oldest roster in the NFL by average age without an outlier at quarterback or on special teams. Buffalo can always retool, but they're projected to be 29th in effective cap space in 2024 and have some big decisions to make. Nevertheless, Beane's positives outweigh the negatives.
Schneider began his Seahawks tenure with potentially the greatest three-draft stretch in modern NFL history and sustained success for a decade with multiple trips to the Super Bowl. However, from 2016-2021, Seattle added around only one meaningful contributor per draft class, and the wheels fell off the Russell Wilson era. Trading away Wilson and adding major draft capital looks like a stroke of genius, especially with quarterback Geno Smith playing great football.
The tides turned once again, with the 2022 draft class boasting what could be two starting tackles, an emerging stud edge rusher, a top running back and a top outside cornerback. This year, Seattle has a Defensive Rookie of the Year candidate in Devon Witherspoon, and wide receiver Jaxon Smith-Njigba is starting to make plays, among more potential contributors.
The up-and-down nature of Schneider's reign makes him hard to place. A blockbuster trade of multiple first-round picks for safety Jamal Adams looks as bad as the Russell Wilson trade looks good. The decision to move second- and fifth-round picks for Leonard Williams, a 29-year-old pending free agent who is not franchise-taggable, has received virtually zero criticism, despite it being an arguably worse move than the Chicago Bears trading for Montez Sweat. Understandably, the Seahawks saw a window to get aggressive after the NFC West rival San Francisco 49ers dropped three straight games, but Seattle subsequently got demolished 37-3 by the Ravens in Week 9.
Long story short, Schneider has an eye for talent and knows how to build and sustain a winner, creating a culture that has withstood and overcome various obstacles over the years, but there are a lot of major whiffs along the way, as well.
John Lynch/Kyle Shanahan, San Francisco 49ers (since 2017)
The 49ers' braintrust is as fascinating as any to dissect, producing boom-or-bust results that rival any personnel department across the league. The challenge here is isolating the value of having arguably the best offensive mind in football in head coach Kyle Shanahan. But as much as he elevates the talent, you also have to have talent to elevate.
San Francisco boasts a loaded group of weapons, and the most impressive find was fifth-round tight end George Kittle in Shanahan and Lynch's inaugural draft class. One of the league's best linebacker duos in Fred Warner and Dre Greenlaw were added with third- and fourth-round picks, but they've otherwise struggled to identify much talent outside the top 50 draft selections, with a few exceptions, including nose tackle D.J. Jones, safety Talanoa Hufanga and quarterback Brock Purdy.
Besides the obvious miss of trading the farm for quarterback Trey Lance in 2021, the 49ers need players to step up from the 2021-2023 draft classes. Otherwise, things will get tricky here very soon. The 49ers deserve credit for maintaining a contender despite all the resources poured into adding Lance, and they've stayed uber-aggressive in trading for running back Christian McCaffrey, signing interior defender Javon Hargrave and most recently trading for edge defender Chase Young.
However, 35-year-old Trent Williams looks to be the only good player on the offensive line, and major financial decisions loom on wide receiver Brandon Aiyuk and others. At the end of the day, when you're paying your quarterback less than a million dollars a year through 2025, you can be aggressive. Nevertheless, things could get very interesting after the 2024 campaign.
San Francisco is also the only organization that rivals Philadelphia in terms of the personnel and coaching incubator they've created, with two general managers and three head coaches who spent the majority of their NFL journey with the 49ers hired away by other organizations over the past few seasons.
DeCosta was the heir to Ozzie Newsome, arguably the greatest general manager in modern NFL history, and has largely adhered to his principles as he stewards the next chapter of Ravens football: maneuver both up and down the draft, extend your core pieces early, make occasional splashes in the veteran trade market as both buyers and sellers and tap into the free agency market later in the game after sitting out the first few waves and earning compensatory picks.
Two big moves that speak to DeCosta's young tenure are trading away core pieces that were up for extensions, starting with tackle Orlando Brown Jr. DeCosta recouped a first-round pick from the Kansas City Chiefs as a part of the trade package, which turned into edge defender Odafe Oweh, who is currently PFF's 15th-highest-graded edge defender and has produced a 15th-ranked 17.1% pass-rush win rate.
Next, DeCosta traded away wide receiver Marquise Brown, the first draft pick he ever made and quarterback Lamar Jackson's close friend, to the Arizona Cardinals. The first-round pick he netted from Arizona turned into center Tyler Linderbaum, currently PFF's eighth-highest-graded center.
DeCosta reset the clock on rookie contracts and may have traded two good players who needed to be paid for two great ones who will provide several more years of surplus value. Moves like those are what enabled the splash trade for linebacker Roquan Smith.
Extensions for left tackle Ronnie Stanley, cornerback Marlon Humphrey, tight end Mark Andrews were well-timed. Free agent additions that didn't affect compensatory picks but have made major on-field impacts include guard Kevin Zeitler, interior defender Michael Pierce and edge defenders Jadeveon Clowney and Kyle Van Noy.
There have been a few strange decisions along the way, but with the proper context, they make more sense. We're primarily referring to the signing of wide receiver Odell Beckham Jr. to a fully guaranteed one-year, $15 million deal, probably at least double his market value. But if we want to fold that into the Lamar Jackson extension, then it's a wash.
We're putting the student one spot above the teacher here, with Holmes capping off a very successful tenure in Los Angeles by landing a top job of his own in Detroit. Now infamous for his ecstatic reactions to tackle Penei Sewell and edge defender Aidan Hutchinson falling to the Lions' pick on draft night, Holmes is very thorough and calculated, and he appears to have brought some late-round magic with him to Detroit.
In just his first two draft classes, Holmes added wide receiver Amon-Ra St. Brown, linebackers Derrick Barnes and Malcolm Rodriguez and edge defender James Houston IV on Day 3, in addition to several franchise cornerstones found on the first two days. Much has been made of the Lions ignoring positional value in this past year's draft, and it's worth mentioning, but at least they traded down with Arizona before making a selection and netted the second-round pick that turned into rookie tight end sensation Sam LaPorta.
Despite the reason for optimism, Holmes has been patient as he adds to the roster, not splurging in free agency or swinging a blockbuster trade in an attempt to jump ahead of schedule. His patience should pay off as young talent continues to improve.
Maybe it's the smaller market or maybe it's people anchoring to the fact Licht once traded up in the second round for a kicker (sorry, Jason, it had to be mentioned), but over nearly a decade now Licht has proven to have one of the better eyes for talent across the league. He deserves to show up far higher on lists like these. There are some notable misses in the early rounds but also a ton of hits throughout the draft, and it appears from the outside that Licht has consistently learned from experience.
The Buccaneers have a blend of young talent and core veterans who will likely end up in the ring of honor, but the next chapter can be built around Tristan Wirfs and Luke Goedeke at the bookends on offense and young defenders such as safety Antoine Winfield Jr. and rookie interior defender Calijah Kancey.
While we aren't the biggest fans of chasing "windows" in a vacuum, the reality is that sometimes you need to be more aggressive when your roster is close, and it won't necessarily cripple you long-term if you go about it the right way. Tampa Bay deserves praise for how it navigated the Tom Brady era, completely changing the way the team structures contracts and manages its salary cap and then pivoting back immediately instead of chasing the high, as we've seen in recent years from all three of the other NFC South teams.
Snead lives on the extremes with basically everything he does, which is how the Rams find themselves in their current position: with very little talent to speak of outside of a few notable exceptions. However, expectations were even lower for this team than the results thus far, and a rookie class without a first-round pick looks to have a few quality players in guard Steve Avila, edge defender Byron Young, interior defender Kobie Turner and perhaps the best value pick of the year in wide receiver Puka Nacua.
Snead does actually have a process, even if he has embraced the "f*** them picks" mantra. Ironically enough, Snead's catchphrase isn't truly reflective of his opinion on picks whatsoever, as the Rams have had at least eight selections in every draft since 2017, including a whopping 14 in 2023. Snead trades down as much as anyone, accumulates a lot of dart throws and has found a ton of late-round gems over the years. When he wants to be aggressive, he moves earlier picks and balances that out.
There was a perceived market inefficiency in how teams were valuing early-round draft picks, and perhaps the Rams took advantage en route to a Super Bowl but are now comfortable hitting the reset button and retooling for another run.

Gutekunst has largely run the show much like Ted Thompson did before him, but he has not been afraid to venture into free agency or maneuver around the draft. Trading down in the first round with the New Orleans Saints to net an extra first-round pick in 2018 and then adding All-Pro cornerback Jaire Alexander with his very first draft selection was a sign of things to come. The 2019 class had huge hits in two recently extended players, edge defender Rashan Gary and guard Elgton Jenkins, before a lull in 2020-2021. However, Gutekunst had two double-digit draft hauls in 2022 and 2023, and the 2022 group is displaying plenty of promise.
This isn't exactly what this article is about, and perhaps head coach Matt LaFleur is in charge of this decision, but keeping defensive coordinator Joe Barry on for the 2023 season was one of the more perplexing moves across the league this offseason. Gutekunst has used seven first-round picks over six years on defensive players, and effectively all free-agent spending has been on defense. Yet, the unit is still not playing up to its talent level.
Gutekunst will ultimately be judged by his succession plan at quarterback, held to an impossibly high standard as he works to replace Aaron Rodgers, but he deserves credit for recouping premium draft capital for a 39-year-old Rodgers.
The Colts' roster in recent years has resembled a Whac-A-Mole board, where one glaring deficiency has been able to tank what is otherwise a team with talented trench units. For 2023, the secondary is devoid of building-block talent outside of second-round rookie Julius Brents, but the offensive line is seemingly back playing to its talent level after atrophying in 2022. With a lot of positives on display from rookie quarterback Anthony Richardson, who we won't see again until 2024 due to injury, there's reason to believe maybe Ballard can build a true contender for the first time since the end of the Andrew Luck era.
Ballard's best move in a while appears to be the hiring of head coach Shane Steichen, and there should be optimism going forward. Ballard may need to supplement this roster with more free-agent talent than he's been willing to target in the past, but that's how you take advantage of the rookie contract window — in moderation, of course.
Every outing by this 2023 Jets team is bittersweet because they had a legitimate Super Bowl contender in the making with Aaron Rodgers under center. Douglas' decision to keep Zach Wilson as the No. 2 quarterback for an all-in season deserves scrutiny, even if the situation presented a unique challenge. A solid backup, such as Gardner Minshew, might have this team leading the AFC East right now.
Douglas' trio of 2022 first-round picks in Sauce Gardner, Garrett Wilson and Jermaine Johnson II are all difference-makers. The first two are among the best young players at their respective positions, and Johnson is starting to play his way into that conversation. While Douglas gets a lot of flak for offensive line decisions, a unit that has inarguably underperformed, he identified talent in Mekhi Becton, Alijah Vera-Tucker and Joe Tippmann. Now, they just need to stay healthy.
With Aaron Rodgers back in 2024, some upgrades to the offensive skill players and line and avoiding an insane injury bug, this team should be in the hunt for the Lombardi Trophy.
Perhaps no general manager has been more aggressive in recent years than Berry, but that is, in part, because his draft classes have left a lot to be desired outside of the first two rounds. Cleveland now hasn't had a pick in the first two rounds since 2021, but fourth-round rookie tackle Dawand Jones looks like Berry's first Day 3 gem since recently traded wide receiver Donovan Peoples-Jones in his inaugural draft class.
The Browns' defensive line, outside of Myles Garrett, is arguably the NFL's most improved unit, following a cheap trade for edge defender Za'Darius Smith, the signing of Ogbonnia Okoronkwo and the additions of interior defenders Dalvin Tomlinson and Shelby Harris,
Berry also acquired wide receiver Amari Cooper for just a fifth-round pick, one of the biggest steals in recent years, one that is frankly still a head-scratcher from the Cowboys' perspective.
Whether it was head coach Kevin Stefanski or Berry's decision, the switch from Joe Woods to Jim Schwartz at defensive coordinator is also one of the biggest upgrades across the NFL at a coordinator position this offseason.

Tier 3: Questionable process, varying results
This is not your typical referendum on how the Saints approach the salary cap, which is a much larger and more convoluted discussion. It would end up looking like the "they can't keep getting away with this meme" in article form. New Orleans should win the NFC South this year, which is always an accomplishment, but this is comfortably the worst division in football in 2023 and New Orleans is nowhere close to being a legitimate contender.
The Saints have the oldest roster in the NFL by average age, and it's not just that they have some wily veterans; older players are the primary producers on both sides of the ball. Demario Davis is PFF's highest-graded linebacker, and Cam Jordan once again has a top-20 grade among edge defenders, as does Tyrann Mathieu at safety. On offense, Michael Thomas, Alvin Kamara and Taysom Hill are all top-five target-earners, with Kamara and Hill the leading ball-carriers. Kamara is the only player mentioned in this paragraph under the age of 30.
The 2017 draft class is, player for player, one of the best draft classes of all time, but the next four classes combined look to have brought in just three quality contributors in center Erik McCoy, linebacker Pete Werner and cornerback Paulson Adebo. None of these players are world-beaters by any stretch, either.
We'd be surprised if the Saints don't make it back to the playoffs for the first time in three seasons, as we mentioned above, but it's difficult to see how this team doesn't go through a real rough patch soon unless they once again have a historic draft class soon. They'll likely be drafting too late in the next few years to find a successor to Derek Carr, who ranks 19th in PFF passing grade on an offense that ranks 23rd in dropback success rate.
During the Drew Brees era, we found the hysterics about how New Orleans went about their business a bit overblown, but now it's tough to envision the long-term viability of this approach.
Not long ago, it appeared that the wheels were falling off at the end of the Brian Flores era. Flash-forward to today, and head coach Mike McDaniel is the main character of the NFL and every bit the wunderkind we were promised. Miami is loaded with top-end talent on both sides of the ball and has coaches on either side who can scheme around some deficiencies. The Dolphins are undoubtedly all-in right now.
Miami made just eight draft picks over the past two years, none in the top 50 selections, and is currently 30th in projected cap space for 2024 and sixth in cash commitments. Interior defender Christian Wilkins, edge defender Andrew Van Ginkel, guard Robert Hunt, right tackle Austin Jackson and center Connor Williams are among 11n pending free agents who have logged at least 40% of snaps so far this season, with two more offensive linemen on that list. Quarterback Tua Tagovailoa is set to play on the fifth-year option in 2024, so he may need a massive extension, as well.
The 2021 draft class of Jaylen Waddle, Jaelan Phillips, Jevon Holland is yielding remarkable returns, and the external additions of Tyreek Hill, Jalen Ramsey, David Long and DeShon Elliott — just to name a few — are also paying dividends. But this is not a very sustainable roster as presently constructed.
Early in his tenure, Fontenot showed signs of a different thought process than the one in New Orleans, where he cut his teeth in the NFL, with a sharp trade down from the No. 35 overall pick in 2021 to land safety Richie Grant and center Drew Dalman with pick No.'s 40 and 114.
Fontenot utilized his Saints connections this offseason to add a solid defensive coordinator in Ryan Nielsen and key defensive contributors in interior defender David Onyemata and linebacker Kaden Elliss.
However, this team has a clearly limited ceiling, which was very foreseeable after their offseason. The defense is the 10th-oldest in the league by average age, so while it has been great to see marked improvement, the odds are that they'll need significant reinforcements before the overall roster is competitive.
Atlanta has allocated a lot of draft capital and money to non-premium positions, making it harder to get out of the middle of the pack going forward as they build around top-five contracts at guard and safety.
The Falcons have little talent to speak of at edge rusher and are without a long-term answer at quarterback despite drafting in the top eight for three straight years.
This isn't a classic PFF referendum on running back value, but the selection of Bijan Robinson to split work with Tyler Allgeier has surprisingly not led to more wins. Atlanta is 15th in effective cap space for 2024 as of today and will likely pick somewhere between No. 10 and No. 20 in the 2024 NFL Draft.
There have been some hits over the past decade, starting with wide receiver Keenan Allen in Telesco's first class. However, out of 29 selections made outside of the top 100 from 2013 to 2020 and thus eligible for extensions, zero have been extended. 2019 fifth-round pick Easton Stick signed a one-year, $1.8 million contract to serve as the backup this season after his rookie deal expired, making him the first such player to return for a fifth season with the team.
In a decade-plus, Telesco has never traded down in the draft, and his four trade-ups were as follows:
Odds are Murray becomes the fourth player on this list to not sign a second contract with the team.
We discussed in other sections how we were tempering our praise for certain executives because they had good quarterback play propping them up. Here, we're doing the opposite, Our expectations are much higher, given the Chargers went from Philip Rivers to Justin Herbert under center and don't have a ton to show for it. We won't say Telesco lucked into Justin Herbert necessarily, as he was the third quarterback off the board in 2020, but the Chargers have just three playoff appearances over the past decade with these two quarterbacks.
Free agency has been a mixed bag. Cornerback Casey Hayward Jr. was as big of a hit as the J.C. Jackson addition was a miss, but the Chargers generally aren't very active in free agency, which is often a good thing. Now with Justin Herbert on a top contract across the league, Los Angeles lacks young talent on either side of the ball, which will make it all the more challenging to compete in the AFC going forward. As of today, the Chargers are 31st in projected 2024 cap space, ahead of only the New Orleans Saints, so tough decisions lie ahead.
There has been a lot of good recently, but at the end of the day, generational quarterback prospect Trevor Lawrence fell into Baalke's lap, which is propping up a lot here.
To his credit, Baalke was very smart to be patient during the 2022 coaching cycle with the public outcry for other candidates before eventually hitting a home run with Doug Pederson, who has helped elevate Lawrence's game to new heights.
Outside the first round in 2021, Baalke deserves a lot of props for selecting cornerback Tyson Campbell, offensive lineman Walker Little and safety Andre Cisco.
It's still very early, but the decision to draft Travon Walker over Aidan Hutchinson with the No. 1 overall pick in 2022 is not off to a hot start. And using the Jags' three remaining top-70 picks — with no picks between No. 70 and No. 154 — on two off-ball linebackers and a center may not have been the soundest approach.
The Jaguars had to spend a bit extra to convince players to join the team, which matters when discussing huge expenditures like wide receiver Christian Kirk and guard Brandon Scherff. Hopefully, those days are in the rearview mirror, with free agents excited to play with Pederson and Lawrence.
The deadline trade for suspended wide receiver Calvin Ridley — buying very low on an extremely talented player at a premium position — was a very sharp move.
Baalke can certainly move up this list pretty quickly, and maybe we're punishing him too much for the benefit of landing Trevor Lawrence, but that was the surest thing the NFL had seen in a decade.
Caserio inherited a nightmarish situation and failed to bring much stability early on, hiring three head coaches in his first three years as a general manager. He looks to have hit a home run by bringing former Texans linebacker DeMeco Ryans back as the head coach.
Caserio did not have much draft capital at his disposal at the outset, as former head coach and general manager Bill O'Brien traded multiple first-round picks for left tackle Laremy Tunsil. However, Caserio was flush with draft capital in 2022 after moving on from Deshaun Watson and navigating that situation about as well as he could have.
Houston's top three cornerbacks in snaps played in 2023 are pending free agents, so 2022 third overall pick Derek Stingley Jr. is sorely needed. And while it's still early, the other 2022 first-round pick in Kenyon Green has really struggled with both health and performance out of the gate.
Caserio was smart to effectively churn the roster with short-term signings when he first got into town, as it was clear this team wasn't competing any time soon. Now with C.J. Stroud, who appears to be a top-end franchise quarterback on a rookie deal, it would probably make sense to supplement this roster with more talent.
This article is about process and not results, so while Will Anderson Jr. looks awesome out of the gate already, the decision to trade a future first-round pick to move up to No. 3 overall for a non-quarterback is extremely questionable. Fortunately, that pick may not fall in the top 10, as expected, but it will still likely provide the Arizona Cardinals with a premium asset in a talented 2024 class.
Nothing better illustrates what landing a franchise quarterback can do because there really has been a ton of head-scratching decision-making here over the last three years. But C.J. Stroud, DeMeco Ryans and offensive coordinator Bobby Slowik might be covering it all up right away.
This is such a tough placement for Paton because the talent evaluation for his first draft was exceptional. That 2021 draft class was headlined by cornerback Pat Surtain II, running back Javonte Williams, guard Quinn Meinerz and edge defenders Baron Browning and Jonathon Cooper. The trade for quarterback Russell Wilson and the hiring of Nathaniel Hackett immediately torpedoed the entire operation, and ironically, it now appears Sean Payton is taking over after Paton had to make a trade with New Orleans for Payton's services.
Paton also secured a first-round pick and more for edge defender Bradley Chubb, a sharp trade with Chubb asking for a new contract at a time when it didn't make much sense for Denver. The signing of D.J. Jones to fortify the interior of the defensive line was a good move, but the team traded edge defender Randy Gregory for a Day 3 pick swap just a few games into this season.
Whatever ultimately happens after this season, Paton will always be remembered for two massive decisions that didn't work out, and that's just the nature of the business, but there was a lot of good, too.
The Commanders have basically sat out free agency for the last few years. Their draft classes since 2020 have been largely underwhelming, besides a few late-round gems in safety Kamren Curl and quarterback Sam Howell, and the trade for quarterback Carson Wentz was a disaster.
Dealing with a new scandal every 10 minutes during the final days of the Dan Snyder era had to be exhausting, and brighter days are ahead with Josh Harris and company. Still, it will be interesting to see if this regime gets a chance in 2024 and beyond under new ownership.
It's very tough to put Fitterer here because from the outside looking in, it appears he was first hired by Matt Rhule, who had a lot of power and control, and we also know that owner David Tepper is as hands-on as any owner in the league — just ask Frank Reich.
This is true for many general managers, and it should be mentioned that we as fans so often get caught up in trying to find a sacrificial lamb, when in reality, the NFL is just the 32 most expensive fantasy football teams in the world.
Nevertheless, Carolina has probably the least talented weaponry in the NFL, with the inclusion of wide receiver D.J. Moore in the Bryce Young trade necessary to push the deal through but also remarkably detrimental to Young's acclimation to the NFL.
The 2021 and 2022 draft classes might produce only two meaningful contributors in cornerback Jaycee Horn and tackle Ikem Ekwonu, and that's if both former top-10 picks can get healthy and play up to the ability we've seen in flashes.
In free agency, they have largely overpaid older veterans, with the one big hit on Haason Reddick not followed up with an extension. Carolina signed Reddick off a double-digit sack season to a one-year, $6 million flier for 2021 amid skepticism that he could repeat the feat in a full-time transition to edge rusher. Sure enough, he repeated the feat, albeit with a lower pressure rate and pass-rush grade, but if possible, Carolina absolutely should have worked to match the three-year, $45 million deal Reddick ultimately took in Philadelphia.
Carolina's offensive line looked much better on paper but has struggled, and the defense has regressed over time and needs multiple significant additions on the defensive line, at linebacker and in the secondary. These additions could be made with a top-five draft pick, but that is likely what Carolina will be sending to Chicago. We won't knock making a splash to get a franchise quarterback, and it's still very early for Bryce Young, but this roster is so far away.
Perhaps the most puzzling decision across the NFL over the last few years is Carolina turning down an offer from the Los Angeles Rams of two first-round picks and a second-round pick for edge defender Brian Burns and then not extending him this offseason. You view Burns as so valuable you won't take a starting-quarterback trade haul for his services but not valuable enough to sign him to a market-rate deal, the value of which will only rise as more players like Rashan Gary and Montez Sweat sign extensions?
Long story short, we're really not sure how much of this is even Fitterer's fault, and it could be a very small amount. Still, the situation is bleak in Carolina, and he holds the title.
TOO NEW
We wanted at least a three-year sample for each general manager, so anyone hired after the 2021 cycle did not qualify. We will still share some thoughts below.
Khan's 2023 draft class looks extremely promising out of the gate, and he netted what was effectively an extra first-round pick in the Chase Claypool trade at last year's deadline, a fleecing for the ages just months into the job.
Khan also appears more open to spending in free agency, maneuvering around the draft and adding personnel talent to his building by hiring Andy Weidl as assistant general manager.
A remarkable foundation has been laid in Arizona, with the first four draft picks all showing flashes early on, and the Cardinals are currently slated to have the No. 1 overall pick and another top-15 pick from the Houston Texans. Despite the record, there is clear evidence the coaching staff knows what they're doing on both sides of the ball. Once Kyler Murray is fully settled back in after his injury and an influx of talent hits the roster, the Cardinals could turn things around in a hurry.
The Bears have been as active as any team across the league during Poles' short tenure, and there have been huge hits and equally huge misses. Poles inherited one of the worst situations of the last few years and clearly has a vision of building through the trenches on both sides of the ball. The 2024 offseason will be massive, with likely two top-10 picks and a boatload of cash to spend in free agency. There have been some nice value signings, but spending at the top of the market for linebacker Tremaine Edmunds is a bit of a head-scratcher at this juncture.
Adofo-Mensah has had to balance a competitive roster with the ability to win now with the reality that the fastest path to true contention is getting younger and turning things over to the quarterback of the future.
He's been able to operate with short- and long-term objectives in mind simultaneously when it comes to free agency and trades, but the early results from the first two draft classes outside of wide receiver Jordan Addison are underwhelming, to say the least.
There was a lot to like about Schoen setting realistic expectations for the 2022 Giants, making tough decisions with cap casualties and focusing on getting younger. The five-year extension for tackle Andrew Thomas this offseason was at a great value for the team, and edge defender Kayvon Thibodeaux has started to play up to his talent over the last month.
Nevertheless, exceeding even the wildest of expectations in 2022 may have ultimately backfired, most notably with the extension of quarterback Daniel Jones, though we are in no way referring to Jones' ACL injury or any other injury and hope he has a speedy recovery.
In 2023, the Giants have been absolutely decimated with injuries to key players but also appear devoid of talent across both sides of the ball outside of a few key pieces.
It was very sharp of Schoen to recoup a second- and a fifth-round draft pick for interior defender Leonard Williams at the deadline, especially because Williams cannot be franchise-tagged, and compensatory picks are never a given.
Carthon inherited a roster that had outperformed its talent level for a few years, with head coach Mike Vrabel one of the best in the business. But age and injuries finally caught up to this unit, and the contraction here and there has been wise. It's still early, but it's looking like Carthon's first draft class could be a really good one, with the first three picks in guard Peter Skoronski, quarterback Will Levis and running back Tyjae Spears already looking like big hits. Tight end Josh Whyle and offensive tackle Jaelyn Duncan could also get more playing time going forward.
Kelly took over as interim general manager just last week following the dismissal of general manager Dave Ziegler and head coach Josh McDaniels. Kelly spent time with the Chicago Bears and Denver Broncos in the past as a high-ranking personnel executive and is well-respected across the league. Perhaps he and interim head coach Antonio Pierce can earn opportunities in Las Vegas or elsewhere if they keep performing like they did in a Week 9 rout of the New York Giants.