(As we head into the 2019 fantasy football season, we're taking a trip around the league to identify the offseason moves we'd most like to see each team make for fantasy purposes. Today: the Los Angeles Chargers)
The Chargers tied for the best record in the AFC in 2018 at 12-4. 19 seasons out of 20, that would mean a first-round bye and at least one home playoff game. Unfortunately for the Chargers, this was that 20th season, and they had the bad fortune of playing in a division with the same-record Chiefs, which meant they got the fifth AFC seed, had to play on Wild Card weekend, and spent both of their playoff games on the road.
Considering the Chargers' apparent lack of a home-field advantage (all four of the team's regular-season losses came in Los Angeles), it might not have mattered as far as a 2018 Super Bowl chase goes. But years from now, someone who only offers a glance at the 2018 season rundown will see a Chargers team as the fifth seed and think it was a ho-hum team in an above-average season. The truth, though, was that the 2018 Los Angeles Chargers were one of the league's best teams.
Which is a long way from saying they were perfect. The team's offensive line continues to be a sticking point, finishing 30th in our O-line rankings and grading out 31st as a pass-blocking unit. Tight end was kind of a black hole due to the injury to Hunter Henry and calcification of Antonio Gates. So there is room for improvement for the Chargers, even as they are coming off one of the best seasons in the league that no one will remember.
(Keep up with the whole offseason wish list series here.)
Three offseason moves we want to see for Los Angeles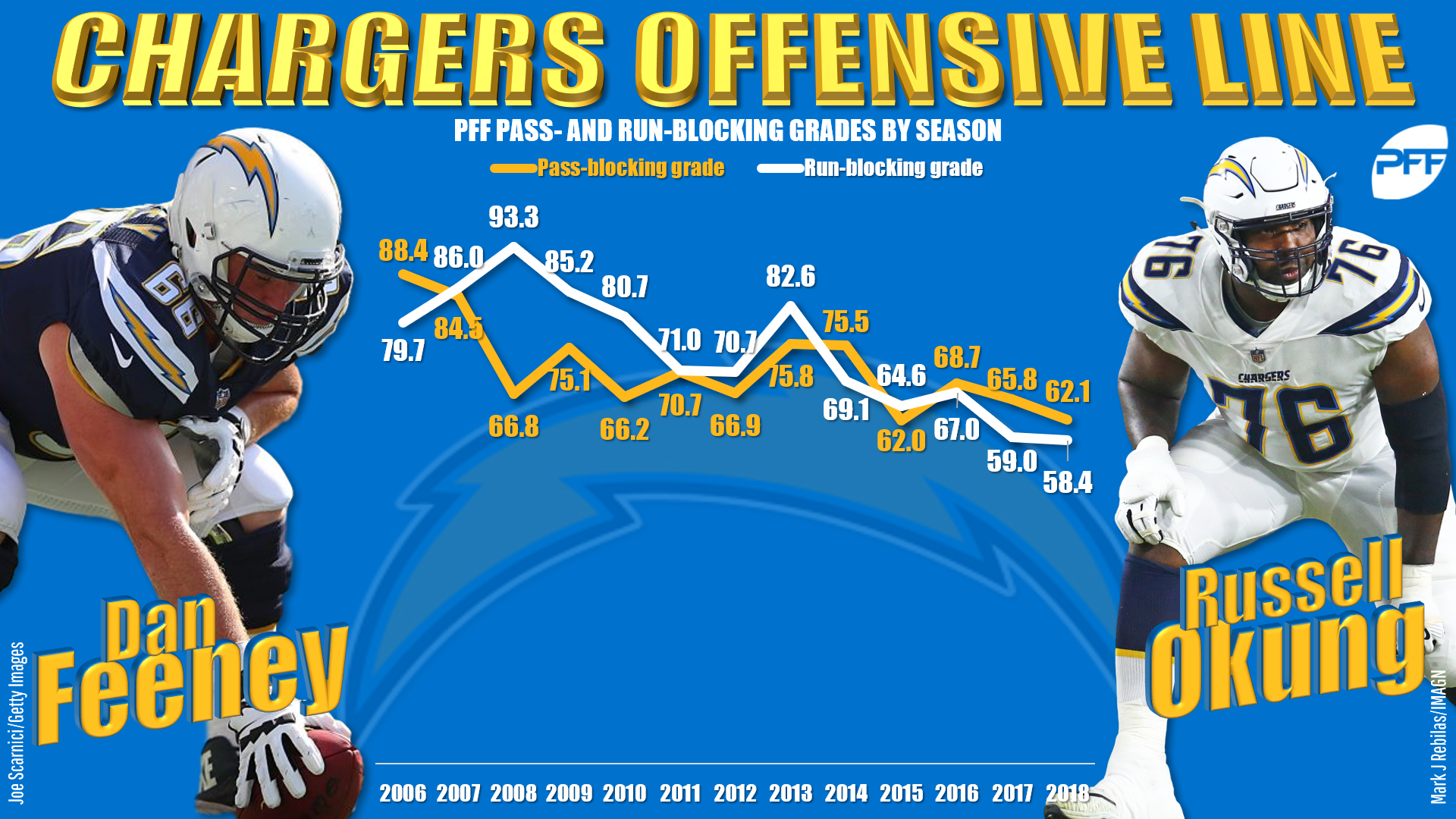 Michael Schofield allowed five sacks in and four hits in 2018, and he was the good half of the Chargers' guard tandem. Among all qualified guards in 2018, Dan Feeney had the lowest pass-blocking grade (38.3), the fifth-lowest overall grade (43.8), and the sixth-lowest pass-blocking efficiency grade (95.1). Fluker, two years removed from his previous Chargers tenure, might have been a, well, fluke in 2018, when he put up a career-best 75.1 pass-blocking grade in Seattle (27th at the position), but the Chargers should dive in and find out. He has to be an improvement on Feeney.
Draft a quarterback
Philip Rivers just put up his highest PFF grade (90.8) since 2010, the fourth-best in the league behind only Drew Brees, Patrick Mahomes, and Andrew Luck. So finding his next man up isn't an immediate necessity. Still, Rivers just turned 38, and while Brees and Tom Brady (and Rivers himself) might have spoiled us about aging in recent years, we need only look to New York at the man Rivers was once traded for to see that the end is always lurking.
The Chargers have only Geno Smith and Cardale Jones on the depth chart behind Rivers, and if either of those is the team's next starter in a postseason game, I'll eat my phone charger. Is Rivers going to fall off a cliff in 2019? Probably not. Is he still going to be the team's starter in, say, 2021? Also kind of a long shot. If the Chargers can find value in the draft with one of the quarterback options as a draft-and-groom type, it's a good time to make the move.
The Chargers attempted 32 kickoff returns in 2018. Only Keenan Allen, J.J. Jones, and Desmond King attempted more than one; only King attempted more than three. King was by no means a disaster as a returner, but his real value was as a punt returner, where he had a league-best 91.0 PFF grade. Patterson might not be the best kickoff returner of all time, as went around early in the playoffs … but then there's an argument that he could be — he's second all-time in yards per kick return, averaging 30.0 yards across 176 career returns.
The Chargers have Allen and Mike Williams to head up the receiving corps, but with Tyrell Williams likely departing in free agency, the team could use a tertiary receiving option who won't command a big load of targets but can help out on occasion. Returning kicks and only occasionally being a part of the offensive scheme is right in Patterson's wheelhouse.