Week 6 of the NFL season is nearly complete, with just a Monday Night Football double-header remaining. The 12 games from Sunday's slate have already provided us with enough new information (and injuries) to start considering fantasy football action items as we head into Week 7.
Keep in mind that scheduled bye weeks continue this week with the Baltimore Ravens, Indianapolis Colts, Miami Dolphins and Minnesota Vikings all taking a rest. 
Let's deep dive into Sunday's action with an eye toward improving next week. I'll hit on snap counts, routes run, goal-line usage, targets and target shares to make sure we're ready to roll as waiver deadlines approach on Wednesday and Week 7 sit/start decisions loom. Consider this an introductory course to finding the edge in Week 7.
It was the AFC South shootout that we all wanted — and it delivered. We even got to watch the teams duke it out in OT after a late Ryan Tannehill to A.J. Brown touchdown forced the extra minutes. 
The Titans came away with the win due in part to their quarterback (four touchdown passes) and running back Derrick Henry (212 rushing yards) imposing their sheer will on the Texans. 
The biggest surprise was related to the biggest disappointment from this game — tight end Jonnu Smith left the game early with an ankle injury. In his place, Anthony Firsker stepped up with eight catches for 113 receiving yards on a team-leading nine-targets. 
Will Fuller, Brandin Cooks and Darren Fells all scored 20-plus fantasy points, but David Johnson failed to get in on the scoring spree (13.9 fantasy points). 
At this point, Johnson can only be viewed as volume-dependent low-end RB2 moving forward. His 18-20 touches per game give him a safe floor, but his lack of use in the passing game and explosiveness and ability to make plays after contact (2.2 yards after contact per attempt) will probably make him a nice fade in DFS versus the Green Bay Packers in Week 7. 
The biggest bust of Week 6 has to be running back Alexander Mattison. Now, it's not entirely his fault — the Vikings offense fell behind early because of Kirk Cousins' affinity for throwing interceptions. The second-year running back never had a chance to get going. 
From a DFS perspective, if you got burned playing Mattison (I can relate), it's at least a good learning experience in terms of process. I thought Mattison was game-script proof, assuming he would see the same type of pass-game usage as Dalvin Cook, but that's not how his role shaped out. 
When these backup running backs take over, we can sometimes be too aggressive in ranking them as absolute studs. It'd also be a different matter if his DFS salary was much lower, but DraftKings had priced him up as if he were already an established bell cow.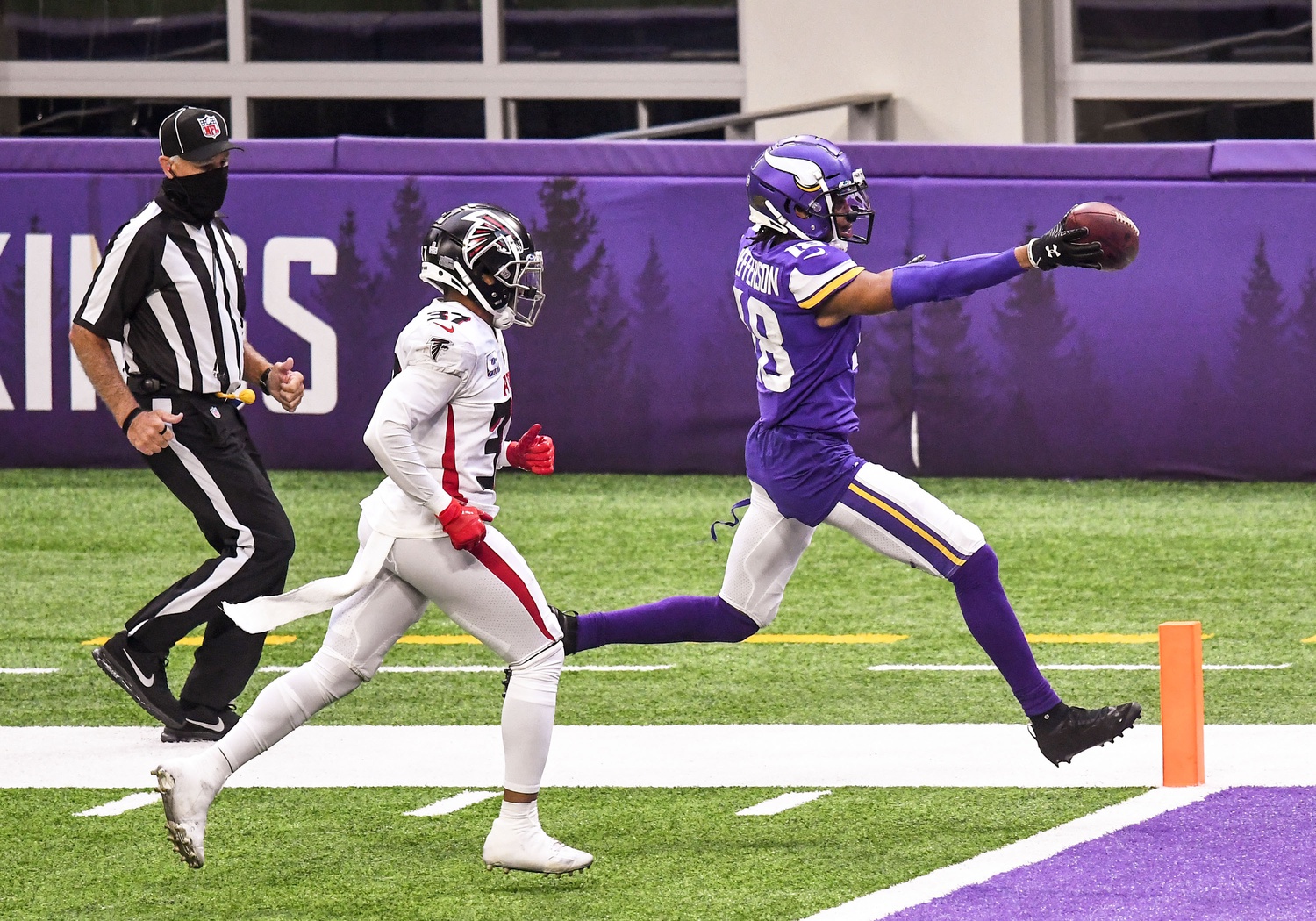 But it was not all disappointing from the Vikings' offense. In comeback mode during the second half, we saw another outstanding day by Justin Jefferson (nine catches for 166 yards and two touchdowns), and Irv Smith Jr. was involved throughout for the second straight week. He saw more targets, ran more routes and played a higher snap share than veteran Kyle Rudolph.
It's also worth mentioning that the Falcons allowed just three catches to the RB position in this game after allowing 8.6 catches over the first five weeks. Allowing catches to running backs has been historically a weakness of Dan Quinn's defenses, With him out of the picture, we might not be able to target pass-catching back versus Atlanta like we have done in years past.
Julio Jones reclaimed his status as an alpha wide receiver — eight catches for 137 receiving yards and two touchdowns. He clearly did not look hampered by his hamstring injury, but as I said on my Sirius XM Radio Show, this might be the prime time to sell him high. 
So far this season, 2020 has not been kind to older receivers who have dealt with lower-body injuries. 
For the second straight week, Todd Gurley saw positive development in his role as a receiver. He has totaled nine targets over the past two weeks, which is a significant increase from his five total targets through the first four weeks of the season. 
The main takeaway here is that we need to strongly consider benching any players that don't rank inside the top-12 at their respective positions against the Steelers defense. 
Odell Beckham Jr. was a huge disappointment in this game, but his production in a run-heavy offense is never going to be consistent. Yes, he can deliver upside in favorable matchups, but he is not an auto-start in touch matchups.
Austin Hooper led the team in targets during Week 6 and has now seen a 24% target share over the past three weeks. He will be on the TE streaming radar in Week 7 ahead of a matchup against the Bengals, who have struggled to contain tight ends this season. 
Chase Claypool szn continues as the rookie led the Steelers in receiving yards (74), snaps (77%) and added his second rushing touchdown in as many weeks. He will be an upside WR2 play next week against the Tennessee Titans.

The same can't be said for JuJu Smith-Schuster, who continues to see little involvement in the offense. He had just two catches for six yards and seems like a complete afterthought in the offense. Considering he has been lackluster without Diontae Johnson even playing, I'm not sure we see Smith-Schuster turn his production around anytime soon. Roethlisberger ranks bottom-five in the league in terms of targets to the slot this season. 
James Conner had 100 yards rushing on the day, but it's noteworthy that Benny Snell Jr. had more carries inside the 10-yard line. Over the past two weeks, Conner has four carries inside the 10-yard line, followed by three from Snell and two from Claypool.
The Ravens' backfield turned into a two-man committee in Week 6 after Mark Ingram left the game with an ankle injury. In his absence, Gus Edwards and J.K. Dobbins split carries (14 vs. nine) and snap percentage (44% vs. 40%). As usual, Dobbins saw the most use as a receiver while Edwards got the goal-line touches.
We don't know the extent of Ingram's injury, but regardless this backfield hierarchy could shake out differently after the team's bye week. Both Edwards and Dobbins should be sought after on the waiver wire and through trades. 
Travis Fulgham led the way for the Eagles once again with six catches for 75 yards and a touchdown on nine targets. He has now scored in three straight weeks and looks to be emerging as Carson Wentz's go-to receiver.
Both Zach Ertz and Miles Sanders left Sunday's game with injuries, so their statuses need to be monitored heading into Sunday's action. If either Dallas Goedert or Boston Scott are available on the waiver wire, they should be immediately added. 
Scott played 80% of the snaps in the second half on Sanders' behalf. 
Even if Ertz is good to play in Week 7, he might need to be on the bench. His abysmal performance continued in Week 6, as the tight end hauled in just four passes for 33 yards on 10 targets. Goedert is surely going to eat into his target share upon his return. Without targets, Ertz won't have much to buoy his fantasy value. 
Terry McLaurin hardly lit the world on fire with his fantasy performance in Week 6, compiling seven catches for 74 yards. But his 12 targets from quarterback Kyle Allen are great signs for things to come for the second-year wide receiver who continues to demand a high target share regardless of who is under center. 
J.D. McKissic (53%) out-snapped rookie Antonio Gibson (38%) and narrowly out-touched him (14 vs. 13). This isn't exactly what we wanted to see from Gibson considering the coaching staff had talked about getting him more involved. 
For that reason, I view this Week 6 performance as more of a blip on the radar than anything else. Gibson should be viewed as a buy-low candidate after this game — he has 10 targets over the past two weeks. 
On only four routes, Kaden Smith was able to outperform starting tight end Evan Engram. I listed Engram as a sit on my start/sit column this past week and man did he hold up his end of the bargain — two catches for 30 yards on three targets.
Anyone rostering Engram needs to find an alternative quickly. His usage is the same as recently un-retired Jason Witten levels so far this season. 
Devonta Freeman remains the bell cow in this backfield with another outing of 18-plus touches and use in the passing game. He remains a low-end RB2 because of his volume and in the right matchups could offer more with the potential to score.
Next week isn't likely the best spot for Freeman, however, against the Philadelphia Eagles' stout front. 
D'Andre Swift finally had the rookie breakout game we were all waiting for, accumulating 116 rushing yards on 14 carries in addition to three catches. His snap share (37%) rose from his season average (30%) and he saw a season-high in touches (17). 
Adrian Peterson still narrowly edged him out in carries and snaps, but Swift's explosion and contribution in a big win for the team should garner him a similar workload against the Atlanta Falcons, who allow fantasy points to everyone unless your name is Alexander Mattison.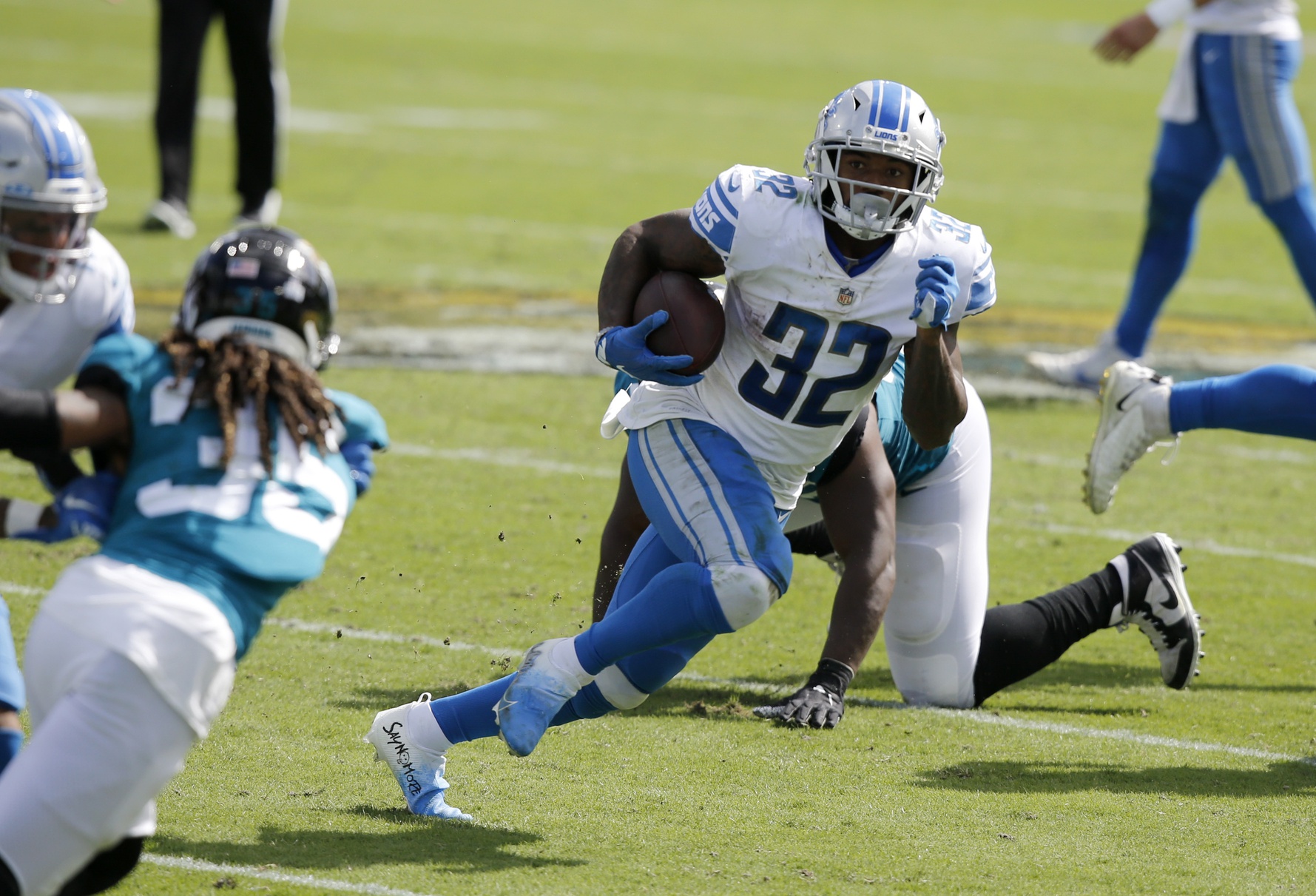 T.J. Hockenson hasn't posted a ton of yardage numbers, but as long as Matthew Stafford targets him in the red zone, the touchdowns will just keep on coming. He only had five targets on Sunday, but they all came inside the 20-yard line. 
D.J. Chark Jr. totaled 14 targets but was only able to haul in seven of them because of his quarterback's inability to deliver accurate passes. Just eight of the 14 passes were deemed catchable. 
Meanwhile, Keelan Cole had no problem turning his targets into huge gains — he averaged 23.8 yards per reception. 
Because Garnder Minshew continues to spread the ball between almost all of his receivers evenly, I would be looking to ship off either of these WRs for a player that sees a much better overall target share. Keep in mind that Jacksonville also has one of the most difficult strengths of schedule remaining at the wide receiver position. 
I'd also try to ship off running back James Robinson. His overall usage in the offense continues to be great, but his efficiency as a rusher has now dropped off over the past three weeks despite smash spots against the Bengals, Texans and Lions. 
He also zero carries inside the 20-yard line since Week 4. 
The Colts' No. 1 tight end Trey Burton actually saw a season-low in targets (five) in Week 6 but made the most of his opportunities by catching four of them for 58 yards and a score. He also added a rushing touchdown that anyone playing Jonathan Taylor in DFS would have liked him to score.
Taylor dominated the touches over Nyheim Hines (16 vs. five), but the game script fell out of the dynamic runner's hands when the Colts found themselves down 21-0 from the get-go. 
If you aren't done with T.Y. Hilton at this point, I'm afraid I don't know what to tell you. He finished the day with just one catch for 11 yards despite Philip Rivers throwing the ball 44 times. Hilton just can't separate downfield like he used to, and Rivers is looking elsewhere.
Specifically, wide receiver Marcus Johnson who hauled in five receptions for 108 yards on an aDOT of 20.1 Don't be surprised to see Johnson get more looks in future weeks — this isn't the first time he has flashed. This is his second-career 100-yard game dating back to last season.
A.J. Green may have commanded more targets (11) than Tee Higgins, but it was Higgins who posted the higher PFF grade (82.0 vs. 74.7) and was better in yards per route run (3.57 vs. 2.67) on just three fewer targets.
If you still have Green on your roster, this is the perfect time to try and move him after what could arguably (and most likely) be his most productive game all season.
Joe Mixon was banged up in this game and still saw 20-plus touches. He is one of the few running backs that consistently sees that type of high-end volume, so continue to view him as a RB1 rest of season. 
David Montgomery had a rushing touchdown reversed upon further review, and quarterback Nick Foles took it in himself on the very next pay. A touchdown would have immensely aided Montgomery's bottom-line, as the second-year running backs fantasy point total (13.7) leaves plenty to be desired in what was a juicy matchup against a depleted Carolina defense.
This just shows that Montgomery lacks true RB1 ceiling and is nothing more than a RB2 who can thrive on volume. 
D.J. Moore finally had the targets shift toward him in this matchup, as his 11 targets nearly doubled what Robby Anderson saw in Week 6. This isn't to say that Moore will reclaim the No. 1 receiver role, but we clearly have a 1A/1B situation between the two top Carolina receivers.
It's also worth noting that Curtis Samuel missed this game — that could have been a contributing factor in Moore's spike in targets. 
It was an ugly offensive performance from both teams in Week 6. Both Cam Newton and Drew Lock threw two interceptions and fewer than 200 yards. Newton was able to salvage a fantasy outing on the back of 76 rushing yards and a rushing touchdown. 
New England Patriots wide receivers N'Keal Harry and Julian Edelman combined for two receptions for eight yards on eight targets. The lack of passing attempts with Newton under center (fewer than 30 per game) is making them extremely difficult to trust in lineups. 
Denver Broncos' wideout Tim Patrick is sneakily establishing himself as the No. 1 WR going forward in the offense. He posted over 100 yards in Week 6 and owns a 30% target share over the past two games.
As for the running backs, Philip Lindsay was heavily featured on the ground (23 carries for 101 yards) but saw zero involvement in the passing game. He had a bigger role without Melvin Gordon, but it's likely going to be a 60/40 split going forward with Lindsay's upside remaining limited without any consistent receiving work. 
James White played the most snaps (55%) and saw the most overall touches (12) due to the Patriots facing a massive negative game script. It's still a three-headed backfield between White, Rex Burkhead and Damien Harris. None can be viewed as more than an RB3 week-to-week. 
There isn't much to say about the New York Jets' offense besides the fact that La'Mical Perine led the running backs in snaps (59%) but saw fewer total touches as a receiver and rusher than veteran Frank Gore (15 vs. nine).
I'd have to think that the snaps are a good indication that Perine will see more touches in the coming weeks — assuming rational coaching — so don't drop Perine quite yet if you are disappointed by his subpar fantasy production. 
Don't absolutely freak out about either DeVante Parker or Mike Gesicki — this was a weird game for all the Dolphins' skill players. This game wasn't competitive from the start, and Ryan Fitzpatrick didn't have to be aggressive against the New York Jets to come away with the win.
Parker led the team with eight targets, but his health needs to be monitored into next week as he left Sunday's game with a groin injury. I'm a little more concerned about Gesicki because he is not being used around the goal line. 
This season he has played fewer snaps than Durham Smythe and Adam Shaheen inside the 10-yard line, which lessens his touchdown upside significantly. Those two tight ends have three receiving touchdowns inside the 10-yard line over the past two weeks. 
The Aaron Rodgers for MVP movement took a major hit in Tampa Bay as Tom Brady and company absolutely rolled the Green Bay Packers. The Buccaneers fed Ronald Jones to the tune of 23 carries in what would amount to Jones' third-straight 100-yard performance.
All of these games have come with Leonard Fournette on the shelf, so there's a non-zero chance that Jones' value dips upon Fournette returning to the lineup. He is definitely worth shopping as a sell-high option, but I also don't mind hanging on if you can't get anything enticing in return.
After all, the Buccaneers have a very favorable remaining schedule for fantasy running backs.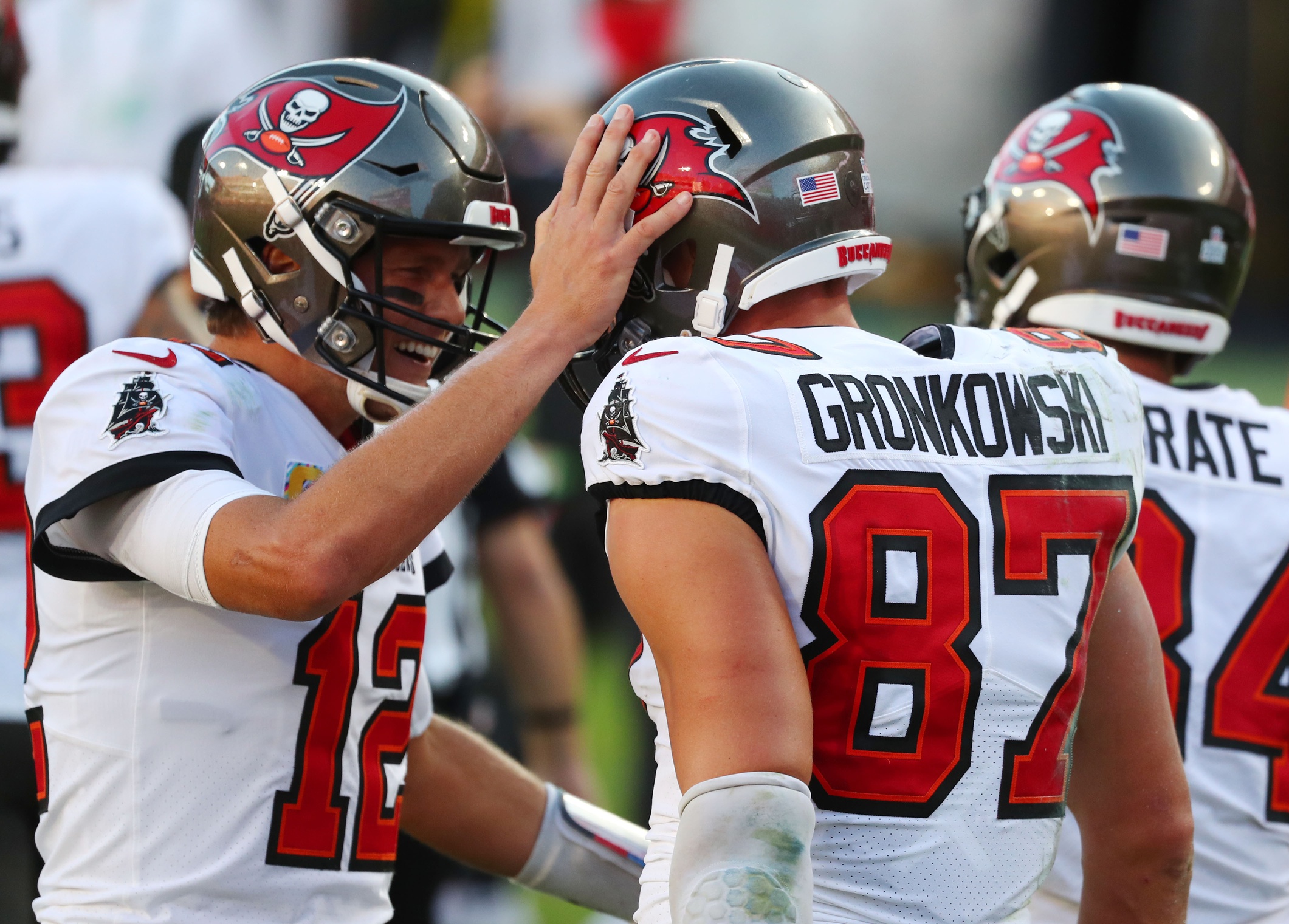 Rob Gronkowski also had his best receiving game to date (five catches for 78 yards) and over the past two weeks leads the team in targets (13). Tight ends are hard to come by — if there's a chase that Gronk is starting to get back to form, his fantasy prospects are looking much better.
Davante Adams played full snap share in Week 6 coming back from his injury and commanded 10 targets. Even though his production doesn't stand out, the fact that he is healthy and seeing a high target share of the offense bodes well for the top-three fantasy WR. He should bounce back in a big way against the Texans in Week 7.

The Packers' offense as a whole should be in line to put this poor performance to rest in what should be an offensive fireworks show against Houston.
I wrote about the Rams' backfield in my Week 6 preview, citing Cam Akers as a candidate to see more work. Well, that could not have been further from what head coach Sean McVay told us (scoff) because Akers played only one measly snap all game. 
Darrell Henderson remained the main back dominating all the carries (14) and, specifically, the carries inside the 10-yard line (three). He's still the only back you can trust in the Rams' backfield because of his role near the goal-line. 
I also wrote in my preview that I was lower than consensus ranking on Cooper Kupp and Robert Woods. Neither ended up being particularly great fantasy options, but because they both saw large target shares, that might be enough to help float them away for a trade. 
Tyler Higbee still remains a tight end that you can't play unless you're absolutely desperate — his situation is almost 50/50 now with Gerald Everett. They ran the same amount of routes and saw the same volume of targets. 
Raheem Mostert left the game with an ankle injury, leaving running back duties to Jerick McKinnon and JaMycal Hasty. Jeff Wilson Jr. was made inactive before the game, which thrust Hasty into the No. 3 role.
McKinnon handled the majority of snaps and pass-game work when Mostert departed, but it was Hasty who led the way with nine carries for 37 yards. Mostert's ankle injury is definitely a concern, which makes Hasty an add off the waiver wire ahead of Week 7 — he has the potential to be the early-down runner against the Patriots.