The goal is to quantify the week's biggest near misses: Bad passes, drops, penalties, and sometimes simply bad luck prevented players from putting up bigger numbers than they actually did.
Bills WR Stefon Diggs and Vikings WR Justin Jefferson each uncharacteristically dropped potential red-zone touchdowns.
Steelers WR Diontae Johnson came oh so close to converting what would have been a lovely 23-yard score.
Estimated reading time: 9 minutes
---
Week 4 has come and gone. 16 NFL games brought joy, laughs and tears; today we'll focus on the latter sadness and break down just how close some came to achieving fantasy football glory.
What follows is a breakdown on all the "Sheesh" moments from Week 4. I've watched every game and used PFF's backend tools to help determine instances when:
Pass-catchers could have scored or picked up big yardage with a more accurate pass

Pass-catchers did receive an accurate pass that should have resulted in a score or big gain, but the ball was dropped

Ball carriers managed to get inside the three-yard line, but didn't score

Players scored or picked up big yardage, but the play was nullified by penalty

Other random shit happened that tilted fantasy football managers of all shapes and sizes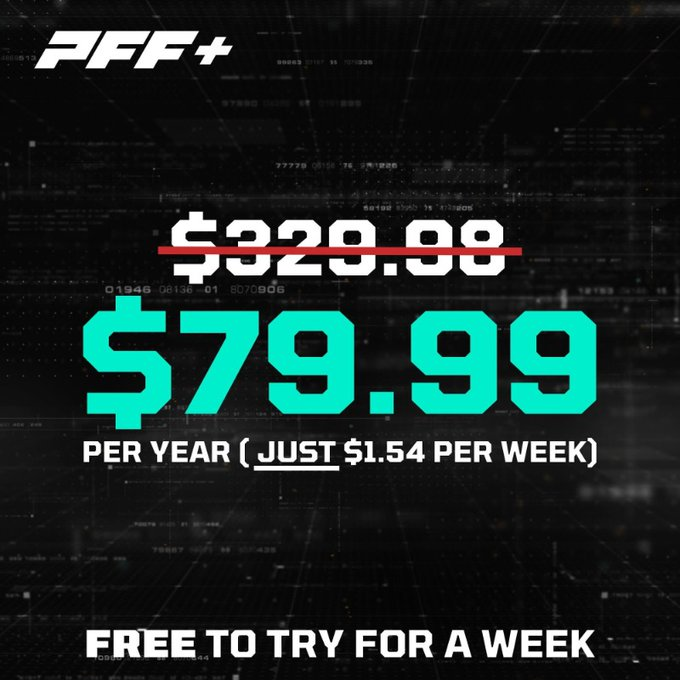 Pass-catchers could have scored or picked up big yardage with a more accurate pass
The following pass-catchers should have had a much bigger day at the office, but unfortunately their respective quarterbacks weren't quite up to the task for at least a moment. The following handful of players had to deal with some subjectively shitty near misses:
Rookie Saints WR Chris Olave has already racked up plenty of (mostly Jameis-induced) sheesh moments this season. Week 4 was no different despite Andy Dalton being under center, as Olave didn't even have a sliver of a chance to take advantage of a coverage bust that should have been a 41-yard touchdown.
Sheesh pic.twitter.com/VInvqmZJpS

— Ian Hartitz (@Ihartitz) October 3, 2022
Nobody is complaining about Lions TE T.J. Hockenson's production (8-179-2), but the performance could have produced a trifecta of scores with a better ball from the 1-yard line just before halftime. Jamaal Williams punched the ball across the goal line two plays later.
Jaguars WR Jamal Agnew almost had himself a three-touchdown day. Filling in for an injured Zay Jones (knee), Agnew ran a rather smooth double-move to get wide open for what should have been a 41-yard score, only for Trevor Lawrence to sail the pass long. Agnew never had a shot.
Jamal Agnew shoulda had three touchdowns lmao pic.twitter.com/2ukoiu65Cx

— Ian Hartitz (@Ihartitz) October 3, 2022
It's tough to be overly critical about anything Lamar Jackson has done over the first four weeks of 2022. And yet, he would have connected with Mark Andrews for a 16-yard score with a better pass. Andrews' ensuing gain to the one-inch line that was wiped out by an OPI made the original miss that much more painful for Ravens fans and fantasy managers alike.
Rams TE Tyler Higbee should have had a walk-in eight-yard touchdown, but Matthew Stafford's side-arm throw was well behind him and fell incomplete. Stafford even gave the "my bad" chest pat afterward, so you know it was a sheesh. Peyton Manning remarked on the Manning Cast that he could hear Stafford's f-bomb from his house.
---
Dropped touchdowns
Sometimes players get open and receive a catchable pass, but unfortunately they drop the ball and cost their team 6 points.
There were eight instances of a pass-catcher having a good enough ball to score, and yet here we are discussing why they didn't:
---
Great ball, great catch, sheesh
Steelers QB Mitch Trubisky wasn't as horrific in the first half as you might have assumed considering rookie Kenny Pickett took over for the game's final 30 minutes. One example was a 23-yard pearl to Diontae Johnson between two defenders that was caught — unfortunately with just one foot inbounds. It's tough to be overly critical of Johnson considering his location in the back of the end zone. This is a classic "nobody's fault" play where all you can really do it shake your head and say sheesh.
Sheesh pic.twitter.com/YXRLpKEVHJ

— Ian Hartitz (@Ihartitz) October 3, 2022
---
Sequences that just made you say sheesh
Jets RB Breece Hall scored the game-winning touchdown and had some borderline erotic underlying usage; just realize his day could have been even bigger. First, Hall stepped out just short of the goal line after appearing to break the pylon on what would have been a 17-yard touchdown run. Then, Hall was open in the flat for a potential 11-yard score, but Zach Wilson threw the ball well short and never gave the rookie a chance to make the play.
Colts WR Michael Pittman had back-to-back opportunities to score from the 4-yard line. Both times he managed to catch the good-enough pass from Matt Ryan. Also both times Pittman failed to get both feet inbounds. This wasn't the fault of the stud receiver or necessarily the veteran quarterback; just back-to-back instances of the connection being mere inches away from scoring six points.
There were three separate occasions in which Chiefs RB Jerick McKinnon had a realistic chance to score a touchdown:
A well-designed play from the two-yard line left McKinnon wide open in the flat for a walk-in score. The problem:

Patrick Mahomes

threw the ball too long, incomplete.

The next play: McKinnon got stuffed from the 1-yard line on a goal line carry.

Later: Mahomes did that weird underhand toss to McKinnon from the 2-yard line, but he was stopped just short of the end zone. TE

Noah Gray

(!) got the QB sneak touchdown on the ensuing play.
The 49ers had themselves a sheeshful trip to the Rams' goal line at the end of the third quarter. First, WR Deebo Samuel took a short screen seven yards; too bad it wasn't eight and into the end zone. Next, RB Jeff Wilson followed up the near miss by getting stuffed at the goal line himself. QB Jimmy Garoppolo then delivered a rather great throw to TE George Kittle in the back of the end zone; too bad Kittle only managed to get one foot down in bounds. Coach Kyle Shanahan then chose to kick the field goal. Sheesh.
It's also worth noting that the Giants literally shot off fireworks during the middle of the Bears' final offensive play of the game. No penalty was called, which brings up the question: Why don't more teams shoot off fireworks while their opponent is on offense? Would this have changed the outcome of the game? Absolutely not, although watching Justin Fields get another chance to make some wild playground football throws could have been a good time.
---
Other sheeshes
There were a number of other near misses throughout Week 3 that were tougher to fully blame one particular party, but that doesn't make the near-miss result any less sheeshful for the fantasy managers and fans at hand to deal with.
Good ball, no dice: Saints QB Andy Dalton sent a rather pretty deep ball downfield for Chris Olave late in the fourth quarter that would have been good for at least 30 yards, if not a 42-yard score. Unfortunately, tight coverage prevented Olave from capitalizing on the catchable pass. … Falcons QB Marcus Mariota threw a catchable deep ball to speedster Damiere Byrd that could have been good for 40-plus yards had Byrd managed to track it better/not had his arm grabbed at by Denzel Ward. No penalty flag was thrown. … Giants WR Darius Slayton drew a long defensive pass interference penalty; it would have been a lot cooler if he caught the (well thrown!) deep ball from Daniel Jones that would have been good for roughly 45 yards if not a 62-yard house call. … Cardinals QB Kyler Murray threw a b-e-a-utiful deep strike to Marquise Brown; too bad Panthers CB C.J. Henderson tackled the artist known as Hollywood before he had a chance to haul in the potential 45-yard score. … Broncos RB Mike Boone ended the Broncos' slim hopes of a comeback with a drive-killing drop on fourth down that didn't have a chance for a touchdown, but it would have been good for at least 30 yards and extended the game. … Raiders WR Mack Hollins caught a potential 18-yard touchdown just out of bounds. The nearby referee initially called the incomplete pass a score much to the confusion of Hollins, making the whole experience that much more sheeshful for fantasy managers. … Chiefs QB Patrick Mahomes tried to thread a laser to Marques Valdes-Scantling, although a pair of mild deflections prohibited the ex-Packers receiver from corralling the pass. … Rams WR Cooper Kupp faced tight coverage from LB Fred Warner on 3rd and goal from the 11, ultimately leading to Matthew Stafford throwing a hurried incompletion right between Kupp's legs (nutmeg anyone?). Not a drop, also not a terrible throw. Definitely a sheesh, although it was tough to decide whether to put this one here or in our next section.
Not the worst throw, but also not the best: Dolphins QB Tua Tagovailoa would have needed a perfect throw to avoid two Bengals defenders and find Tyreek Hill deep downfield; what the Dolphins got was a terribly underthrown duck that was intercepted. … Browns WR Donovan Peoples-Jones made a fantastic diving catch on a Jacoby Brissett deep ball that carried the field-stretcher out of bounds. It would have been good for about 40 yards if caught inbounds. … Seahawks WR Tyler Lockett might have dropped a touchdown, although he was also the victim of a (rare) Geno Smith misfire when the veteran wide receiver toasted Lions CB Amani Oruwariye for a potential 45-yard score only to be overthrown. … Jets RB Breece Hall found himself with a step on his defender downfield when Zach Wilson unfortunately underthrew what could have been good for at least 30 yards. Maybe a perfect throw somehow could have led to a 91-yard house call; *Kanye voice* I guess we'll never know. … Jaguars WR Christian Kirk took advantage of a busted coverage by hauling in a 45-yard bomb from Trevor Lawrence; a more accurate pass that didn't force Kirk to stop likely would have resulted in a 53-yard touchdown. … Titans rookie WR Treylon Burks got open downfield for what had the potential to be a 26-yard score with a perfect throw. Unfortunately, the pass sailed long and fell harmlessly to the turf incomplete. 
Penalties happen for a reason. But still: Vikings WR KJ. Osborn had a five-yard touchdown nullified by offensive pass interference on your classic goal line pick play. … Eagles WR A.J. Brown bullied his way into the end zone from 10 yards out on an RPO look; unfortunately, Dallas Goedert was flagged for blocking the entire time. Which, like, yeah, makes sense. But also: Sheesh. … Titans RB Derrick Henry was in vintage form on Sunday. He ripped off an impressive 22-yard touchdown that was way too cool not to count; too bad the refs had to be a buzzkill and flagged Treylon Burks for a downfield hold.
Just short. Sheesh: Vikings WR Justin Jefferson would have had an even bigger day had he took a 40-yard gain to the house, instead he was knocked out of bounds just short of the goal line inside the five-yard line after reaching for the pylon. … Saints QB Andy Dalton nearly ran for a four-yard touchdown but was stopped just short of the goal line. … Saints TE Adam Trautman was just a little more than three feet away from taking a screen 13 yards to the house. … Browns WR Donovan Peoples-Jones made a lovely diving catch on a well-thrown deep ball from Jacoby Brissett; it would have been a lot cooler if the 42-yard gain went just one yard further and included a touchdown. … Browns RB Nick Chubb got stuffed on the one-yard line before halftime; the Browns ultimately had to kick a field goal. … Seahawks WR D.K. Metcalf's brilliant day at the office included a 55-yard catch that featured him get dragged down inside the two-yard line. … Lions WR Josh Reynolds nearly had a two-touchdown day; he was dragged down at the one-yard line after gaining 26 yards just before halftime. … Steelers RB Najee Harris got stuffed at the one-yard line after attempting to score from the two; rookie QB Kenny Pickett (selfishly) scored himself the next play. … Speaking of the Steelers' rookie quarterback vulturing his teammates, TE Pat Freiermuth made a great 18-yard catch down to the two-yard line only for Pickett to keep it himself on the next play. … The Bills decided to prioritize winning over racking up fantasy points, as Josh Allen took a knee on the one-yard line to set up the game-winning field goal instead of attempting to punch in the score himself. Smart? Sure. Sheeshful? You bet. … Speedy Broncos WR K.J. Hamler made his first catch of the season on a vintage moon ball from Russell Wilson. The field-stretching talent will take the 55-yard gain; just realize he fell down just short of the goal line and nearly had a touchdown. … Raiders TE Darren Waller nearly found his way into the end zone from 14 yards out; too bad he was tackled just short of the goal line. Sadly, RB Josh Jacobs got stuffed on the next play and the Raiders eventually had to settle for a field goal.