The goal is to quantify the week's biggest near misses: Bad passes, drops, penalties, and sometimes simply bad luck prevented players from putting up bigger numbers than they actually did.
Las Vegas Raiders TE Darren Waller had a far more eventful afternoon than his 3-22-0 receiving line indicates.
New Orleans Saints QB Jameis Winston overthrew a pair of potential red zone touchdowns to WR Jarvis Landry and RB Alvin Kamara.
Estimated reading time: 12 minutes
---
Week 3 has come and gone. Sixteen NFL games brought joy, laughs and tears; today we'll focus on the latter sadness and break down just how close some came to achieving fantasy football glory.
What follows is a breakdown on all the "Sheesh" moments from Week 3. I've watched every game and used PFF's backend tools to help determine instances when:
Pass-catchers could have scored or picked up big yardage with a more accurate pass

Pass-catchers did receive an accurate pass that should have resulted in a score or big gain, but the ball was dropped

Ball carriers managed to get inside the three-yard line, but didn't score

Players scored or picked up big yardage, but the play was nullified by penalty

Other random shit happened that tilted fantasy football managers of all shapes and sizes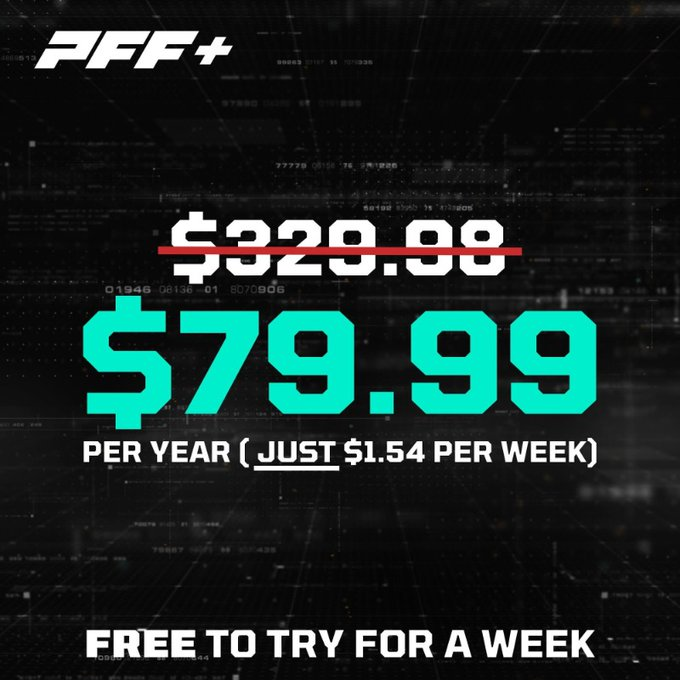 But first: The Week 3 Sheesh Award for the most-tilting overall performance goes to …
Waller's 3-22-0 receiving line should have been far bigger. The Raiders' $51 million tight end dropped not one but two potential goal line touchdowns over the course of the afternoon.
Sheesh x2 pic.twitter.com/JCBxq9i2dN

— Ian Hartitz (@Ihartitz) September 26, 2022
And that wasn't all: Waller was overthrown on what would have been an easy 30-plus yard gain and also had a 29-yard gain wiped out by an offensive holding penalty.
This Raiders passing game has been in a bit of a funk all season. Seriously: Mack Hollins (240) has easily been more productive than Davante Adams (189), Waller (151) and Hunter Renfrow (80).
---
Pass-catchers could have scored or picked up big yardage with a more accurate pass
The following pass-catchers should have had a much bigger day at the office, but unfortunately their respective quarterbacks weren't quite up to the task for at least a moment. The following handful of players had to deal with some subjectively shitty near misses:
Josh Allen threw for 400 yards during the Bills' Week 3 loss to the Dolphins. Bills Mafia certainly would have preferred if he threw for 402 yards considering Allen skipped a pass short to a wide open Isaiah McKenzie for what have been a go-ahead score with just 1:49 remaining in the fourth quarter.
The Jameis Winston experience is almost always a treat for better and worse; unfortunately the latter was far more in play than the former in Week 3. Both Alvin Kamara (from 19 yards out) and Jarvis Landry (11) probably should have had touchdowns after each broke open in the end zone, but Winston sailed both passes long.
Matthew Stafford didn't always get a lot of help during the Rams' Week 3 win over the Cardinals (more on that in a bit). However, there were two instances in which he just missed out on what could have been monster touchdowns:
Cooper Kupp

got open deep for a potential 74-yard score, only to bend across the field when Stafford apparently wanted him to keep going vertical.

Pint-sized speedster

Tutu Atwell

got free from 57 yards out only to have Stafford's bomb fall just a foot or two out of reach.
Finally, K.J. Osborn sprung wide open on a well-schemed pick to get free for a potential 46-yard touchdown and at a minimum a serious chunk play, but Kirk Cousins couldn't handle the pressure in his face and threw it too long. Luckily both (Kirk) managed to redeem themselves courtesy of a game-winning 28-yard touchdown with just 45 seconds remaining.
---
Dropped touchdowns
Sometimes players get open and receive a catchable pass, but unfortunately they drop the ball and cost their team 6 points. 
We already discussed Matthew Stafford's misfires downfield, but he was also the victim of two potential dropped touchdowns. Both Cooper Kupp (from 28 yards out) and Allen Robinson (5) had passes in their breadbasket unfortunately fall harmlessly to the turf. The pearl to Kupp in double-coverage was particularly beautiful.
Travis Kelce has been Andy Reid's most consistent pass-catcher for the better part of the last decade. Unfortunately, he dropped a 16-yard touchdown that quite possibly could have turned around the outcome of the Chiefs' Week 3 loss to the Colts.
Keelan Cole also dropped a 9-yard score that would have been terribly brutal had Derek Carr not simply found Mack Hollins for the potential-but-ultimately-not game-tying score late in the Raiders' Week 3 loss to the Titans. Cole also had a chance for a chunk gain earlier in the game but had to settle for a pass interference-gain due to a Carr underthrow.
CeeDee Lamb broke wide open downfield on a well-designed play-action shot … only to flat out drop the perfectly thrown Cooper Rush deep ball. Announcer Troy Aikman even said that Lamb won't go the rest of his career with a drop that bad. Best case, it was a 52-yard score. Worst case, 42-yard gain. Either way, sheesh.
Sheesh pic.twitter.com/JZZwdGCxIS

— Ian Hartitz (@Ihartitz) September 27, 2022
---
Are we positive that wasn't actually a touchdown?
It's tough to tell exactly what goes down in real time, but usually slow-mo replay gives the viewer a definitive answer to question at hand.
And sometimes the announcers and broadcast replay "expert" are left speechless because … why exactly was that not a touchdown?
I doubt many would have complained if any of the following three plays were ruled as touchdowns:
Jaguars TE Evan Engram got open and caught a short touchdown from Trevor Lawrence. At least that's what we thought: Super slo-mo replay demonstrated that Engram's right foot just barely came off the ground before he secured the catch. I guess. It's awfully close, and the fact that it was initially ruled a touchdown makes this sheesh that much tougher to swallow.
And then there was Chargers WR Deandre Carter, who seemingly secured an 11-yard touchdown with just 3 seconds left in the Chargers' blowout loss to the Jaguars. Once again, it's perfectly possible that this indeed wasn't a touchdown due to Carter's right foot being in the air when he may have bobbled the initial catch. But man was it close, and the play either wasn't reviewed, or participated in the quickest turnaround ever considering how quickly the officials moved on to the Jaguars' final kneel down. Side note: Why the hell was Justin Herbert still in the game down 38-10 in the waning seconds of the fourth quarter?
Finally, Bengals WR Tee Higgins went above the rim in order to come down with a potential score in the back of the end zone, only for the officials to eventually deem that he didn't get two feet down. I remain unconvinced. Higgins should have been rewarded the score out of principle; it was that cool.
This was way too cool to not be a touchdown pic.twitter.com/bfF7VXORpX

— Ian Hartitz (@Ihartitz) September 26, 2022
---
Sequences that just made you say sheesh
Speaking of that near Higgins touchdown: The Bengals' entire first drive was filled with madness. Joe Burrow had a chance for *three* touchdowns to each of his wide receivers before settling for a score to backup RB Samaje Perine:
Zac Taylor dialed up an early trick play that featured

Joe Mixon

take the handoff before throwing the ball back to

Joe Burrow

, who lofted a rather gorgeous deep dime downfield to an open

Ja'Marr Chase

. The problem: Chase just couldn't quite track it in, resulting in the potential 56-yard score simply going down in the books as an incompletion.

Later on the same drive:

Tyler Boyd

caught a short touchdown on a well-designed shovel pass that was nullified on a holding penalty. It was a good call; that doesn't make the event any less annoying for fantasy faithful.

Finally,

Tee Higgins

came down with his

aforementioned sick catch in the back of the end zone

.
The Rams had another series of unfortunate events that would make Lemony Snickett proud. First, Allen Robinson was stopped just short of the end zone at the 2-yard line. Next, Cam Akers was stuffed on his attempt from the 1-yard line. Finally, Akers was again stuffed — and fumbled the ball away. Luckily Sean McVay didn't take the miscues too bad; the same can't be said for fantasy managers.
The week's most objectively hilarious play (for everyone other than 49ers fans) belongs to Jimmy Garoppolo, who freed Dan Orvlosky of his status as the only notable quarterback to accidentally step out of his own end zone for a safety. Hilariously, the move was a net positive for the 49ers considering the Broncos returned his eventual pass attempt for a touchdown.
---
Defensive sheeshes
Defenses count in fantasy football, too (usually). This week Bills LB Matt Milano had the most notable dropped interception that almost assuredly would have led to a quick defensive score. Tua truly never saw the man.
---
Other sheeshes
There were a number of other near misses throughout Week 3 that were tougher to fully blame one particular party, but that doesn't make the near-miss result any less sheeshful for the fantasy managers and fans at hand to deal with.
Good ball, no touchdown: Joe Flacco threw a nice ball to Elijah Moore for a potential 22-yard score, but he couldn't maintain possession all the way to the ground. Flacco showed frustration on the replay; that always adds to the potential for a sheesh to be documented. … Rashod Bateman broke open deep and had a chance to haul in what could have been a 40-yard score — minimum chunk gain — but the well-thrown ball went just off Bateman's extend fingertips. Not quite a drop; still unfortunate, as was Bateman's later miscue when he lost a fumble upon finally getting on the stat sheet with his first catch of the game at the 12:39 mark of the fourth quarter. … Gabriel Davis had a potential 11-yard touchdown in his hands before Keion Crossen made a fantastic play to knock the ball out. … D.K. Metcalf nearly had a second red zone touchdown when Geno Smith lofted a "my guy or nobody" ball into the back of the end zone from 13 yards out; however, A.J. Terrell made a great play to shove Metcalf out the back of the end zone. … Josh Reynolds had a chance to make a 58-yard house call just before halftime after putting elderly Vikings CB Patrick Peterson in a blender on a sweet double move, but Reynolds couldn't quite track Goff's (well-thrown) deep ball. It looked like Reynolds may have lost the ball in the lights. … James Conner had a potential 5-yard score go off his hands; just realize it was tipped at the line of scrimmage so don't be too hard on the veteran back. … More egregious for annoyed Kyler Murray fantasy managers was when his dime to Zach Ertz went just off his fingertips in the back of the end zone. Maybe the ball could have been six inches lower; either way, sheesh. … Russell Wilson lofted one of his patented moon balls to Jerry Jeudy for what could have been a 72-yard score had Charvarius Ward not managed to get his hands on the pass at the very last second. … Breakout Falcons rookie WR Drake London nearly had two touchdowns in Week 3, but he lost a tug-of-war for a potential 39-yard score to Seahawks CB Mike Jackson. … DeVante Parker's big game was inches away from being far bigger; however, a potential 21-yard score was knocked out of his grasp at the last second.
Not the worst throw, but also not the best: Diontae Johnson's Week 3 was a bit of a chicken or the egg dilemma. While he was only charged with one drop, several big plays were close and seemingly more were undone by an ever-erratic Mitch Trubisky under center. … Quez Watkins got open deep for a potential 40-yard gain and drew a defensive hold, but never quite had a chance at making the catch due to a rare Jalen Hurts misfire. … Another near miss from Hurts featured A.J. Brown, as the potential 59-yard dagger was thrown just about a foot too long. … Marquez Valdes-Scantling got loose deep on the game's first drive; a perfect ball from Patrick Mahomes would have been good for 35-plus yards if not a 76-yard score, but alas. … Kyler Murray just missed a slightly open Marquise Brown down the middle of the field for what had the potential to be a 75-yard score. Another bomb to Hollywood seemed to go off his hands with Jalen Ramsey in tight coverage. Of course, the duo was otherwise awesome with Brown catching 14 passes for 140 yards. Cowboys WR Jalen Tolbert finally got some extended action in Week 3. Too bad Cooper Rush didn't throw a catchable deep ball when the rookie got loose deep for a potential 40-plus yard chunk play. … The Falcons dialed up all sorts of chances for Kyle Pitts after his two duds to start the season. Fantasy managers certainly aren't bummed about his 5-87-0 performance; just realize there were opportunities for so much more, as evidenced by the second-year talent racking up 147 air yards — the eighth-highest mark of Week 3 (pre-MNF). 
Penalties happen for a reason. But still: Amari Cooper nearly added 57 additional yards to his impressive Week 3 performance; unfortunately he was flagged for illegal touching after stepping out of bounds before making the reception. … Steelers RB Jaylen Warren ripped off an impressive 35-yard gain, only for the reception to be called back by an ineligible player downfield. … Christian McCaffrey nearly added 41 yards to his rushing total, but his masterful cutback run was nullified by a (deserved) holding call. … Tom Brady rather hilariously scrambled for 18 yards up the middle, but the play was nullified by a hold. Normally I wouldn't even note this sort of medium gain; just realize it was a joy to watch, and Brady added, "I can turn a 40-yard gain into 18 yards better than anyone in the NFL."
Just short. Sheesh: Kareem Hunt got stopped at the 1-yard line on back-to-back plays before Nick Chubb ultimately scored the touchdown. … J.K. Dobbins carried it down to the 1-yard line before Lamar Jackson tossed a short touchdown to Josh Oliver. … Jonnu Smith was stopped just short of the goal line after catching a screen, leading to Rhamondre Stevenson getting the goal line score. … Treylon Burks nearly had his only catch of the day go for a touchdown, but he was stuffed at the goal line. … Derrick Henry almost added a second score to his stat sheet, however his 24-yard jaunt ended at the 1-yard line, where Ryan Tannehill proceeded to sneak the ball in for the score. … Josh Jacobs worked his way down to the 1-yard line, then the offense false started, then Derek Carr threw a touchdown to Davante Adams. … Jonathan Taylor was stopped just short of the goal line before Jelani Woods' first touchdown. … Amon-Ra St. Brown nearly extended his touchdown streak to seven after diving for the pylon, but fantasy managers will settle for the 30-yard gain. … DeVonta Smith's massive performance would have been even bigger had his incredible 44-yard contested catch gone just one yard further into the end zone. … Aaron Jones caught a short pass and had an opportunity to bully his way into the end zone, only to get cracked and fumble at the goal line. … Leonard Fournette was stuffed at the 1 shortly before Tom Brady found Russell Gage for the potential-but-not-really game-tying touchdown. … Each of Trent Sherfield, Tua Tagovailoa and Alec Ingold were stuffed at the 1-yard line before Chase Edmonds finally punched the ball across. … Carson Wentz scrambled down to the Eagles' 1-yard line before shoveling a short pass to Logan Thomas, who was blown up for no gain on fourth and goal. … Ja'Marr Chase almost had another touchdown when he seemingly caught an end zone target on the one-inch line, but further review showed that he didn't have full control.
Two-point conversion madness: Travis Kelce sure seemed to be bobbling the football upon being reward with a two-point conversion reception. Somehow the play was upheld after further review. … Rhamondre Stevenson nearly pulled off an incredible impromptu pitch to Mac Jones (!) after reversing field on the Patriots' successful two-point conversion; too bad his knee was down just before lateralling the ball upon further review.