With the NFL draft behind us, a lot of the fantasy football attention over the next week, give or take, is going to be dedicated to this year's crop of rookies. Who found the best landing spot, who is stuck as a backup, etc. But the new draftees will have plenty of impact on their veteran now-teammates as well, and it's good to run a quick check as to which incumbent players will see the biggest change in value coming out of the draft.
A year and a few days ago, Buffalo wide receiver Zay Jones was coming off of an awful rookie season, to the point that there was rumor the Bills might bring in a replacement receiver in the draft. Instead, the team didn't take any pass-catcher until the sixth round, signaling that Jones' role was more-or-less safe, and that turned out to be the case — he wasn't a star in 2018 by any means, but Jones made some strong strides in his second season, and the first sign was in the draft.
That's what we're looking at today. These are the biggest veteran winners and losers from the weekend's draft.
Winners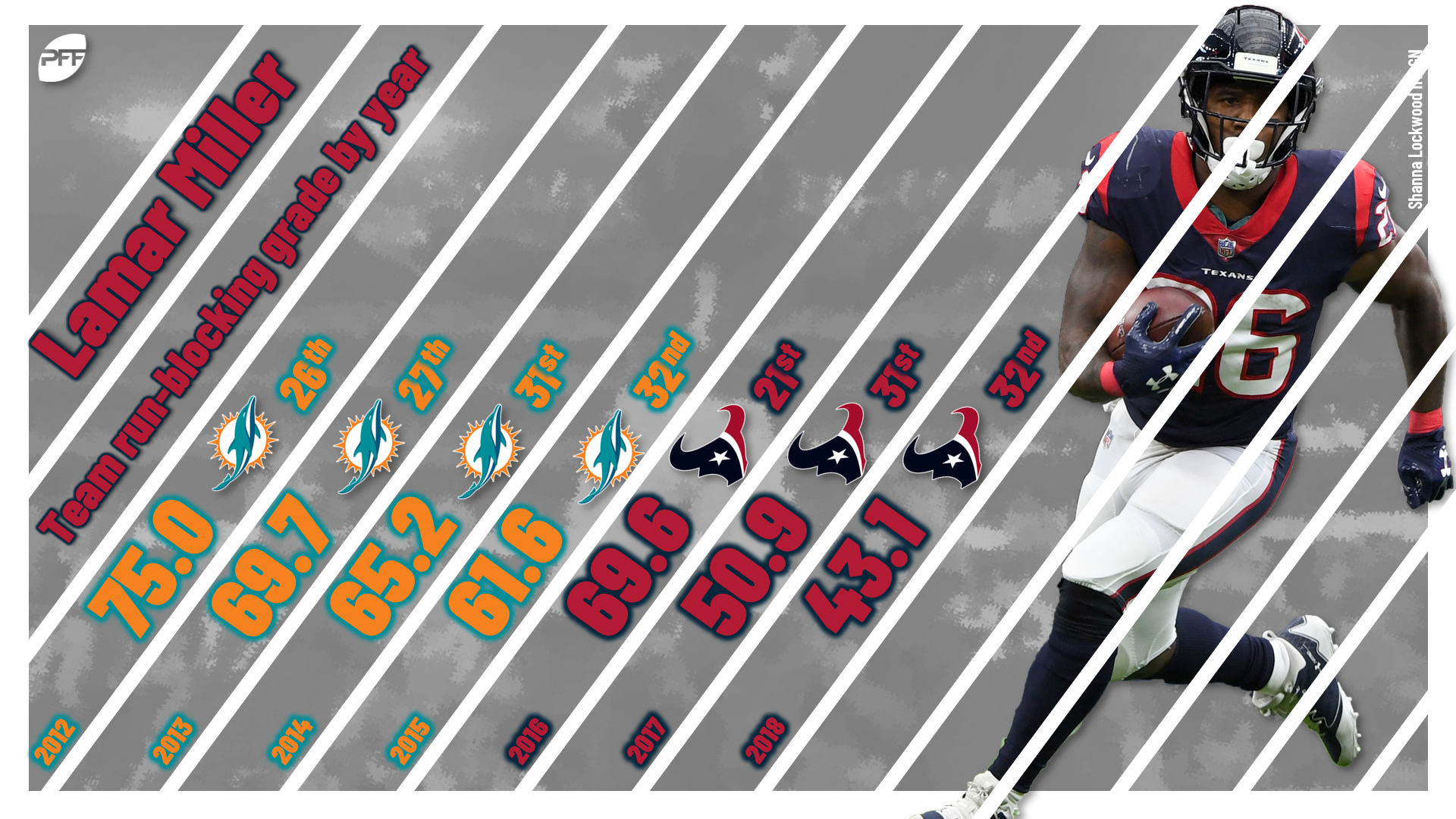 Not many veteran starting running backs had a more tenuous grasp on their starting job coming out of the 2018 season than Miller, who hasn't been bad by any means over his Houston tenure, but hasn't been anything like what was expected. How much of that is on Miller, though? He hasn't been on a team with a PFF run-blocking grade of even 70.0 since his 51-carry rookie season in 2012, and the numbers have steadily fallen off as a Texan.
If the Texans had brought in one of the top-end backs in this year's draft, we might be looking at Miller being phased out. Instead, they used their first-rounder and one of their seconds on offensive line help, added a blocking tight end in the third, and didn't select a running back until fullback Cullen Gillaspia in the seventh (and also signed Karan Higdon as an undrafted free agent). Miller still has an improving-health D'Onta Foreman to contend with, but overall the draft couldn't have gone much better for the veteran.
If we were looking for an indication the new Green Bay coaching staff might trust Jones more than the last regime, we got it over the weekend. The Packers didn't select a running back until Notre Dame's Dexter Williams in the sixth, leaving Jones and Jamaal Williams atop the team's depth chart still for 2019. Jones easily outclassed Williams in 2018 (85.5 PFF rushing grade for Jones, 66.8 for Williams; 5.5 yards per attempt to 3.8), and shouldn't see serious threat from Dexter Williams at least at the start of the season. It looks like the job really will be Jones' in 2019.
We'll have a much better idea of what Allen can be after 2019. He was a fine fantasy option in 2018, if less impressive as an actual NFL player, but in his defense the Bills offered maybe the worst offensive supporting cast in the league outside of Arizona. Buffalo has dedicated this offseason to making Allen's job easier. They signed Cole Beasley, John Brown, Tyler Kroft, Frank Gore, and T.J. Yeldon in free agency to give him more weapons; added Spencer Long, Mitch Morse, Jon Feliciano, and Ty Nsekhe to help his blocking; and then drafted Cody Ford, Devin Singletary, and a pair of tight ends in the draft. It all adds up to what still isn't the best supporting cast in the league, but it's worlds better than what it was at the end of the season. If Allen sinks in 2019, it'll be because of Allen, not his teammates.
No team in the league got fewer PPR points from running backs in 2018 than the Buccaneers. You might expect that would lead the team to bolstering that part of the offense in the draft. Instead, Tampa Bay spent exactly one draft pick on an offensive player, and that wasn't until the sixth round, and even that was on a wide receiver (Scott Miller out of Bowling Green State). Jones was a pretty significant bust in 2018, but he is only a year removed from being PFF's top-graded rusher out of college and going in the second round of the draft. And Barber will still be around if Jones fails to develop after his season as the No. 31 PPR back. There might not be an RB1 in Tampa Bay, but as a bench fill-in with occasional starting value, at least one of these two will offer some value.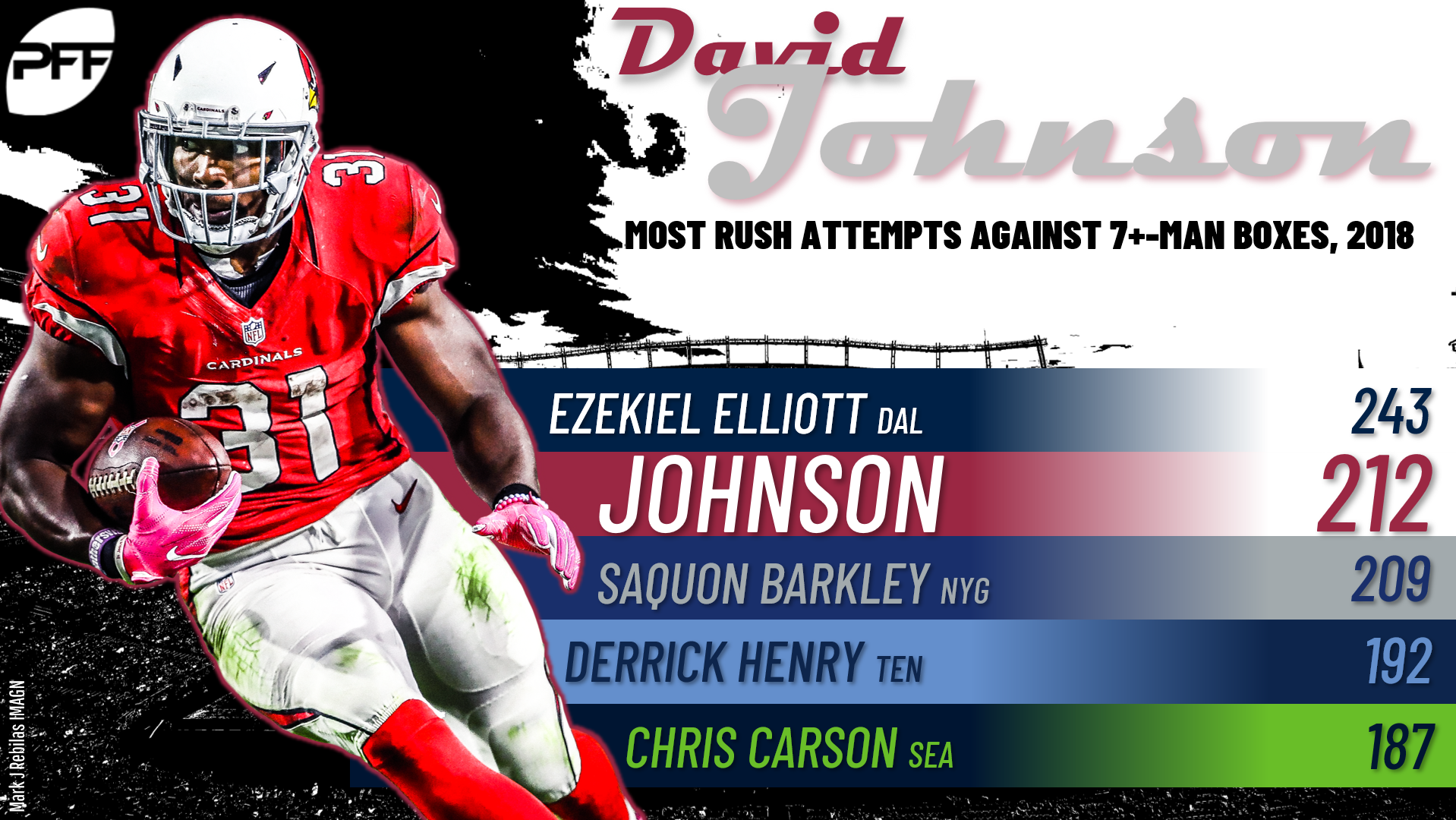 It would have been nice to see the Cardinals invest more in the offensive line this offseason (they signed J.R. Sweezy in free agency and spent a sixth- and a seventh-rounder on the line in the draft), but otherwise, things are setting up great for a bounceback season for Johnson after he had a mildly disappointing RB9 finish in 2018. Johnson was just about the Cardinals' only weapon in 2018, meaning he faced the second-most seven-plus-man boxed in the league (212 attempts; Ezekiel Elliott had 243). The Cardinals overhauled their offensive weapons. Most notably, the extremely mobile Kyler Murray replaces the extremely not Josh Rosen, but the team also drafted a dynamite group of receivers in Andy Isabella, Hakeem Butler, and KeeSean Johnson. If David Johnson struggles in 2018, it won't be because the defenses had nobody else to focus on.
It's always sensitive discussing the fallout of off-field issues in this sort of space, so let's just say we might not see Tyreek Hill on the field again for a long time. And while the Chiefs did bring in speedster Mecole Hardman out of Georgia with their second-round pick, he's the only receiver added to the roster. That means there's a good chance Watkins — who, remember, was a fourth overall pick himself once upon a time — will be the No. 1 wide receiver for Patrick Mahomes in 2019. Not a bad gig.
There was never much question whether Jackson will be able to run effectively as the full-time starter in 2019. If he's healthy, he'll be running. But a quarterback has to throw the ball some of the time, and Jackson entered the draft with Willie Snead and Seth Roberts as his best wide receivers. The Ravens gave him every opportunity to improve as a passer, though, grabbing Marquise Brown in the first round and Miles Boykin in the third. If Jackson's going to make it as a passer, he has the weapons now.
The news that Doug Baldwin might have played his last game stinks, but it bodes well for Lockett, who was one of the most popular regression candidates at the position in the league. And while he remains unlikely to repeat his perfect 158.3 passer rating when targeted in 2019, and draftees D.K. Metcalf and Gary Jennings Jr. will get plenty of work, Baldwin's departure should leave Lockett as the No. 1 target in the Seattle offense, giving him plenty of work to offset the likely drop in efficiency.
Losers
The very minute the Vikings drafted Irv Smith Jr. in the second round, rumors started swirling that Rudolph could end the weekend on the Patriots. That hasn't happened (yet?), but if it does we can immediately bump Rudolph up to the winners section of this piece. For now, though, he's a 29-year-old tight end who has seen both his target total and touchdown percentage drop off in a big way the last two years. Now with a young tight end in the fold, his star in Minnesota might fade even further.
Michel closed fast as a rookie, averaging with 502 rushing yards and seven rushing touchdowns over his last five games (including the playoffs), but a crowded backfield in New England is just more crowded now, as the Patriots brought in Damien Harris in the third round to go along with Michel, James White, and Rex Burkhead. Michel doesn't contribute much as a receiver (and White has that role locked down as it is), but it isn't hard to envision Harris stealing a reasonable share of Michel's workload, really undercutting his value.
There's no more confounding should-be-elite fantasy option right now than Gurley, who has led the league in per-game fantasy scoring in consecutive years, but now has all the question marks. Is he healthy? Is he going to dominate workload in Los Angeles again? If so, he's still the overall RB1 or close. But the fact that the Rams kept Malcolm Brown around in free agency and spent a third-rounder on Memphis back Darrell Henderson is at the least a warning sign that Gurley might not be ready to be the workload-dominating bell cow he has been. Be careful.
Funchess found just about the best landing spot he could have in free agency, ending up with the Colts after a hugely disappointing walk year in Carolina. The Colts' receiver corps has been T.Y. Hilton and not much else for years now, so Funchess was set up for every opportunity to seize a No. 2 role. Instead, the Colts drafted Parris Campbell, who could easily seize the No. 2 receiver role. With Funchess only in Indianapolis on a one-year deal, the Colts don't have much invested in him. Any sleeper stock he had just took a hit.
We've been tossing cold water on Howard's fantasy stock with the Eagles ever since the trade sending him there, but at least he had the benefit of being the fairly clear No. 1 in the backfield. Not so anymore after the Eagles spent a second-rounder on Miles Sanders out of Penn State. Now, Howard is contending with Sanders for lead-dog role in a backfield that also includes Wendell Smallwood, Josh Adams, Corey Clement, and Boston Scott. It's hard to get more crowded or more confusing than that.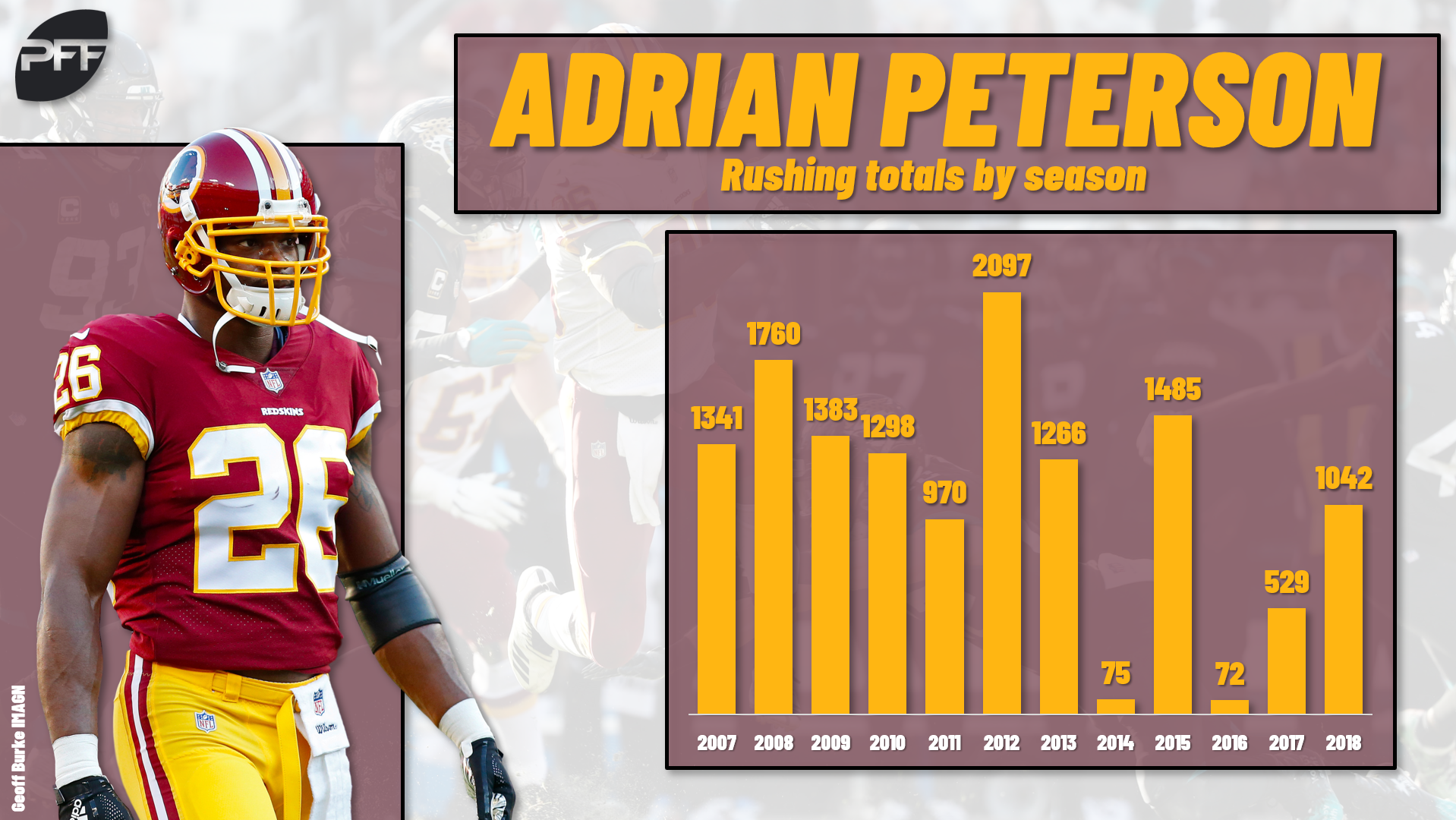 Working in Peterson's favor is the fact that both of the main threats to dominate workload in Washington, Derrius Guice and Bryce Love, are coming off of ACL tears. But if those two can prove to be healthy, they'll be two young backs vying for work against a 34-year-old Peterson who has had two 1,000-yard seasons in the last five years, with 676 total rushing yards in the other three years in that span. Peterson's stock was already low, but the arrival of Love hurts it more.
There were appealing landing spots for Humphries in free agency, but Tennessee wasn't one of them, not as the No. 2 in a run-first offense that also should feature a returning Delanie Walker. But the addition of A.J. Brown in the second round means Humphries likely drops to No. 3 on the receiver depth chart, probably rendering Humphries undraftable for fantasy.
Howard getting dealt to Philadelphia opened up the chance for Davis to be the lead ball-carrier alongside pass-catcher Tarik Cohen in the Chicago backfield. That door likely slammed shut Friday with the Bears selecting Iowa State tackle-breaking machine David Montgomery in the third round. Montgomery might take over the early-down role for the Bears as early as Week 1, leaving Davis as only a handcuff.
Graham's stock has been falling (he just put up the worst PFF overall and receiving grade of his career), and while third-round pick Jace Sternberger might not be ready to take over the Green Bay No. 1 job right away (tight ends face a steep learning curve), the writing is on the wall. Graham's days as a TE1 are over.
Will Drew Lock (in Denver) or Dwayne Haskins (in Washington) start Week 1? Probably not. Will either one start in Week 17? We'll see, but you'd have to lean to it being possible, if not likely. The real question comes in determining which week in the middle the switch could occur. Either way, Flacco and Keenum's already-minuscule fantasy value drops even further with the drafting of their teams' heir apparents.