We're still in the thick of the NFL playoffs, but free agency is just around the corner in March. With that in mind, let's take an early look at this year's potential free agent class from a fantasy football perspective. Which players will make the biggest fantasy impact in 2020 and beyond? Here are the top 30 skill position free agents from this year's class.
(Check out PFF's look at this year's quarterback free agent class, the top non-QB offensive free agents, and the top defensive free agents.)
1. Amari Cooper, WR – While he's far from guaranteed to remain in Dallas, that seems a likely outcome for Cooper. Once a maddeningly frustrating fantasy option, Cooper has been every bit of a top-10 fantasy wideout since he was traded to the Cowboys. Better yet, he'll be just 26 years old when the 2020 season begins.
2. Derrick Henry, RB – The Titans finally took the training wheels off Henry, and he proceeded to top 300 carries and lead the league in rushing yards. While that all was great for fantasy purposes, we do need to be aware that he'll be 27 next season. That's a pivotal age for fantasy running backs where a decline in production typically sets in.
3. Austin Ekeler, RB – It's almost unbelievable to think that Ekeler finished as the No. 4 fantasy running back in PPR scoring this year. But then again, his performance on the field was impressive, especially as a receiver where he racked up a massive 92 catches. He's also two years younger than teammate Melvin Gordon.
4. Kenyan Drake, RB – Just two months ago, it would have been shocking to have Drake this high on the list. But his performance down the stretch for the Cards caused his fantasy value to skyrocket. Still just 25 years old, Drake would be in the top-15 conversation among running backs if he remains with Arizona.
5. Hunter Henry, TE – While he isn't quite an elite fantasy tight end, Henry isn't that far off. Despite missing four games, he still managed to rank ninth at the position in fantasy scoring this season. While Henry is a good bet to stay in Los Angeles, the Chargers quarterback situation is a much bigger question mark.
6. Dak Prescott, QB – This year certainly didn't go well for Dallas as a team, but Prescott showed that he can be a major fantasy factor. He was 99 yards short of a 5,000-yard season and topped 30 touchdowns for the first time in his career. All but guaranteed to stay in Dallas, Prescott will be a top-10 fantasy quarterback in 2020 drafts.
7. Kareem Hunt, RB – With his suspension and off-field incident in the rearview mirror, Hunt is a good to bet attract attention on the open market. At just 25 years old when the season begins, he's still more than capable of producing top-12 fantasy numbers in the right landing spot.
8. Melvin Gordon, RB – Holding out in 2019 didn't get Gordon a long-term deal with the Chargers, and he isn't likely to get one before free agency kicks off. Entering his age-27 season, Gordon still has some fantasy juice left, but he could also end of being the 2020 version of what we saw from Le'Veon Bell this year.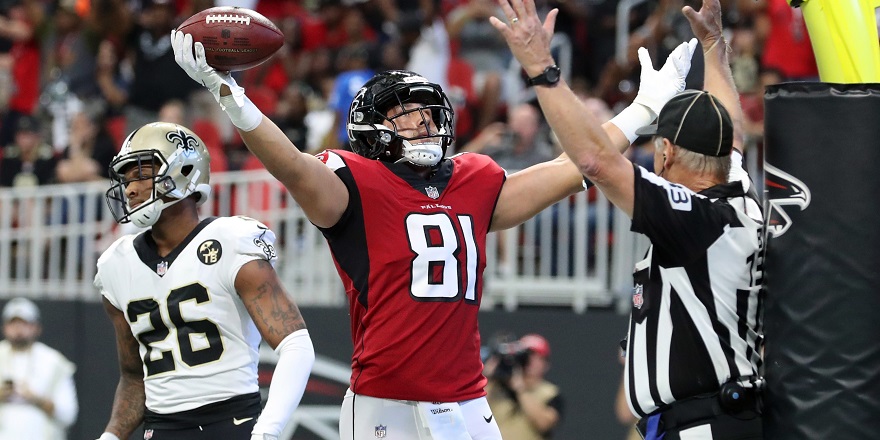 © Jason Getz-USA TODAY Sports
9. Austin Hooper, TE – The Falcons tight end continued to improve this season, and were it not for a midseason injury, he had a shot to finish as a top-three option at the position. Hooper should end up staying in Atlanta and will be a priority middle-round tight end in 2020 fantasy drafts.
10. Jameis Winston, QB – It's almost unthinkable that a quarterback tops 5,000 passing yards and isn't retained by his team the following season. But that's exactly what could unfold with Winston this year. Regardless of where he plays in 2020, Winston will remain the ultimate way-better-fantasy-than-reality quarterback.
11. Drew Brees, QB – The changing of the guard is well underway at quarterback in the NFL. Now north of 40, Brees isn't quite on his way out just yet. After returning from injury in Week 8, Brees was the No. 3 quarterback in fantasy scoring. Key to his 2020 fantasy value is whether he stays with the Saints.
12. Ryan Tannehill, QB – One of the hottest fantasy players down the stretch, Tannehill showed that he's more than capable of putting up QB1 fantasy numbers. He's expected to stay in Tennessee in 2020 and will be on the top-15 fantasy radar when fantasy draft season rolls around.
13. Robby Anderson, WR – Coming off his third straight season with at least 50 catches, Anderson has shown that he can be a field-stretching complementary receiver. In the right landing spot, a player with his skill set can offer WR3 fantasy value.
14. Matt Breida, RB – Explosive, but undersized, Breida was never quite able to stay healthy enough to string together consistent fantasy production in his time with the 49ers. Still just 25 years old when the 2020 season starts, Brieda has the potential to offer fantasy value going forward, but he needs to be in the right spot.
15. A.J. Green, WR – One of the most frustrating fantasy situations of the year, Green was injured during training camp and ended up missing the entire season. While he certainly has a marquee name, Green will be 32 years old next season. His best fantasy days are behind him.
16. Emmanuel Sanders, WR – He's no spring chicken at 33 years old when next season starts, but Sanders showed this season that he's a good fit in the 49ers offense. He'll remain fantasy relevant if he manages to re-up with San Francisco.
17. Tom Brady, QB – He's a longshot to retire in the offseason, but also looks very iffy to be back with the Patriots. Landing with someone like the Chargers could keep Brady on the 2QB radar, but his days as a viable 1QB option are likely in the rearview mirror.
18. Philip Rivers, QB – Likewise, Rivers would have to land in the right location to remain a 2QB option if he doesn't stay with the Chargers.
19. Eric Ebron, TE – The Colts are almost certainly going to let Ebron walk. In his time with Indy, Ebron showed that he can be a big factor in the red zone, though he wasn't able to put up consistent fantasy numbers. In the right landing spot, Ebron could certainly had tight end streamer appeal in 2020.
20. Taysom Hill, QB – Perhaps the most mysterious player in this year's class. We know that he can essentially play every skill position, but the big question is whether the Saints (or another NFL team) views him as a full-time starting quarterback. If so, Hill is ranked too low on this list.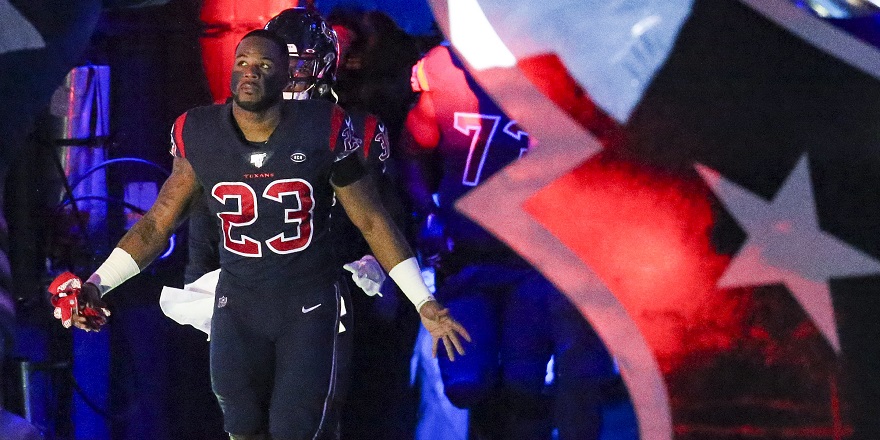 © Thomas B Shea-USA TODAY Sports
21. Carlos Hyde, RB – He's coming off his first 1,000-yard rushing season in his professional career, but it's tough to get too excited about Hyde going forward. He'll turn 30 in September and showed this season that he really needs heavy volume to be a viable fantasy option.
22. Larry Fitzgerald, WR – One of the best of all time for fantasy purposes, but Fitzgerald finished just 35th among wideouts in fantasy scoring this year despite playing all 16 games. His lack of upside makes him an unappealing fantasy option if he doesn't decide to hang up his cleats.
23. Teddy Bridgewater, QB – There are a lot of moving parts in the New Orleans quarterback room, but of the three on this past season's roster, Bridgewater is the player with the least fantasy appeal. Sure, he could be a QB2 option if the Saints decide to go with him as their long-term option, but that's far from guaranteed.
24. DeAndre Washington, RB – Josh Jacobs is the future in Oakland, so we could certainly see Washington in another uniform in 2020. While he performed admirably down the stretch, Washington will be 27 when the season begins and hasn't proven that he can be a starter. He's a longshot for fantasy value next season.
25. Demarcus Robinson, WR – He displayed a high ceiling earlier in the year, but with just five catches over his final six games, Robinson is far from a target monster. That said, he's still just 25 years old, so Robinson is likely to at least be DFS-relevant if he lands in the right spot or stays with the Chiefs.
26. Jacob Hollister, TE – The Seahawks tight end put up massive numbers in Weeks 9 and 10, but those performances look to be a blip on the radar. Hollister has yet to prove that he can be a consistent fantasy option.
27. LeSean McCoy, RB – Call it "load management," but the Chiefs significantly reduced McCoy's role down the stretch this season. He'll be 32 years old at the start of next season and is a long shot to be on the fantasy radar.
28. Lamar Miller, RB – Coming of a torn ACL and MCL and entering his age-29 season, it's tough to see a scenario where Miller puts up fantasy-relevant numbers in 2020.
29. Demaryius Thomas, WR – Once an elite fantasy wideout, Thomas hasn't posted a 1,000-yard since 2016 and managed just 36 catches in 11 games with the Jets this season. At 32 years old, Thomas has come to the end of the line for fantasy purposes.
30. Marcus Mariota, QB – He was the second overall pick in the 2015 draft, and there's a good chance that he won't being in a Titans uniform in 2020. Not only that, but Mariota isn't likely to be a starter. His fantasy stock, both long- and short-term, has fallen off a cliff.