New England's Tom Brady isn't the only big-name veteran quarterback slated to become a free agent this offseason. Once again, Drew Brees' contract will void and both he and the New Orleans Saints have a decision to make regarding his future. For maybe the first time it seems a legitimate question to ask: Should the Saints move on?
The team has been kicking their salary cap issues down the road for a number of years now to keep bringing Brees back on a series of shorter deals and chase one more Super Bowl championship, but for the first time he has started to show signs of decline, and they may have other potential options that weren't there in the past.
Brees is a phenomenal quarterback, and one of the best to ever play the game. He has passed Peyton Manning for the career yardage and touchdown records in recent times, so his Hall of Fame resume is getting more focus than it typically has over his career. Even at 40, he ended the season tied with Russell Wilson for the second-best overall PFF grade (91.2), trailing only Ryan Tannehill's incredible run in Tennessee. With that in mind, it would seem madness to think the Saints have better options.
The problem is that for the second consecutive season he has looked markedly worse late in the year than he has at the beginning of it. Combining the first 12 weeks of each of the last two seasons gives Brees an overall PFF grade of 95.2, which is comfortably the best figure in the NFL. He has a completion rate of 74.5% and has thrown for 8.2 yards per attempt.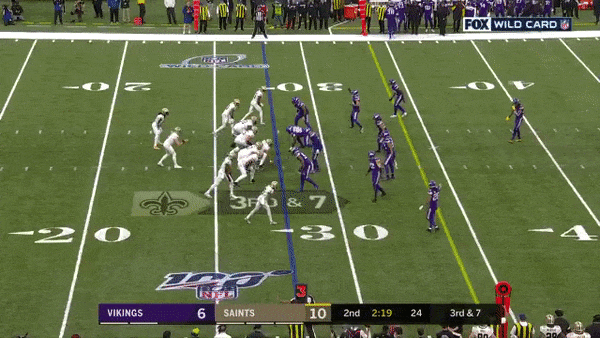 As for the last five weeks down the stretch and into the playoffs, his last two seasons combined have produced an overall PFF grade of just 82.3, 7.0 yards per attempt and a completion rate of 68.6%. That is, of course, an arbitrary cutoff, but it reflects the deterioration noticeable on tape late in the season last year and this. Though his numbers were healthy, his final two games of the regular season this year earned PFF grades of 59.6 and 53.0, and he was only just able to scrape back into the 60s in the Wild Card loss to the Vikings.
If he was a young quarterback, we would likely just dismiss this as variance and noise in the data, but he isn't. He's about to turn 41 and reaching the end of his career, so anybody watching him play is on the lookout for signs of decline. The fact it happened again in 2019 is even more concerning because the injury to his thumb in Week 2 effectively gave him a significant break from wear and tear while he stood on the sideline rehabbing, allowing him to miss five starts and all but five snaps of that Week 2 game. By the time his poorer play started late in the year, it was just his 10th game of the season, and ninth with the majority of the snaps.
At the very minimum, bringing Brees back represents a gamble that those two late-season struggles are just noise and variance. The team is on the hook for $21.3 million in cap hit for Brees whether he's on the roster or not, but if they bring him back the number will likely climb even higher, not to mention the cash outlay they will need to make.
Alternate options
One of the reasons the Saints have repeatedly mortgaged the future and re-upped with Brees is they had no real alternatives. He represented the last chance they had at a championship before a full rebuild was necessary and a search for the future of the franchise at the position. This year, however, Teddy Bridgewater showed that they might have an alternative future already in the building, but one that is also heading to free agency. The Saints were 5-0 with Bridgewater starting, and while some of those wins were more in spite of his performance than because of it, by the time he had settled in as a starter he was playing as well as he ever has in his NFL career.
Bridgewater had looked like a potential franchise quarterback for the Minnesota Vikings before a freak knee injury in practice almost cost him his leg, let alone his playing career. After he returned, he had never quite looked like the same player, but there were always question marks hanging over the performances because they came in mop-up duty, or with backups in the preseason. For the first time, we saw Bridgewater given an extended run with a quality group of starters, and though the early games featured many of the same issues, he seemed to dust off the cobwebs and actually show the ability to push the ball deeper downfield and take advantages of bigger plays when they were available to him. The sample size is of course small, but Bridgewater can make a good argument that he is now the same player he was before that knee injury, if not better, and more importantly the Saints can see already that they can win games with him as a starter.
Bridgewater would undoubtedly be far cheaper than Brees, and perhaps more importantly, a far longer-term option. He is just 27 years old and re-signed with the team last year for only $7.25 million. His starting performance this season will have pushed his price up dramatically, and the Saints will have to deal with that dead-cap money tied to Brees either way, but there is a chance that Bridgewater could allow them to dig themselves out of salary cap trouble and solve their succession plan at quarterback all in one move, without needing to blow the thing up once Brees finally does hang them up.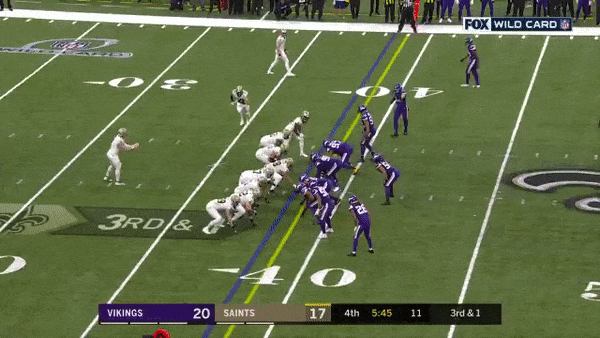 The other wild card option is the Taysom Hill experiment. Hill is their third quarterback but has been so much more than that. He played five different phases of special teams this year. He catches passes, he rushes for touchdowns and even blocks as a tight end in some formations. Just on offense, Hill has lined up at quarterback, fullback, tight end, slot receiver, wide receiver and halfback – i.e., every non-offensive line position possible. Early in his career, it seemed like little more than a gimmick, but he has been effective and had an impact. The Saints average 0.091 EPA per play when he has been on the field and 0.067 when he has not been over the last two years. Against the Vikings, he accounted for 38% of the team's offensive yardage from just 23 snaps and that moved the needle on those EPA numbers, but Hill has become a positive force for this offense regardless of where he lines up.
Projecting him as a starting quarterback though is ambitious. He attempted just six passes this season, seven including the playoffs. He has attempted just 16 passes in his NFL career and completed exactly half of them. Four of those incompletions were drops, so the numbers aren't as bad as they seem, but there is a very small sample size on which to judge him. Johnny Hekker – the Rams punter – has more career pass attempts than Hill does.
If you include preseason, regular season and playoffs, every throw Hill has attempted in the NFL in any capacity amounts to an overall PFF grade of 74.7 (Carson Wentz was 75.6 this year), a 65% completion rate, 7.7 yards per attempt and an average depth of target of 9.1. Obviously, preseason is a massive caveat to any numbers, but his passing performance at least suggests he can be a viable passer, particularly in a league that is now embracing unique athletes at the position.
The Baltimore Ravens have built an entire custom, bespoke offense around Lamar Jackson because he is such a special athlete, and while he has developed hugely as a passer this season, the Ravens offense is so devastating because of what he can do with his athleticism as well as with his arm. Sean Payton has talked up Hill more than any human being on earth, even comparing him to Hall of Famer Steve Young, and has obviously been the mastermind behind getting him on the field so much, but even for Payton it would be an astounding decision to move on from Brees and craft an offense specifically for Hill, even if I would love to see it.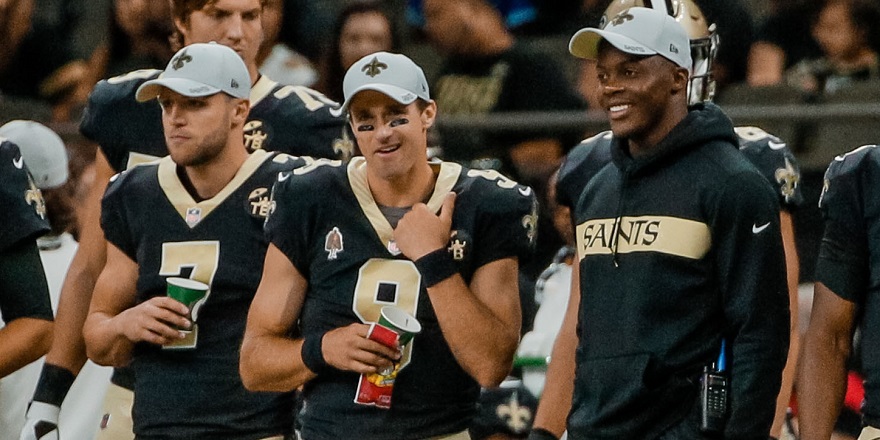 © Derick E Hingle-USA TODAY Sports
Ultimately, moving on from an aging, all-time great quarterback is rarely clean. Unless that player chooses to walk away at the top under a rain of confetti-like John Elway or Peyton Manning, their team is left trying to predict the point where their decline becomes too great to overcome and get out before they become a drag on the offense. Brees is still clearly a good thing for the Saints offense, but a costly one, and just how good he will be in 2020 and beyond, particularly in the postseason, is very much up for debate. For the first time since he arrived in New Orleans in 2006, the Saints should be seriously considering if this is the time they look to move on.