The 2020 offseason could be the craziest in recent memory due to the free agent quarterbacks alone. The group of signal-callers includes two surefire Hall of Famers (Tom Brady and Drew Brees), one potential Hall of Famer (Philip Rivers), the two top picks of the 2015 draft (Jameis Winston and Marcus Mariota), and a quarterback coming off one of the biggest positive outlier seasons in history (Ryan Tannehill). While many of these quarterbacks may simply return to familiar territory or get strapped with the franchise tag, at the moment it is lining up to be a chaotic offseason.
The starters
Tom Brady
It was an unfamiliar feeling in New England this season as the Patriots offense struggled and Brady finally shown signs of regression. When combined with a subpar group of playmakers, the Patriots offense trudged through the 2019 season and their marriage with Brady is entering uncharted territory. He'll hit the open market for at least a minute in March and questions abound about whether his best fit is back in New England or is Brady ready for a fresh start as he heads into his age-43 season? He finished the year with a 79.0 overall grade and the second half of the season was a struggle as Brady ranked just 27th in positively graded throws. That's a number that can increase with an improved supporting cast, and Brady's No. 12 ranking shows that he's still capable of quality production, but he appears to be past the point of elevating any group of playmakers to one of the best offenses in the league.
Drew Brees
Drew Brees had seven turnover-worthy plays over the last three weeks.

Got away with them in Weeks 16 and 17.

Didn't get away with them against the Vikings pic.twitter.com/q9HOiqoaWt

— Steve Palazzolo (@PFF_Steve) January 8, 2020
The season ended in disappointing fashion for the Saints, and Brees played his worst football over the last three weeks of the season. He still finished with a 90.6 overall grade and the lowest percentage of negatively graded throws in the league, both signs that there's more left in the tank for Brees. However, the downfield passing attack struggled, as Brees ranked just 31th in big-time throw percentage and he had seven turnover-worthy plays in his last three games, including the Wild Card loss to the Vikings. The Saints have built a strong roster around Brees dating back to 2017, and it's still likely worth another shot with the Hall of Famer, but like the Patriots, New Orleans must have contingency in mind as Brees heads into his age-41 season.
Prescott's contract status was one of the biggest questions of the offseason, and he paired with new offensive coordinator Kellen Moore to produce his most efficient season as a passer and one of the league's best passing attacks. He finished with the No. 11 overall grade in the league at 80.3, his best mark since his rookie season, and Prescott ranked sixth in the league in positively graded throws. It's not hindsight to ask if the increase in production should be attributed more to Prescott or Moore, as it's a question I posed at the start of the season. Given Prescott's PFF rankings of eighth, 18th, 19th, and now 11th, it's fair to place him in the middle tier of NFL quarterbacks who can have valuable seasons in the right ecosystem (playmakers, play calling, and some luck). That's exactly where Prescott landed this season and with a strong supporting cast, Prescott is capable of leading a high-end offense.
Philip Rivers
Despite periods in Rivers' career where it looks like his arm is shot and the shotput motion no longer throws with zip, he's still been one of the league's most productive quarterbacks over the last few years. He did post the fifth-highest percentage of turnover-worthy plays this year while dropping to 18th in positives, but there's enough left in the tank to remain productive, especially if he can play behind an offensive line that will provide pass protection that ranks better than the bottom-five units he's had in each of the last three seasons. Look for Rivers to land in a win-now situation, where he's capable of attacking the short and intermediate level effectively.
The one-year superstar
Ryan Tannehill
In one of the biggest outlier seasons in the PFF era, Tannehill finished with the top overall grade during the regular season after taking over as the Titans starter in Week 6. He more than doubled his percentage of positively graded throws on his way to leading the league in that category, a sign that the scheme and supporting cast meshed well with Tannehill in 2019. The question is duplication, as Tannehill had never graded above 80.4 in a season, generally hovering in the high 60s or low 70s (2018 was an outlier as well as he graded at a miserable 45.3). It's likely worth one more roll of the dice for the Titans, especially since they can ensure a level of stability in an attempt to maintain Tannehill's high-end performance, but a backup plan should also be in the works as it's difficult to see Tannehill settling in as a 90-plus graded quarterback after seven years of mediocrity.
Who will give them the keys?
After two encouraging seasons to start his career, Bridgewater appeared to be on his way to the Alex Smithian spectrum of game mangers who can take care of the ball and put teams in position to win. A 2016 knee injury robbed Bridgewater of nearly two years of his career, and 2019 was the first time we saw him for an extended period. He filled in admirably for Brees, winning all five starts while grading at 73.0 overall to go with a passer rating of 99.1. Bridgewater got more comfortable every week, attacking down the field and showing signs of his early-career self. At the very least, Bridgewater has put himself back in the conversation for a starting job with the understanding that he's likely going to limit the turnover-worthy plays (2.1% was seventh-lowest in 2019) to go with a low percentage of big-time throws (2.9% ranked 28th), but that skillset could play in a situation with a strong defense and surrounding talent.
Marcus Mariota
We're just five years removed from debating Mariota and Winston at the top of the 2015 draft, and now both quarterbacks are ready for a reset on the open market. Mariota has shown flashes of solid play throughout his career, but he's taken far too many sacks (sacked on 35.2% of pressured dropbacks in 2019, highest in the league). On the bright side, the copycat NFL will look to teammate Tannehill's random breakout and hope to extract the same from Mariota as both quarterbacks possess a similar skillset of intermediate accuracy, obliviousness to pressure, and a revolving door of playmakers and play callers throughout their respective careers.
Jameis Winston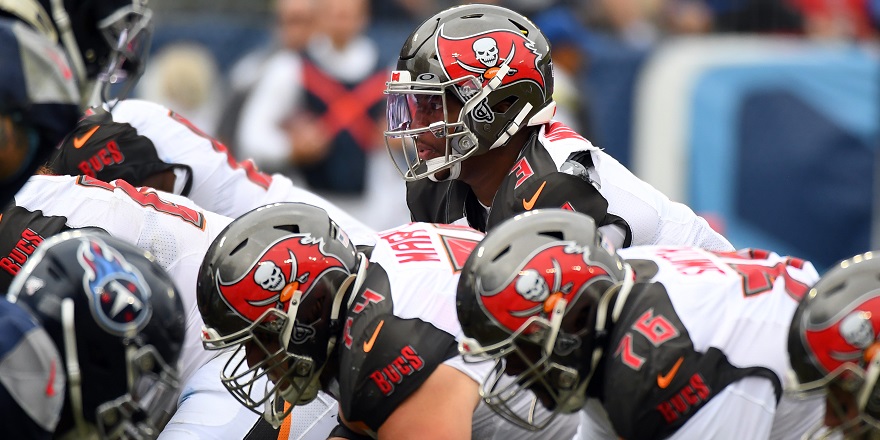 © Christopher Hanewinckel-USA TODAY Sports
We went into detail regarding Winston and the roller coaster of emotions he elicits, and it doesn't take advanced numbers to tell the story of his 2019 season and career. He finished with over 5,000 passing yards, 33 touchdowns, and 30 interceptions, all perfect descriptors of Winston's game that moves the chains as well as any quarterback in the league while also putting the ball into the defense's hands more than any signal-caller in the NFL. The bottom line with Winston is that he may never change as he annually ranks near the top of the league in both positively and negatively graded throws, but that high-end volatility could lead to a wide range of outcomes from high-end starter with some interception luck to benchwarmer if the ball bounces the other way. A team with strong offensive weapons and a good coverage unit may want to see if they can extract the high-end season out of Winston, as he's capable of putting points on the board in the right situation.
One more shot?
At this point in Manning's career, and with the solid state of NFL quarterbacks around the league, it's unlikely that a starting job will be available this offseason. Manning may latch on as a backup and he's certainly a fringe top-32 quarterback in the world, but it's hard to envision any team viewing him as more than a stopgap.
The bridge
The epitome of a bridge starter, Keenum was the bridge to Jared Goff with the Rams before putting together a career-year in 2017 for the Vikings that bridged to Kirk Cousins before heading to Denver to hold the fort for Joe Flacco and Drew Lock, which brings us to 2019 where Keenum kept the seat warm for Dwayne Haskins to eventually take over in Washington. Keenum is one of the best backups in the league as he's just aggressive enough to string together good outings, and he's the bridgiest of quarterbacks because he's simply not a top-32 quarterback in today's NFL.
The backups
Blake Bortles
Chase Daniel
Colt McCoy
A.J. McCarron
Nate Sudfeld
Trevor Siemian
Mike Glennon
Brett Hundley
Blaine Gabbert
Matt Moore