Running back tiers are an important weapon in your fantasy football arsenal. Instead of the rigid approach of fantasy football rankings, tiers allow you more flexibility on draft day, which is key to dominating your opponents. With a tier-based approach, you can see how each player stacks up at his respective position, so let's take a look at the 2019 fantasy football running back tiers.
[Editor's Note: Jeff Ratcliffe's 2QB rankings are LIVE! All EDGE and ELITE subscriber can access the rankings here.]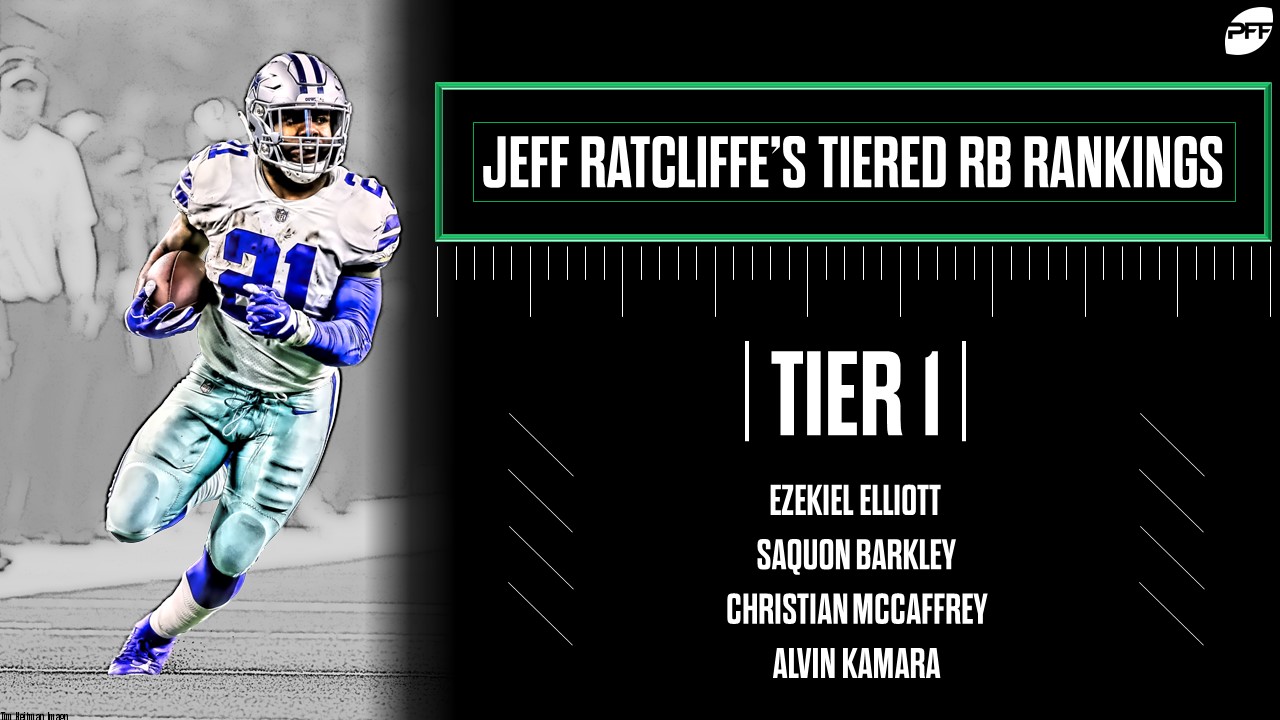 Tier 1 – The Big 4
Ezekiel Elliott, Dallas Cowboys
Saquon Barkley, New York Giants
Christian McCaffrey, Carolina Panthers
Alvin Kamara, New Orleans Saints
There's no consensus on who should come off the board first in 2019 fantasy football drafts, but that player is all but guaranteed to come from these four. Elliott has arguably the highest floor of the bunch after posting his second 300-carry season in the last three years. Barkley is a freak of nature who also sees healthy volume, but the one knock on him is the overall state of the Giants offense. The Panthers showed last season that they trust McCaffrey to be a true three-down back. He also has little competition for touches in Carolina. Kamara will split the load with Latavius Murray in New Orleans, but he'll see more than enough work to magnify his major fantasy upside.
Tier 2 – Question marks with elite potential
Le'Veon Bell, New York Jets
David Johnson, Arizona Cardinals
James Conner, Pittsburgh Steelers
Joe Mixon, Cincinnati Bengals
Dalvin Cook, Minnesota Vikings
Todd Gurley II, Los Angeles Rams
Melvin Gordon, Los Angeles Chargers
You're very likely going to see at least eight running backs, and perhaps more, come off the board in the first round of your drafts this year. That means a good chunk of this tier will be picked, with the remaining players going in the second round.
There's no such thing as a "safe" pick in fantasy football, but the risks start to mount up even this high up in the running back rankings. Bell is coming off his holdout season and is in a tricky situation on a Jets offense that is much worse for wear than the Pittsburgh offense he previously played for. Johnson was one of last year's biggest fantasy disappointments, though the Cardinals should be much more exciting on the offensive side of the ball this year.
The Steelers will have a different look this year with Antonio Brown out of the mix, though Conner should still see bell cow usage. Mixon was a bell cow last year, but questions linger about the Bengals offense under new head coach Zac Taylor. We still haven't seen what Cook is actually capable off with a full season of work, so his value is pure speculation. And perhaps the biggest question mark, Gurley has plummeted in fantasy rankings over the offseason due to fears about his knee injury.
Gordon offers a high fantasy ceiling, but limited goal line work and missed time during the fantasy playoffs in two of the last three years aren't ideal. But the bigger news is the potential that Gordon may hold out into the season. As Bell showed us last year, this isn't news to take lightly. If you draft Gordon, make sure you have a plan in place.
Tier 3 – Workhorses who need things to break right
Nick Chubb, Cleveland Browns
Leonard Fournette, Jacksonville Jaguars
Derrick Henry, Tennessee Titans
Marlon Mack, Indianapolis Colts
In this tier you have an interesting mix of backs, all of whom profile primarily as two-down options in their respective offenses. If Kareem Hunt's return didn't loom in Week 10, Chubb would likely be in Tier 2. But the lack of clarity we have on Hunt's role for the second half of the season is enough to push Chubb down the board just slightly. Fournette has very real elite potential given his role and opportunity in Jacksonville. Of course, he's going to need to prove that he can stay healthy. Henry was the No. 39 PPR running back over his first 12 games last year and the No. 1 over his final four. It would be nice to suggest he's going to more of the latter this season, but that's far from guaranteed. Mack flashed a high ceiling last year with four top-10 fantasy finishes, but like Fournette, he needs to prove that he can stay on the field.
Tier 4 – Crazy upside
Damien Williams, Kansas City Chiefs
Aaron Jones, Green Bay Packers
Devonta Freeman, Atlanta Falcons
Josh Jacobs, Oakland Raiders
Kerryon Johnson, Detroit Lions
David Montgomery, Chicago Bears
Rounds 3 and 4 of your 12-teamers will offer plenty of upside at running back this year. Yes, I'm a little bit lower on Williams than you may see him go, but it's wise to be conservative with him given the small sample size we have from last season. Williams could very well outplay this tier, but he's far from a lock to do so. Jones has been one of the league's more explosive backs over the last two seasons, but his volume needs to increase for him to return fantasy dividends.
While Freeman is a popular fantasy pick this year, it's important to not overlook the fact that he's entering his age-27 season and only played two games last year. We don't quite know what to expect out of Jacobs in his rookie season, but the former Alabama back will have little competition for touches in Oakland. Johnson isn't necessarily a bell cow, but he offers major upside, especially if the Lions end up cutting Theo Riddick. Like Jacobs, Montgomery has a wide range of expectations in his rookie season. That said, he's in the driver's seat to lead the Bear's backfield in touches and offers big-time upside.
Tier 5 – On the right side of the committee?
Phillip Lindsay, Denver Broncos
Mark Ingram II, Baltimore Ravens
Chris Carson, Seattle Seahawks
Committees are no longer "dreaded" in fantasy football, and each of these backs have shown the ability to be viable fantasy options in committee situations in the past. Lindsay is coming off a wrist injury, but should be good to go for the start of the season. Ingram isn't in a traditional committee, as he'll be splitting carries with QB Lamar Jackson. Carson notched nearly 250 carries last year. While he'll be sharing the load with Rashaad Penny, there's still plenty of meat on the bone in Seattle.
Tier 6 – Risk/Reward
Kenyan Drake, Miami Dolphins
Lamar Miller, Houston Texans
Sony Michel, New England Patriots
Miles Sanders, Philadelphia Eagles
Tevin Coleman, San Francisco 49ers
Derrius Guice, Washington Redskins
If you get to this point in drafts and haven't nabbed at least two running backs, you could be in store for a bumpy ride this season. Drake was the quintessential boom-or-bust fantasy option last year. While Frank Gore is out of the way, Kalen Ballage could eat into his work this season. Likewise, look for D'Onta Foreman to challenge Miller for touches. Michel has been dinged up all offseason, and the Patriots drafted a similar player in Damien Harris. Speaking of rookies, Sanders is a big-time athlete, but the Eagles tend to spread the ball around. Similarly, we can expect a three-headed backfield in San Francisco, which should limit Coleman's fantasy ceiling. Guice is coming off a torn ACL, and may not have the best offensive situation in Washington.
Tier 6a – PPR specials
James White, New England Patriots
Tarik Cohen, Chicago Bears
These guys do most of their damage in the passing game. While they certainly get a nice boost in PPR scoring, keep in mind that their limited volume makes all three much more volatile fantasy options.
Tier 7 – Premium handcuffs
Austin Ekeler, Los Angeles Chargers
Darrell Henderson, Los Angeles Rams
Latavius Murray, New Orleans Saints
Royce Freeman, Denver Broncos
Rashaad Penny, Seattle Seahawks
Handcuffing in today's fantasy football really isn't a viable strategy with the exception of a few very rare instances — like when a player is threatening to hold out for an entire year. In most instances, you'll draft a handcuff only to cut that player in Week 3 or 4. However, this group of 'cuffs have independent value in addition to their status as handcuffs. Ekeler is the top of the tier given his potential to be the lead back in Los Angeles if Melvin Gordon holds out into the season. Henderson is an explosive rookie who is positioned well for initial success even if Todd Gurley is fully healthy. Murray joins the Saints and slides in right behind Alvin Kamara. Freeman was a disappointment last year, but he's still very much in a committee with Phillip Lindsay. Penny also failed to impress for fantasy purposes in 2018, but he's primed to take a step forward in the Seahawks' run-heavy offense.
Tier 8 – Buyer beware
LeSean McCoy, Buffalo Bills
Jerick McKinnon, San Francisco 49ers
Jordan Howard, Philadelphia Eagles
Matt Breida, San Francisco 49ers
Ronald Jones II, Tampa Bay Buccaneers
Yikes. This tier is volatile. McCoy is well north of 30 years old and has rapidly trended down over the last two seasons. McKinnon and Breida could cannibalize off each other in the passing game for the 49ers this year. Howard struggled to produce in Matt Nagy's offense last year, and will play in essentially the same offense in Philly this season. Jones did essentially nothing in his rookie season. While there's opportunity in the Tampa backfield, it's tough to view Jones as anything more than a fantasy dart throw.
Tier 9 – Low-ceiling options
Dion Lewis, Tennessee Titans
Peyton Barber, Tampa Bay Buccaneers
Adrian Peterson, Washington Redskins
And this tier gets even uglier with Peterson and Lewis really coming to the end of the line for their days as fantasy running backs. Barber ranked ninth in the league in carries last year, but only finished 31st among running backs in PPR scoring. It's very difficult to rank that low on that sort of volume.
Tier 10 – Late-round darts
D'Onta Foreman, Houston Texans
Nyheim Hines, Indianapolis Colts
Carlos Hyde, Kansas City Chiefs
Ito Smith, Atlanta Falcons
Duke Johnson Jr., Cleveland Browns
Chris Thompson, Washington Redskins
Kalen Ballage, Miami Dolphins
Jamaal Williams, Green Bay Packers
Jaylen Samuels, Pittsburgh Steelers
Justin Jackson, Los Angeles Chargers
Giovani Bernard, Cincinnati Bengals
Jalen Richard, Oakland Raiders
Damien Harris, New England Patriots
Kareem Hunt, Cleveland Browns
C.J. Anderson, Detroit Lions
Theo Riddick, Detroit Lions
Alexander Mattison, Minnesota Vikings
Justice Hill, Baltimore Ravens
Mike Davis, Chicago Bears
Devin Singletary, Buffalo Bills
Drafting running backs in the late rounds isn't an optimal strategy in today's fantasy football, but you might be able to snag some upside with the right players. Foreman is an intriguing option, but he's going to need to prove that he can still be effective after tearing his Achilles two seasons ago. Hyde saw 11 goal-line carries last year and offers upside if he can earn short-yardage work in the potent Chiefs offense. Smith is positioned well as the handcuff to Devonta Freeman. Hunt will serve an eight-game suspension to start the season, but he should see an opportunity to produce down the stretch in a much-improved Browns offense.