This is our weekly check in on the top DFS plays for preseason fantasy football action. Week 3 is typically the "dress rehearsal" week of preseason, where we can expect a few teams to play their starters for a full half or more. Unlike our Week 1 and Week 2 articles, this week we actually do want to play some name-brand guys.
Last season, 18 of 32 starting quarterbacks played on at least 33% of the team's snaps. Six quarterbacks played 50% of more. Correctly identifying which teams are most likely to let their starters play two or more full quarters could be the key to this week's slate.
This week (unlike last week), I'm focusing on both the Thursday and Saturday slate of games. Keep an eye out on beat reports and injury news heading up to lock. Because this comes out earlier in the week, and the majority of relevant news comes out only a few hours before lock, a lot can change, and you'll have to do research on your own if you want to return a profit.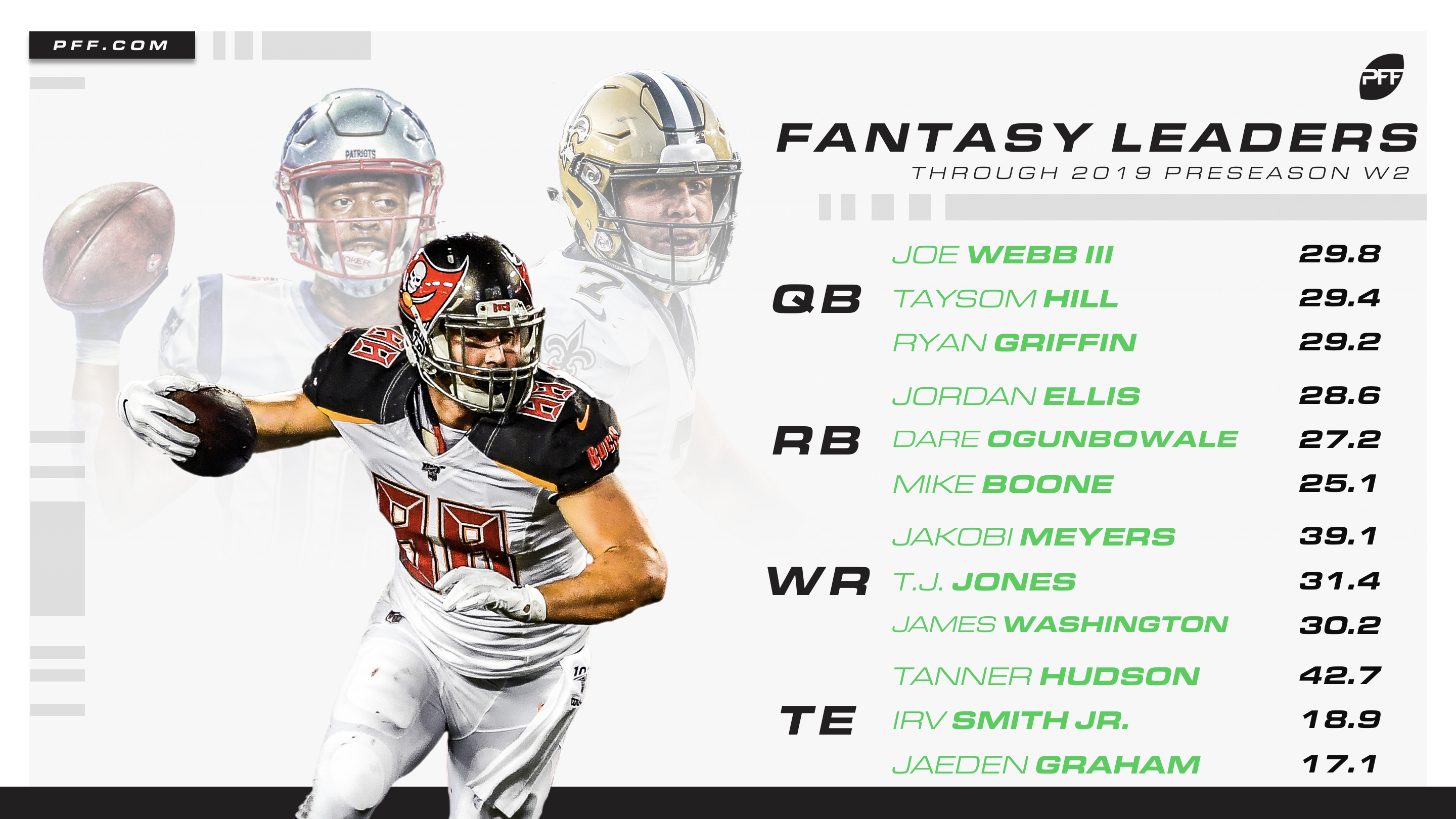 Here are some of the players who stand out most to me:
Quarterbacks
Dirk Koetter said Atlanta's starters should play about a half this week, after playing for nearly a full half last week. When Koetter was in Tampa Bay, Jameis Winston historically played an extremely high number of snaps in the third preseason game, averaging 34.3 per game over the past three seasons. This makes Matt Ryan one of the top plays on Thursday's slate of games. Calvin Ridley, Austin Hooper, and Devonta Freeman are all top plays depending on their workload projections.
Over the past two seasons, Tom Brady averages 16.5 attempts, 139.0 yards, and 1.0 touchdowns in Week 3 of the preseason. He should see a similar workload and be similarly efficient this week, though New England's starting receivers are all dealing with injuries. Well, all of them except for Jakobi Meyers. Meyers is a borderline must-play, ranking as our third-highest-graded wide receiver this preseason, almost leading all receivers in targets (16), receptions (13), yards (153), and touchdowns (2).
Per ESPN beat writer Adam Teicher, "Andy Reid said he's not inclined to change his usual way of playing the starters into the second half." This makes Patrick Mahomes the No. 1 play on the Saturday slate of games. In Week 3 of preseason last year, Mahomes played on 77% of his team's snaps, leading all first-string quarterbacks. Tyreek Hill, Sammy Watkins, and Travis Kelce are all top plays if they're active.
Sam Darnold is expected to play a full half Saturday, making him the No. 2 play on the day. If stacking, I'd consider Quincy Enunwa. In preseason games this year, Darnold has targeted Enunwa on five of his 12 total attempts.
Jacoby Brissett will likely play a full half, Kirk Cousins attempted 28 passes in Week 3 of preseason last year, and Cam Newton is expected to play "three or four good possessions." All are fine plays if looking to go in a different direction.
Running backs
Last week, Darrell Henderson played on 16 of the team's 16 first-string snaps and then continued to play with the second-string offense. Henderson is a personal favorite of mine, and should see a similar workload on Saturday. Last week, he played on 30 total snaps, while running 21 routes, and drawing six carries and six targets. He's a top play.
With Le'Veon Bell out, Ty Montgomery should see a massive workload working with the first-string offense. He's seen an opportunity on 43% of his snaps this preseason. He's also reportedly been the MVP of Jets training camp, and has good pass-catching upside.
Tony Pollard played on 13 of the team's 13 first-string snaps last week. He's been lights-out all preseason, turning 10 opportunities into 67 yards and a touchdown. With Dallas' starters getting extended playing time this week, he's again a top play this week.
Justice Hill has played on 45 snaps this preseason, totaling 22 touches for 98 yards and a score. He's also forced a missed tackle on a whopping 45% of his touches. With Kenneth Dixon and Gus Edwards banged up, we should yet again expect a massive workload for Hill.
On Sunday, Geoff Hobson quoted Bengals HC Zac Taylor as saying, "We look forward to Joe [Mixon] and Giovani [Bernard] getting a great amount of carries and seeing what this offense looks like with those guys." That makes both of them top plays.
Josh Jacobs and David Johnson played on at least 95% of their team's first-team snaps last week. Depending on news later in the week (how much we should expect the first-string offense to play), both seem like great plays.
Alvin Kamara, even on only 10-15 snaps, is always in play. The same can be said for Christian McCaffrey, though I know the team wants to see what they have in Jordan Scarlett and Elijah Holyfield. Similarly, Kalen Ballage is intriguing with Kenyan Drake out, though the team might be wary of playing him too much after losing Drake.
Wide receivers
Many of the top wideouts of the quarterbacks we discussed earlier (Tyreek Hill, Michael Thomas, Adam Thielen, etc.) are all great plays. As are some other names, like Tyler Lockett who has been targeted on four of Russell Wilson's nine attempts this preseason. Beyond that, I'm mostly just looking at players with less name-brand appeal.
Preston Williams has been the MVP of Miami training camp and is legitimately playing for a first-string job. He could end up playing with both the first- and second-string offense, like he did last week, drawing six targets on 31 snaps.
Similarly, Miles Boykin has been called the "most impressive receiver" at Baltimore's training camp. Last week, he played on 20 of 22 snaps with the first-string offense, and then played an additional 11 snaps with the second-string. He should see a big workload again this week.
Jay Gruden said we should expect the starters to play 1.5-2 quarters on Thursday. My favorite play on the team is Terry McLaurin — a camp standout who could end up playing into the second half.
Williams ranks second (208) and JJ Arcega-Whiteside sixth in total air yards this preseason (181). Arcega-Whiteside hasn't done much on this volume, but (like Williams) has come inches away from making some really big plays. He's a personal favorite of mine, and could swing tournaments this week with only a bit more luck.
Tight ends
Tanner Hudson is top play — playing 102 snaps this preseason (most), while drawing 15 targets (most), and turning that into 13 receptions (most), 177 yards (most), and two touchdowns (most). We're not expected to see much from Tampa Bay's starters this week.
Similarly, Irv Smith Jr. is another great bet on volume and talent, seeing 11 targets this preseason (second-most) and turning that into eight catches (second-most) for 49 yards and a score.
Last week, with the first-string offense, we saw high snap shares for Darren Waller (six of six), Hunter Henry (20 of 21), and Jared Cook (18 of 24). All three seem like terrific plays this week.
Dallas Goedert is unlikely to play and we shouldn't expect to see much of Zach Ertz (if at all). This leaves us with Joshua Perkins, who saw 39 snaps (third-most) last week.
Drew Sample ranks fifth in snaps (69) this preseason. He's a fine play after finding the end zone for us last week.