In any fantasy draft, there will be players picked before they need to be. Each time that happens, quality players get pushed down the draft board for knowledgable drafters to scoop up. 
The opposite is also true: There are players in every round of drafts whose ADPs are lower than they should be. Identifying these players is crucial to securing value throughout fantasy drafts. These could be veterans written off too early, players returning from injury or young guys flying under the radar. 
Subscribe to PFF's EDGE or ELITE subscriptions to get access to the following tools, charts, etc. 
– All Premium Article Content
– Fantasy Football Rankings & Projections
– Fantasy Football Draft Guide, Cheat Sheets & Advanced Stats
– Fantasy Football Mock Draft Tool (DraftMaster)
– Fantasy Football Strength of Schedule Matrix
– NFL Player Grades
– NFL Premium Stats
Using my personal rankings, the PFF consensus rankings and PFF projections, I've found players worth targeting in every round who are undervalued. ADPs are from BestBall10s in August. The list starts with Round 2 since few first-round picks are relative deals. 
Round 2: WR Julio Jones | ADP: 2.05 
Thirteen of the first 16 picks by ADP are running backs, leaving a number of elite wide receivers available in the middle of the second round. The surest bet to be a bargain is Julio Jones. He's been incredibly consistent over the past six years and by our projections is expected to be the second-best wide receiver again by a fair margin.
The only reason to be concerned is Calvin Ridley taking too many targets. Last year in the games that both wide receivers played in, Jones had 105 targets to Ridley's 81 despite Jones running fewer routes in that time. Even if Ridley takes a lot of targets, it's unlikely Hayden Hurst sees as many targets as Austin Hooper did. Russell Gage is still their third receiver, so it's certainly possible Atlanta can maintain two elite fantasy wide receivers. It would either take an injury or Jones' play falling off greatly for him not to finish as a WR1. The running backs being drafted a little before Jones are far less likely to earn RB1 status.
Julio Jones PPR finishes by year
| | |
| --- | --- |
| 2014 | 6 |
| 2015 | 2 |
| 2016 | 6 |
| 2017 | 7 |
| 2018 | 2 |
| 2019 | 2 |
Round 3: WR D.J. Moore | ADP: 3.06
If there is one round where it's hard to find a bargain, it's the third. The exception is D.J. Moore, who for the second-straight year ends up in this article. Last season, Moore put up 15.5 fantasy points per game, which was 14th among wide receivers. There are several reasons he can top that. He had over 1,000 yards and over 60 catches at age 22 — something that only 20 wide receivers in the history of the NFL have done. We likely haven't seen his peak.
Moore should have more accurate passes thrown his way — 24.6% of Panthers passes were uncatachable, which was the fourth-worst rate for a team. New Panthers quarterback Teddy Bridgewater's rate was 15.3%, fourth-best for quarterbacks. Moore saw 31 red zone targets but only converted three into touchdowns. The red zone targets should remain, but the conversion rate should regress to the mean, leading to more touchdowns. With better throws coming his way and more touchdowns, he should be a WR1.
Bell finished as the RB16 last year but has fallen to RB21 in drafts this year. He finished that high despite running behind a bad offensive line — the team finished with a 47.1 run-blocking grade, which was third-worst in the league. Bell saw only 0.55 yards before contact per carry — the worst among backs with at least 75 carries. He should be running behind a better offensive line in 2020.
The Jets spent the 11th overall pick on Mekhi Becton, who should be an immediate upgrade in run blocking at left tackle. New center Connor McGovern had a higher run-blocking grade than any offensive linemen on the team last year, and there are new starters at the other three positions as well. Even if Bell loses some carries to Frank Gore and a few targets to Lamical Perine, he should be more efficient with his opportunities to make up for it. Bell might never be the player he once was, but opportunity is king and Bell will continue to get the most opportunities on the team. During a time when half the league either has a running back competition or a clear committee, Bell should remain a high-end RB2.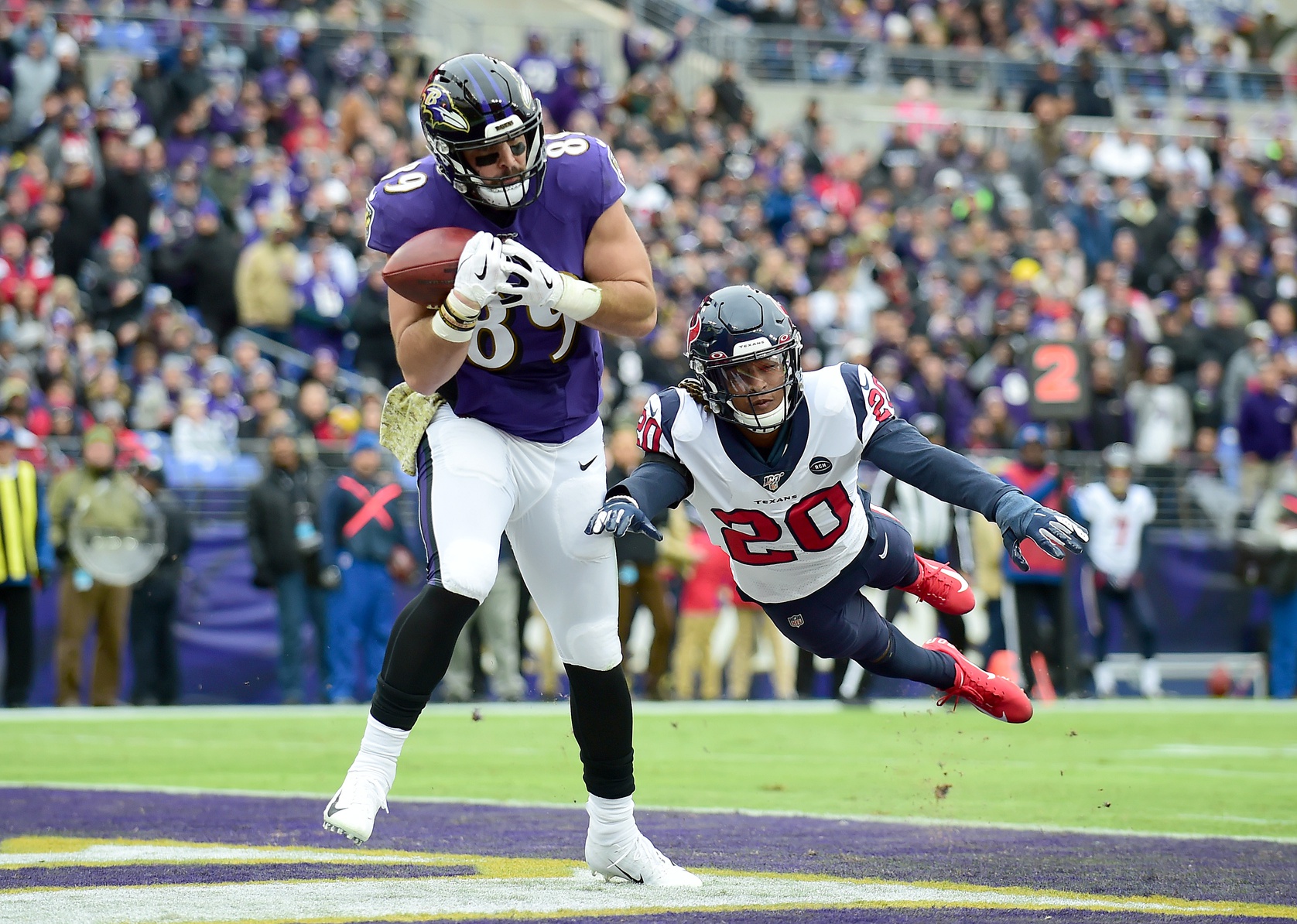 Among PFF's five fantasy rankers, I'm the lowest on Mark Andrews, but even I believe he should be picked before the fifth round. Andrews is a consensus top-three tight end in our rankings, with the other two tight ends typically going in the second round. Last year, Andrews put up 0.46 fantasy points per snap, which was 0.13 more than any other tight end. But he only played 457 snaps — the 39th most for a tight end, tied with former teammate Hayden Hurst. With Hurst now in Atlanta, that is 457 snaps to be distributed among Andrews and teammate Nick Boyle. 
Andrews has also played as well as any tight end we've seen in the first two years of his career. Others who have looked that good went on to have elite fantasy seasons. With only a year of high-end output under his belt, the gap between Andrews and Kelce/Kittle is understandable. But if history is any indication, he could soon join those two in the conversation for best tight end in the league.
Most YPRR in first two seasons (2006-2019)
| | |
| --- | --- |
| Mark Andrews | 2.40 |
| Jimmy Graham | 2.33 |
| Jermichael Finley | 2.31 |
| Rob Gronkowski | 2.26 |
| Travis Kelce | 2.22 |
| George Kittle | 2.14 |
Round 6: WR Tyler Boyd | ADP: 6.10
Tyler Boyd came in at WR17 in 2019 but is currently being drafted at WR32. The obvious concern with Boyd is the return of A.J. Green, who is also an undervalued wide receiver in the sixth round of drafts. In 2018, when A.J. Green was healthy, Boyd still had a 21.5% target share; in 2019 that increased to 24.4%. With Green back, Boyd should see a decrease in target share, but only slightly.
Joe Burrow and LSU threw to wide receivers in the slot 212 times last year, which was second-most among all Power-5 schools. They threw to outside wide receivers 179 times — 17th most. Boyd's target share in the slot should be safe. Plus, Burrow should also be putting Boyd in better position to succeed than the Bengals quarterbacks last year. Both Boyd and Green are likely have strong seasons.
Typically, the place to find value at quarterback is later on in the draft, but right now Watson is a value compared to where he is getting picked. Five quarterbacks are currently being picked before him. With 22.1 fantasy points per game last season, he was the third-best quarterback on a per-game basis behind only Lamar Jackson and Matthew Stafford, who played in only eight games. 
The obvious concern is the loss of DeAndre Hopkins, but he still has four veteran options at wide receiver who have all been very successful at various times in their careers. He has two of the best receiving backs in the league. Even without the clear top receiving option, Watson will be able to spread the ball around. At this point, Watson is a proven top-10 quarterback on a clear pass-first team. His rushing ability also adds to his floor — Watson's 413 rushing yards was fourth-most for quarterbacks, and his seven touchdowns tied for second. That combination still adds up to at least a top-10 fantasy QB, if not top-five.
Jamison Crowder had a slow start to his time with the Jets, partly because of Sam Darnold's absence. Once Darnold returned in Week 6, Crowder operated at WR15 through the end of the season. His ADP has been around WR42 even though not much has changed for Crowder between the end of the season and now. 
Crowder will have the same role in the offense with the same quarterback and coaching staff. The Jets replaced Robby Anderson with Breshad Perriman and drafted Denzel Mims to take the other outside receiving spot, but none of that should have a big impact on Crowder's targets. Our projections have him at 119 targets, which is 17th-most. If Darnold doesn't improve his production, then it's unlikely Crowder will finish as the 17th-best fantasy wide receiver, but he should still beat his ADP by at least a round. If Darnold improves and starts to live up to his draft pedigree, Crowder could be the steal of the draft.
In 2019, Latavius Murray was the RB28 playing a complementary role to Alvin Kamara. While the Saints added Ty Montgomery in free agency, this shouldn't have any impact on Murray's role. Murray played more often than Kamara in both 12 and 21 personnel in games in which both were active. Murray's rank is misleading because the majority of his production came in Week 17 and during the two weeks when Kamara didn't play. That lowers his fantasy value a bit, but there is reason to believe Murray will see more chances to produce.
In 2019, the Saints were below average in fourth-quarter carries, which is odd for a team with so many wins. In 2018, they led the league in fourth-quarter runs — if this team is as good as we expect, there should be more carries for both Murray and Kamara late in games. There should also be more red zone opportunities. The Saints only ran with a running back six times when they had 3 yards or fewer to go for a touchdown, which was the second-lowest rate in the league. The year before? They led the NFL with 21. Both Kamara and Murray should have more goal line opportunities and more touchdowns.
Murray also has a huge upside if Kamara misses time. He saw 48 carries in two games without Kamara last year. Murray is one of the few running backs who would be a RB1 if the starter were to get hurt, according to our handcuff index.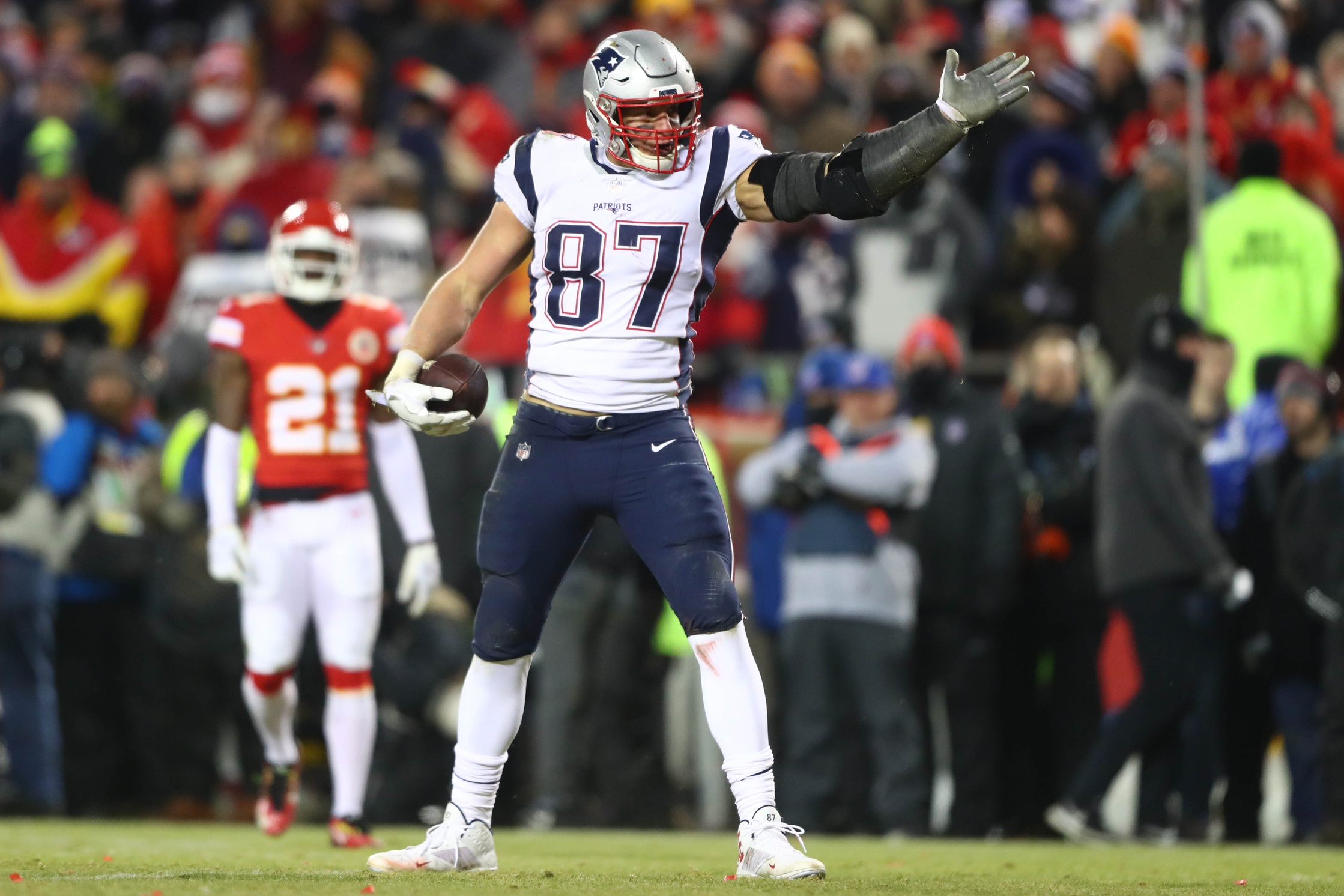 At this point of the draft you're gambling on players, so why not gamble on the greatest tight end ever to play? The last time we saw a healthy Rob Gronkowski was 2017 when he had the second-most fantasy points for a tight end and the most receiving yards. In 2018 while battling both back and ankle injuries, Gronkowski still managed to be a TE1. With a year off to get healthy, there is a chance we'll see Gronkowski back to his 2017 form. 
On one hand, having Chris Godwin and Mike Evans means Gronkowski might not see the same amount of targets he is used to. It also means for the first time in several years that he won't be the player defenses try hardest to stop. After the first few tiers of tight ends are drafted, you're unlikely to find someone with top-TE potential. Gronkowski has the best chance out of the group. In the 10th round, that's a risk worth taking. 
It's not often you can find someone this late in the draft who could lead his team in targets. Shepard just barely led the Giants in targets in 2019, but if you look only at the six games when Shepard, Golden Tate and Darius Slayton were all healthy, Shepard had a clear lead. He was also the highest-graded receiver of the three on the season.
Shepard has gone 13 straight games with at least six targets and is coming off a career year in terms of PFF grade. Over the last six weeks of the season after returning from a concussion, he was WR23. Daniel Jones had a 54.6% accuracy percentage last year, which was fourth-worst among starters. If Jones can improve, Shepard can do more with his targets than he did last year. Where Shepard is getting drafted now is his floor if he stays healthy. If Jones improves, then Shepard at this point is a big bargain.
Targets in six games NYG receivers were all healthy
| | |
| --- | --- |
| Sterling Shepard | 52 |
| Golden Tate | 39 |
| Kaden Smith | 33 |
| Darius Slayton | 33 |
| Saquon Barkley | 20 |
Preston Williams went undrafted in 2019 but managed to be a Week 1 starter. By Week 2, he had the second-most routes run by a Dolphins WR, and by Week 3 he had the most snaps. He continued to be the clear top receiver until tearing his ACL in Week 9. 
The Dolphins didn't add a wide receiver in free agency or the draft and have seen both Allen Hurns and Albert Wilson opt out for the season. Williams is reportedly ahead of schedule, and the No. 2 receiver spot in Miami should be his without question. In those first nine weeks, Williams had more targets, receptions and yards than DeVante Parker. He should see more playing time than last year with less depth on the roster. He doesn't have a big name and the Dolphins aren't getting a lot of buzz, but Williams should be getting drafted a few rounds earlier than this.
Round 13: QB Cam Newton | ADP: 13.03 
Cam Newton is a great high-risk, high-reward quarterback pick this late in the draft. He's typically the 17th QB off the board, but he is so much more accomplished than any of the fantasy quarterbacks being drafted as backups. 
In half of the seasons this past decade, Newton has been a top-five fantasy quarterback. In the years he hasn't been, he's been right in the middle of the pack, which is where he's being drafted now. He has the upside to get there again but the downside of potentially not even starting. He's very likely to earn the starting gig, though, and his rushing will provide a high floor. Over the last four seasons, Newton has 1,593 rushing yards — second-most behind Lamar Jackson. That's despite playing in only two games last year.
Top-five fantasy finishes by QBs this decade
| | |
| --- | --- |
| Tom Brady | 5 |
| Drew Brees | 5 |
| Cam Newton | 5 |
| Russell Wilson | 4 |
| Andrew Luck | 3 |
| Peyton Manning | 3 |
Like several players on the second half of this list, Herndon missed significant time last year, which makes it easy to forget what he has accomplished. There are a number of tight ends who were rookies last year being drafted late, but Herndon looked better in his 2018 rookie campaign than anyone in the 2019 rookie class. 
Over the past two years, only Noah Fant, Mark Andrews and Herndon amassed over 500 receiving yards as a rookie. Herndon had a higher receiving grade, more touchdowns and a higher yards per route run compared to Fant. There are plenty of tight ends who can have a breakout year — Herndon is just as likely, if not more likely, than the rest of the breakout potential players. And he can be drafted later.
Round 15: RB Darrynton Evans | Current ADP: 15.09 
At this point of the draft, the goal is to get someone who has a small chance to do very well rather than players who have a good chance to be OK. Evans isn't expected to have a big role in Tennessee, but if something were to happen to Derrick Henry, Evans would be the every-down back. Henry has the third-most carries (694) over the last three years. That much work isn't sustainable. 
There isn't really much competition on the depth chart, and the Titans had the sixth-best run-blocking offensive line last year. We weren't that high on Evans in the draft, but opportunity is king. According to our handcuffs index, he would be a RB2 if he were to become a starter. Most running backs who have that upside as a starter are drafted by this point.
Chris Thompson operated as the receiving back in Washington under Jay Gruden for several years. Now Gruden is the offensive coordinator in Jacksonville, and he brought Thompson with him. After averaging over 40 catches in each of the last five seasons, it's easy to assume that Thompson has the receiving back role nailed down.
He's probably not startable in fantasy without at least some rushing workload, but if there's any team likely to part ways with a starting running back during the season, it's Jacksonville with Leonard Fournette. If that happens, Thompson could be the every-down back for the Jaguars.