Enough time has passed from the NFL draft to collect meaningful information on how the draft positions and landing spots for different prospects have affected ADPs of running backs and wide receivers in best ball leagues. In this article, I'm updating previous analyses that studied the relationship between NFL draft position and rookie ADPs, previously using expected draft positions and pre-draft ADPs. 
[Editor's note: Subscribe to PFF ELITE today to gain access to PFF's Premium Stats and new Player Grades experience in addition to the 2020 NFL Draft Guide, 2020 Fantasy Rookie Scouting Report, PFF Greenline, all of PFF's premium article content and more.]
There will always be disconnects between the fantasy world and "real" football value — some for understandable reasons, others not. A low-volume, field-stretching receiver will have more worth on NFL draft boards than fantasy leagues, whose drafters are concerned with individual stats and not affecting a defense. Even understanding those logical differences, there are often other, less-easily explained disagreements in valuation between the fantasy and draft communities that can tell us where a player is overvalued or undervalued by either party.
The relationship between fantasy ADP and reality draft position is fairly strong and linear. In this article, I'll walk through seven years of fantasy football historical data and build a valuation curve between the two. We can see when in the past fantasy drafters have been too low on a player who went earlier in the NFL Draft, and vice versa. Each can probably learn from the other, with NFL teams having more data and knowledge of prospects, and fantasy football leagues providing the wisdom of crowds combining thousands of individual opinions into one valuation.
RUNNING BACKS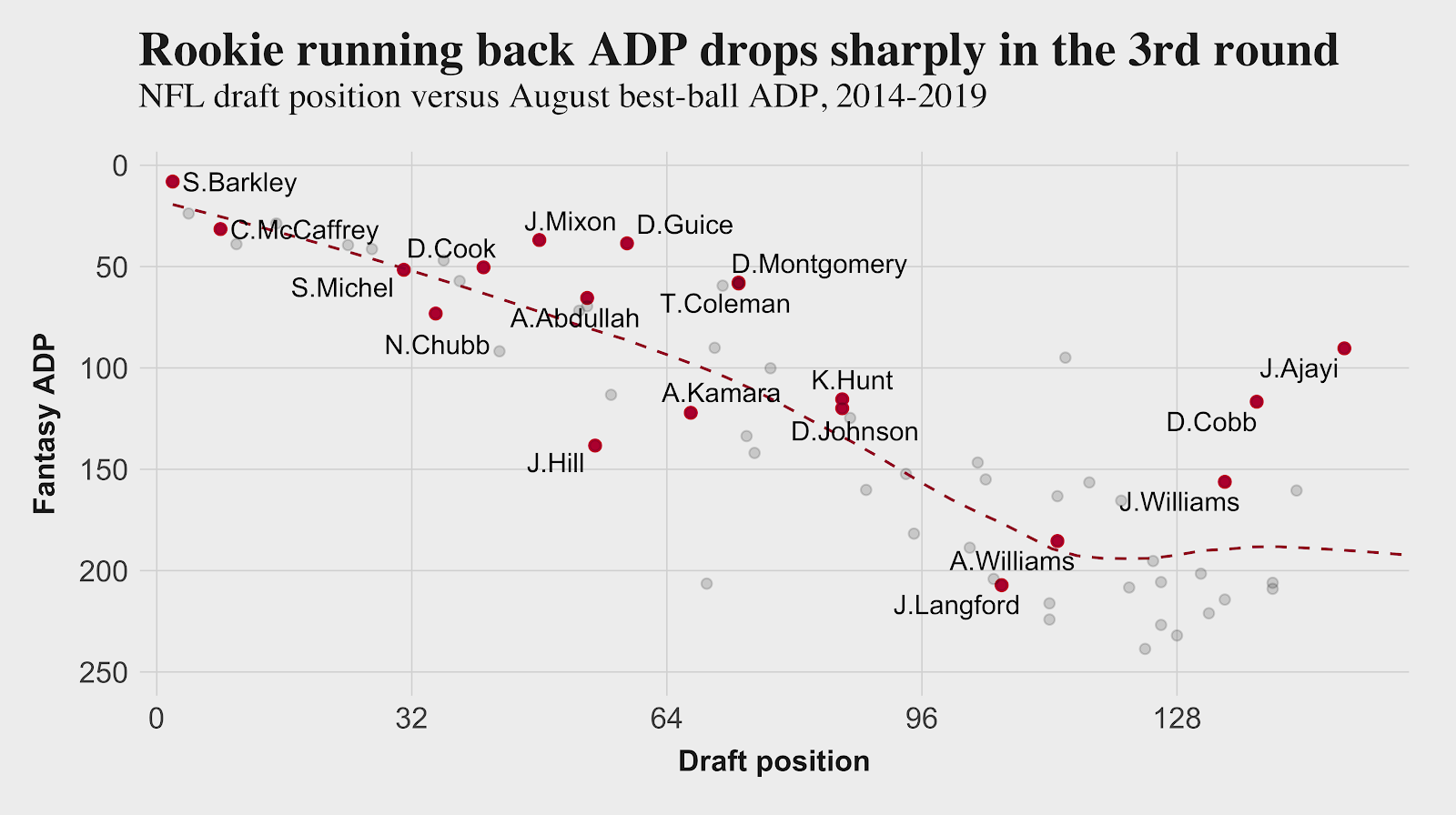 The historical curve for running back ADP vis-a-vis draft position shows a steady fall through the first two rounds, which then accelerates through the third round before flattening in the fourth round and beyond.
The 2020 class mostly falls above the trend line formed from May ADPs in previous years.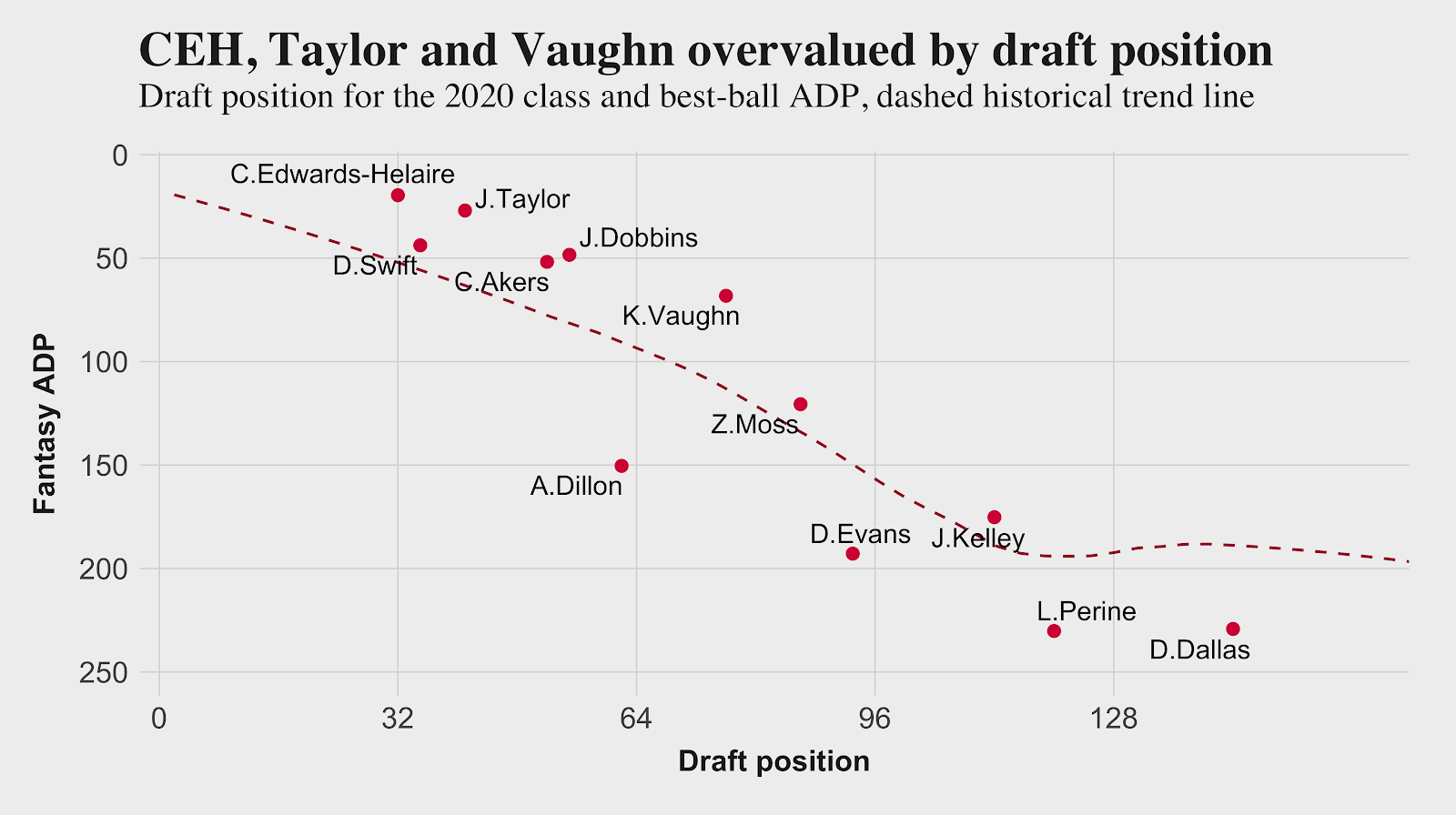 Clyde Edwards-Helaire, Jonathan Taylor and Ke'Shawn Vaughn each fell into landing spots with strong perceptions of opportunity, whereas believers in A.J. Dillon are hard to find despite being drafted in the second round and joining an Aaron Rodgers offense. You don't have to love the prospect to find value taking Dillon, who could ascend with hype in the offseason or injuries during the season to presumed lead back Aaron Jones.
D'Andre Swift doesn't look especially undervalued by draft position, but both are relatively compelling. Swift was the assumed first running back taken in the NFL draft beforehand and ended up only going a few spots into the second round. He joins Kerryon Johnson with the Detroit Lions, so the specter of a split backfield has caused an understandable lack of enthusiasm. Swift displayed the attributes of a three-down back in college and could ascend to that role in the NFL.
WIDE RECEIVERS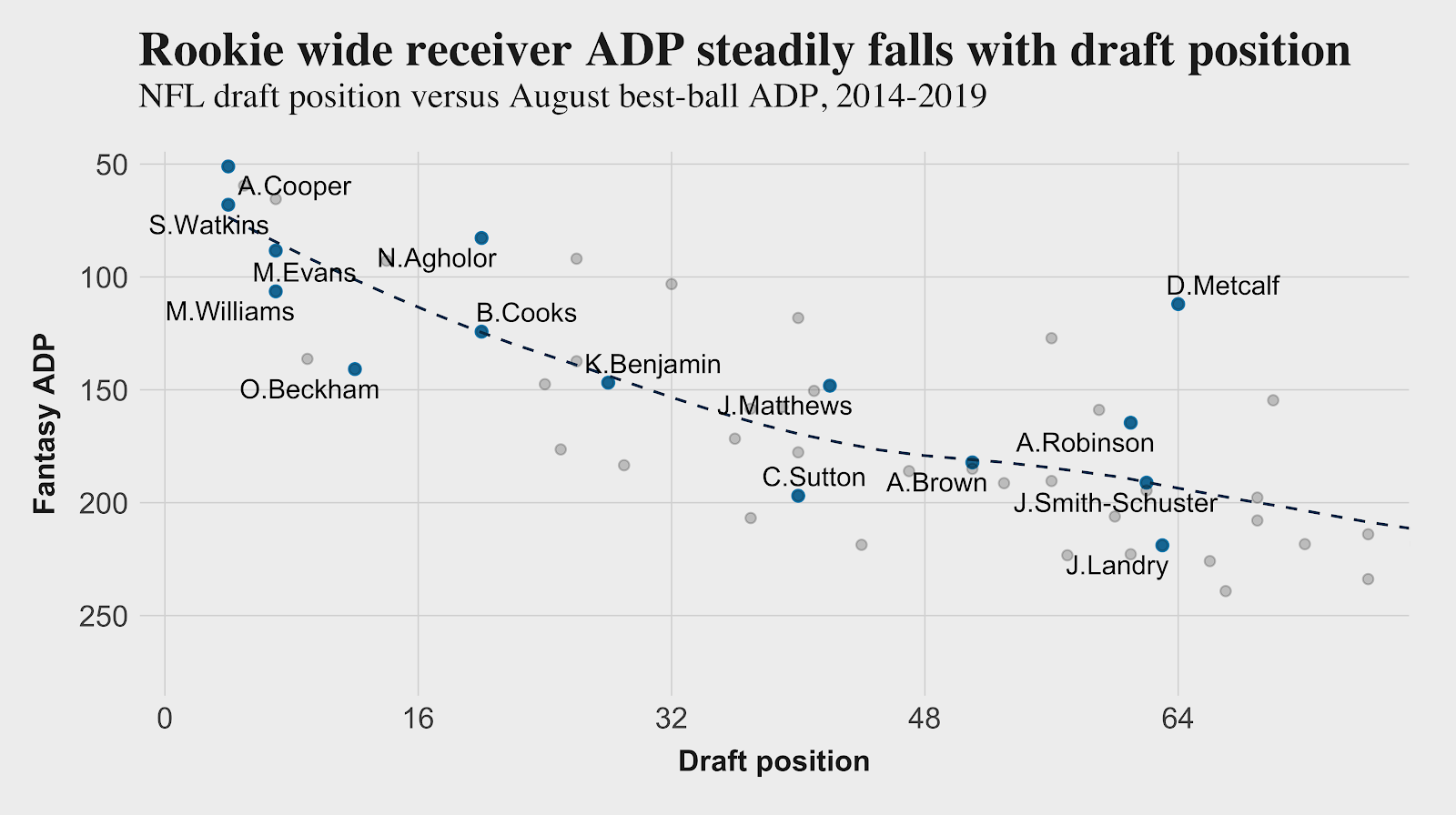 The historical trend line with draft position and ADP for wide receivers is a steadier fall through the middle of the second round, as the position makes less of an impact in the rookie season. Once you're into the second round, most rookie receivers are going close to the end of the 240-pick drafts.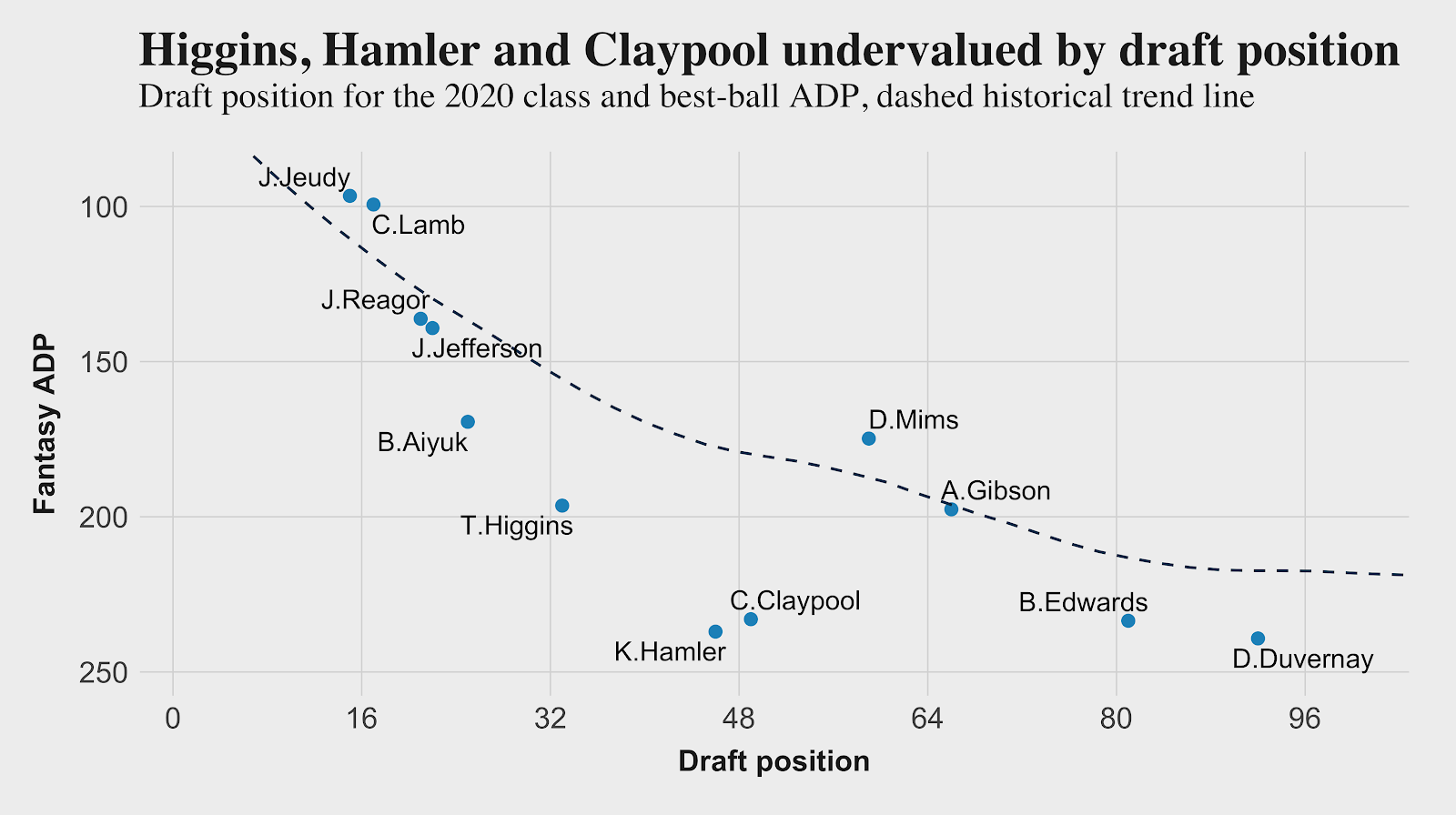 Most of the highly drafted rookie receivers are roughly in-line with the historical trend line. But Brandon Aiyuk hasn't earned the respect of fantasy drafters as he had with Kyle Shanahan and Co. in San Francisco. Tee Higgins is an even bigger value according to draft position, presumably because of the fear he'll be relegated to a distant WR2 in Cincinnati. Higgins checks a lot of boxes as an uber productive college producer and early declare. He didn't blow the door off with his Pro Day performance, but athleticism is normally overvalued for wide receivers. 
K.J. Hamler is getting less respect than Rodney Dangerfield after going earlier than expected in the first half of the second round. Joining Courtland Sutton and fellow rookie Jerry Jeudy isn't ideal, and neither is relying on an unpredictable leap from quarterback Drew Lock. Hamler showed game-breaking ability at Penn State, so investing tiny draft capital at the end of your best-ball roster could pay off come December.