Over the last eight years, eight different running backs have led the position in fantasy football scoring. Seven quarterbacks have led, and four wide receivers have. At tight end? There have only been three names atop the list: Rob Gronkowski, Jimmy Graham and Travis Kelce.
That's a good way of summing up a point I've made in offseasons past: Tight end is not a deep position, but its poor status has been amplified by Gronkowski and Graham (and now Kelce). In other words, if you take out just a couple of names, the position really didn't change much; it's just that the ceiling got raised. That changed somewhat in 2018, as the tight end position put up decade-low point totals for every spot from TE6 to TE20, but still, the higher ceiling has hurt the impressions of the position.
That means that Kelce is as much a favorite to lead the tight end position as any player is to lead any position. But there are no guarantees, so below we're taking a look at the players with the best shots at ending the 2019 season as the TE1. As a reminder, this isn't a look at the overall tight end rankings. Some players have a wide gap between ceiling and floor, meaning they might be lower in the overall rankings than they would be in this space. This is just a look at the candidates to be No. 1.
The prototype
Here's the average production from the No. 1 PPR tight ends over the last decade:
| | | | | |
| --- | --- | --- | --- | --- |
| Tgt | Rec | Yds | TD | Pts |
| 124.7 | 88.0 | 1143.1 | 10.6 | 266.7 |
Those averages aren't entirely fair, as the top producer at tight end has varied wildly. We've seen as few as 72 receptions (Gronkowski, 2015) to as many as 103 (Kelce last year). Kelce led with four touchdowns in 2016; Gronkowski led with 17 in 2011. Graham had 982 yards in 2012; Kelce had 1,336 in 2018. Even in total fantasy production, the range is huge — Kelce's 2016 featured 221.0 points; Gronkowski's 2011 featured 330.9. The only solid thing you need to look for out of a No. 1 tight end: He's almost certain to have at least 110 targets. Other than that, the range is just too wide.
The favorite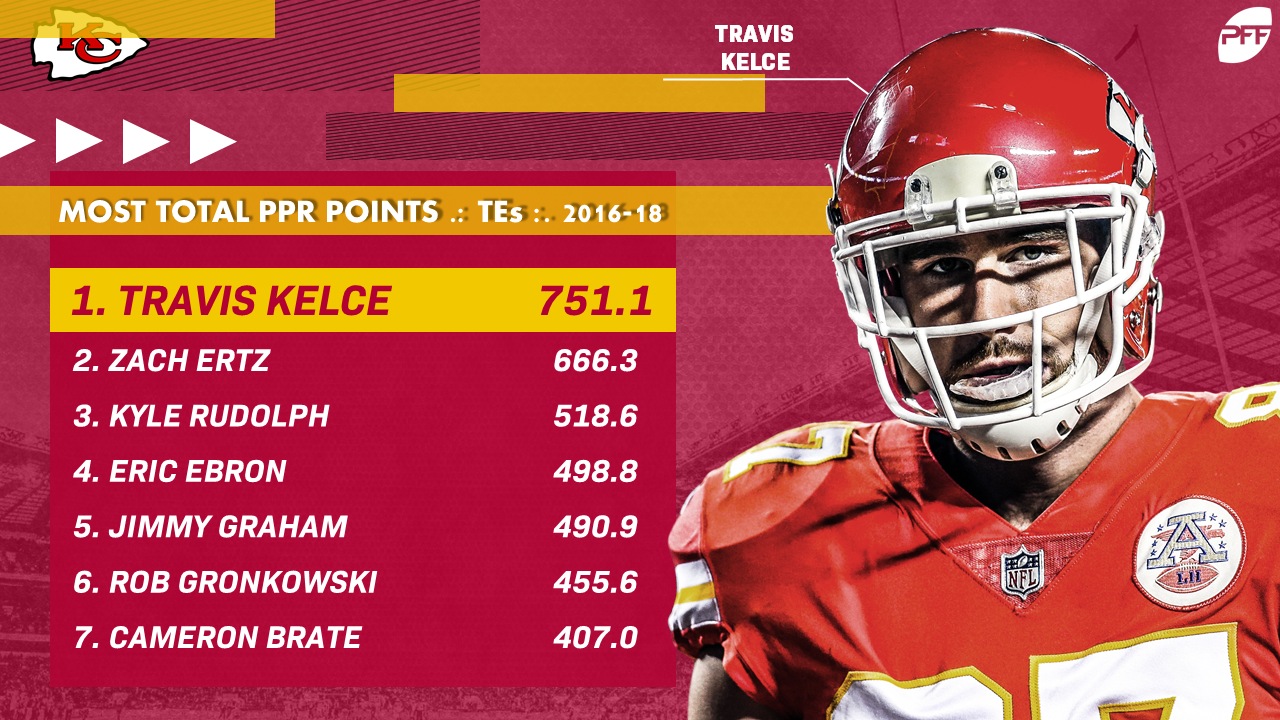 Kelce has nearly a 100-point lead over second-place Zach Ertz in PPR scoring over the last three years (751.1-666.3) and more than 200 over third-place Kyle Rudolph (518.6). He just had what would have been the all-time TE yardage record (1,336) if George Kittle hadn't beaten it by even more. He has 696 more yards than Ertz in that time despite only three more receptions. And the only game he's missed since an injury killed his 2013 rookie season was a meaningless Week 17 in 2017. You could ask for 2011 Rob Gronkowski out of your TE1, but in the world of the realistic, you can't want much more.
Why would he not make it? Particularly with the question marks surrounding Tyreek Hill's 2019 status, it's hard to construct much of an argument against Kelce being the No. 1 if he's healthy, other than "stuff happens sometimes." If you want to make the argument, and you're not citing injury, it starts with regression from Patrick Mahomes, a leap from another tight end, and Kelce — who is sneaky-old, inasmuch as he'll be older when Week 1 kicks off than Gronkowski was when he announced his retirement — hitting the aging wall (or cliff or choose-your-metaphor).
What are his chances? Excellent, obviously. I haven't seen anyone rank Kelce anywhere but No. 1 at the position yet this offseason, and I've seen arguments that he's far enough ahead of the field at the position that he could warrant a first-round fantasy pick.
The second tier
Ertz just had 15 more targets and 13 more receptions than Kelce last year, setting all-time tight end records in both numbers. That's his route to the No. 1 spot in 2019 — death by a thousand papercuts. Take out Ertz' 2013 rookie season, and his best yards-per-reception mark (12.1 yards in 2014) is worse than Kelce's worst (12.2 yards in 2015). Last year, they were three full yards apart (13.0 to 10.0).
What would have to happen? With Dallas Goedert having a year of seasoning under his belt and the Eagles drafting J.J. Arcega-Whiteside and Miles Sanders and trading for DeSean Jackson, this is a crowded offense. Ertz would need to hold off Goedert and hope the rest of the additions struggle to find their footing for him to top Kelce. He could also stand to bump up his touchdown percentage a bit — he scored on 7.8% of his targets in 2017, but otherwise hasn't topped 5.2% since his rookie year.
What are his chances? Honestly, they're slightly better than the preceding two paragraphs probably make it sad. That still doesn't make them great. If Ertz falls off by more than a handful of targets, his per-target numbers just aren't enough for them to get there. Still, if Kelce falters, he's right up there.
Spoiler alert: I have Kittle above Ertz in my season-long rankings. But if we're handicapping the chances for strictly the No. 1 finish, I'd probably give Ertz the slight edge, just because of the mouths to feed in San Francisco. Kittle was the only option to make it through the season healthy in 2018, meaning he more or less had to be fed. With Dante Pettis and Marquise Goodwin healthy, Deebo Samuel and Jalen Hurd drafted, and Tevin Coleman and (finally) Jerick McKinnon added to the backfield, Kittle won't be The Guy in 2019 like he was in 2018.
What would have to happen? At least some of the aforementioned pieces would need to falter in San Francisco. And a healthy Jimmy Garoppolo would have to display the same sort of connection with Kittle that Nick Mullens had down the stretch. All of that is doable. But no one would be surprised if we just saw Kittle's career year, and he was still 40 points off of first place.
What are his chances? About the same as those of Ertz. The 49ers do have a load of pieces, though Kittle is the only one remotely resembling a sure thing. And if the Garoppolo/Kyle Shanahan combo can both reach their ceilings, the offense could be stout. Still, it's hard to see Kittle making that much more of a leap.
The longer shots
It's not difficult at all to see Philip Rivers and the Chargers produce the No. 1 fantasy tight end; the man Henry is more-or-less replacing in Los Angeles, Antonio Gates, did so multiple times. Henry, returning in 2019 after an ACL tear cost him the entire 2018 regular season, was a great performer on a per-target basis in his first two seasons, and with Gates either gone or relegated to a full background role in 2019, the job is Henry's.
What would have to happen? Henry would just have to do what Gates did in his heyday. Of course, the word "just" is doing yeoman's work in that sentence, as Gates is a future Hall of Famer, and replicating that is a big ask. Not to mention the fact that the Chargers have in Keenan Allen and Mike Williams two bona fide high ceilings at receiver for the first time in a generation, and Henry might not offer Gates-level numbers.
What are his chances? It's easy to imagine the path to Henry being the No. 1. It's a lot harder to see it coming to fruition. If Henry shows he's healthy in 2019, he's about as safe a candidate to be a top-10 tight end outside of the top tier as there is, but to be the overall No. 1? That's harder.
Across the last two seasons, only the Eagles (with Ertz), the Chiefs (with Kelce), and the Colts (with Eric Ebron and Jack Doyle) have more teamwide PPR points from the tight end position than the Buccaneers, who have had Howard and Cameron Brate out there most of that time. Of course, the Buccaneers (498.5) are closer to the Panthers in 25th (300.1) in raw point total than they are to the Eagles (698.3), so saying they are in fourth is a bit misleading. Still, Howard's been very productive in the 24 games he has played, the first 24 games of his career.
What would have to happen? Howard would need to push Brate to the background once and for all, which had more or less happened prior to Howard's injury in 2018. And Howard would need to absorb a good chunk of the targets vacated by the departed DeSean Jackson and Adam Humphries.
What are his chances? I'm already on record as saying I prefer Howard to Henry in 2019 and that Howard is my biggest breakout pick for the year. So I like his chances at being a star tight end. That said, it's hard to envision him jumping up to those top three if they all stay healthy. Really, tight end feels like a battle for first and then a battle for fourth.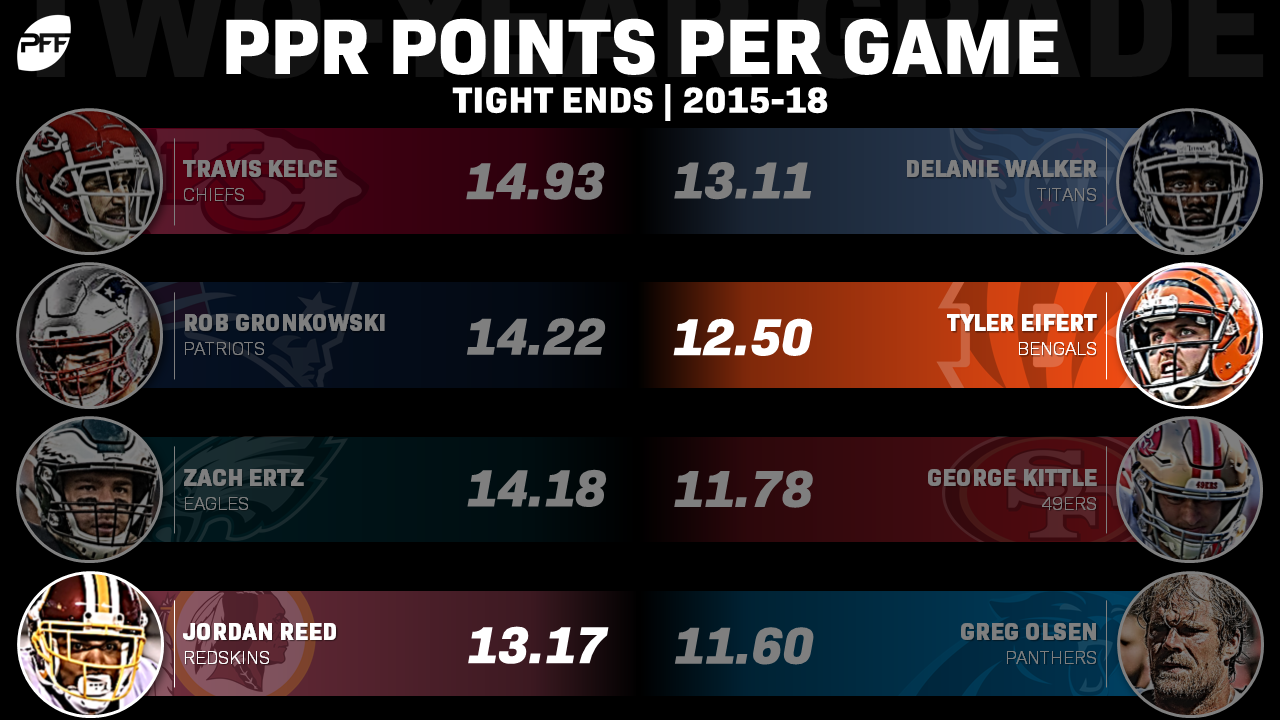 It's always health with these two. If you guaranteed every tight end would stay healthy for 16 games, they'd sit up near the top of the rankings every year. That you can't guarantee it is why they aren't ranked anywhere near this high in full-season rankings, but if we're just looking for a No. 1 contender, you have to consider them.
What would have to happen? Health. Better production than the last couple years would be nice as well, but really it begins and ends with the injury list.
What are their chances? That's for the training staffs to decide. But casting your lot with either guy is asking for a lot.
The top 20 tight ends on (very subjective) likelihood of finishing as TE1 only
(Quick caveat here: Getting to 20 tight ends with an actual shot at finishing as No. 1 is hard. Don't get mad at me if my No. 18 tight end isn't a realistic candidate. There are a lot of unrealistic candidates down there.)
1. Travis Kelce, Kansas City Chiefs
2. Zach Ertz, Philadelphia Eagles
3. George Kittle, San Francisco 49ers
4. Hunter Henry, Los Angeles Chargers
5. O.J. Howard, Tampa Bay Buccaneers
6. Jordan Reed, Washington
7. Tyler Eifert, Cincinnati Bengals
8. Eric Ebron, Indianapolis Colts
9. Evan Engram, New York Giants
10. Jared Cook, New Orleans Saints
11. Delanie Walker, Tennessee Titans
12. Trey Burton, Chicago Bears
13. David Njoku, Cleveland Browns
14. Jimmy Graham, Green Bay Packers
15. Greg Olsen, Carolina Panthers
16. Vance McDonald, Pittsburgh Steelers
17. Austin Seferian-Jenkins, New England Patriots
18. Chris Herndon, New York Jets
19. Jack Doyle, Indianapolis Colts
20. Noah Fant, Denver Broncos