In fantasy football, performance levels can change from the first half of the season to the second for any number of reasons, but the most notable one is of course playing time.
For example, the biggest climber in PPR points per game from the first half (Weeks 1-8) to the second (Weeks 9-17) of 2018 was Damien Williams who, obviously, went from a little-used bench player to a full-time starter and saw his PPG rise from 0.7 to 19.1. The biggest faller was A.J. Green, whose fall from 18.7 to 1.7 was a testament to playing 441 first-half snaps and 17 in the second half.
Those players' splits don't need much analysis — when Green and Williams played, they performed; when they didn't, they didn't. But for some other players, the reason for gaps between halves is less obvious and warrants some attention. Below, we're looking at some of the most notable names with distinct first-/second-half splits in 2018.
Big risers
First half: 11.6 fantasy points per game
Second half: 25.4
Difference: +13.8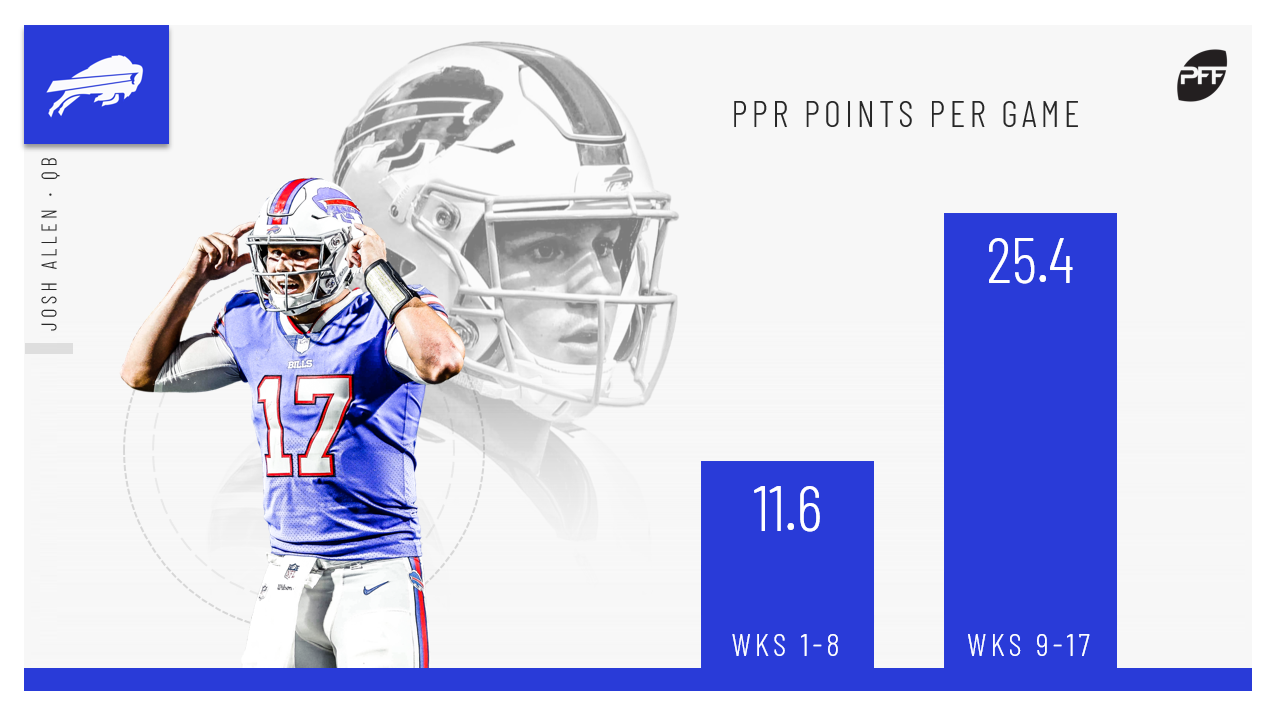 The biggest difference between halves for Allen was his rushing, both on designed runs and on his willingness to scramble. He played six games in Weeks 1-8, averaging 3.0 designed runs and 2.8 scrambles per game. He also played six games in Weeks 9-17, and the respective averages rose to 4.0 and 5.0. His PFF rushing grade was 58.0 in the first half, 90.3 in the second. If Allen can run in 2019 like he did down the stretch in 2018, he'll be a big fantasy contributor again. But I have my doubts about that.
First half: 6.3
Second half: 17.6
Difference: +11.3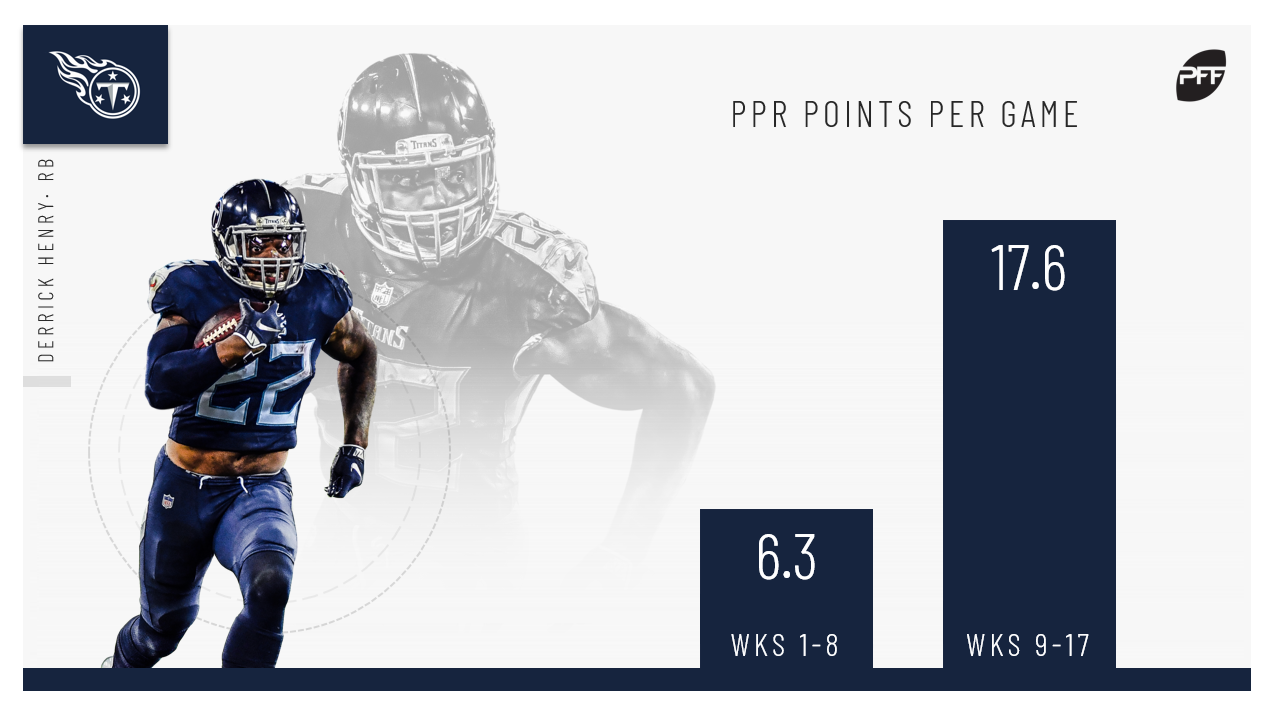 Henry was one of the most notable second-half producers last year. He topped 25 snaps in a game twice before Week 12, then did so in five of the last six weeks. And the one week he didn't top 25 snaps in that stretch was the Week 14 game when he had 238 yards against the Jaguars.
First half: 19.2
Second half: 27.7
Difference: +8.5
McCaffrey had a very good first half of the season. Through eight weeks, he had 134.3 PPR points, 5.9 more than Ezekiel Elliott, but good only for ninth place among running backs. Down the stretch, though, he turned the switch all the way up, putting up 248.9 points from Week 9 to 17, 46.2 better than Elliott and first overall by a wide margin (including leading the league in six different four-week chunks). He had a 72.5 overall PFF grade in Weeks 1-8 (21st among qualifying running backs), then an 82.5 grade in the second half, sixth-best. He did all that despite barely increased his overall opportunity (20.4 targets plus carries per game in Weeks 1-8, 22.0 in Weeks 9-17. He was just much more efficient down the stretch.
First half: 8.1
Second half: 14.6
Difference: +6.5
As the No. 4 receiver in an offense (and No. 5 if you include tight ends), you could do way worse than Humphries' first half. He had 27 receptions and 296 yards — not numbers that will excite you by any means, but for a guy that low on the pecking order, perfectly fine. For fantasy, though, he was only WR68. He had outscored Amari Cooper, but then Cooper had played one fewer game and been dumped by the team he had started with. He was behind Antonio Callaway, Ryan Grant, and Chester Rogers, to pick some names out. In the second half? His playing time actually went down (though negligibly, from 49.3 offensive snaps per game to 48.4), but his production jumped up, with 49 receptions, 520 yards, and the only 5 touchdowns he had all season. If the second-half Humphries is who the Titans got in free agency, they'll be in business.
Big fallers
First half: 25.5
Second half: 12.9
Difference: -12.6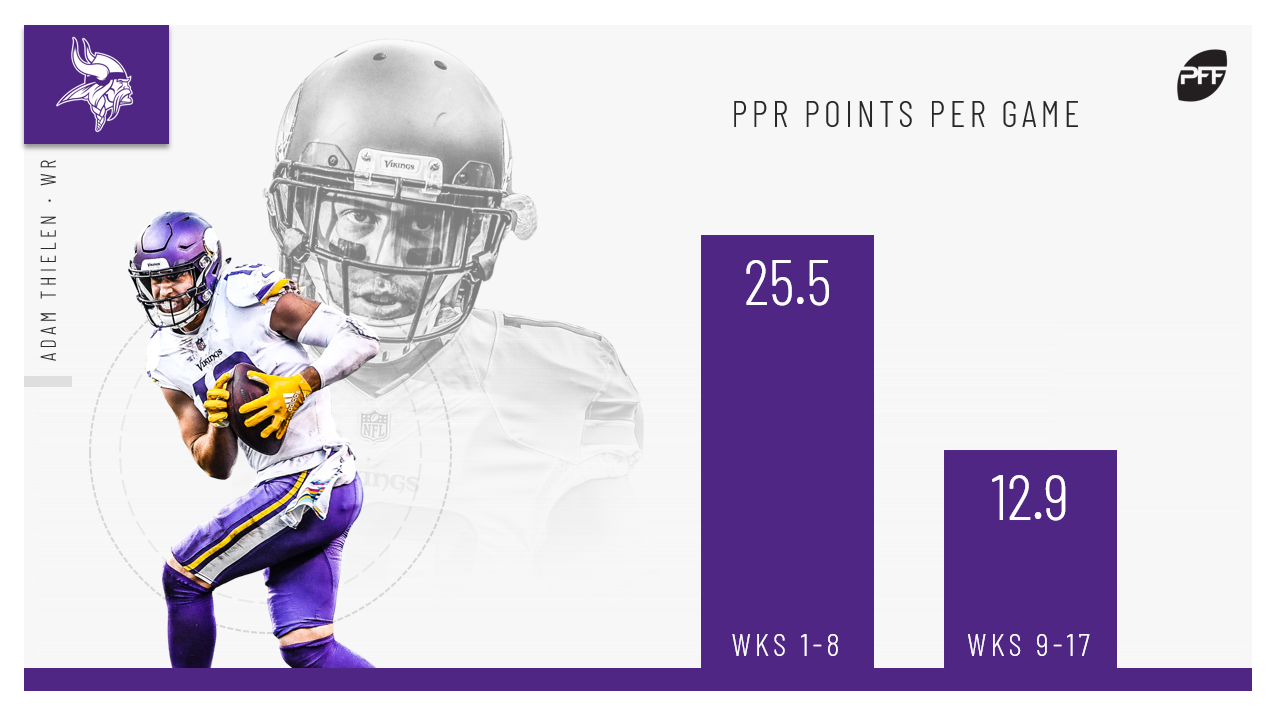 Thielen went from a record-setting pace in the first half to outside the top-25 PPR receivers (WR26) in the second. He was outscored by, among others, Zay Jones, Mohamed Sanu, and Curtis Samuel. Notably, he lost work to Stefon Diggs. Through Week 8, Thielen averaged 11.9 targets per game compared to 9.8 for Diggs. After that, the balance basically flipped — Diggs averaged 9.0 targets, Thielen 6.8. And the astute reader out there will notice that the overall numbers went down by a lot. The Vikings dedicated themselves to the run much more in the second half of the season. That might be cause for concern in Thielen in specific and the Vikings' pass offense in general in 2019.
First half: 14.3
Second half: 3.7
Difference: -10.5
Nobody liked the change from Joe Flacco to Lamar Jackson as the Ravens quarterback less than Brown's fantasy owners. He averaged 7.0 targets, 3.9 receptions, and 73.3 yards in the first half of the season, then 4.4, 1.4, and 16.1, respectively in the second half. Brown wasn't even in the top-100 of PPR receivers after Week 8. His production with the throw-it-more Flacco shows that he isn't a total waste, though, and could be a positive sign for his fantasy potential now that he's with Buffalo.
First half: 16.8
Second half: 6.8
Difference: -10.0
Jackson accumulated 35.5% (275 of 774) of his receiving yards and 75% (3 of 4) of his touchdowns just in the season's first two games. He topped 100 yards three times in the first four weeks, then didn't top 70 after Week 6. He had 180 yards across five games after Week 8, and the mutual souring on his Tampa Bay tenure led to his offseason trade back to Philadelphia. There are reasons to believe in Jackson back with the Eagles, particularly as a deep ball option, but it is also worth noting that he's 32 now and has only had one thousand-yard year and no seasons with more than 4 touchdowns since 2014.
First half: 18.7
Second half: 11.2
Difference: -7.5
Stafford wasn't good for any real stretch of 2018, but he was the QB17 through the first half, with 13 touchdowns against 2 interceptions. In the second half? With Golden Tate shipped off to Philadelphia and Marvin Jones on IR, Stafford was QB25 and had a 7:5 TD:INT ratio. Jones is back for 2019, but there's no replacement for Tate, and the team appears to have rededicated itself to the run. Steer clear of Stafford.