It's not the be-all end-all, but if all you looked for in a quarterback is how often he's likely to be pressured, you're likely to stumble into some level of fantasy football success. Leaguewide, the passer rating when kept clean was 103.0; when pressured, it dropped to 67.3.
Obviously, players can succeed even when pressured a lot — Deshaun Watson was the most-pressured quarterback in the league (min. 250 dropbacks) and still finished as fantasy's QB4. A big chunk of his scoring came on the ground, though, and he had a 9:5 TD:INT ratio when pressured versus 17:4 when kept clean. Watson was great either way, but he'd have likely been even better with a better offensive line.
So let's take a quick look at the five quarterbacks who were pressured most often in 2018, what their teams have done this offseason, and whether their situations might improve in 2019.
(Obviously, significant changes in the draft and/or further veteran moves could change things here, but the opportunity for change lessens every day.)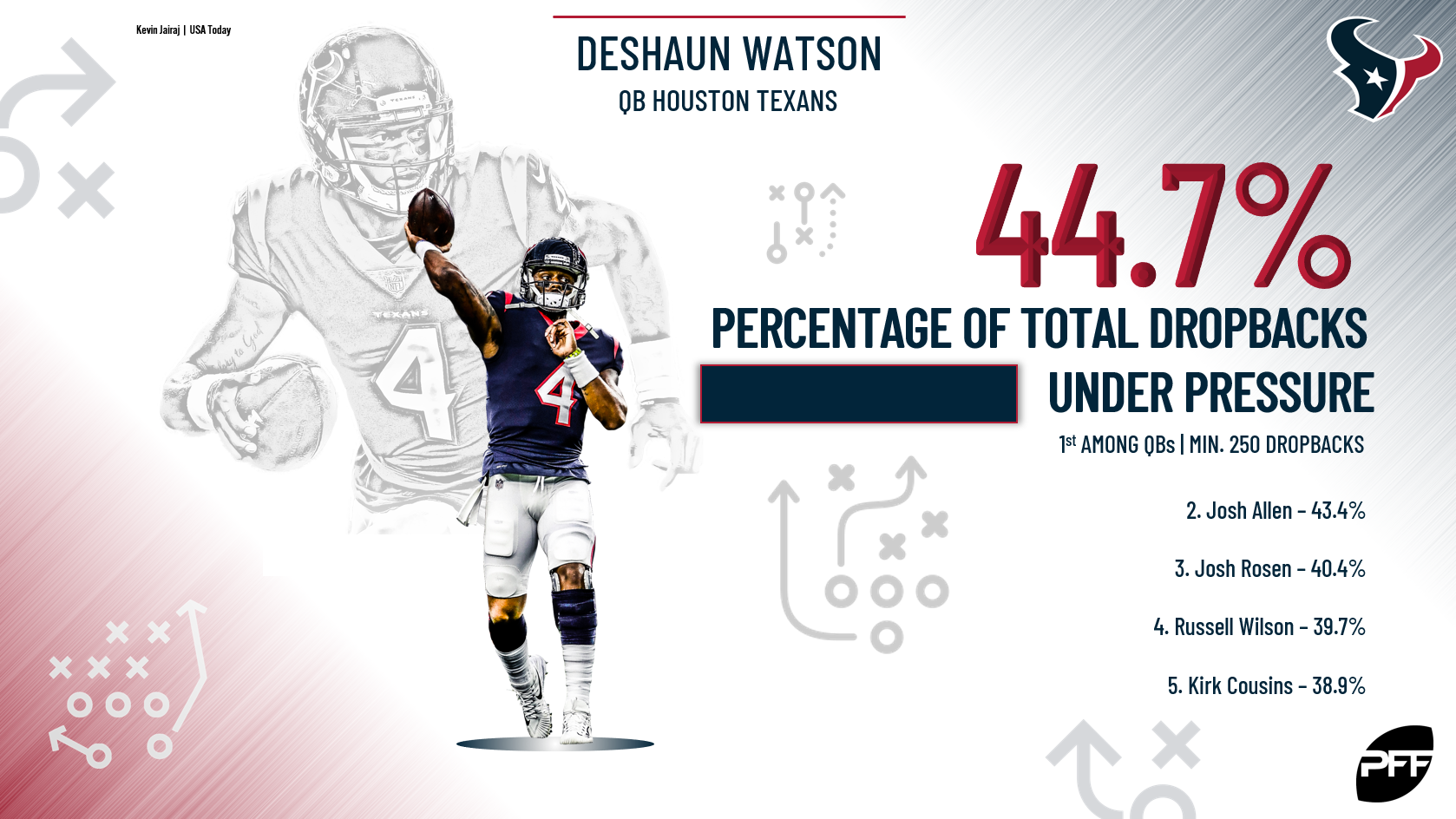 Pressured on 281 of 628 dropbacks, 44.7%
No quarterback with at least 200 dropbacks was pressured more often than Watson last year or in 2017. The Texans just haven't done him a lot of favors from an offensive line standpoint.
Offseason O-line moves pre-draft: The only offensive lineman of note the Texans have brought in so far is Matt Kalil, who missed all of 2018 and essentially all of 2016, putting up a below-average 62.4 overall grade in between in 2017. They did add TE Darren Fells, a competent blocker at a position where the Texans had subpar blocking in 2018.
What it means for Watson: Fells is a good thing, but the tight end can only do so much to improve a below-average blocking unit. Watson is fast and talented … and he'll still have to be.
Pressured on 172 of 396 dropbacks, 43.4%
Allen didn't do much as a passer no matter how much pressure he did or didn't face — he had a 47.4 passer rating when pressured, but it only climbed to 79.8 when kept clean, lowest in the league among 39 qualified quarterbacks. His benefit came when getting pressured forced him to scramble — 508 of Allen's 631 rushing yards came on scrambles.
Offseason O-line moves pre-draft: A bunch. The Bills have brought in offensive linemen Mitch Morse, Spencer Long, Ty Nsekhe, LaAdrian Waddle, and Jon Feliciano, and also signed Tyler Kroft at tight end, who was a bad blocker in five games in 2018 but has been better at the job in the past. That's all in addition to Frank Gore, John Brown, and Cole Beasley as offensive weapons.
What it means for Allen: Could be bad, actually! Strictly as a passer, Allen posted only a 58.0 PFF grade in 2018 (33rd of 39 qualifying QBs), compared to an 81.4 grade as a rusher. If the revamped line protects him better and forces him to throw, we could see Allen's warts as a passer exposed.
Pressured on 183 of 453 dropbacks, 40.4%
Since 2006, nine quarterbacks have attempted at least 200 passes as a rookie and averaged under 10 fantasy points per game. Of the nine, four are still active — Jared Goff, Blaine Gabbert, Mark Sanchez, and Rosen. Things could have gone worse for Rosen in 2018, but it probably would have required an injury or, like, a monkey's paw.
Offseason O-line moves pre-draft: The Cardinals traded for Marcus Gilbert! … and that was about it.
What it means for Rosen: Assuming Rosen is back with Arizona this season and the start (neither is a sure thing), we should be worried. Goff turned his career around with the Rams after the team got a new coach, new offensive weapons, and a new offensive line. The Cardinals have the new coach, but otherwise the offense is basically intact. And that offense was bad.
Pressured on 202 of 509 dropbacks, 39.7%
Wilson was the fourth-most-pressured quarterback in 2018, and it was still the second-lowest pressure percentage of his career, barely worse than his rookie season in 2012. The Seahawks have not really been that interested in protecting him so far, but it hasn't hurt Wilson as much as it would have many other quarterbacks.
Offseason O-line moves pre-draft: The Seahawks retained D.J. Fluker, but the biggest addition was a one-year deal for Mike Iupati, who hasn't played 500 snaps in a season since 2016 or topped a 70.0 PFF grade since 2015.
What it means for Wilson: The line has never been good for Wilson, and it's never really mattered that much. If there's a concern for him in 2019, it's the team's new reliance on the run, not whether the line will protect him.
Pressured on 260 of 669 dropbacks, 38.9%
Cousins was pressured at the highest rate of his career in 2018, but he responded with his highest fantasy point total strictly on passes of his career (albeit not by much). You can give a lot of the credit for that to Adam Thielen and Stefon Diggs, easily the best two receivers Cousins has ever had.
Offseason O-line moves pre-draft: Not much. The Vikings waited more than a week into free agency to sign Josh Kline off the worst season of his career, but have otherwise elected to keep one of the league's worst units basically intact … for some reason.
What it means for Cousins: After being sacked a combined 55 times on 1,264 dropbacks in his firs two seasons as a full-time starter, Cousins has been sacked now 81 in 1,275 over his last two. That's basically a 50% increase. It hasn't affected him much yet, but you have to worry about it eventually. Still, he's a borderline QB1 in fantasy with slightly higher upside.