Today in "just for fun" fantasy football thoughts …
For whatever reason, 1990 was an awful year for birthing quarterbacks. That year produced quarterbacks that largely were in the 2013 draft class, a draft class that produced all of 86 fantasy points in 2016. That wasn't the worst year for active quarterbacking, because the 2010 class was crap as well but does offer Sam Bradford, who was hurt in 2017, but overall, it's hard to get worse than 1990.
The best quarterback born in 1990 is probably Brock Osweiler … unless it's AJ McCarron … unless it's Robert Griffin III … unless it's Geno Smith.

— Daniel Kelley (@danieltkelley) June 18, 2018
This sort of thing is meaningless — we aren't crediting the alignment of the planets for Brock Osweiler having an argument as 1990's top quarterback. It just happened, just as Austin Seferian-Jenkins is somehow the best tight end born in 1992, just as Travis Kelce is somehow not the best tight end born in 1989.
But it's fun. Today, I'm looking at which birth year can put together the best fantasy roster. You get one quarterback, two running backs, two wide receivers, a tight end, and a flex. (I thought about kickers, too, but really, who cares.) At the extremes of the years, I combined a little bit, and of course there's just a "1985 and earlier" class.
It gave us 11 birth-year teams to evaluate. I'll run through each roster quickly and establish the finalists, and we'll decide from there. (You might disagree on some specifics, but heck, this isn't hard and fast science.)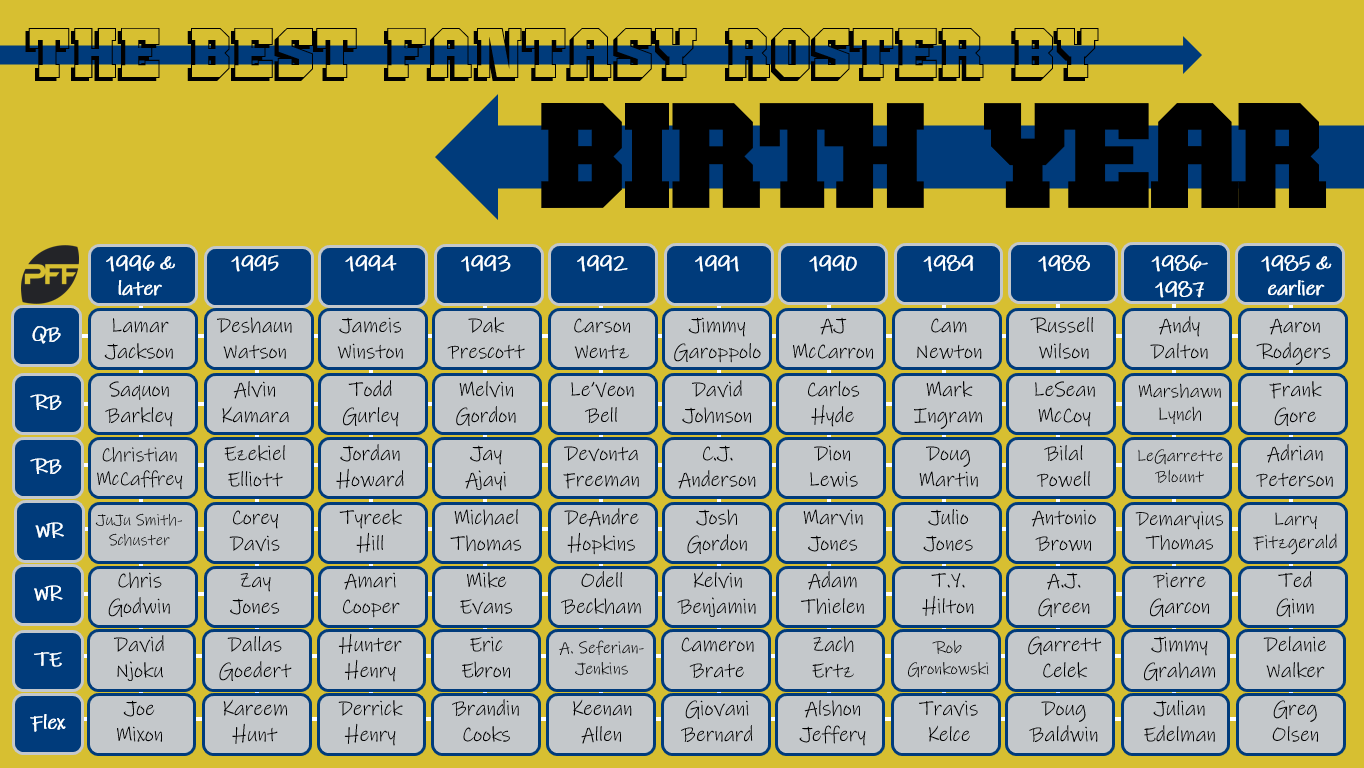 (click to enlarge)
1996-1997
QB: Lamar Jackson
RBs: Saquon Barkley and Christian McCaffrey
WRs: JuJu Smith-Schuster and Chris Godwin
TE: David Njoku
Flex: Joe Mixon
This roster is obviously huge on potential, and especially strong at running back. Check back in five years and this roster could take the crown. For now, though, it's definitely an also-ran.
1995
QB: Deshaun Watson
RB: Alvin Kamara and Ezekiel Elliott
WR: Corey Davis and Zay Jones
TE: Dallas Goedert
Flex: Kareem Hunt
We're seeing the effects of career length and age. Running backs are crushing it on the younger teams, but the pass-catchers have a ways to go yet. As amazing as it is, a roster with Kamara, Elliott, and Hunt can't be considered a potential winner with Jones and Goedert also hanging out there.
1994
QB: Jameis Winston
RB: Todd Gurley and Jordan Howard
WR: Tyreek Hill and Amari Cooper
TE: Hunter Henry
Flex: Derrick Henry
I'm ignoring injuries for active players here, because I'm more looking at fantasy ability and not just 2018 outlook, but feel free to sub in Evan Engram here for Hunter Henry (and many probably would even without injury). This roster feels like a definite contender, even if Cooper has fallen flat a bit and the Titans refuse to let Derrick Henry be a bell cow. We'll hold onto this one.
1993
QB: Dak Prescott
RB: Melvin Gordon and Jay Ajayi
WR: Michael Thomas and Mike Evans
TE: Eric Ebron
Flex: Brandin Cooks
As strong as the receivers are on this roster, 1993 is a fluke year where the running backs and tight ends are … well, they're fine, but this isn't a championship roster.
1992
QB: Carson Wentz
RB: Le'Veon Bell and Devonta Freeman
WR: DeAndre Hopkins and Odell Beckham Jr.
TE: Austin Seferian-Jenkins
WR: Keenan Allen
I was surprised to see that Wentz was two years older than Winston, but the truth is he's actually one year and one week older; it's just that their birthdays are just before and just after the new year. Anyway, this roster is a definite contender, even with a bit of a disappointment at tight end with Seferian-Jenkins.
1991
QB: Jimmy Garoppolo
RB: David Johnson and C.J. Anderson
WR: Josh Gordon and Kelvin Benjamin
TE: Cameron Brate
Flex: Giovani Bernard
Johnson and Gordon have worlds of talent, but this is ultimately not much of a fantasy roster. I'm underwhelmed.
1990
QB: AJ McCarron
RB: Carlos Hyde and Dion Lewis
WR: Marvin Jones and Adam Thielen
TE: Zach Ertz
WR: Alshon Jeffery
Seriously, McCarron. I don't know who hurt you, 1990, but I apologize.
1989
QB: Cam Newton
RB: Mark Ingram and Doug Martin
WR: Julio Jones and T.Y. Hilton
TE: Rob Gronkowski
Flex: Travis Kelce
We're reaching the outside edge of the typically productive running backs, which is how Martin makes his way onto this team. Still Newton and the pass-catchers are so incredible for fantasy that even the presence of Martin doesn't keep it from being a contender.
1988
QB: Russell Wilson
RB: LeSean McCoy and Bilal Powell
WR: Antonio Brown and A.J. Green
TE: Garrett Celek
Flex: Doug Baldwin
We like to say that because tight ends pop late, they produce longer, but, um that's Garrett Celek's name there. I'll call this one a contender still, based on just a ridiculous group of receivers, but that's disappointing.
1986-1987
QB: Andy Dalton
RB: Marshawn Lynch and LeGarrette Blount
WR: Demaryius Thomas and Pierre Garcon
TE: Jimmy Graham
Flex: Julian Edelman
This was one hell of a fantasy group in, say, 2013, but in 2018 it's not so much. Moving on.
1985 and earlier
QB: Aaron Rodgers
RB: Frank Gore and Adrian Peterson
WR: Larry Fitzgerald and Ted Ginn
TE: Delanie Walker
Flex: Greg Olsen
In the most recent years, one position (RB) dominated while others (WR and QB) suffered a bit. It's flipped here. Quarterback is obviously excellent (and he could have Tom Brady, Drew Brees, Philip Rivers, Ben Roethlisberger, Matt Ryan, and Eli Manning as backups), but Peterson might not even have a job anymore and Gore is hanging on by a thread. Not even Rodgers can make this roster a contender.
The contenders
 I entered into this thinking some roster would be just dominant, or at least we'd get some rosters with no obvious weak spots. But look:
| | | | | |
| --- | --- | --- | --- | --- |
| | 1994 | 1992 | 1989 | 1988 |
| QB | Jameis Winston | Carson Wentz | Cam Newton | Russell Wilson |
| RB | Todd Gurley | Le'Veon Bell | Mark Ingram | LeSean McCoy |
| RB | Jordan Howard | Devonta Freeman | Doug Martin | Bilal Powell |
| WR | Tyreek Hill | DeAndre Hopkins | Julio Jones | Antonio Brown |
| WR | Amari Cooper | Odell Beckham Jr. | T.Y. Hilton | A.J. Green |
| TE | Hunter Henry | Austin Seferian-Jenkins | Rob Gronkowski | Garrett Celek |
| Flex | Derrick Henry | Keenan Allen | Travis Kelce | Doug Baldwin |
1994 has a flex back who can't even get a full starter gig from his own team, a No. 2 receiver who fell flat last year, and a tight end who has been a breakout candidate for years and is now hurt.
1992 has a tight end on his third team in the last three seasons, whose "breakout" 2017 consisted of 3 touchdowns and 357 yards.
1989 has a running back with under 500 rushing yards in four of his six seasons, who just got released and is now a backup.
1988 has Garrett Celek, owner of barely 1,000 career receiving yards over six seasons and exactly zero top-25 fantasy years.
I guess the roster with the best worst player, if that makes sense, is the 1994 team, but that roster also lacks ceiling. But I'm not here to pick the best worst player. That's boring. This is for the best birth year roster.
Because we're looking for the best here, I'm going to eliminate 1994. Gurley aside, there just isn't enough upside. After that, I'll toss out 1989, for Martin's flaws and concerns over Ingram's longevity. That brings it down to our two flawed tight ends, and whether Seferian-Jenkins' surroundings outweight Celek's. Both have elite receiving groups. 1992 has the better running backs, while 1988 has the edge at quarterback. But in the end …
The winner is 1992. Austin Seferian-Jenkins and all. Who saw that coming.