Free agency and the 2022 NFL Draft have come and gone. Now, it's time to fully embrace the 2022 offseason by breaking down each team's fantasy football aspirations before fantasy-draft season truly gets underway in August.
What follows is a fantasy-focused breakdown of the Washington Commanders, focusing on key questions like:
Are we underrating

Carson Wentz

providing some upside QB2 value thanks to his improved weaponry?

Will

Antonio Gibson

ever reach his elite RB1 potential?

Is

Terry McLaurin

in store for an absolutely massive campaign?
Every fantasy-relevant player from the Commanders will be covered in the following paragraphs. Make sure to check out the PFF Team Preview Landing Page through early July for more all-encompassing fantasy football coverage.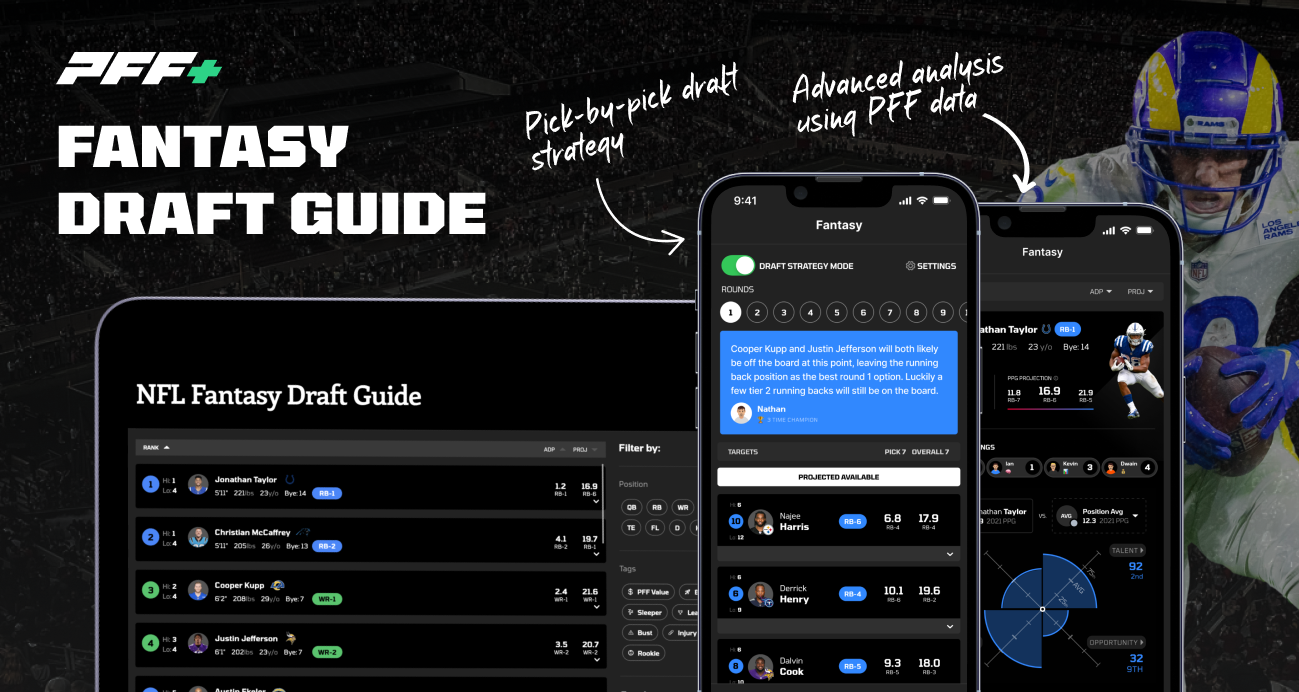 Notable offseason moves
From the front office, to the coaching staff, to the roster: Every 2022 NFL team will be different than its 2021 version.
With that said: Washington has plenty of continuity across its coaching staff and will be led by head coach Ron Rivera, offensive coordinator Scott Turner, and defensive coordinator Jack Del Rio for the third consecutive season.
It's tough to fully pinpoint exactly what Turner and company even want the offense to look like considering they've been led by a plethora of low-performing quarterbacks over the past two seasons. They ranked eighth in pass-play rate (64.6%) in non-garbage time situations in 2020 and 22nd (59.5%) in 2021. Washington ranked 14th and 20th in situation-neutral pace in these two seasons (Football Outsiders), meaning Turner has trended toward a slower-paced and more run-first offense. Rivera has fielded an above-average offense in rush attempts in 10 of his 12 years as a head coach, with 2019 (No. 2) and 2020 (No. 9) representing the only seasons his offenses have ranked higher than 15th in pass attempts.
This offense is unlikely to fully unleash the passing game while moving at a quick pace, but they also won't necessarily be a lame, overly run-first unit either. Cool? Cool.
Additionally, the Commanders have made plenty of changes to their roster. The following quarterbacks, running backs, wide receivers and tight ends have either joined or left the Commanders in some way, shape, or form this offseason:
Washington made a number of additions to their offense in the NFL Draft as well. They used the No. 16 overall pick to select WR Jahan Dotson. The Penn State talent figures to immediately slot into three-WR sets, although the pick could be considered a bit of a reach considering he ranked just 56th overall on PFF's Big Board. Third-round RB Brian Robinson and fifth-round TE Cole Turner will also factor into the offense in 2022 and beyond, although they don't figure to have the same sort of starting opportunity considering the team's superior depth at running back and tight end.
Then there's fifth-round QB Sam Howell, who managed to post a rather wild 183-828-11 rushing line in 2021 and looked damn good doing it. Comped as a "slower Russell Wilson" on the PFF Big Board, Howell displayed excellent deep-ball ability throughout his collegiate career. Rushing goodness combined with the potential to rack up explosive downfield plays could be a recipe for fantasy goodness if given a chance to start. The fantasy track record of players not selected inside of the draft's top-three rounds isn't pretty, but Howell just might have a higher ceiling than the typical fifth-round prospect.
Losing a must-win Week 18 contest to the Jaguars while their fans literally dressed up as clowns certainly wasn't a great way for Wentz's tenure in Indianapolis to end. It's truly tough to consider a worse way to end a season. Constant complaining about the relationship from Colts' brass in recent months hasn't helped matters.
Nobody is crowning Wentz as anything close to a top-10 quarterback, but at least he proved to be closer to the 2019 version of himself than what we saw in 2020 during his lone season in Indianapolis:
| | | | | | | |
| --- | --- | --- | --- | --- | --- | --- |
| Year | Passing Grade | Passer Rating | Big-Time Throw % | Turnover-Worthy Play% | YPA | aComp% |
| 2021 | 67.9 | 94.6 | 4.0% | 2.9% | 6.91 | 72.3% |
| 2020 | 60.0 | 72.8 | 4.3% | 4.4% | 6.0 | 70.1% |
| 2019 | 75.4 | 93.1 | 5.1% | 3.5% | 6.65 | 73.9% |
| 2018 | 78.5 | 102.2 | 4.3% | 3.4% | 7.67 | 78.7% |
| 2017 | 84.7 | 101.9 | 6.2% | 3.2% | 7.49 | 69.6% |
| 2016 | 68.3 | 79.3 | 2.6% | 3.9% | 6.23 | 74.8% |
There were some serious lows for Wentz throughout 2021, notably doing his best to throw away the team's Week 8 matchup against the Titans as well as his 57-yard performance in a win (!) over the Patriots in Week 15.
Just realize that Wentz, for all of his faults, has made over $100 million playing football thanks to the reality that sometimes he's pretty damn good. Last season Wentz was one of just seven quarterbacks with a triple-digit QB rating on passes thrown at least 20 yards downfield; even a true hater should be able to admit he put some nice throws on tape in 2021.
Carson Wentz pic.twitter.com/yCLpBFRz0E

— Ian Hartitz (@Ihartitz) May 18, 2022
Wentz was by most accounts an average to below-average quarterback in 2021. And yet, he represents a rather massive upgrade over Heinicke. This is true in terms of 2021 PFF passing grade (67.9 vs. 58.9), QB rating (90.1 vs. 81.1), big-time throw rate (4.0% vs. 3.4%), and turnover-worthy play rate (2.9% vs. 4.4%).
The disparity in performance was most pronounced on the deep ball. Heinicke was literally PFF's lowest-graded quarterback (52.6) on passes thrown 20-plus yards downfield. Wentz (90.7) ranked 12th. There is simply a higher ceiling attached to Wentz; unfortunately, Heinicke's arm isn't always capable of doing what his mind desires.
It'd be lunacy to suggest that Wentz will get back to MVP form inside of a Washington offense that still isn't exactly overflowing with playmakers and might present a downgrade in offensive line quality. However, the Colts didn't exactly surround Wentz with the world's best wide receiver room, and Washington did finish higher than Indianapolis in PFF's final 2021 offensive line rankings.
Wentz's Underdog ADP as the QB27 sure seems like the floor of his potential 2022 outcomes.
2016: 13.3 fantasy points per game (No. 27 among QBs with at least eight games)

2017: 21.7 (No. 2)

2018: 17.5 (tied for No. 17)

2019: 17.2 (No. 14)

2020: 16.5 (No. 20)

2021: 15.9 (No. 17)
However, Wentz's previously solid rushing floor probably isn't coming back considering quarterbacks historically run less as they get older. The Washington organization hardly deserves the benefit of the doubt in bringing out the best of a quarterback given its track record over the past two decades.
Ultimately, it's been five years since Wentz flashed anything resembling a ceiling worth chasing in fantasy land. While I think the social media hate and reputation goes a bit too far, I'd rather use my late-late round darts on younger talents like Zach Wilson, Trevor Lawrence and Mac Jones, while even Matt Ryan as well as Jared Goff are more likely to start 17 games and have a better recent track record.
Wentz isn't someone to be overly concerned with in fantasy land outside of streaming status and in multi-quarterback leagues. It's unlikely Howell gets a meaningful chance to start unless Washington falls well out of playoff contention. Even then, Heinicke should probably be considered the favorite for QB2 duties.
Gibson's splits pre- and post-McKissic injury in 2021 reflect his ceiling when leaned on as the offense's undisputed No. 1 back. Things were largely a grind during the first 12 weeks:
PPR points: Gibson (148.5, PPR RB17), McKissic (127.9, RB22)

PPR points per game: Gibson (13.5), McKissic (11.6)
Overall, Gibson (2) and McKissic (2) had the same number of top-12 finishes during the first 12 weeks of the season. Gibson (6) narrowly edged McKissic (5) in top-24 finishes.
Then McKissic got hurt, and suddenly Gibson was putting up one high-end fantasy performance after another:
Week 12: 29-111-0 rushing, 7-35-0 receiving, PPR RB7

Week 13: 23-88-0 rushing, 5-23-1 receiving, RB6

Week 14: 10-36-0 rushing, 2-5-0 receiving, RB36

Week 15: 15-26-1 rushing, 6-39-0 receiving, RB4

Week 16: 6-29-0 rushing, 2-29-1 receiving, RB18

Week 18: 21-146-1 rushing, 1-5-0 receiving, RB6
Consider: Gibson caught 23 passes in six games with McKissic injured compared to just 19 receptions in 10 games with the Commanders' No. 2 back in the lineup. Perhaps this late-season run earns Gibson more opportunities in the passing game moving forward, but it'd sure be a lot easier to project if he wasn't sharing a backfield with one of the position's highest-volume receivers. Overall, only Alvin Kamara has more targets than McKissic over the past two seasons among all running backs.
Gibson wound up working as the RB17 in PPR points per game last season after finishing 2020 as the RB19 on a per-game basis. It'd be reasonable to again suggest a mid to low-end RB2 finish in 2022 if only the organization hadn't used a third-round pick on Robinson. Now Gibson suddenly seems at risk of losing a portion of the backfield's pass- *and* early-down work, leaving him multiple injuries away from a true three-down role.
One of just four running backs to rack up 300 touches in 2021, it seems like a certainty Gibson will be leaned on less in 2022. Credit to Gibson for playing through the pain throughout most of last season, but things were rough enough to warrant getting another back involved on the ground:
PFF rushing grade: 65.6 (No. 44 among 50 running backs with 100-plus carries)

Yards per carry: 4.0 (No. 36)

Yards after contact per carry: 2.8 (No. 27)

Missed tackles forced per carry: 0.15 (tied for No. 31)
Gibson also coughed up the ball on six separate occasions. Nobody is doubting Gibson's standing as the top running back in Washington; just realize the ceiling and floor attached are lower than ever before.
At the moment I lean toward more receiving-friendly backs with lower-ADPs like Clyde Edwards-Helaire, Cordarrelle Patterson and Chase Edmonds ahead of Gibson. One of the biggest losers of the offseason, Gibson is an awfully tough sell as even a fifth-round pick over higher-upside wide receivers such as Courtland Sutton, Gabriel Davis and Allen Robinson.
Unfortunately, these same volume problems apply tenfold to Mckissic and Robinson. All three running backs are multiple injuries away from truly having a role worthy of chasing in fantasy land. It's 2022; there are only so many workhorses left in the NFL. Still, fantasy managers can live with two-back situations; three-plus player committees are the point when it might just become a better idea to stay away. Robinson is my preferred dart over McKissic due to the reality that the latter back's role probably wouldn't change all that much even with an injury to Gibson, but neither backup looks to have a legit RB1 ceiling in their projected range of outcomes ahead of 2022.
McLaurin has had the "privilege" of catching passes from a group of professional quarterbacks that would make Andre Johnson and Allen Robinson blush. Overall, he's played with: Alex Smith, Ryan Fitzpatrick, Dwayne Haskins, Colt McCoy, Case Keenum, Kyle Allen, Taylor Heinicke and Garrett Gilbert. Sheesh.
It's not a stretch to say Wentz will be the best signal-caller that McLaurin has ever caught passes from. Ideally, this will bring out the best of McLaurin, who has still managed to post stellar efficiency numbers in his rather meh situation since entering the league in 2019.
PFF receiving grade

: 86.6 (tied for No. 13 among 102 wide receivers with 100-plus targets since 2019)

Yards per route run

: 1.9 (No. 25)

Yards per reception

: 13.9 (No. 35)

Yards after the catch per reception

: 4.6 (tied for No. 41)
A closer look at the film reveals the sort of upside many envision McLaurin is capable of achieving with something even remotely close to passable quarterback play.
Terry McLaurin pic.twitter.com/fidoTy7ftd

— Ian Hartitz (@Ihartitz) May 18, 2022
Unfortunately, McLaurin's real-life goodness hasn't yielded anything better than per-game fantasy finishes as the WR29, WR20 and most recently WR30 in full-PPR scoring. The latter two finishes were surprising given his rather gaudy average of 8.25 targets per game from 2020 to 2021.
Wentz helped lift Michael Pittman to WR24 heights in a run-first Colts offense; there's no reason why McLaurin can't work as an upside WR2 even if the Washington passing game continues to be meh more weeks than not. My WR13, yet currently priced as the WR22 over at Underdog Fantasy, McLaurin is a great early- to mid-round target thanks to his proven ability to provide (at worst) upside WR3 value combined with tantalizing upside with even somewhat passable quarterback play.
Expecting Wentz to enable more than one fantasy-relevant wide receiver might be wishful thinking, although Dotson wasn't selected in the first round to be an afterthought. PFF's 2022 Draft Guide noted the following on the Penn State receiver:
Where he wins: Sudddenness.

Dotson not only wins with his ability to cut on dimes but also by hauling in everything thrown his way. That kind of combination will earn a quarterback's trust early on in his career.
What's his role: Reliable slot.

Dotson is really tailor-made to play slot in today's NFL. He's as shifty as it gets with enough speed to challenge vertically. But, more importantly, he has a massive catch radius for a player listed at only 5-foot-11.
Where he can improve: Muscle mass.

Dotson could stand to add muscle to his frame and develop a more diverse release package. Being able to dictate terms at the line would take his game to the next level.
Dotson figures to work as the Commanders' starting slot receiver from Day 1. However, Samuel's potential involvement in the offense shouldn't be underrated. A nagging groin injury prevented Samuel from ever having a chance to get going in 2021, but his three-year, $34.5 million contract reflects the reality that at one point (literally 2021) Washington had high hopes for him.
Ultimately, Dotson's status as the 16th overall selection of the 2022 NFL Draft gives him the edge over Samuel, who could wind up rotating with Brown on the outside across from McLaurin. This is an offense that figures to keep its running backs and tight end plenty involved in the passing game as well; don't be surprised if Dotson struggles to push for triple-digit targets even as the de facto No. 2 receiver. Still, he's a plenty viable later-round pick based on draft capital alone who is the best bet among the complementary pieces to boom if Wentz gets his groove back.
Samuel was a far more enticing late-round pick before the Dotson selection; now he's not even guaranteed to play a full-time role. This isn't the sort of passing game to expect much consistency out of its auxiliary parts. Brown is far more likely to eat into Samuel's work than Dotson's.
Thomas underwent ACL surgery in mid-December. He was reported to be "ahead of schedule" as of April 23 after being cleared to start jogging four months removed from surgery. Still, this sort of late-season injury makes an early-season stint on the PUP or IR list a strong possibility, if not the most likely scenario.
Enter: Bates, who is the clear-cut backup tight end with Ricky Seals-Jones now with the Giants. It's fair to wonder if receiving-friendly fifth-round pick Turner could soak up most of the position's routes during Thomas' absence, but Washington doesn't operate like the typical NFL offense when it comes to the tight end position. Overall, each of Thomas, RSJ and Bates posted a true 100% snap rate at one point or the other in the 2021 season. If only NFL teams treated backup running backs with this sort of confidence.
Unfortunately, Bates didn't quite show the sort of upside worth chasing during his extended run in 2021. He started seven of the team's final eight games but never once cleared three receptions or 45 receiving yards in a single game.
The likelihood that this offense leans even less on the tight end in favor of a (hopefully) healthier wide receiver room adds credence to the idea that fantasy managers should stay away from this group for the time being. I'd rather draft healthy potential full-time tight ends like Evan Engram or Cole Kmet in the later round of best-ball drafts. Improved news on Thomas' health could help him rise up the ranks closer to September; at worst he'll immediately be a suggested waiver wire addition once healthy enough to suit up.