Free agency and the 2022 NFL Draft have come and gone. Now, it's time to fully embrace the 2022 offseason by breaking down each team's fantasy football aspirations before draft season truly gets underway in August.
What follows is a fantasy-focused breakdown of the New York Jets, focusing on key questions like:
Will an improved supporting cast lead to a

Zach Wilson

breakout?

How high should Year-1 expectations be for

Breece Hall

?

Is

Elijah Moore

the best wide receiver to target in a sneaky-crowded passing game?
Every fantasy-relevant player from the Jets will be covered in the following paragraphs. Make sure to check out the team preview landing page through early July for more all-encompassing fantasy football coverage.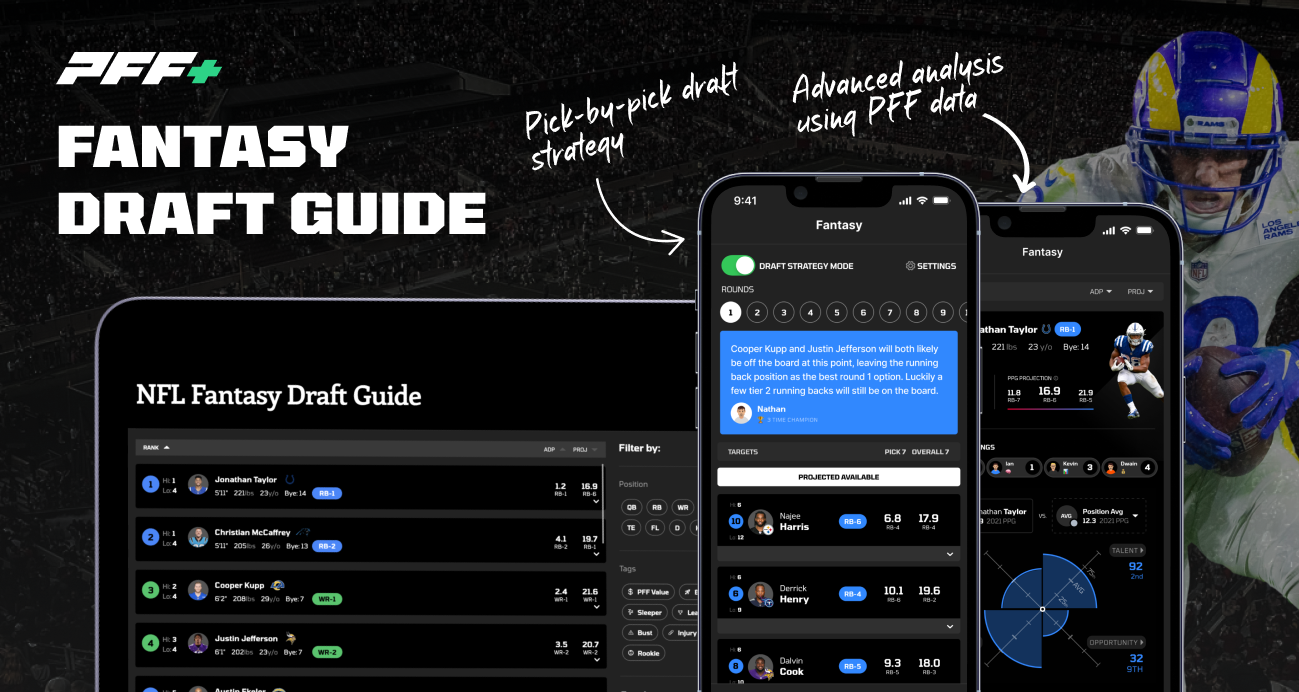 Notable offseason moves
From the front office, to the coaching staff, to the roster: Every 2022 NFL team will be different than its 2021 version.
With that said: The Jets coaching staff is largely all back for Year 2. Head coach Robert Saleh, offensive coordinator Mike LaFleur and defensive coordinator Jeff Ulbrich will again lead the way.
The return of LaFleur *should* be good news for the passing game if the various talented pieces involved can execute the scheme. Last season the Jets produced a borderline erotic 65% pass-play rate in non-garbage time situations — the fifth-highest mark in the league. They also ranked seventh in situation-neutral pace (Football Outsiders).
Obviously, this pass-first approach didn't lead to much success on the scoreboard, and it'd make sense if more consistent leads place this group closer to a league-average rate. Still, at face value, this seems like the sort of offensive environment capable of enabling multiple fantasy-relevant pass-catchers, (massive) if the quarterback is up to the task.
Additionally, the Jets have made plenty of changes to their roster. The following quarterbacks, running backs, wide receivers and tight ends have either joined or left the Jets in some way, shape or form this offseason:
The Jets also made some major splashes in the draft. First-round WR Garrett Wilson figures to immediately slide in alongside Elijah Moore and Corey Davis in three-WR sets. Second-round RB Breece Hall sure looks a lot like this team's starting running back, although Michael Carter doesn't figure to give up the job without a fight. Third-round TE Jeremy Ruckert could struggle to play ahead of the team's high-priced free-agent additions at the position, but does offer a well-rounded skill-set and provides depth. 
Wilson wasn't good as a rookie. This is true pretty much regardless of whatever stat you want to look at:
PFF passing grade: 56.1 (No. 38 among 44 qualified quarterbacks)

QB rating: 69.7 (No. 42)

Big-time throw rate: 2.6% (No. 32)

Turnover-worthy play rate: 3.8% (No. 31)

Yards per attempt: 6.1 (No. 39)

Adjusted completion percentage: 69.9% (No. 38)
And yet, the 2021 NFL Draft's No. 2 overall pick did flash on several occasions, showing off the sort of arm talent that 99.9% of the world could never even dream of having.
Zach Wilson pic.twitter.com/oMAQiklWVw

— Ian Hartitz (@Ihartitz) May 11, 2022
Wilson sprained his knee in Week 7 shortly after putting forward his best performance of the season against the Titans. Upon returning in Week 12, both Corey Davis (1 game) and Elijah Moore (2) were largely out of the picture, leaving an injured version of Wilson to throw to create-a-players like Jeff Smith and D.J. Montgomery. Throw in an offensive line that was forced to play without Mekhi Becton for most of the year, and this was hardly the world's most fantasy-friendly environment in 2021.
The question is just how often quarterbacks are *that* bad as a rookie, only to turn the ship around and put up some big numbers in Year 2. Thirty-one quarterbacks have played at least eight games and scored fewer than 15 fantasy points per game since 2012. Every top rookie quarterback from 2021 other than Trey Lance (not enough games) qualified for this list. Out of the group, the biggest success stories are Derek Carr (12.0 fantasy points per game as a rookie, 16.96 the next year), Mitchell Trubisky (11.2 vs. 18.8), Blake Bortles (12.01 vs. 19.76) and Carson Wentz (13.31 vs. 21.67).
Of course, the list is littered with players who didn't exactly turn things around as well. Josh Rosen, Dwayne Haskins, Geno Smith, Brandon Weeden, Case Keenum, EJ Manuel, Teddy Bridgewater, Tua Tagovailoa, Sam Darnold, and Ryan Tannehill all represent signal-callers who averaged fewer than 15.0 fantasy points per game in each of their first two seasons under center.
It's not unprecedented for a player like Wilson to make a second-year leap, but it's also not exactly likely. Thus, he shouldn't be reached on in fantasy drafts ahead of 2022 — and you don't have to do so! Regularly priced outside of the position's top-20 signal-callers, Wilson will be nothing more than a late-round dart or streamer addition for most fantasy managers playing in traditional one-QB formats. I'd still take guys like Lance, Tannehill and Justin Fields ahead of Wilson thanks to their superior rushing upside, but the enhanced weapons around the Jets' rising second-year signal-caller are enough for me to shoot him to the top of my late-late tier ahead of guys like Trevor Lawrence, Daniel Jones and Tua Tagovailoa. 
Hall showed the capacity to do virtually everything at a high level during his three seasons at Iowa State. A true freak among freaks in terms of measurable athleticism, he has the sort of scary good comp groups that make him an easy pick as 2022's overall RB1 among the rookie class.
The bigger question is just where Hall lands among everyone involved in this season. He certainly fits the prototype of a fantasy-friendly three-down back, while his Round 2 draft capital aligns well with historically successful players at the position.
OC Mike LaFleur hasn't really ever been the sort of guy to give his starting running back a workhorse role. While it's fair to say Kyle Shanahan was making the big decision during the pair's time together in San Francisco, 2017 Carlos Hyde (299) was the only 49ers running back to reach even 200 touches in a single season from 2017-2020. Carter (183) was the most used Jets back in 2021.
One could argue that LaFleur and Shanahan never had a back like Hall worthy of featuring to this extent. There are plenty of examples of highly drafted rookie running backs smashing expectations as rookies, but also plenty of them largely dudding. There are absolutely zero available carries or targets inside of this backfield: Every touch Hall gets will come at the expense of one of Carter, Coleman or Johnson.
Ultimately, Hall projects as the lead back for the Jets — just don't get carried away and expect him to have the sort of every-down role that made Najee Harris a fantasy darling in 2021. This is fine; there are only so many workhorse running backs remaining in the year 2022. Hall has the sort of athletic profile and draft capital worth chasing ahead of guys like Ezekiel Elliott, Elijah Mitchell and Cam Akers, who face similar touch competition without as good of an opportunity to take the hell over.
The extent to which Carter will be used will decide just how high Hall's Year-1 ceiling truly is. Carter shouldn't be discarded in this competition considering the way he went about picking up his production: He was objectively awesome in 2021, finding himself in the same jumble as Nick Chubb and college teammate Javonte Williams when it comes to the league's best running backs in yards after contact and missed tackles forced per carry.
Running back yards after contact per carry and missed tackles forced per carry (min. 100 carries, PFF) pic.twitter.com/RoPO5zcEOM

— Ian Hartitz (@Ihartitz) January 10, 2022
Injuries prevented Carter from soaring too high in Year 1, but he still worked as the overall PPR RB29 and finished inside the week's top-24 scorers on six separate occasions. Perhaps the biggest takeaway from the season: The Jets showed that they're willing to feature Carter as a true three-down back. He played at least 70% of the offense's snaps on three separate occasions and racked up at least 15 combined carries and targets in six of his 12 non-injury induced contests.
History tells us not to expect much from players drafted outside of the top-three rounds even after their rookie season. Carter looks a lot like the backfield's clear-cut No. 2 running back, while Hall's ability on passing downs doesn't necessitate that the Jets' second-year back is used as a pure pass-down back. The upside for Carter was questionable before Hall was drafted, now his ceiling is basically non-existent without an injury occurring. I'd rather take guys like A.J. Dillon, Tony Pollard and Gus Edwards, who might just have a higher floor *and* best-case ceiling than Carter.
There were times in 2021 when Moore looked like the next big thing at the wide receiver position. Here's a clip of him roasting No. 1 CB Byron Jones.
Elijah Moore on Byron Jones ???? pic.twitter.com/jnA9dc4SdZ

— Ian Hartitz (@Ihartitz) March 30, 2022
Moore put forward one helluva stretch following the Jets' Week 6 bye, posting PPR WR36, WR26, WR1, WR27, WR3, WR40 and WR8 finishes during his final seven games of the season. For fans of arbitrary cutoffs that confirm your priors: Moore worked as the overall WR3 from Weeks 7-13 behind only Cooper Kupp and Justin Jefferson.
And yet, one can jump through these sorts of hoops to make it look like just about any second-year wide receiver was always capable of putting forward top-15 production last season. Moore benefited from Davis being healthy enough to play just three full games after the Jets' Week 6 bye, while the likes of Joe Flacco and (briefly) Mike White were usually under center in place of an injured Wilson during this hot stretch.
Maybe Moore is as special as many believe he is and the true breakout is incoming in 2022. The problem with assuming is that the offense's *at worst* 1.B receiver in Davis is back, while the Jets also felt the need to use the 10th overall pick in the draft on Wilson. The departure of Jamison Crowder should allow Wilson to slide into the slot without too much of a problem; just realize there are suddenly far more mouths to feed this season in a passing game that remains far from guaranteed to even be average.
It's not impossible for bad offenses to enable a good fantasy wide receiver, although history tells us not to necessarily chase these situations. On average, the top-scoring wide receiver from a bottom-10 scoring offense has finished as the WR32 in full-PPR scoring over the last five years. There have been 20 instances of these low-scoring offenses producing a top-24 wide receiver, but also 20 of them not enabling anybody ranked higher than 35th.
Moore is affordable and worthy of exposure at his current WR32 ADP at Underdog Fantasy; just be careful about crowning him as an upside WR2 inside of this crowded and likely low-scoring offense.
Wilson carries superior draft capital and will seemingly have every opportunity to work as this passing game's No. 1 option from Day 1. Perhaps he's not ready just yet, but the ceiling for 2022 is perhaps going underrated for the Jets' likely Week 1 starting slot receiver. Wilson is capable of winning all over the field; I'm comfortable taking him two rounds after Moore when unable to land the Jets' rising second-year talent.
Garrett Wilson WR1 pic.twitter.com/y1Mtiw8Ogq

— Ian Hartitz (@Ihartitz) April 26, 2022
Davis will likely be an every-week starter for one more year; just realize he now profiles as the fairly clear-cut No. 3 option. There might be some spike-week changes to this, but at that price point, I'd rather gamble on someone with a better chance to take over their passing game like Jakobi Meyers.
Neither Berrios nor Mims (despite the yearly offseason hype) is worthy of fantasy consideration outside of deep dynasty formats. Each is multiple injuries away from having a usable fantasy role.
Uzomah played an every-down role as Joe Burrow's featured tight end in 2021 … and finished as the PPR TE19. Now he figures to split reps with at least Conklin and potentially Ruckert inside of a worse offense that fed its tight ends just 75 total yards last season — the second-lowest mark in the league.
Uzomah or Conklin would be a middling TE2 at best if assured a full-time role in this offense. With an expected three-player rotation on the horizon, I'm comfortable fading this entire tight end room in fantasy formats of all shapes and sizes.