We're now seven weeks deep into the 2021 college football season, and players are just beginning to solidify their spots at the top of the 2022 NFL Draft class.
Here are Mike Renner's top 10 players at each position as things stand right now. For more 2022 draft content, check out PFF's NFL Draft Big Board and NFL Mock Draft Simulator. PFF Edge and Elite subscribers can also download the 2022 NFL Draft Guide.
---
Click here for more PFF tools:
Rankings & Projections | WR/CB Matchup Chart | NFL & NCAA Betting Dashboards | NFL Player Props tool | NFL & NCAA Power Rankings
---
Willis is the single best runner at the quarterback position in the draft class. His 784 rushing yards this season are 118 more than any other quarterback in the country while his 49 broken tackles outpace the next closest by 12. At 6-foot-1 and 215 pounds, that should continue at the next level due to his running back-esque build.
Malik Willis QB1️⃣#CFB

— PFF College (@PFF_College) October 9, 2021
As a passer, Willis throws with easy velocity to every level of the field from the pocket and on the move. While he was a little too antsy to make plays outside the pocket in his first year as a starter in 2020, Willis has looked far more comfortable operating from tight quarters inside the pocket. He's fourth in the country with 20 big-time throws this season. While he's still a long way from being a polished NFL passer, Willis' year-over-year progression makes it easy to buy into what he could develop into.
After a breakout 2020 campaign, Corral has taken a legitimate next step in his game, despite losing top option Elijah Moore to the NFL. He's committed only four turnover-worthy plays on 231 dropbacks so far this season — the second-lowest rate of any Power Five quarterback. Don't let that make you think Corral is some dink-and-dunker, though, as he's recorded a healthy 9.4-yard average depth of target this season and leads the FBS with 45 deep completions since the start of 2020.
He's also one heck of an athlete, which we saw on full display this past weekend. He ran for 210 yards on 14 carries against Arkansas and has consistently been a weapon on the ground. Even though he's slightly built at 6-1, 205 pounds, Corral isn't lacking toughness.
This has not been the season Howell was hoping for. After putting up one of the best true freshman seasons we've ever graded (83.3 passing grade) and turning into a dominant passer as a sophomore (91.5), Howell's 73.2 passing grade is on pace to be a career-low. While he lost his top two weapons from a season ago, that can't fully explain why he's tanked so badly at times this season. 
The arm talent though is 100% there, and he has NFL-caliber traits for days. While he's a tad on the short end at just over 6-foot-1, Howell still has one of the strongest arms in the country. He's been prolific down the field over the course of his career, recording 38 deep completions since the start of last season. 
Matt Corral might have a strong arm as well ???? pic.twitter.com/33kefQQfyh

— Mike Renner (@PFF_Mike) September 13, 2021
Howell is also a value-add in the run game, ranking second among quarterbacks with 666 rushing yards and 37 broken tackles this season. 
The single biggest riser at the position this year, Walker has been the best running back in the country through seven weeks after transferring from Wake Forest last offseason. He's broken a ridiculous 63 tackles on 152 attempts and is already just shy of 1,000 yards on the year. At 5-foot-10, 210 pounds, Walker has the ideal combination of breakaway speed, shiftiness and power to beat defenses any which way he wants.
KENNETH WALKER JUKES HIS WAY TO A 94-YARD TD ????

(via @BigTenNetwork)pic.twitter.com/Zp1hZ0q6Zs

— Bleacher Report CFB (@BR_CFB) October 9, 2021
Hall has been breaking tackles at an elite rate for three straight seasons now despite playing behind what could be described as a lackluster Iowa State offensive line. After 120 broken tackles his first two seasons, Hall already has 45 on 134 attempts this year. At 6-foot-1, 220 pounds, he has bell-cow size and has already proven as much on a massive workload for the Cyclones. His 280 carries in 2020 were 28 more than any other running back in the country.
Good luck trying to catch up to Breece Hall pic.twitter.com/P7XH35rqzk

— Stadium (@Stadium) October 17, 2021
Yet another transfer to make this list, Charbonnet has a similar combo of size and elusiveness to the two guys above him on this list. He was a stud as a true freshman for Michigan in 2019, accumulating 11 touchdowns and 27 broken tackles on 149 attempts before falling out of favor for unknown reasons in 2020. He transferred to UCLA last offseason and has fueled the program's turnaround. He's earned an 88.1 rushing grade on 111 attempts so far, and his 6.4 yards per carry average is the fifth-best in the country.
UCLA RB Zach Charbonnet is the real deal, folks. Get on the train or get left behind pic.twitter.com/kZEYhGZAqA

— Trevor Sikkema (@TampaBayTre) September 5, 2021
Wilson has the it-factor at the receiver position that is reminiscent of CeeDee Lamb coming out of Oklahoma. Neither is the biggest or the fastest, but defenders are constantly left playing catchup against each. Wilson combines that with some pretty insane body control as well. He has 546 yards and six scores through six games so far this season. 
Garrett Wilson made this unreal catch as a TRUE freshman ???? pic.twitter.com/x0hh5l7l4F

— ESPN College Football (@ESPNCFB) May 27, 2020
Olave is the single most consistent deep threat in the draft class. His decision to return for his senior year was a head-scratcher because he was already one of the most polished receivers in the country. With 4.4 speed and the impressive ability to vary his pace to set up corners throughout his routes, Olave has hauled in 12 deep passes since the start of last season.
CHRIS OLAVE ???? pic.twitter.com/I1Z8z9DeLV

— Buckeye Videos+ (@BuckeyeVideos) November 1, 2020
There's a good chance London is the best contested-catch receiver to come out of college football since PFF started grading in 2014. Only six games into this season, London has already hauled in 18 of 27 contested opportunities. Once a member of the USC basketball team as well, London's basketball background shows on the field regularly. 
YOU ARE INSANE, DRAKE LONDON ????

— PFF College (@PFF_College) October 2, 2021
He's also a nightmare to bring down after the catch at 6-foot-5, 210 pounds, as he's forced 28 missed tackles on 97 catches since the start of last year.
McBride ticks a lot of the boxes you want to see from a starting tight end in the NFL. He quite obviously has the size — 6-foot-4, 260 pounds — and production — 50 catches for 597 yards in only six games this season — but he also adds nastiness as a run blocker as well. 
TE Trey McBride (Colorado St) quickly turning into a favorite

6'4 260 Sr
2020 2nd Team MWC
2019 1st Team MWC

Athletic/Agile. Competitive Blocker. 3 drops on 103 targets

Fort Morgan HS (Joel Dreessen). Awesome 2-way player. School record for points in bball, HRs in baseball… pic.twitter.com/tMR5BN9uDs

— Ben Fennell (@BenFennell_NFL) May 28, 2021
He's one of the few tight ends in recent memory who is the focal point of their respective offense. Against Toledo earlier this year, McBride received 109 of Colorado State's 110 passing yards on the day.
Likely is the single best receiver at the tight end position in the draft class, which he proved a couple of weeks ago against Arkansas Statedue to a monster eight-catch, 232-yard, four-touchdown performance. The only problem is that he still looks more like a receiver at 6-foot-4, 240 pounds. He's more than willing as a blocker though, notching an 81.6 run-blocking grade — albeit not too often truly inline — for the Chanticleers.
What was the likelihood of Isaiah Likely making this TD catch? #CFB pic.twitter.com/m3tGQlYcJG

— PFF College (@PFF_College) September 18, 2021
After a huge sophomore season that saw Wydermyer haul in 46 passes for 506 yards, 2021 hasn't quite gone to plan, as he's only managed 21 catches for 278 yards so far with four drops. Wydermyer isn't much of a dynamic playmaker at the position, but he has a huge catch radius and plus ball skills over the middle of the field. He also has the size to be an every-down inline blocker at the next level.
What a grab by Jalen Wydermyer ???? pic.twitter.com/x7TaJzhYBX

— SEC Network (@SECNetwork) December 5, 2020
A truly impressive physical specimen, Neal stands an imposing 6-foot-7, 350 pounds and blocks out defenders, as well as the Sun, on the blindside for Alabama. He was ranked No. 1 on Bruce Feldman's Freaks list this preseason, and it doesn't take too many plays to realize why. He has special people-moving ability for only a junior. There's also not going to be a Penei Sewell situation for whatever NFL team drafts Neal, as he's already started at left guard as a freshman, right tackle as a sophomore and left tackle as a junior in his career.
Alabama LT Evan Neal, #73. 6-7, 350 pounds, future NFL standout and destroyer of souls. pic.twitter.com/F8LcLyIloV

— Field Yates (@FieldYates) September 4, 2021
If Neal is the most impressive athlete at the tackle position in the class, then Green isn't too far behind. He's not the guy linebackers want to see climbing to the second level because his ability to locate is terrific. He's started at every position except for center this season but his best position appears to be at tackle.
Ya love to see it! Go get 'em!

Kenyon Green ???? pic.twitter.com/gEMp8oML0z

— Ben Fennell (@BenFennell_NFL) June 9, 2021
Cross has taken a massive leap in Year 3 for the Bulldogs. After allowing 44 pressures in his first year of Mike Leach's offense, that number has dropped to only seven this season. Against Texas A&M and Alabama in his past two games, he allowed zero pressures on 133 pass-blocking snaps. He's so smooth in his pass sets and often is left to do his work on an island.
You got to get up very early to beat Mississippi State LT Charles Cross with speed. pic.twitter.com/Ng8HZVcO24

— Lorenz (@ScoutingLenz) July 1, 2021
Linderbaum was the highest-graded center in the country last year and is the highest-graded center this year. He will also enter the draft as the single best center prospect PFF has seen since it started grading in 2014. After coming to Iowa as a 255-pound defensive lineman in 2017, Linderbaum has flipped to the offensive side of the ball and never looked back. His wrestling background shows on tape repeatedly with his elite hand usage and physicality. What really makes him special, though, is how easily he moves in space. He fits every scheme.
#Iowa stud center Tyler Linderbaum (#65) not being very nice to the ISU linebacker.

He's got that nasty, competitive edge you want. pic.twitter.com/McJcq9NDXI

— Dane Brugler (@dpbrugler) September 13, 2021
No offensive lineman in the country has more jaw-dropping pancakes on tape than Ekwonu. His 22 big-time blocks since the start of 2020 are the most of any offensive lineman in the country. After struggling in pass protection early in his career, Ekwonu has been lights out with only four pressures allowed this season.
Highest percentage of positively graded run blocks among Power 5 OTs in 2020, per @PFF:

???? Ikem Ekwonu, NC Statepic.twitter.com/1psERHU0o1

— Austin Gayle (@PFF_AustinGayle) June 9, 2021
Kinnard has taken his game to another level this season in a vastly different offense than he's been used to at Kentucky. The right tackle has allowed only four pressures this season on 213 pass-blocking snaps after the run-heavy Wildcats' offense asked him to pass protect on only 304 snaps in all of 2020. He still needs some refinement, but you won't find many 6-foot-5, 345 pounders who move like Kinnard.
Kentucky RT Darian Kinnard just cleaning house… pic.twitter.com/K6OmFNfTwN

— Cole Cubelic (@colecubelic) November 16, 2020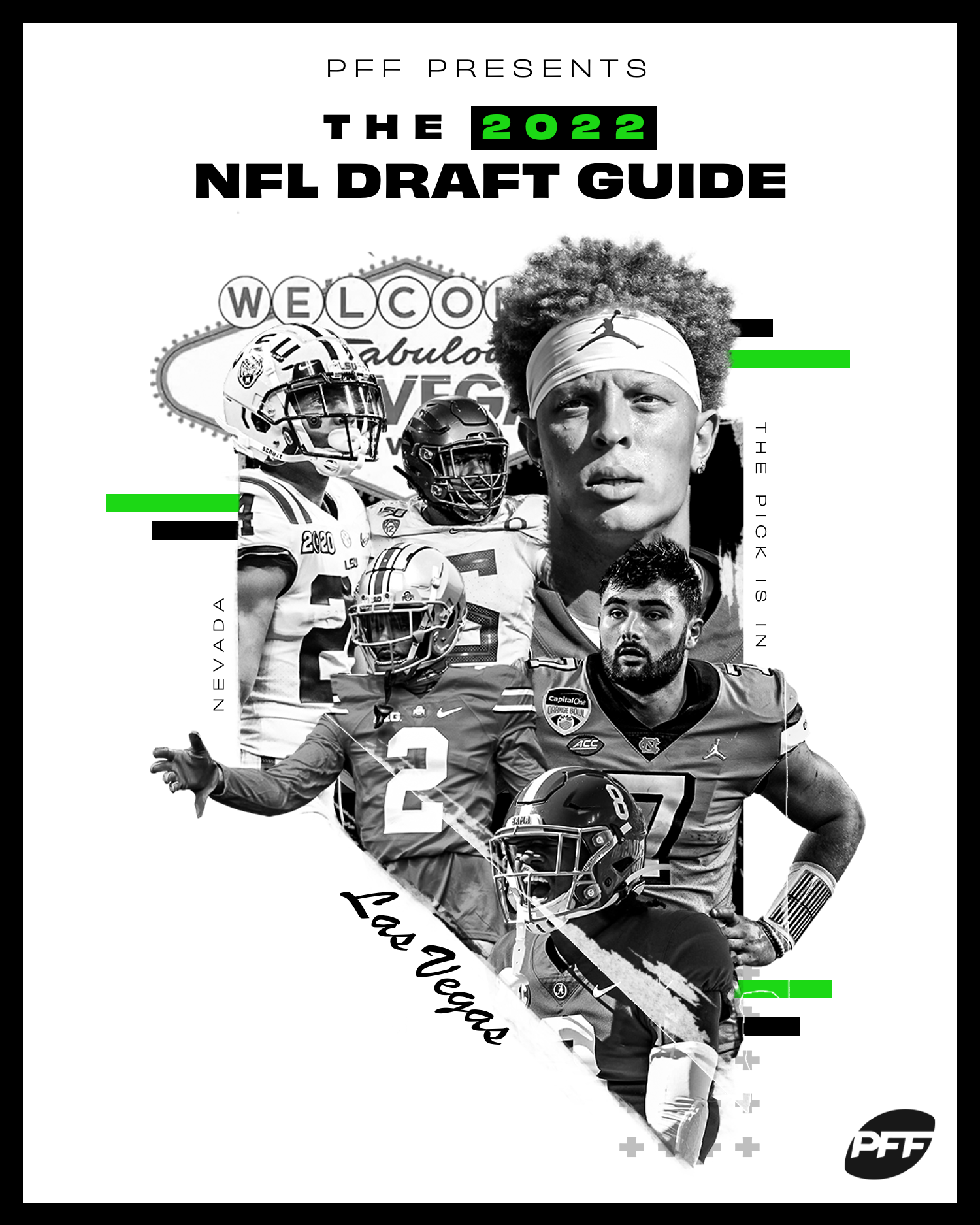 As the single most intimidating defender in college football, Davis is far from a complete defensive tackle, but he can do things at 6-foot-6, 340 pounds that others can only dream of. Blocking him one-on-one in the run game is an impossible task for college offensive linemen at the moment. While he has little in the way of pass-rushing moves, Davis doesn't need many due to how physically dominant he can be.
Good luck blocking Jordan Davis pic.twitter.com/4fxZs155xc

— Barstool Sports (@barstoolsports) October 16, 2021
The Connecticut football program might be a mess, but don't blame Jones, as he's a burly 6-foot-5, 333-pound nose tackle who continually resets the line of scrimmage. Jones plays with impressive pad level for that size and has shown some ability to pressure quarterbacks in the rare case teams actually have to pass on the Huskies. He's earned an 88.4 run defense grade so far this season.
If @UConnFootball DT Travis Jones can add some pass rush into his arsenal – look out! This kid is a monster… pic.twitter.com/MmXyIKzkI9

— Ben Fennell (@BenFennell_NFL) August 26, 2021
Mathis has taken a significant next step in his development this season. After only 18 pressures in 2020, Mathis already has 14 this season. He's a bit of a linear player, but he knows how to use his length to influence opposing offensive linemen. The senior has some of the best pop-on contact in the draft class.
Lil Cuz been in his bag this season. @PhidarianMathis pic.twitter.com/e2elqikOym

— Coach Brandon Jordan (@CoachBTJordan) October 2, 2021
Thibodeaux's first step at 6-foot-5 and 258 pounds is something to behold. It's damn near unfair to ask college offensive tackles to try to block him from a wide-nine alignment one-on-one. Combine that with long arms, and it's no surprise he has a 91.7 pass-rushing grade already this season.
Kayvon Thibodeaux is so quick off the ball pic.twitter.com/Ai25fIK6SQ

— Geoff Schwartz (@geoffschwartz) October 16, 2021
The thing is, Thibodeaux is only scratching the surface. He gets by on physicality right now because he can, but he still needs to develop a pass-rushing toolbox.
One of the biggest risers this season, Hutchinson has dominated week in and week out in a way we never saw from him in the past. After breaking his leg in 2020, Hutchinson has come back a trimmer 6-foot-5, 260 pounds and is exclusively playing on the edge, which has led to him being the highest-graded edge defender in the country at 92.6 overall.
Every Monday when I review the tape, #Michigan DE Aidan Hutchinson has a handful of plays where he makes the left tackle look awfully silly.

This week is no different… pic.twitter.com/QATslFZcwl

— Dane Brugler (@dpbrugler) October 4, 2021
Where Leal actually ends up in the NFL will be interesting to watch because, at 6-foot-4, 290 pounds, he is already acting as a positionless defensive lineman for the Aggies. He's played about a 60/40 split this season outside vs. inside while racking up 22 pressures and 18 run stops. Leal is also one of college football's ironmen, as his 445 snaps this season are the third-most of any defensive lineman in the country. 
Texas A&M's DeMarvin Leal is going to light it up in 2021 and beyond.

The former 5⭐️ was 1 of 5 Power Five edge defenders with a grade above 80.0 vs the run and as a pass-rusher in 2020. A lot of power, twitchy for a man his size and good hand usage with a deadly push-pull. pic.twitter.com/k6qvaL5qlT

— Anthony Treash (@PFF_Anthony) February 16, 2021
There are other guys on this list that are better than Lloyd in one aspect or another, but he's the best all-around linebacker in the country. There are very few holes to Lloyd's game, as he's earned well above average grades in run defense, coverage, pass-rushing and tackling. One of his best traits is what he can do as a blitzer, as he's accumulated 16 pressures and five sacks already this season.
#Utah LB Devin Lloyd (#0) was EVERYWHERE last night in the win over Weber State.

12 tackles, 2 TFL, 1.0 sack, FF, INT

Lloyd was my highest-graded senior LB prospect this summer. I know several NFL teams feel the same. pic.twitter.com/a1jB7c9lyc

— Dane Brugler (@dpbrugler) September 3, 2021
Dean is a heat-seeking missile at linebacker, as there aren't too many other players who crank it up as hot as he does from play to play. Even though he's a tad undersized at 6-foot, 225 pounds, Dean still routinely beats blocks with ease. His 90.1 overall grade is the second-highest of any linebacker in the country.
Nakobe Dean is INSANE. Identifies this almost immediately, fights through blocks, and charges in for the TFL. Triumphantly declaring himself as one of the best linebackers in the 2022 NFL Draft.pic.twitter.com/s7Sf6J7dOz

— Pro Football Network (@PFN365) October 16, 2021
Harris has some of the most prototypical linebacker traits in the draft class, which is easy to see when he explodes through blockers with ease at 6-foot-2, 232 pounds. He's still a work in progress in coverage, though, as he's allowed 22-25 targets for 318 yards this season.
Christian Harris tells Master Teague to quit with the whole pass blocking thing. pic.twitter.com/jQB477x8XA

— Stewart Mandel (@slmandel) January 12, 2021
Stingley is likely to be sidelined the rest of the season with a foot injury, but we've already seen enough to know he's CB1. Stingley was the highest-graded corner in the country as a true freshman in 2019, and he has ideal size and length at 6-foot-1, 190 pounds to go along with elite 4.3 speed. He's been thrown into the fire in a man-heavy defense and only allowed a 41.1 completion percentage in his career.
Derek Stingley Jr: Highest coverage grade among returning CBs (91.9) ????
pic.twitter.com/OyY8JSPB2E

— PFF College (@PFF_College) June 3, 2021
Elam has been ridiculously productive in the SEC over the course of his career. He's seen time ever since his true freshman season in 2019 but only allowed 40-91 targets for 517 yards while recording six picks and 14 pass-breakups in his career. He's a long, physical 6-foot-2, 196-pound corner who's built for the NFL game.
Kaiir Elam not too shy out there.. pic.twitter.com/BekIuSAcOE

— Ben Fennell (@BenFennell_NFL) September 8, 2021
While McDuffie may not have the type of prototypical length the guys above him on this list do at 5-foot-11, 195 pounds, he's played elite football nonetheless. This season, he's allowed only 6-16 targets for 49 yards while accumulating three pass-breakups. He's tailor-made for zone schemes, as he's also one of the best tacklers at the position in college football. On 79 career tackle attempts, McDuffie has missed only four.
Just watch Trent McDuffie on this play: pic.twitter.com/NNS4INMOH4

— Ben Glassmire (@BenGlassmireNFL) September 3, 2021
The term "freak" gets thrown around willy nilly in draft circles, but there's no better term to describe the 6-foot-4, 220 pound Hamilton. Flip on the tape and I'm sure you'll agree. He has legit range as a deep safety, as his long strides eating up ground in a hurry, and the burst to make plays in short areas underneath. Hamilton can line up anywhere at any time and still execute at a high level. 
This Kyle Hamilton INT looks unreal from the wide angle but the endzone view is my favorite. Watch him appear out of nowhere and eat up this ground! pic.twitter.com/7jm1lPA8WK

— Daniel Jeremiah (@MoveTheSticks) September 6, 2021
Battle has been starting for the Tide ever since his true freshman year in 2019, and he's improved by leaps and bounds ever since. He went from a 66.3 coverage grade as a freshman to 81.5 last year and 90.2 this season. He's allowed only 4-10 targets for 32 yards while recording two interceptions and a pass breakup. At 6-foot-1, 210 pounds, Battle packs a punch behind him as well.
JORDAN BATTLE SAID GIMME ????

BAMA IS ROLLIN' WITH A PICK SIX!!pic.twitter.com/nJwJA1DNSc

— PFF College (@PFF_College) October 16, 2021
We already thought Brisker was a top safety prospect last year, but he's taken his game to another level in 2021, as he's allowed only 5-11 targets for 11 yards while accumulating two interceptions and three pass breakups. Brisker is a physical all-around safety who's also an elite tackler, as he's missed only four tackles on 88 attempts the past two seasons.
Jaquan Brisker played like a stud and this is such a heady, big play. Baller! pic.twitter.com/YXHPLE6TpL

— Michael Kist (@MichaelKistNFL) September 4, 2021