Free agency and the 2022 NFL Draft have come and gone. Now, it's time to fully embrace the 2022 offseason by breaking down each team's fantasy football aspirations before fantasy draft season truly gets underway in August.
What follows is a Los Angeles Rams fantasy-focused breakdown. keying on questions such as:
Will

Matthew Stafford

continue to put up huge numbers through the air?

Is it finally time for

Cam Akers

to work as the Rams' three-down workhorse?

Can both

Cooper Kupp

and

Allen Robinson II

ball out in 2022?
Every fantasy-relevant Rams player will be covered in the following paragraphs. Make sure to check out the PFF Team Preview Landing Page through early July for more all-encompassing fantasy football coverage.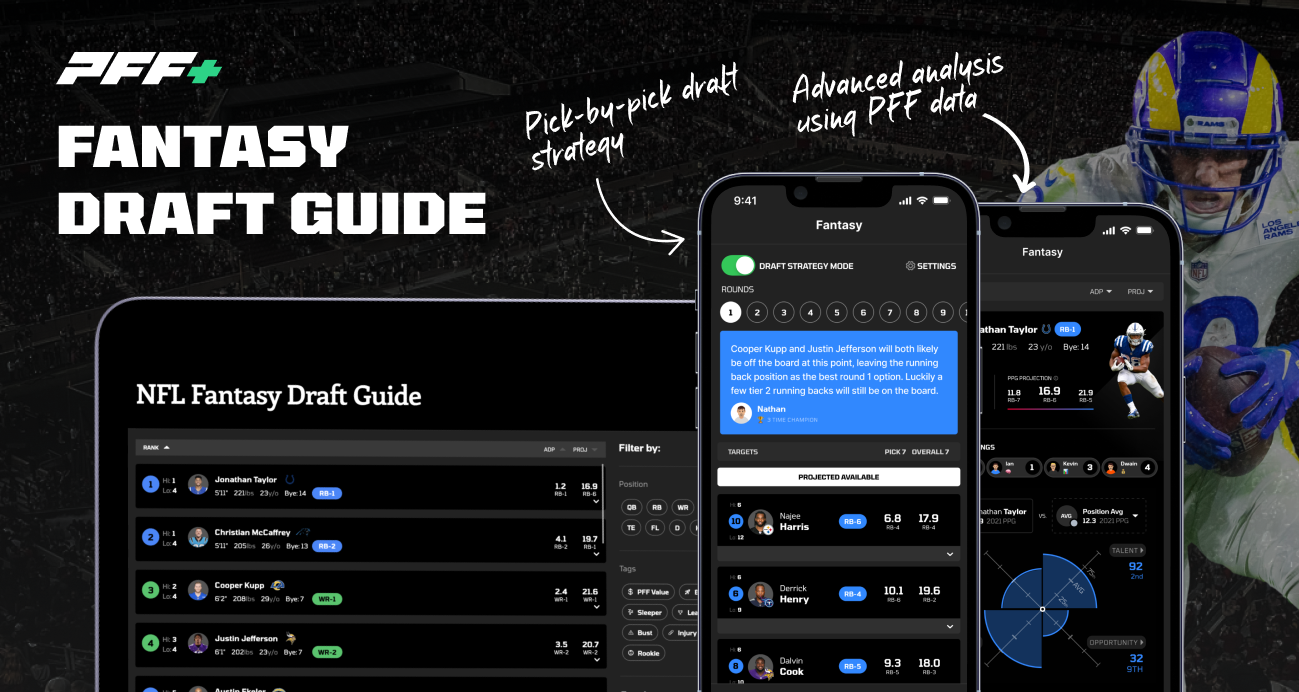 Notable offseason moves
Naturally, the rest of the NFL had an interest in poaching some of the parties involved in helping lead the Rams to a Super Bowl victory. While head coach Sean McVay and defensive coordinator Raheem Morris will continue to largely run the offense and defense, respectively, offensive coordinator Kevin O'Connell is now the head coach of the Vikings, while defensive pass-game coordinator Ejiro Evero is now the defensive coordinator in Denver.
New Rams offensive coordinator Liam Coen served as an assistant wide receivers and quarterbacks coach with the team before working as the offensive coordinator at Kentucky in 2021. Coen helped lead the Wildcats to a 10-3 record while averaging a crisp 32.3 points per game in 2021, but McVay figures to continue to call the plays and dictate terms for the Rams' offense.
Don't be surprised if McVay once again institutes a fairly balanced attack that moves the ball with a sense of urgency, regardless of the game script:
2017:

58.2% pass-play rate in non-garbage time situations (No. 23); 27.9 seconds per play in neutral situations (No. 1)

2018:

60.7% (No. 21); 29.05 (No. 3)

2019:

63.3% (No. 13); 28.3 (No. 3)

2020:

59.9% (No. 22); 29.8 (No. 12)

2021:

62.1% (No. 15); 29.27 (No. 4)
There also figures to be plenty of funky window-dressing to keep defenses honest. Since 2017, the Rams rank first in play-action rate (31.1%), seventh in screen rate (12%) and eighth in shift/motion percentage (52.5%). McVay has yet to lead a Rams offense that finished lower than 11th in yards, while 2020 was the only time they finished outside of the top 11 offenses in scoring.
Expect quarterback Matthew Stafford and company to once again put up all sorts of points and production in a division that will likely force plenty of shootouts. This is exactly the sort of offense fantasy managers should feel fantastic about targeting. The more players from the AFC and NFC West on your fantasy team, the better.
Additionally, the Rams have made plenty of changes to their roster. The following quarterbacks, running backs, wide receivers and tight ends have either joined or left Los Angeles in some way, shape or form this offseason:
The Rams added just one skill-position player with their limited 2022 draft picks: Notre Dame running back Kyren Williams. The pass-down specialist racked up 77 receptions over the past two seasons but might not be big enough (5-foot-9, 194 pounds) for a bigger role in the NFL. He also suffered a broken foot in practice in early June. Throw in the fact that the fantasy track record of players not selected inside of the draft's top three rounds isn't pretty, and Williams is unlikely to have a major role in 2022.
The Rams' superior scheme, offensive line and wide receiver room made it fairly easy to see Stafford's 2021 boom coming. And yet, he exceeded even the wildest expectations by leading the Rams all the way to Super Bowl glory, making a number of clutch throws along the way.
Seriously, Stafford had one of the league's better mixtapes of 2022.
Matthew Stafford pic.twitter.com/Tp4dVB63Jv

— Ian Hartitz (@Ihartitz) June 15, 2022
Of course, even McVay couldn't fully reign in Stafford's inner gunslinger. The 34-year-old veteran still flashed some lows throughout the regular season and generally didn't do a good job taking care of the football. The good news is that the regular-season Stafford experience still consisted of far more ups than downs:
PFF passing grade:

79.3 (No. 9 among 44 quarterbacks with 100-plus dropbacks in 2021)

QB rating:

102.9 (No. 7)

Big-time throw rate:

5.7% (No. 9)

Turnover-worthy play rate:

3.7% (No. 31)

Yards per attempt:

8.1 (No. 3)

Adjusted completion rate:

75.9% (No. 17)
Setting aside Stafford's rough rookie season and encore that resulted in just three games, the man has been anyone's idea of a solid fantasy signal-caller over the years. Starting in 2011, Stafford has ripped off fantasy QB5, QB10, QB6, QB17, QB9, QB7, QB6, QB20, QB29, QB15 and QB5 finishes.
Just look at the group of quarterbacks who averaged 20-plus fantasy points per game in 2021. The man belongs inside anyone's top 15 (at worst) fantasy signal-callers ahead of 2022:
The Rams boast PFF's 11th-ranked offensive line entering 2022. While replacing long-time left tackle Andrew Whitworth, backup Joe Noteboom impressed in a limited sample last season. Throw in another good-looking group of pass-catchers at wide receiver, tight end and running back, and it's no wonder the Rams have a whopping eight games projected for 50 or more points in 2022.
Quarterbacks have historically been far superior to every other position at producing big-time fantasy numbers deep into their 30s, meaning you shouldn't expect a major fall-off from Stafford, barring injury. He has regularly been banged up over the years and even had a "procedure thing" this offseason to help his elbow in the long term, but it's tough to say he's any more injury-prone than fellow pocket passers given that 2019 is the only season in which he didn't start every single game since 2010.
Ultimately, Stafford comes in as my QB12 just ahead of Aaron Rodgers, who simply can't compete with Stafford's play-makers and likely superior passing volume. I would also take Stafford ahead of a handful of fellow pocket passers with limited rushing upside, including Kirk Cousins and Derek Carr. Perhaps McVay puts more on Stafford's plate in Year 2 and he flirts with a big enough workload to challenge Tom Brady and Joe Burrow. But for now, I'll continue to prioritize those latter two quarterbacks ahead of Stafford as the top non-rushing options at the position.
I ranked Akers ranked ahead of Jonathan Taylor (ugh, good call, idiot) and Antonio Gibson before he was injured last offseason due to the potential that he would play a legit every-down role. He posted the following numbers in his final six games of 2020 despite suffering a high-ankle sprain at the end of Week 15:
Week 13

: 21-72-1 rushing, 1-22-0 receiving, 63% snaps, PPR RB12

Week 14

: 29-171-0 rushing, 2-23-0 receiving, 79% snaps, PPR RB10

Week 15

: 15-63-0 rushing, 1-(-)1-0 receiving, 61% snaps, PPR RB37

Week 17

: 21-34-0 rushing, 4-52-0 receiving, 66% snaps, PPR RB23

Wild Card

: 28-131-1 rushing, 2-45-0 receiving, 72% snaps

Divisional Round

: 18-90-1 rushing, 1-6-0 receiving, 96% snaps
Unfortunately, Akers tore his Achilles in July ahead of the 2021 season and was expected to miss the entire campaign. He got his feet wet in Week 18 before handling 19, 27, 14 and 17 combined carries and targets throughout the Rams' Super Bowl run. Akers' snap rate got all the way up to 81% in the Rams' divisional-round victory over the Buccaneers, but that slipped to 39% and 57% in the NFC championship and Super Bowl, respectively.
McVay gave his lead running back (usually Todd Gurley) at least 60% of the offense's snaps in 48 of 52 games from 2017-2019 before dealing with enough injuries that he usually had to embrace committees over the past two seasons. Still, Henderson posted snap rates north of 60% in each of his first 10 games of 2021 prior to Sony Michel then getting the next chance to lead the way and play a near every-down role.
Neither Henderson nor Michel needed to even be all that good with their touches. Their expected PPR points per game were on par with fantasy football's most productive backs during these respective stretches:
Henderson Weeks 1-12:

15.7 PPR points per game (RB15); 16.5 expected PPR points per game (RB11)

Michel Weeks 13-18:

14.8 PPR points per game (RB18); 19.3 expected PPR points per game (RB3)
McVay then briefly turned the backfield over to Akers before embracing a multi-back approach for the season's final two games.
It sure sounded like Akers was poised to take on this gargantuan role for himself ahead of last season. From McVay himself:
"He's obviously a great runner, but he's got ability as a pass-catcher coming from the backfield, and we can displace him and put him in the slot or the outside receiver location."
Akers will be just 23 years old by the time Week 1 rolls around. The Rams' decision to ignore the position throughout free agency and the draft (with all due respect to Williams' pass-catching skills) makes it look like Akers is expected to work as the team's starter in 2022.
While his actual efficiency numbers were absolutely brutal in his five games of action in 2021, his quick return from such a major injury alongside tough matchups against the Cardinals (x2), Buccaneers, 49ers and Rams didn't exactly set him up for success. Still, Fantasy Points' Dr. Edwin Porras is skeptical about the recovery potential:
"Even the most ardent Akers supporters must acknowledge that although there's no historical precedent that he can't return to elite stardom, there's certainly no data to support that he will. In fact, all return to performance data post-op Achilles is bleak. Drafting Akers with the hopes he'll reach top-12 status is more of a gamble than playing the probabilities."
Here's the other catch: Almost all of Akers' big workloads have come with Henderson banged up. He suffered a high ankle sprain in Week 16 of 2020 that sidelined him for the final three games of the year before suffering glute and knee injuries that forced him to miss most of the end of the regular season along with the Rams' first three playoff games.
Los Angeles utilized the following backfield split in the Super Bowl:
Akers:

37 snaps, 13 carries, 19 routes, 4 targets

Henderson:

21 snaps, 4 carries, 15 routes, 5 targets

Michel:

7 snaps, 2 carries, 4 routes, 0 targets
It'd be scary to draft Akers as a first-round back, but you don't have to. He's currently going off the board over at Underdog Fantasy as the RB18, while Henderson is all the way down as the RB45. I'm in on both players at these price points. Akers projects as the lead back in a consensus top-10 offense with the best-case scenario of playing more snaps than any other running back in the NFL.
While Henderson shouldn't be assumed to be completely out of the picture, McVay turned the backfield over to Akers at the end of 2020 before Henderson's injury, and he again trusted Akers more times than not with the season on the line in the Super Bowl. Still, Henderson is a prime "flex with benefits" option who could see around 10 combined carries and targets per week with superhero handcuff upside should Akers miss any time. Just keep an eye on Henderson's current soft-tissue injury.
Reportedly at the Rams' facility at 8 a.m. every day this offseason, Akers is suddenly being priced far closer to his floor than ceiling, which is as a legit upside RB1. While it'd make sense if the Rams look to add a veteran back to the room (as they did late last offseason), Akers will still project to be the starter save for investment in someone like Kareem Hunt. Akers certainly carries more risk than other players going in the fourth round of best-ball drafts, but few going in his range present the same sort of (wait for it) league-winning upside.
Kupp joins Julio Jones as the only wide receivers to average at least three yards per route run in a single season over the past 10 years (minimum 50 targets). PFF's reigning fantasy football MVP finds himself joining only 1990 Jerry Rice, 1992 Sterling Sharpe and 2005 Steve Smith as the league's only triple-crown winners (receptions, receiving yards, receiving touchdowns) over the past 50 years. The man basically didn't miss all season.
Overall, Kupp scored more fantasy football points in the 2021 regular season than any other wide receiver in NFL history. Fine, 1995 Jerry Rice scored an additional 1.1 more PPR points than Kupp when excluding Week 18. Either way, we're talking about a legit top-two fantasy season ever.
Kupp saw an astronomical 191 targets in the regular season. Just four times in 21 games did he handle fewer than 10 targets (including playoffs). Obviously, the player involved is great, but the workload is truly spectacular. Overall, Kupp trailed only Deebo Samuel and Ja'Marr Chase in terms of fantasy points above expectation, but his 363.6 expected PPR points were a full 43.9 points ahead of second place. Only Josh Allen (+66.3) had a bigger lead in expected points compared to the rest of the position than Kupp.
Don't overthink this one: Kupp is the overall WR1 thanks to being a confirmed baller with the league's most fantasy-friendly workload. Tier him up with Justin Jefferson and Ja'Marr Chase if you wish, but I'll take fantasy's reigning king with the third overall pick in drafts of all shapes and sizes, behind only Jonathan Taylor and Christian McCaffrey. PFF projections (again) expect Kupp to lead the lead in targets, and his potential for plenty of shootouts in the loaded NFC West is enough to get the nod over the rest of Tier 1's great receivers.
This brings us to Robinson, who wasn't himself in 2021. A midseason hamstring injury and a bout with COVID-19 certainly didn't help matters, but this was truly the worst version of A-Rob … ever:
PFF receiving grade:

67.0 (No. 65 among 89 wide receivers with 50-plus targets in 2021)

Yards per route run:

1.13 (No. 80)

Yards per reception:

10.8 (No. 70)

Targets per route run:

18.2% (No. 53)
Of course, A-Rob was forced to deal with more mediocre quarterback play. Maybe Justin Fields becomes a great quarterback in the future, but he wasn't in 2021. Go ahead and call him Robinson's best quarterback ever if you want. The list of signal-callers dating back to his days at Penn State is terribly sad either way:
While it's still possible that OBJ re-signs with the Rams before the season, his February ACL tear makes a return before November a tall ask. Robinson has been rocketing up draft boards in recent weeks, and rightfully so: He's deserving of borderline WR2 treatment thanks to his status as the No. 2 pass-game option inside of a top-10 offense that figures to throw the ball at a league-average rate at worst. Throw in the ever-fast pace involved with a McVay offense, and it wouldn't be surprising if Rams wide receivers (again) finish as one of just three teams with 400-plus total targets.
And then there's Van Jefferson, who posted a low-key solid 50-802-6 receiving line in his second NFL season. Jefferson, who turns 26 in July, isn't a young third-year receiver, but perhaps the breakout potential of the Rams' 2020 second-round pick is underrated. He popped off with 2-80-1, 6-90-1, 3-88-0, 3-93-1 and 2-58-1 performances throughout the 2021 season, seeing at least six targets in nine games. Jefferson played at least 75% of the offense's snaps in 11 of 17 regular-season games and in each of the Rams' final three playoff games, although this came with 2021 second-round pick Tutu Atwell mostly sidelined. Ben Skowronek did briefly factor into the equation enough to make Jefferson more of a part-time player.
Ultimately, Jefferson is a solid enough late-round dart, but there is a scenario where he's working outside of three-receiver sets sooner rather than later. While his status as the WR64 over at Underdog Fantasy is affordable enough, I'd rather throw late-round darts at guys such as K.J Hamler, Josh Palmer and K.J. Osborn, who I believe have higher ceilings if one of their team's top two receivers misses time.
Higbee has posted 69-734-3, 44-521-5 and 61-560-5 receiving lines over the past three seasons. Overall, he's started 84 games for the Rams since they selected him in the fourth round of the 2016 NFL Draft. While Higbee is not a spring chicken (30 years old in January), the history of older tight ends putting up big fantasy numbers isn't nearly as dire as it is at running back or wide receiver.
The case for Higbee putting up big numbers in 2022 comes down to his full-time role. He played at least 69% of snaps in every non-injured game last season and crossed the 90% snap threshold in 13 of 17 non-injured games. Ranking ninth in total routes run (including fourth in red-zone routes per game) and 13th in targets, Higbee has the workload of a borderline TE1.
The case against Higbee putting up big numbers in 2022 comes down to the reality that he was targeted on only 16.3% of his routes in 2021. Furthermore, just 3.7% of his targets were thrown at least 20 yards downfield, a mark that ranked 43rd among 52 tight ends with at least 25 targets last season.
And yet, Higbee finished 2021 as the TE13 in PPR points per game while working as one of just 11 tight ends with double-digit expected PPR points per game. It's fair to question his overall upside, but his status as the TE20 over at Underdog Fantasy seems a bit extreme given his status as a full-time player inside of a consensus top-10 scoring offense and passing game. His recovery from offseason knee surgery to repair a sprained MCL seems to be going well given his participation in "on-field football activity" during team OTAs back in May.
Again, the ceiling here is somewhat limited due to the reality that Kupp and A-Rob will lead the passing game, but Higbee profiles as a solid high-floor late-round option at the position. Last season, just five tight ends had at least nine finishes inside the position's top 12:
I prefer Irv Smith as THE late-round tight end of 2022, but Higbee is firmly in the mix to be the 2022 version of 2020 Robert Tonyan/2021 Dawson Knox — an affordable late-round tight end in a great offense who flirts with a high touchdown total despite not having as large of a target share as other players at the position.