Free agency and the 2022 NFL Draft have come and gone. Now, it's time to fully embrace the 2022 offseason by breaking down each team's fantasy football aspirations before fantasy-draft season truly gets underway in August.
What follows is a  Houston Texans fantasy-focused breakdown, focusing on key questions like:
Is

Davis Mills

being counted out too quickly in the Year-2 quarterback conversation?

Is there a single viable fantasy option inside this muddled Texans backfield?

Should fantasy managers buy an undervalued

Brandin Cooks

for the 60th season in a row?
Every fantasy-relevant player from the Texans will be covered in the following paragraphs. Make sure to check out the PFF Team Preview Landing Page through early July for more all-encompassing fantasy football coverage.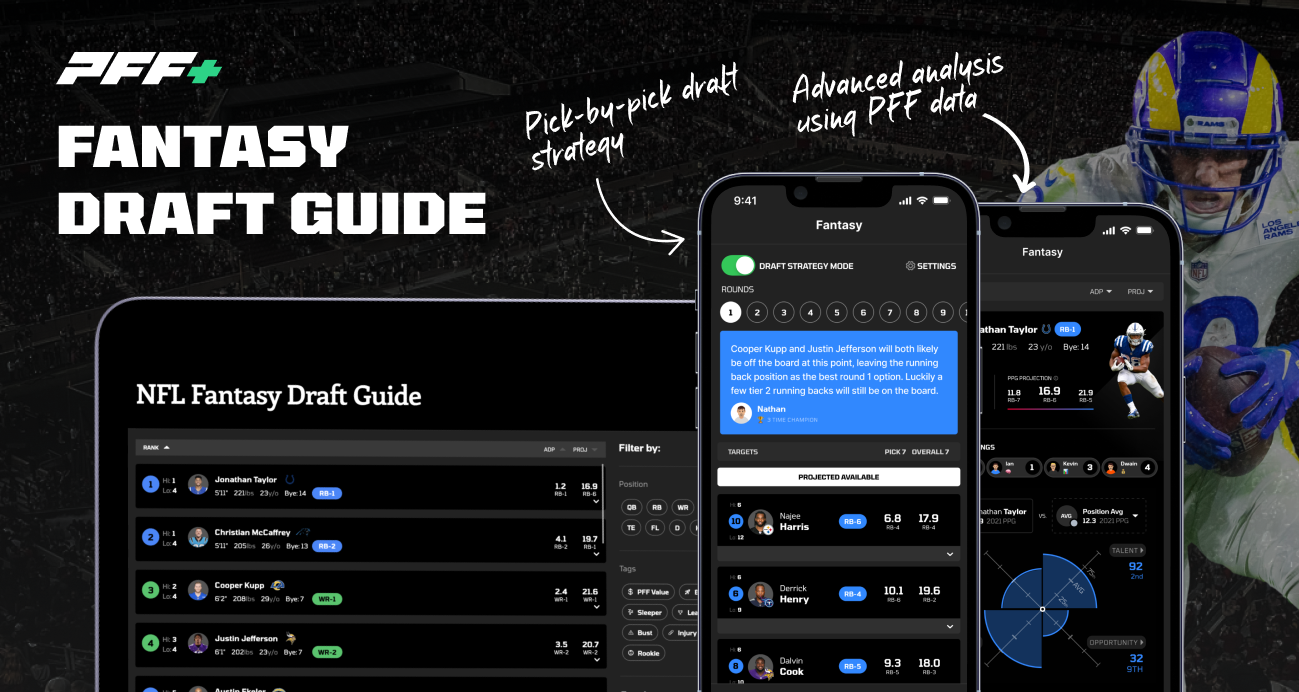 Notable offseason moves
It's tough to call David Culley's 4-13 debut as a head coach overly disappointing considering the baren roster he inherited, but the Texans' brass decided to move on anyway in the form of Lovie Smith, who spent 2021 as the team's defensive coordinator after serving five seasons as the head coach at Illinois, posting a rather brutal 17-39 overall record and failing to finish at or above .500 even once.
Last season's offensive coordinator Tim Kelly moved on to the Tennessee Titans, leading to the front office promoting 2021 quarterbacks coach/passing-game coordinator Pep Hamilton to lead offensive coordinator. Hamilton deserves credit for helping mold Andrew Luck and Justin Herbert over the years, but just realize 2015 was the last time he served as an undisputed lead play-caller at the NFL level.
Hamilton worked under Smith as the Bears' quarterbacks coach from 2007-2009. During this stretch, the Bears actually took a step forward in their willingness to throw the football, finishing with the league's 10th, 14th and eighth most pass attempts. Last season, the Texans ranked just 24th in pass-play rate (59.3%) excluding garbage time situations. They moved at the 10th-slowest pace in neutral situations (Football Outsiders). It'd make sense if Hamilton boosts these numbers closer to league average, although expecting a full shift to a pass-happy and fast-paced offense might be wishful thinking considering both Smith and Hamilton were already on this staff last year.
Additionally, the Texans have made plenty of changes to their roster. The following quarterbacks, running backs, wide receivers, and tight ends have either joined or left the Texans in some way, shape, or form this offseason:
QB Deshaun Watson: The Texans traded Watson to the Cleveland Browns for first-round picks in 2022, 2023 and 2024 along with a 2023 third-rounder as well as 2022 and 2024 fourth-round selections. Watson was anyone's idea of a top-10 real-life and fantasy quarterback during his time in Houston, but obviously, his tenure with the Texans will always be attached to the results of his ongoing legal investigation.
QB Tyrod Taylor: The team's 2021 Week 1 starter, Taylor took his talents to the New York Giants and will serve as

Daniel Jones

' backup for the 2022 season. The artist known as "TyGod" managed to bring home two victories in his six starts but displayed porous passing efficiency in terms of accuracy (60.7% completion rate) and yards per attempt (6.4).
QB Kyle Allen:

Signed a one-year, $2.5 million deal to presumably work as

Davis Mills

' backup in 2022. Allen demonstrated an alarming inability to put up fantasy-viable counting numbers despite being surrounded by high-caliber play-makers during his 2019 campaign as the Carolina Panthers' starting quarterback. Things didn't get much better in two seasons with the Washington Commanders, but at a minimum, Allen presents the sort of fine-enough backup signal-caller who won't single-handily tank his team's chances of winning on a weekly basis.
RB Marlon Mack:

Signed a one-year, $2 million contract with the Texans, although just $250,000 of the deal is guaranteed. Mack posted 195-908-9 and 247-1,091-8 rushing lines in his second and third years while starting 22 games but, unfortunately, tore his Achilles just seven touches into the 2020 season. Mack averaged a career-low 3.6 yards per carry in 2021 and didn't play a snap from Week 9 on.
RB David Johnson:

Remains an unrestricted free agent. Johnson has largely struggled to ever find his footing as an elite fantasy back since his incredible 2016 campaign. While Johnson did go for 1,005 total yards and eight touchdowns with the Texans in 2020, he earned just 99 touches in 13 games last season despite working inside of arguably the position's single-most shallow depth chart.
RB Dare Ogunbowale: Signed a two-year, $3 million contract with the Texans that includes just $550,000 in guaranteed money. The scatback found his way into a pass-down role with both the Tampa Bay Buccaneers and Jacksonville Jaguars over the years but, ultimately, has never registered even 60 touches in a single season.
FB Andy Janovich:

Signed a one-year, $3.3 million deal with a rather steep $2.5 million guaranteed. Leave it to the Texans to nearly invest more guaranteed dollars in a 29-year-old fullback than the rest of their running backs combined.
WR Danny Amendola:

Remains an unrestricted free agent. Amendola posted a forgettable 24-248-3 receiving line in eight games last season, although his season-ending 7-113-2 receiving line against the Titans in Week 18 did demonstrate that the long-time slot maven might still have some gas in the tank.
TE Jordan Akins:

Signed with the Giants. Akins briefly flashed fantasy-friendly receiving ability over the years, but ultimately never managed to win out enough to lock down a full-time role. He posted a 114-1,260-3 receiving line with the Texans from 2018 to 2021.
Second-round Alabama WR John Metchie could feasibly work as this offense's No. 2 pass-game option as early as this season depending on his ACL recovery. While there are questions about his size (5-foot-11, 187-pounds), Metchie profiles as the sort of "always open" route-running technician who can find a role inside any offense.
The Texans took Florida RB Dameon Pierce in the fourth round and TE Teagan Quitoriano in the sixth. Pierce posted an elite 92.0 PFF grade in 2021 and profiles as a theoretical three-down back inside of a shallow backfield while Quitoriano could even find plenty of snaps with little proven competition in his position room. It's fair to be optimistic about Pierce, but be careful. The fantasy track record of players not selected inside of the draft's top-three rounds isn't pretty.
Mills was arguably the second-best rookie quarterback of 2021, behind only Mac Jones. Of course, he was still anyone's idea of "bad" relative to the rest of the league:
PFF passing grade: 59.0 (No. 34 among 45 quarterbacks with 100-plus dropbacks)
QB rating: 88.8 (No. 24)
Big-time throw rate: 3.8% (No. 22)
Turnover-worthy play rate: 4.3% (No. 34)
Yards per attempt: 6.8 (No. 31)
Adjusted completion rate: 74.6% (No. 23)
Yes, there was far more bad than good from Mills in 2021. Also yes, the rookie put more than a few great throws on film, particularly when given the benefit of a clean pocket. 
Davis Mills pic.twitter.com/2ip3yewROk

— Ian Hartitz (@Ihartitz) May 25, 2022
The Texans' offense was bad in terms of team PFF grades in pass blocking (59.2, 23rd), receiving (71.6, 22nd) and especially rushing (60.0, 32nd). While Mills didn't exactly help boost the Texans' passing grade (56.4, 28th), he was playing inside anyone's idea of a bottom-five offense.
Back in February Lovie Smith said, "There's a possibility of us getting a great quarterback." More recently in April, he claimed to be a "believer" in Mills. Ultimately, the Texans' decision to not make any meaningful moves at the position throughout the offseason gives Mills a 17-start projection barring a last-second trade for someone such as Baker Mayfield or Jimmy Garoppolo.
Mills surpassed 300 yards on four separate occasions last season, more than Jalen Hurts (two), Mac Jones (two) and Ryan Tannehill (two), among others. This helped him post four separate top-12 fantasy finishes, a mark that beat out quarterbacks that were drafted higher uch as Daniel Jones (three), Tua Tagovailoa (three), Trevor Lawrence (two), and Zach Wilson (two).
Just because the world never expected Mills to be a starting NFL quarterback doesn't mean he's not capable of putting up some solid production and improving ahead of his second season.
And yet, it's tough to overly prioritize him in fantasy land for three key reasons:
The Texans once again decided to do next to nothing in free agency or the draft in terms of improving Mills' surrounding pass-catchers. This isn't a diss toward

John Metchie

, but he's literally the only skill-position talent the organization has drafted inside of the draft's top-two rounds since

Will Fuller

back in 2016. Throw in a

hysterical list

of veteran free-agent additions over the past two offseason, and it's clear Houston's front office isn't actively trying to compete for a championship in 2022.

Mills has a non-existent rushing floor, totaling just 44-scoreless yards in 13 games as a rookie. At Stanford, Mills gained 86 career rushing yards with three scores in 14 games. In an era where more and more dual-threat talents are getting the chance to start under center, Mills is a classic pocket passer who needs extreme passing volume and efficiency to produce big-time fantasy numbers.

It seems more likely than not that the Texans add someone else to this quarterback room. The Athletic's Jeff Howe reported the Texans' interest in acquiring either Mayfield or Garoppolo

back in April

, and it wouldn't be the most surprising thing in the world if they add a veteran free agent such as

Ryan Fitzpatrick

,

Cam Newton

, or (throws up in mouth)

Mike Glennon

(although the combined neck length at hand would be a fun time).
Mills will be on the weekly streamer and DFS radar in the right spot, but he shouldn't be drafted in normal one-quarterback re-draft formats. There's simply too much potential for this offense to remain terrible and/or move on to a different quarterback. It's probably not a bad thing if your future fantasy football team doesn't have any Texans on it.
The Texans finished 2021 as PFF's single-worst offense in team rushing and run-blocking grade. They also ranked dead last in yards before contact per carry (0.7) while only improving to 24th in yards after contact per rush (2.6). Texans running backs ranked 31st in rushing yards (1,193) despite getting the league's 13th-most carries (377). Their 99 combined targets ranked 17th.
To summarize: The Texans' rushing "attack" worked as one of the league's single-least productive groups due to a combination of bad blocking and mediocre rushing ability. Throw in a constantly rotating three-to-four-back committee, and the answer to which Texans running back to roster in fantasy was usually "no" in 2021. Yes, Burkhead helped many in the fantasy playoffs with a PPR RB3 finish in Week 16. Also yes, that marked the only time all season that a Texans running back finished better than 20th in a single week.
None of Mack, Burkhead, Ogunbowale nor Freeman have the sort of contract to signify a starting role is on the way. This has naturally led to Pierce receiving all sorts of Year-1 hype. And why not? PFF's 2022 NFL Draft Guide sure had some nice things to say about the 22-year-old talent:
"Where he wins: Strength. Pierce wins by consistently grinding out tough yards. He runs with great pad-level, and it's rare to see him stuck in his tracks on contact.

What's his role: Time Share RB. Pierce isn't a limited player by any means, but given his history at Florida, he's likely best suited for a time-share situation in the NFL.

Where he can improve: Workload. Pierce needs to prove that he can handle a larger workload. Not only did he not receive a lot of carries at Florida, but he never played more than 23 snaps in any single game."
One of just four draft-eligible running backs who boasted a 70-plus PFF grade in rushing, receiving, and pass blocking in 2021, Pierce did everything right at Florida but simply didn't ever get much of a chance to do so with a ton of volume.
The problem with expecting too much out of Pierce in 2022 is the brutal history of rookies drafted outside of the top-three rounds.
Only five rookie running backs went on to post top-24 production despite not being drafted inside of the top-three rounds: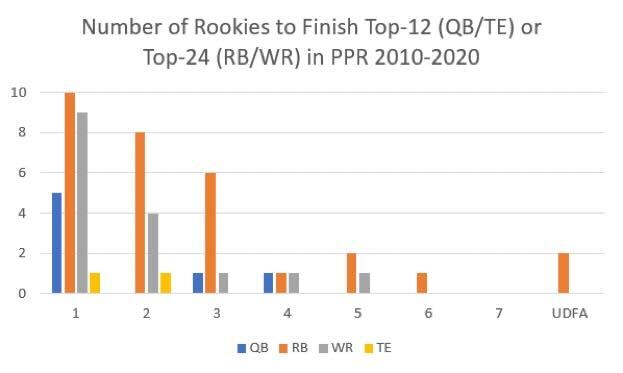 The good news is that Pierce is similar to the above exceptions in that he finds himself on an incredibly winnable depth chart. The bad news is that everything we saw from the 2021 Texans indicates that they'll likely again embrace a multi-back committee in 2022.
This feels like a classic yearly tradition of overly hyping a Day-3 prospect on a shallow depth chart in a bad offense mostly because the fantasy community spends three months of the offseason pouring its heart and soul into evaluating next season's incoming rookies. A starting job feels like more of a hope than likely occurrence, and even then, there's no guarantee that Pierce gets the lion's share of this backfield's carries or targets.
Pierce is my RB50 at the moment behind probably worse rookie talents such as Rachaad White, Tyler Allgeier, and Hassan Haskins, but the latter backs are each seemingly just one injury away from potentially seeing viable fantasy roles. Meanwhile, the Texans proved willing to constantly evolve their backfield throughout the 2021 season and seem inclined to always keep multiple backs involved so don't reach on any of these Houston running backs if you don't have to in fantasy drafts of all shapes and sizes.
Cooks has only looked somewhat average twice during his seven-year NFL career: as a rookie in 2014 and with the bad version of Jared Goff in 2019. Note that these instances in 2014 (10 games) and 2019 (14) were also the only times in Cooks' career that he failed to appear in at least 15 games:
2014: PPR WR56
2015: WR14
2016: WR10
2017: WR15
2018: WR13
2019: WR61
2020: WR17
2021: WR20
Cooks has managed to post this consistent fantasy goodness despite playing on four different teams throughout his eight-year career. At first, it seemed like he might just be benefiting from playing with Drew Brees, Tom Brady and Deshaun Watson, but the 28-year-old veteran proved more than capable of still putting up big numbers with a mix of Taylor and Mills under center in 2021.
Of course, a lot of Cooks' success in 2021 can be attributed to his rather absurd volume.  As one of just 12 wide receivers with 130-plus targets last season, Cooks worked as the Texans' undisputed No. 1 pass-game option all year long, posting top-10 marks at the position in target share (26%, 10th) and air yard share (37%, 6th) alike.
The Texans demonstrated their approval for Cooks by handing him a two-year extension worth $39.6 million. Cooks is now the league's 11th-highest-paid wide receiver on an annual basis and remains locked in as his offense's undisputed No. 1 pass-game option. For roughly the 40th year in a row, Cooks' typical sub-WR30 ADP looks a bit too low for a proven talent who has the potential for 150-plus targets.
It's tough to be overly optimistic about any of the other wide receivers inside of the league's reigning 30th-ranked scoring offense.
Metchie

: The Texans' second-round pick suffered a torn ACL in the SEC Championship game. Smith

most recently said

the Texans are "in the process" of figuring out Metchie's recovery timeline, admitting that "he's not 100 percent yet." It seems possible, if not likely, that Metchie starts the season on the physically unable to perform (PUP) or injured reserve (IR) list.
Collins

: Offers an intriguing combination of size (6-foot-4, 215-pounds) and speed (4.5-second 40-yard dash) but wasn't able to get much of anything going in 2021 despite having all the chances in the world to earn the offense's No. 2 receiver job. It's not a given that Collins will work ahead of Conley in three-WR sets once Metchie is healthy enough to suit up.
Conley: The ex-Chiefs/Jaguars receiver started 10 games for the Texans last season but profiles as more of a nuisance for the other players involved as opposed to someone who has a legitimate chance to carve out a fantasy-viable target share.
Moore

: Similar to Conley, Moore is simply a veteran receiver who has more potential to limit the snaps of fellow complementary wide receivers as opposed to racking up enough production to make himself a realistic option in fantasy land.
Dorsett: The 2015 NFL Draft's 29th overall pick played with the Texans, Jaguars and Seattle Seahawks in 2021. Don't expect more than the occasional deep-ball target if Dorsett manages to make the Texans' active roster.
Cooks is a fine enough upside WR3 to target in fantasy drafts of all shapes and sizes. Otherwise, stay away from this passing game.
Jordan posted elite marks in college dominator (27.9, 85th percentile) and in terms of breakout age (18.1, 98th) at Miami (per Player Profiler). A popular late-round dart in dynasty land, Jordan caught 20-of-28 targets for 178 yards and a trio of scores in nine games of limited action as a rookie. However, he was consistently used in a rotation and never played more than 60% of the offense's snaps in a single game.
This latter point is why none of the Texans' tight ends are worthy of fantasy investment in normal non-TE premium formats ahead of 2022. Last season, Brown led the position in targets with 34. He was also the most-used option on a snap rate basis at 56.8%.
Two-tight end committees always present problems in fantasy land due to the lack of volume involved. The potential for the Texans to keep three-to-four tight ends involved on a weekly basis inside of another likely terrible offense renders each a non-viable fantasy asset outside of only the deepest of leagues.