Absent any outside context, you'd expect positional fantasy football average draft position for one year to mirror the fantasy finishes at that position from the year before. It doesn't remotely work that way, of course, but it's definitely a framework.
Players rise and fall in the rankings for any number of reasons. A change in role, a change in team, a new rookie arriving or veteran departing, health, all of these things play a huge role in consensus opinion that have nothing to do with how the previous season finished.
Today, I'm taking a look at some of the players whose 2019 ADPs have risen the furthest above their 2018 fantasy finishes, what that means for them, and whether the hype has gone too far. Thursday, I'll look at some of the players who have dropped by the most.
(All ADPs are courtesy Fantasy Football Calculator as of Aug. 19.)
Quarterback
2018 fantasy finish: QB16
2019 ADP: QB4
Mayfield's ceiling as an NFL quarterback could scarcely be higher. His ceiling as a fantasy quarterback is slightly lower, because he doesn't offer much as a runner, but it's still very high. That said, he's being drafted near or at that ceiling right now — he's QB7 in our PFF Fantasy staff rankings, which is more in line with his potential. It would be very exciting to have Mayfield in fantasy, but at this price, you're better off letting someone else have that excitement.
2018 fantasy finish: QB22
2019 ADP: QB13
Obviously, Winston's 2018 finish takes a ding because Ryan Fitzpatrick played in so many games for the Buccaneers last year; Tampa Bay had the second-most fantasy points out of the quarterback position last year. Winston's ADP has taken a leap because he's still in a good offense, still has a bad defense, and now his backup is the never-going-to-take-his-job Blaine Gabbert. Still, I think Winston's ceiling is even higher than this.
Running back
2018 fantasy finish: RB95
2019 ADP: RB43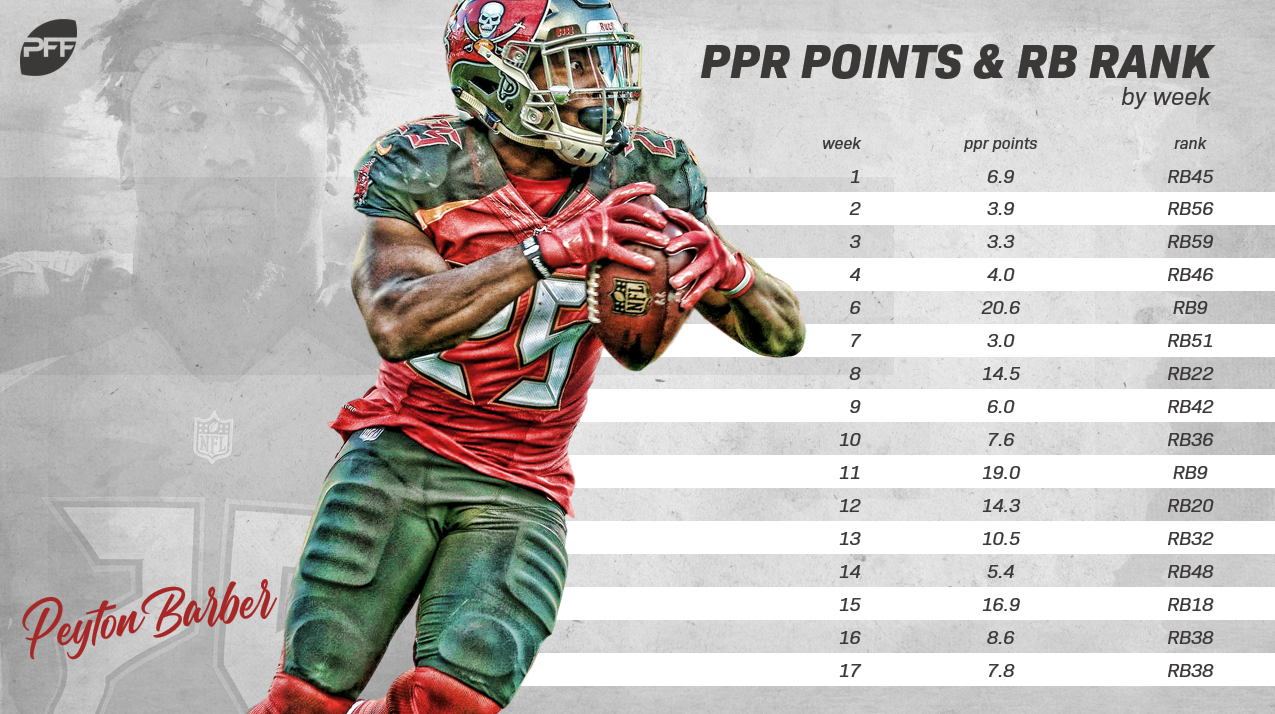 Jones' 2018 finish is really more of a DNF, as his rookie season barely got off the ground — he had all of 23 carries and seven receptions for 77 total yards. Jones has no guarantees entering the 2019 season, but his backfield competition is Peyton Barber, who definitely has a higher floor than Jones but has essentially no ceiling — he played all 16 games last year and topped 250 touches, but had exactly two with a weekly PPR finish better than 18th, finishing as RB 9 in Weeks 6 and 11. If the Buccaneers are going to have a productive backfield in 2019, it probably starts with Jones.
2018 fantasy finish: RB86
2019 ADP: RB39
With Frank Gore around in 2018, Ballage didn't get to do much as a rookie. He had 247 total yards (75 of them coming on one play) and 45 touches. Now, Gore is gone, and the new coaching staff doesn't appear any more enamored of Kenyan Drake as any sort of bell cow than the old coaching staff was. Ballage is in line to see a huge jump in playing time and touches, and that makes him an intriguing flyer late in drafts.
2018 fantasy finish: RB48
2019 ADP: RB13
Obviously, Williams' high stock is a product of timing; if the 2018 season had ended after Week 13, he'd have barely been a top-100 fantasy back, with 11.4 PPR points for the whole season. Of course, with Kareem Hunt gone and Spencer Ware hurt, Williams took over the starting job at that point, and only Derrick Henry's ridiculous end-of-season run kept Williams from the No. 1 slot over the last month. I'm on record as saying Williams is too risky for his current ADP, but his draft spike definitely makes sense.
Wide receiver
2018 fantasy finish: WR125
2019 ADP: WR48
Antonio Brown left. Washington is one of the favorites to take over the No. 2 role in a big-time passing offense. Easy dots to connect.
2018 fantasy finish: WR101
2019 ADP: WR37
Randall Cobb left. Allison is one of the favorites to take over the No. 2 role in a big-time passing offense. Easy dots to connect. (Déjà vu.)
2018 fantasy finish: WR106
2019 ADP: WR67
No really, Charlie Brown, this time Lucy will hold the football in place for you to kick it.
2018 fantasy finish: Fuller WR69; Coutee WR100
2019 ADP: Fuller WR32; Coutee WR51
I might be starting to get a little scared of the Texans' passing offense. DeAndre Hopkins is the consensus No. 1 wide receiver, and both Coutee and Fuller are being treated like breakout candidates. Add in the old standard Lamar Miller and new arrival Duke Johnson getting his share, and are we expecting too much out of Houston? Coutee is my pick to disappoint right now, but overall, I'm getting nervous about the whole group.
Tight end
2018 fantasy finish: TE14
2019 ADP: TE4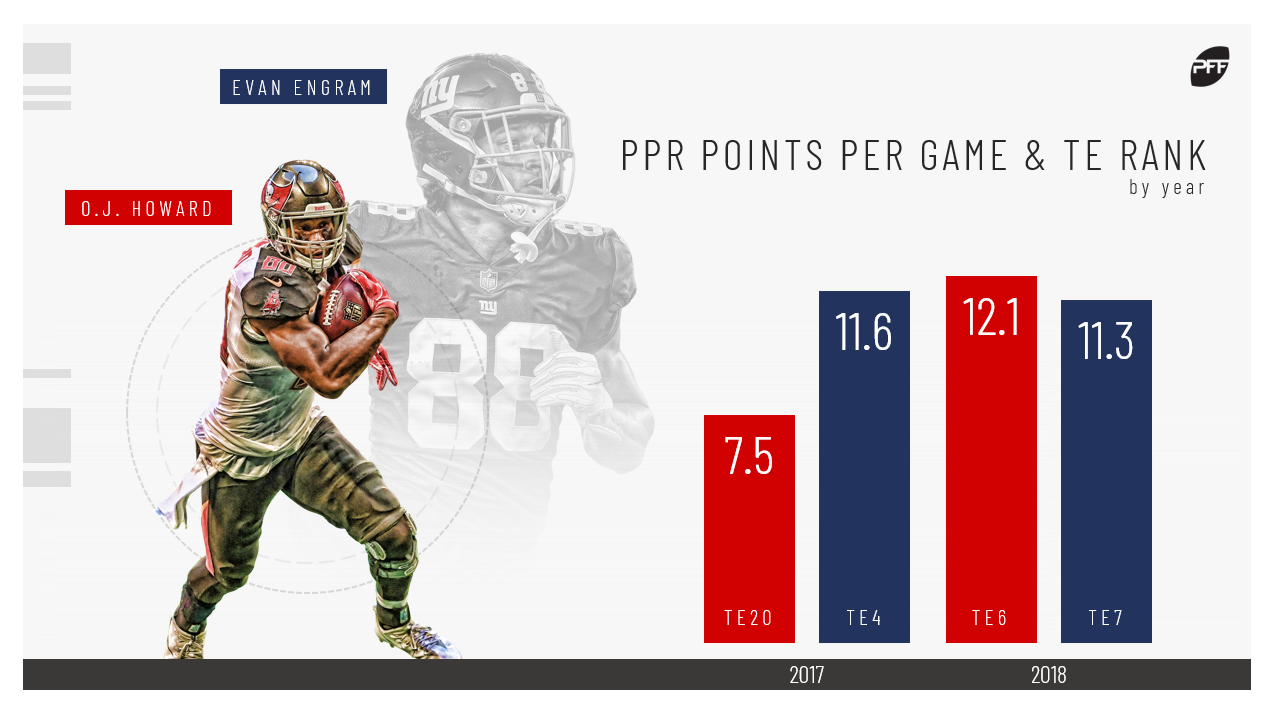 Obviously, Howard's 2018 finish is depressed by injury, as he only played 10 games. But even on a per-game basis he's a riser, finishing 2018 as the TE6 by points per game. I'm a believer in Howard's 2019 — he's by TE4 as well — with the departures of Adam Humphries and DeSean Jackson opening up targets for him and Chris Godwin.
2018 fantasy finish: TE13
2019 ADP: TE5
Like Howard, Engram's 2018 numbers are depressed by injury, with him playing 11 games as opposed to Howard's 10. And now, with Odell Beckham Jr. gone and Golden Tate suspended to start the year, Engram's ceiling is very high.
Kicker
2018 fantasy finish: K31
2019 ADP: K11
It's easy to forget now that the Chargers opened 2018 with Caleb Sturgis as their kicker. He missed seven total kicks (three field goals and four extra points) in five games, including going 2-5 on extra points in his last three games. Badgley took over in Week 6 and only missed two kicks (one field goal of 50-plus yards and one extra point the rest of the year), with Sturgis re-replacing him in Week 9 because of injury and only converting one of four kicks. In other words, Badgley is going to get the full year, and he's the best fantasy kicker the Chargers have had in a while.
Defense/special teams
Cleveland Browns
2018 fantasy finish: DST21
2019 ADP: DST7
The Browns' offseason moves on the offensive side, primarily Odell Beckham Jr., have gotten the headlines, but the defensive moves were significant as well, including a trade for Olivier Vernon and the signings of Sheldon Richardson and Morgan Burnett. The unit might be getting overrated in drafts (it is), but it's an understandable rise.