Every team has a different outlook for fantasy football. Some, like the Chiefs, have a world of options. Some, like the Dolphins, might not offer much of anything. But no matter what a team has to offer, it's rare that the drafting community nails the value on each player.
So today, I'm looking at each team around the league and identifying its most overvalued player in fantasy drafts this year. Sometimes it's a guy going in the first round who should go in the second; sometimes it's a guy going late who shouldn't be drafted at all. It's a matter of value relative to cost. Tuesday I'll look at each team's most undervalued fantasy asset.
(All ADP information comes from Fantasy Football Calculator.)
Kyler Murray, QB (88th overall, QB9): Murray's ceiling is "No. 1 quarterback in all of fantasy." But his floor is very low, given the unproven nature of both him and his offense (and his head coach), the atrociousness of his offensive line, and the fact that there are so many good quarterbacks in fantasy right now. I just can't take him as a surefire starter. His current draft stock is largely ignoring his risk.
Ito Smith, RB (163rd overall, RB58): Smith might not even have the No. 2 job in Atlanta to himself. He might not even have the No. 3 job in Atlanta to himself. He's not draftable.
Justin Tucker, K (156th overall, K2): No knock on Tucker! He's great! But why the heck are you even considering a kicker before the last (or second-to-last, if I'm being super generous) round?
LeSean McCoy, RB (105th overall, RB43): Buffalo's fantasy options are all pretty reasonably values, which is to say I don't want any of them but I can't really knock where they are going. In a super-crowded backfield, it's hard to see McCoy offering any real value, so even though he's being drafted modestly, he's the pick here.
Greg Olsen, TE (157th overall, TE15): Olsen's last two years have been marred by injury, but he's not exactly been a superstar when he's played, with only three games of double-digit PPR points across 16 games over the last two years. I think he's done as a fantasy contributor.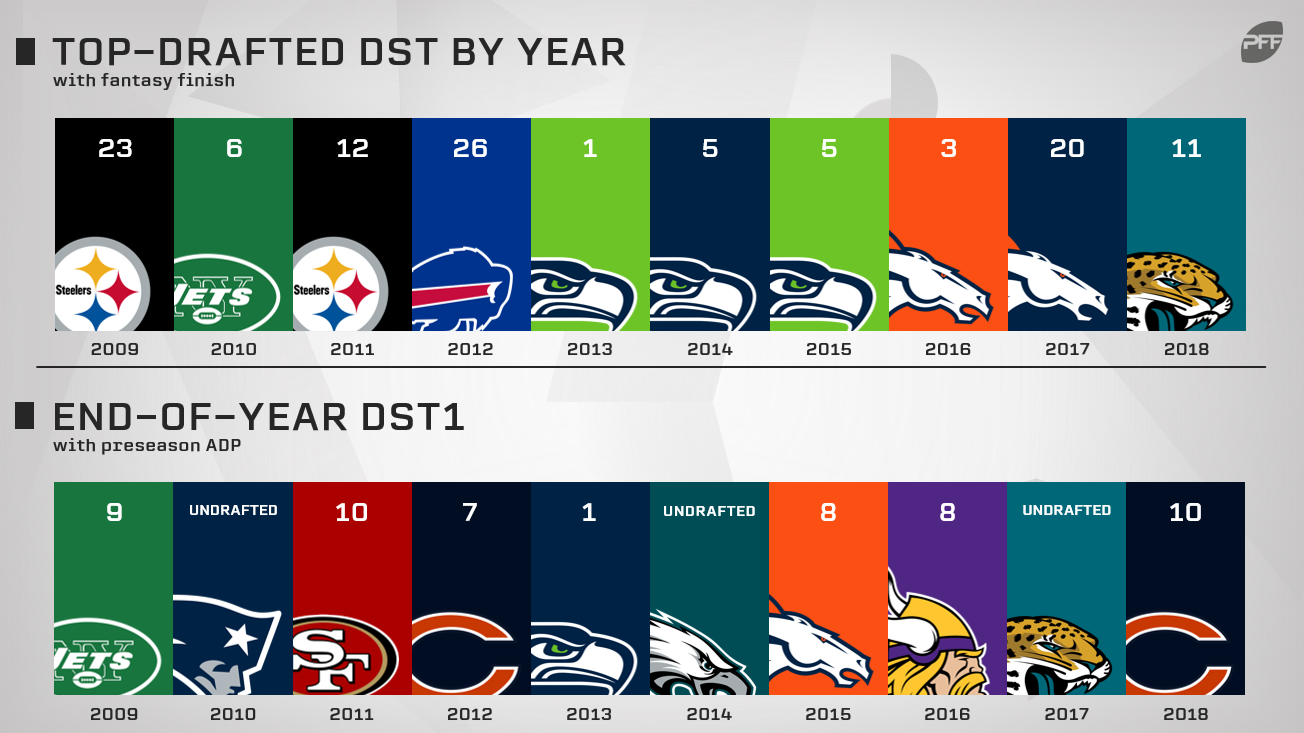 Defense/special teams (96th overall, DST1): Going right after the Bears defense: David Njoku, Sterling Shepard, Marvin Jones. That should be enough to scare you off using an eighth-rounder on a defense, even if we knew which would finish No. 1 in a given year, which draft history shows we absolutely do not. The Bears are the No. 1 defense in rankings, but this is at least five rounds to early, if not more.
A.J. Green, WR (50th overall, WR22): It could be a long year in Cincinnati, given the bad defense and potentially worst-in-the-league offensive line. Green is 31, has only played all 16 games once in the last three years and twice in the last five, and he's already hurt. I can't take him this high.
Kareem Hunt, RB (92nd overall, RB38): In a typical league, you have at most seven bench spots, sometimes only six. Hunt can't fill an IR slot. And 18 teams (including Hunt's Browns) will have their bye before he returns from suspension. The chances of you drafting him and being able to hold onto him until he plays are slim.
Amari Cooper, WR (32nd overall, WR13): Cooper's value is close to right, but then there are so few fantasy options on the Cowboys that you have to pick someone. And in season-long fantasy (not best ball), he could be a disappointment at least as often as he's a pleasant option.
Royce Freeman, RB (95th overall, RB39): As much promise as Freeman showed last year, with impressive after-contact numbers and two more forced missed tackles than Phillip Lindsay on 62 fewer attempts, this is still going to be Lindsay's job as the No. 1, and that makes Freeman a tough bet here. The value's close, but there aren't many players getting drafted out of Denver, so he's the pick.
T.J. Hockenson, TE (134th overall, TE12): A rookie tight end … on a run-first offense … with a big-budget free agent tight end … two (maybe three) receivers who will command targets … and a quarterback who has only ever had one tight end top 150 PPR points (and that was back in 2011) … going as a back-end starter? Hockenson has worlds of talent, but I just don't get it, friends.
Geronimo Allison/Marquez Valdes-Scantling, WR (Allison 89th overall, WR35; Valdes-Scantling 102nd overall, WR41): Davante Adams is going to get his. Aaron Jones is going to get his. Jimmy Graham isn't going to just disappear. I think one of Allison and Valdes-Scantling will be plenty productive, but both? One of these guys is getting overvalued. Personally, I want Valdes-Scantling, but either way, at least one of these guys is going to disappoint.
Keke Coutee, WR (126th overall, WR50): I was as on the Coutee bandwagon as anyone earlier this offseason, but since then, (a) Will Fuller has been reported to have made a full recovery, (b) the Texans added short-yardage receiving option Duke Johnson, and (c) Coutee got hurt in his first preseason game after multiple injuries as a rookie. The shine is off.
Andrew Luck, QB (75th overall, QB5): Luck has QB1 upside, and the most recent news about his injury is more positive than some of the older entries. But as deep as quarterback is, you can wait multiple rounds and get someone with perhaps slightly less upside but definitely much less risk. I can't justify taking him right now.
Defense/special teams (123rd overall, DST3): Per Fantasy Football Calculator, only three parts of Jacksonville even have an ADP: Leonard Fournette, going a wholly respectable 27th in drafts; Dede Wesbtrook, one of my favorite sleeper targets this year; and the defense. So I'll reiterate: Don't draft your defense this early. Just don't.
Damien Williams, RB (25th overall, RB13): Even if the Chiefs do use Williams as the starter, Andy Reid's history of relying on No. 1 backs features names like Brian Westbrook, LeSean McCoy, Jamaal Charles, and Kareem Hunt. Williams might well have been underrated for his career and still not be what those guys have been. I can't picture a bell-cow back in Kansas City this year.
Austin Ekeler, RB (64th overall, RB29): I've been on the Ekeler bandwagon since his rookie season, but his stock has gotten out of control. First off, I expect Melvin Gordon will play at least a big chunk of the season, if not all of it. Second, if he doesn't, Ekeler has never shown he can handle a full-time workload. Justin Jackson will take enough of the work that taking Ekeler this high won't pay off.
Greg Zuerlein, K (149th overall, K1): I am willing to bet at least one of the team's three big-name receivers will disappoint (my money is on Cooper Kupp, unfortunately), but I also want to highlight the insanity of someone burning a pick on a kicker when guys like Darwin Thompson, Dion Lewis, and John Brown are still out there. Don't do it.
DeVante Parker, WR (180th overall, WR64): There are only three Dolphins with any ADP at all: Parker and the two running backs. I'm fine with the backs. So that leaves Parker. And hey, maybe this is the year he finally develops. But man, let that happen on the waiver wire. Don't burn a roster spot like Charlie Brown thinking this is the time he'll kick the football.
Kyle Rudolph, TE (167th overall, TE18): Rudolph caught a 44-yard Hail Mary at the end of the first half of the Vikings' Week 16 game; take just that one fluke play out and he drops from last year's TE7 to TE9. That single play was 7.5% of his seasonal scoring. The team's going to run more. Irv Smith Jr.'s going to be around. There's very little upside to Rudolph.
Sony Michel, RB (52nd overall, RB26): Why are we so much more concerned about Todd Gurley's knee than Michel's? Both are concerning, and there are just so many names in the Patriots backfield that devoting this draft stock on a Bill Belichick running back scares me.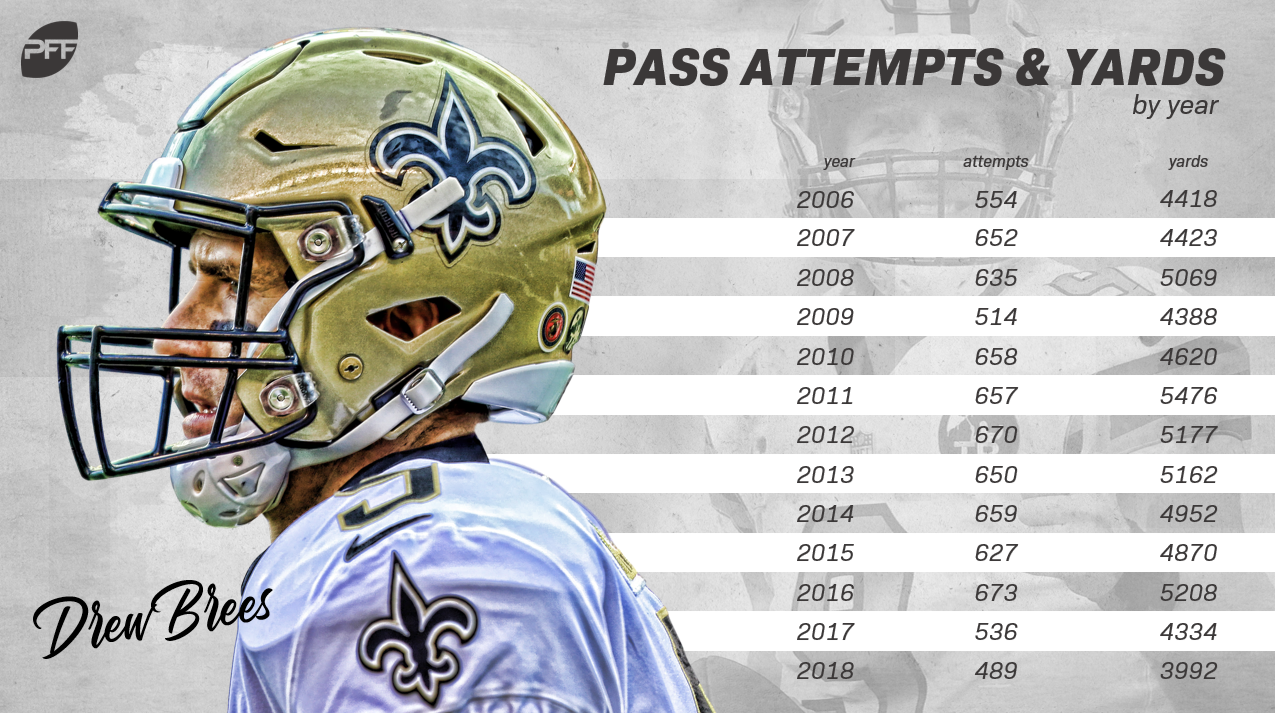 Drew Brees, QB (86th overall, QB8): The Saints' offense is so good that it's hard to call anyone here overvalued, so I'll settle for Brees, who is going as QB8 but is QB10 in the PFF Fantasy staff rankings. He just had his fewest pass attempts and passing yards in a season since joining the Saints as the team goes more run-heavy. Brees no longer has the ceiling he once did, so tread lightly.
Saquon Barkley, RB (1st overall, RB1): Overvalued? Eh. There are so few Giants being valued at all that we had to pick someone. Barkley's going first overall. He's my No. 2 player. So there ya go.
Le'Veon Bell, RB (8th overall, RB6): Bell is being drafted like he's very safe, but relative to the other RB1s, he has so many question marks. He hasn't played in a year. He's on a worse offense. He's the new man. He hasn't played all 16 games since 2014, the only year he ever did it. His head coach reportedly didn't even want him. His head coach has never employed a bell-cow approach. Ty Montgomery is drawing worlds of praise.
Antonio Brown, WR (23rd overall, WR10): I mean, I guess. Brown's value has dropped to where he's being appropriately drafted, but now that he's back in camp, I expect it to start climbing again, and that'll make it a question mark. Assuming it does, he'll fly back to overvalued.
Zach Ertz, TE (33rd overall, TE2): I have Ertz as my TE3, and I think he's closer to the second tier than he is to the Travis Kelce/George Kittle duo, considering how much of his 2018 value was volume-related and the fact that I think his target total drops off this year. He's still great, but TE2 is too high.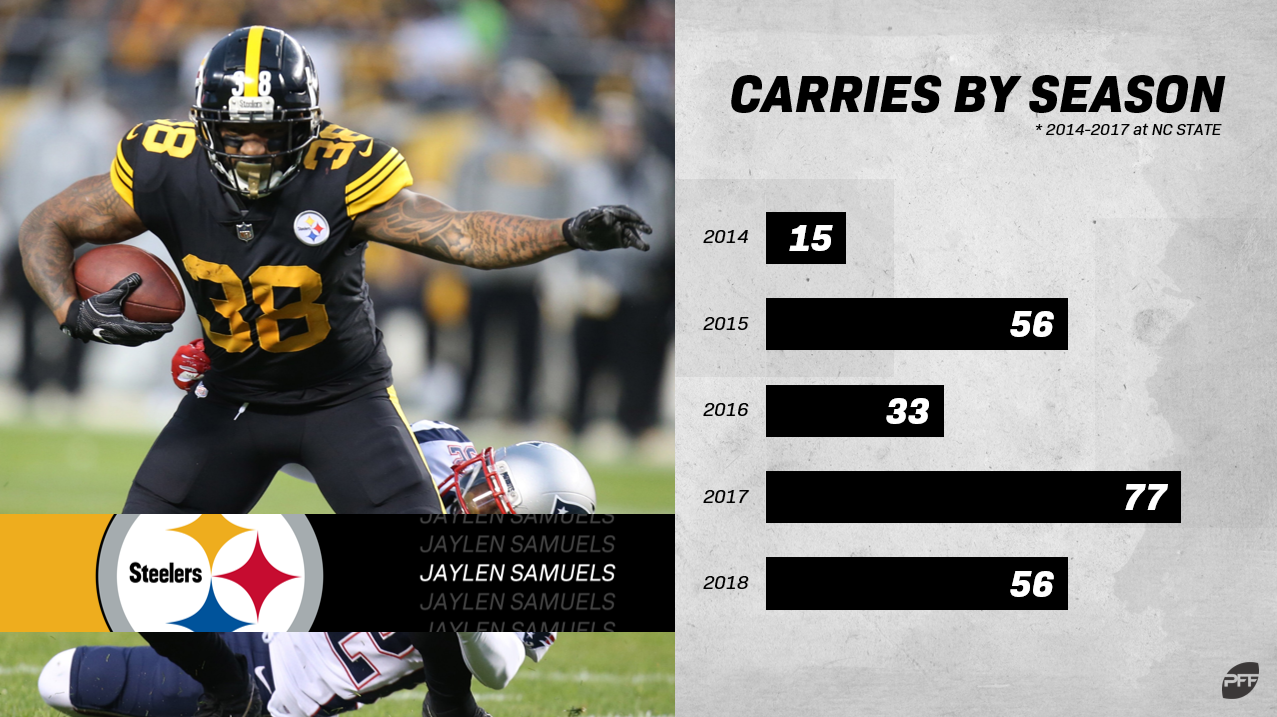 Jaylen Samuels, RB (104th overall, RB42): I'll keep beating this drum, but Samuels never topped 77 rushing attempts in a season in college. In four years he had 181 in total. He's a fine pass-catching option, and he can carry the ball in a pinch, but healthy James Conner or not, I have a real hard time seeing him getting enough carries to be that worth it now that the team added Benny Snell.
Dante Pettis, WR (79th overall, WR33): Even if Pettis does end up seizing the No. 1 receiver job in San Francisco (which looks less likely now than it did a month or two ago), that doesn't mean we aren't going to hear from guys like Marquise Goodwin, Deebo Samuel, and the rest, and that's even without considering Kittle's massive share. Pettis won't get enough targets to be worth this.
D.K. Metcalf, WR (109th overall, WR43): I was all set to feature Russell Wilson here, but he's fallen to a totally respectable QB12. So I'll pivot to Metcalf, who is being drafted like he's safe for the No. 2 role in Seattle when (a) he isn't, and (b) even if he is, this is not the kind of offense that generates big-time receiving production. I wrote this before news came out of Metcalf needing knee surgery, and even if he is in fact back for Week 1, you can't like what that does for his prep time.
Chris Godwin, WR (44th overall, WR18): Look, I love Godwin as much as (checks notes) every single fantasy analyst in the entire world and some in other worlds. But the No. 18 receiver? Barring a Mike Evans injury, Godwin just can't realistically return value there. In the mid-20s, I'm all in. 18th? Find someone else.
Derrick Henry, RB (42nd overall, RB22): Henry's played 47 career games and has finished as a top-10 PPR back in four of them. Two were late last year, which you know about. One was Week 17 of 2017, which (a) was Week 17, and (b) needed a fluke 66-yard reception just to get him to RB8. And one was Week 8 of 2016, when he didn't even break 100 yards from scrimmage and finished as RB7. (Interestingly, three of those four games came against Jacksonville.) People are trusting way too much that this guy is just going to be a lock now.
Derrius Guice, RB (82nd overall, RB35): At this point in the preseason, you can't draft Guice with any confidence. He still isn't cleared for game action, Adrian Peterson is still doing Adrian Peterson things. When we see Guice on the field, I love him, but until then, there's too much risk.