With another week behind us, and some more fresh stats to analyze, I'm here to help you with your toughest fantasy football start/sit decisions of the week for Week 3.
Note: If you don't see one of your players mentioned below, please refer to our PFF Fantasy staff rankings.
Shallow leagues
Start
Larry Fitzgerald, WR, Arizona Cardinals (vs. CAR)
Through two weeks, Fitzgerald ranks second among all wide receivers in expected fantasy points per game (21.2), seventh in targets per game (10.5), and ninth in air yards per game (131.0). That's elite high-end WR1 volume. In the (projected) fastest paced game of the week, lock in Fitzgerald as a high-end WR2.
Emmanuel Sanders, WR, Denver Broncos (@ GB)
Like Fitzgerald, Sanders is seeing elite volume with production to match, ranking top-five among wide receivers in both expected (18.7) and actual fantasy points per game (23.2). He has a cushy matchup this week, running 77% of his routes against Green Bay's perimeter cornerbacks. Green Bay gave up the most schedule-adjusted fantasy points per game to opposing WR1s last year, and this season has surrendered 102 yards to Allen Robinson (on 13 targets) and 75 yards to Adam Thielen (on eight) through two weeks.
Adam Thielen, WR, Minnesota Vikings (vs. OAK)
If you drafted Theilen, you probably don't have any other option but to start him, but this week seems like a possible get-right spot. QB Kirk Cousins has struggled behind our worst-ranking offensive line, but Oakland's defensive line ranks fifth-worst by the same stat after ranking dead-last in 2018. Thielen also has a top matchup, against an Oakland secondary that has given up the second-most fantasy points to slot wide receivers and the eighth-most to outside wide receivers. Thielen also ranks fourth among all players in target market share (32%). Of course, Minnesota also ranks last in pass percentage (40%), so his target share looks a good deal better than his raw target numbers (5.5 targets per game). That's a concern again this week as 8.0-point favorites, but not yet a big enough concern to leave him on your bench.
Antonio Brown, WR, New England Patriots (vs. NYJ)
Brown also has gamescript concerns, but that's not enough to leave him on your bench. New York came into the season with the worst and thinnest cornerback corps in the NFL, and that was before they benched CB1 Trumaine Johnson in Week 2. On just 14 routes in Week 2, Brown turned eight targets into 15.6 fantasy points. Expect an even bigger role and a better performance in Week 3.
Leonard Fournette, RB, Jacksonville Jaguars (vs. TEN)
Fournette is being hamstrung by an anemic offense, but has seen good and consistent volume, ranking ninth among running backs in XFP in Week 1 (16.0) and eighth in Week 2 (16.5), and in spite of the fact he ranks just 49th in expected touchdowns (0.25). This week's matchup is neutral at best, but his volume is good enough keep him ranked as a high-end RB1.
Joe Mixon, RB, Cincinnati Bengals (@ BUF)
Mixon's start to the season almost couldn't be any worse — 44 yards on 22 touches along with an injury suffered in Week 1. Still, I'm confident Mixon turns this around, and perhaps as soon as this week, up against a Bills defense that gave up the seventh-most fantasy points per game to opposing running backs last year. He was gifted elite bell cow usage in the first half of Week 1 (prior to his injury), earning 76% of the team's snaps and drawing 100% of the team's running back touches. Expect his usage to return to these levels once he's back to full health, and hopefully that's this week, after putting together a full practice on Wednesday.
Sit
Josh Jacobs, RB, Oakland Raiders (@ MIN)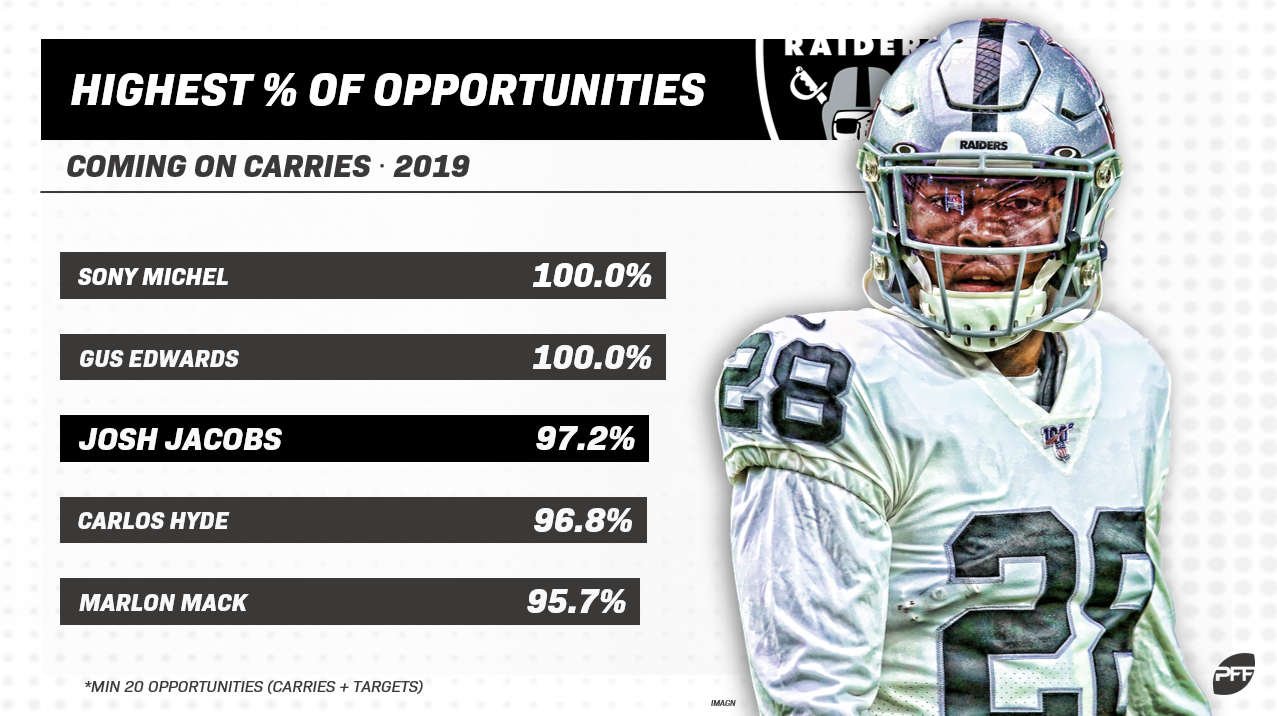 Okay, Jacobs isn't an outright sit, but he is someone to temper expectations for. Oakland travels on the road to face the Vikings as 8.0-point underdogs. Minnesota ranked top-10 in yards per carry allowed in each of the past two seasons, along with their best splits coming at home. With such poor projected gamescript, Jacobs' volume is also a concern. Through two weeks, he's been an afterthought in the pass game, running a route on just 31% of Derek Carr's dropbacks.
Amari Cooper, WR, Dallas Cowboys (vs. MIA)
Similarly, Cooper probably isn't a "sit" but I'm expecting a down game. Since 2017, Cooper has been our single least effective wide receiver when in shadow coverage, while Xavien Howard has been the league's best shadow cornerback. With Howard expected to shadow Cooper in Week 3, don't be surprised if he fails to break double-digit fantasy points this week.
Robby Anderson, WR, New York Jets (@ NE)
Anderson – another wide receiver who has historically struggled in shadow coverage – is more of an outright sit this week. He has a brutal matchup in shadow coverage against Stephon Gilmore, and with a third-string quarterback under center.
John Ross, WR, Cincinnati Bengals (@ BUF)
Ross – the highest-scoring fantasy wide receiver through two weeks – really might be Zac Taylor's iteration of Brandin Cooks, but I'm probably still leaving him on the bench this week. Nearly all (80%) of Ross' production has come on deep and intermediate throws, and, over the past two seasons, Buffalo ranks best in fantasy points per game and fantasy points per target to wide receivers on deep and intermediate throws.
Medium-sized leagues
Start
David Montgomery, RB, Chicago Bears (@ WAS)
Montgomery (very quietly) saw high-end RB1 usage in Week 2. He played on just 45% of the snaps but ranked fourth among running backs in XFP (21.8), drawing 18 carries, three targets, and all five of the team's running back opportunities inside the 10-yard line. As 4.0-point favorites against Washington, I'll be starting him this week as a low-end RB2.
Marquise Brown, WR, Baltimore Ravens (@ KC)
Brown currently leads all wide receivers in yards per route run (5.18) and targets per route run (38%). He totals 233 receiving yards through his first two career games, or the fourth-most by any player through all-time. Look for Brown to keep up this historic pace against Kansas City's slow and pedestrian secondary. They're giving up the ninth-most fantasy pints per game to opposing wide receivers, after giving up the 10th-most last year.
Terry McLaurin, WR, Washington Redskins (vs. CHI)
Like Brown (high-end WR3), McLaurin is also a starter for me (borderline WR3) in medium-sized leagues. His ability on the field is self-evident, and his volume has been even better than you might expect. In Week 2, he ranked second among all wide receivers in XFP (23.0). Through two weeks he ranks 11th (17.1), and fifth in air yards (289). The matchup is tough, against Chicago, but McLaurin should be able to rise above it on volume and talent.
Marvin Jones, WR, Detroit Lions (@ PHI)
Jones has disappointed while being overshadowed by Kenny Golladay through two weeks. Part of that was due to last week's brutal matchup, in shadow coverage against Casey Hayward, but this week's matchup couldn't be any better. Philadelphia has given up the most fantasy points per game to outside wide receivers this season, just as they did in both 2018 and 2017.
Sit
D.J. Chark, WR, Jacksonville Jaguars (vs. TEN)
Chark ranks sixth among wide receivers in fantasy points per game (21.6), but I'm not quite ready to buy into the idea of him as an every-week contributor. Mainly, his volume has been nowhere near as good as his production implies, ranking just 39th in XFP per game (11.5). Further, he's coming off of two great matchups to face the Titans, in what projects to be the lowest-scoring (40.0-point over/under) and slowest-paced game of the week.
James White, RB, New England Patriots (vs. NYJ)
Yeah… As 18.0-point home favorites against a third-string quarterback, don't expect New England to lean too heavy on their scatback.
Jarvis Landry, WR, Cleveland Browns (vs. LAR)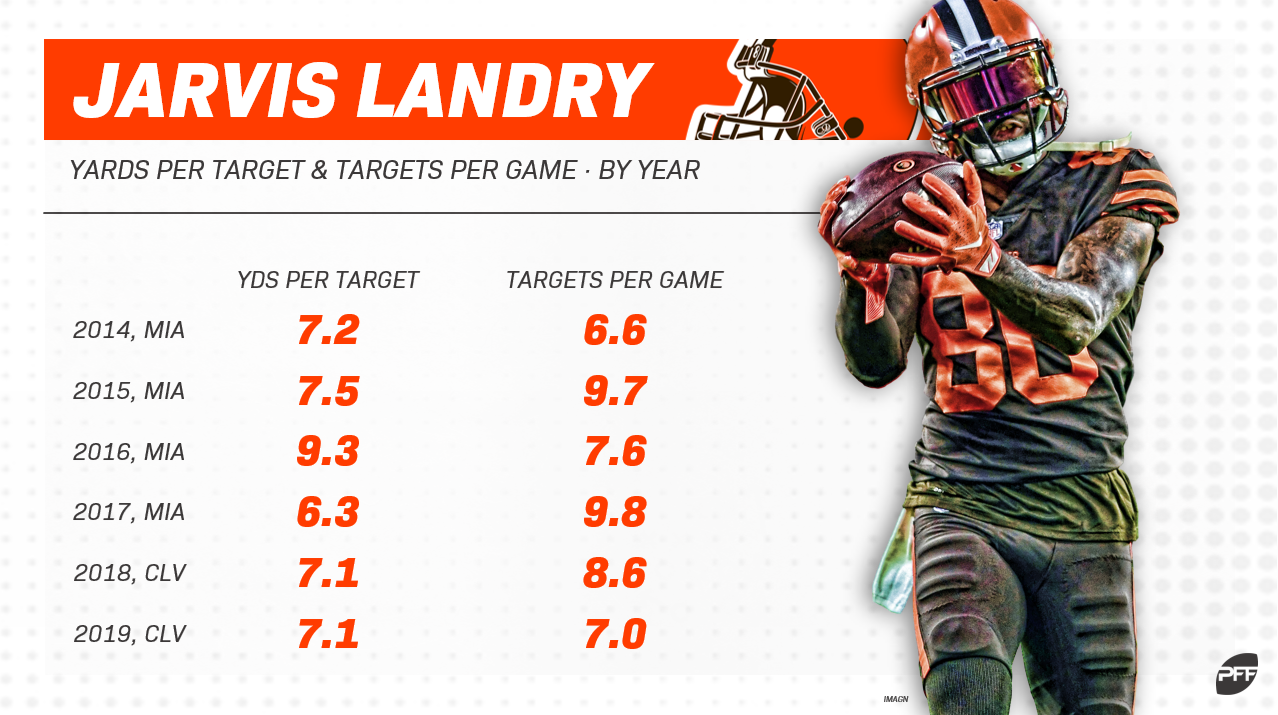 Through two weeks Landry averages just 9.0 fantasy points per game. Through 18 games with the Browns, Landry averages just 6.6 yards per target (12th-worst of 88 qualifiers). He's better off left on your bench until further notice.
Jared Cook, TE, New Orleans Saints (@ SEA)
If Cook couldn't get it done with Drew Brees under center, I'm skeptical he can do much of anything this week with either Teddy Bridgewater or Taysom Hill there.
Deep leagues
Start
Nelson Agholor, WR, Philadelphia Eagles (vs. DET)
With all of Alshon Jeffery, DeSean Jackson, and Dallas Goedert banged up and unlikely to play, fire up Agholor as a high-end WR4. In Week 2, he ranked sixth in XFP (19.4), drawing 11 targets, 141 air yards, and two end zone targets to yield 24.7 fantasy points.
Frank Gore, RB, Buffalo Bills (vs. CIN)
Gore was an afterthought in a Week 1 game Buffalo spent the majority of the time trailing. In Week 2, he played on 61% of the snaps, drawing 19 carries and two targets. Expect similarly good usage this week, along with good production, as 6.0-point home favorites against a Bengals defense that ranks worst in fantasy points per game allowed to running backs, after ranking worst and third-worst over the past two years. After Devin Singletary missed practice on Wednesday, I have Gore penciled in as a mid-range RB3.
O.J. Howard, TE, Tampa Bay Buccaneers (vs. NYG)
Through two weeks, Howard has run a route on just 59% of Jameis Winston's dropbacks, and while being targeted on just 8% of Winston's throws. It's officially time to worry, but I'd wait until after Week 3 before I started to panic. Since 2017, the Giants have given up 14.6 fantasy points per game to opposing tight ends (third-most). I'm viewing this as a get-right spot for Howard, but still just ranking him as just a low-end TE1.
Duke Johnson, RB, Houston Texans (@ LAC)
Through two weeks, Carlos Hyde has outscored Johnson (18.5 to 16.1), but this week's matchup is better suited for Johnson and his superior pass-catching ability. The Texans are 3.0-point underdogs, and the Chargers have given up the second-most receiving fantasy points per game to opposing running backs in two of their last three seasons. Johnson is a mid-range RB3 this week.
Devin Smith, WR, Dallas Cowboys (vs. MIA)
If desperate for a spot-start, I like Smith's chances of posting a big game, with Amari Cooper in a tough matchup and Michael Gallup and Tavon Austin both unlikely to play. After a strong preseason, he impressed in Gallup's role in Week 2, catching all three of his targets for 74 yards and a touchdown.