Finding value in fantasy football drafts is how you win. Sometimes that means getting a first-round value out of your second-rounder, sure, but sometimes it just means getting a virtually free player who gives occasional starter value.
That's the quest today. We're combing through each roster in the NFC to find players going in the mid-to-late rounds of drafts who can offer sneaky fantasy value in 2019. Some of these players could barely see the field in 2019 while others are just No. 2 options on their team, so not every value is made the same. I'll indicate what sort of value to assign each. But these 30 names are all NFC sleepers for 2019.
(On Thursday I looked at sleepers on the AFC rosters.)
Andy Isabella, WR: Christian Kirk and Larry Fitzgerald are both excellent (or potentially excellent, in Kirk's case) receivers, but both have historically done their best work out of the slot. Isabella ran plenty of slot routes at UMass last year, but ran even more on the outside. If the Cardinals want to use one of their rookies as an outside weapon and let the veterans spend more time in the slot, Isabella could offer good value.
Hakeem Butler, WR: Just like Isabella, except Butler ran an even smaller percentage of his routes out of the slot in college.
Mohamed Sanu, WR: Sanu is still obviously behind Julio Jones in the target pecking order, and he's probably behind Calvin Ridley too. But Ridley's ridiculous touchdown efficiency is likely to drop off in 2019, and that could leave more scoring opportunities for Sanu. And even if his overall work drops off, Sanu is the only real slot weapon among the Falcons receivers, so he'll still have a real role.
Brian Hill, RB: Devonta Freeman is the No. 1 back in Atlanta, but there's no clear No. 2. And after Ito Smith disappointed as a rookie and Hill shined in the team's preseason opener, he has a case to seize the backup job in a productive backfield.
Ian Thomas, TE: Unless you're surprisingly a big believer in Cameron Artis-Payne or Chris Hogan, there aren't many sleepers on the Panthers offense. But after a productive stretch late in 2018 (he was TE6 in Weeks 13-17), Thomas enters 2019 backing up a 34-year-old who has missed half of his games over the last two years and has contemplated retirement more than once. If anything happens to Greg Olsen, Thomas is an easy high-end TE2 if not higher.
Mike Davis, RB: David Montgomery has gotten all the buzz in the Chicago backfield alongside Tarik Cohen, but don't forget Davis, who averaged 4.5 yards per carry for the Seahawks last year, had the No. 22 PFF rushing grade, has one fumble on 299 career touches, and signed with the Bears this offseason. Davis will be heard from.
Anthony Miller, WR: Is Miller still a sleeper? I'm open to the idea he isn't. But he's still only going as the No. 52 receiver in drafts (per Fantasy Football Calculator ADP). That after having as many touchdowns as all other Bears receivers combined as a rookie despite playing through injury for much of the year. He'll step above Taylor Gabriel in the target pecking order this year, too.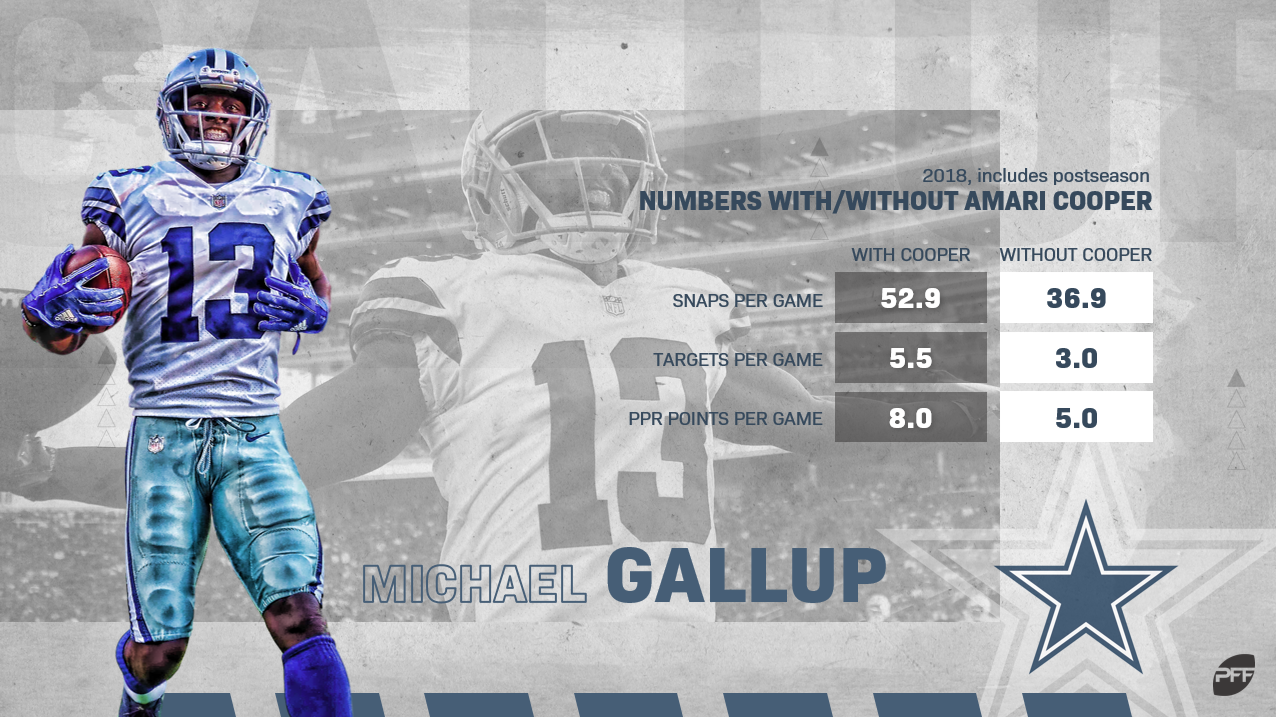 Michael Gallup, WR: Amari Cooper's arrival wasn't the only big change for the Cowboys in the middle of the year last year. It was under the radar, but the team started using Gallup much more down the stretch as well. Before Cooper's arrival, Gallup averaged 36.9 snaps and 3.0 targets a game; once Cooper was there (counting the postseason), those numbers rose to 52.9 and 5.5, respectively. Now with a year of seasoning, maybe the Cowboys could have a productive 1-2 punch.
Blake Jarwin, TE: Jason Witten is 37, hasn't played in a year, and saw his PFF receiving grade plummet to a career-low 58.2 the last time he was active. He's going to open the season as the Cowboys' No. 1 tight end, but no one should be surprised if Witten is past his last legs. Jarwin, who scored three touchdowns in his last regular-season game, would be the next man up as a pass-catcher at the position.
Danny Amendola, WR: Over the five years since leaving the Seahawks, Golden Tate (2018 average depth of target: 6.8 yards) ranks 11th in PPR points among wide receivers. Kenny Golladay (12.5-yard aDOT) and Marvin Jones (15.8 yards) will be the top two Lions receivers, but if there's someone who can take on that Tate role, it's signee Amendola (7.3 yards).
Jesse James, TE: T.J. Hockenson is getting all the buzz, and maybe he bucks the trend of struggles from rookie tight ends. But if he doesn't do that, James — signed this offseason to a four-year, $25 million deal — would be the tight end to take in Detroit.
Matthew Stafford, QB: Stafford finished as a top-10 fantasy quarterback in six of seven seasons before cratering to 20th last year. It was also his first year under 4,000 passing yards since 2010. He has Golladay, Jones, Amendola, Hockenson, and James. Is the offense going to be so run-heavy in 2019 that Stafford is destined for a poor finish again? That's definitely possible. But for the 25th quarterback off the board, he has potential.
Jake Kumerow, WR: There aren't exactly a world of sleepers in Green Bay. We know the quarterback. We know the top receivers. We know Aaron Jones and Jimmy Graham. We know Jamaal Williams, and that isn't exactly a compliment. Kumerow, though, qualifies. He's apparently a personal favorite of Aaron Rodgers' and while Geronimo Allison and Marquez Valdes-Scantling are the leading candidates to run alongside Davante Adams, Kumerow could sneak his way in as well.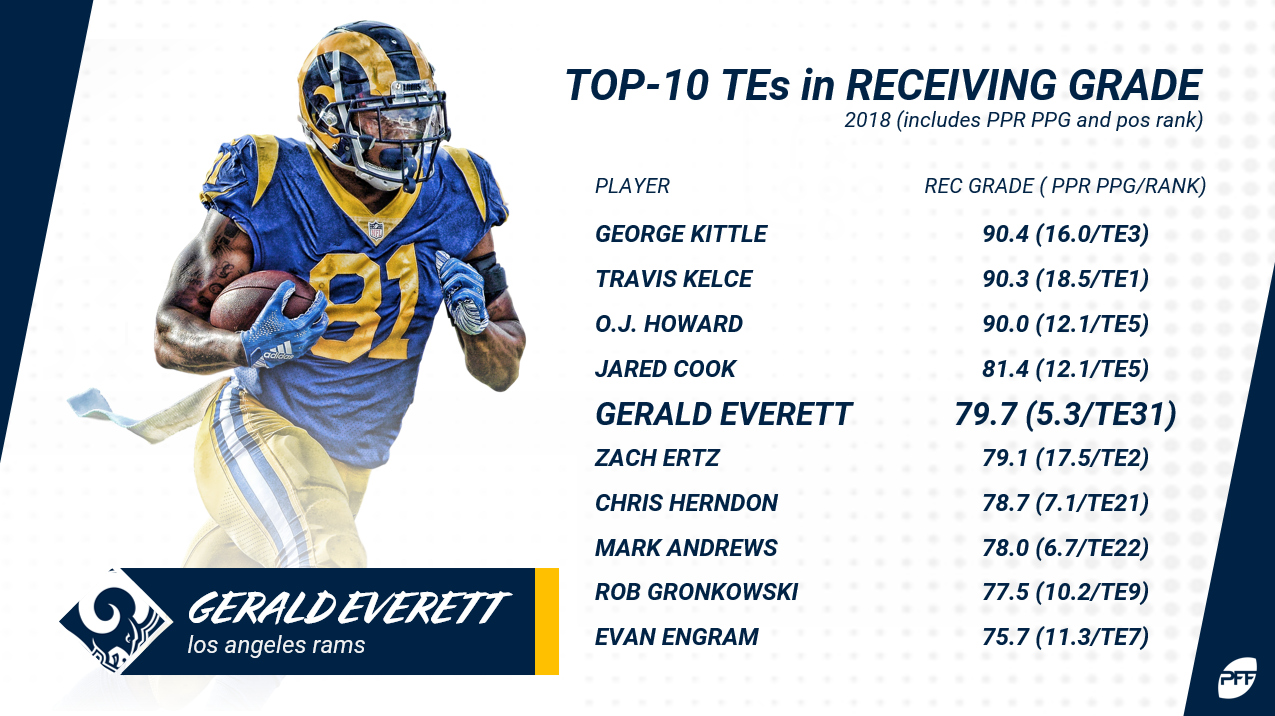 Gerald Everett, TE: Among the top-10 tight ends in PFF receiving grade last year, seven of them finished in the top 10 in PPR points per game. Two of the exceptions (Chris Herndon and Mark Andrews) were rookies who took time to integrate into their offenses. The last was Everett, whose receiving grade of 79.7 was the fifth-best at the position but whose 5.3 PPR points per game ranked only 31st. If the Rams come down off their three-receiver ways even a little, Everett would be the beneficiary.
Malcolm Brown, RB: Darrell Henderson has gotten all the attention as the theoretical backup/handcuff to Todd Gurley in the Rams backfield, but the Rams seem to be indicating that he's more of the pass-catching/change-of-pace option, and if that's true and something happens to Gurley, then Brown would stand a chance to be a big producer in the backfield at a virtually free price tag.
Chad Beebe, WR: No team has relied on its top two receivers more than the Vikings have in the last few years. That is in part because Adam Thielen and Stefon Diggs are really stinkin' good and in part because the Jarius Wright/Laquon Treadwell types have failed to develop into real No. 3 threats. Will Beebe? Who knows. But all reports are that he's the easy leader for the No. 3 role, and there aren't a wealth of receivers with a line on even a No. 3 role who are essentially free.
Mike Boone, RB: Alexander Mattison is the favorite to full the Latavius Murray role in the offense as Dalvin Cook's backup, but don't sleep on Boone, who shined in the team's preseason opener to the tune of a league-leading 70 yards on only four carries. If he grabs the No. 2 job, it's a valuable one.
Ted Ginn, WR: Injury limited Ginn to only seven games last year (counting the postseason). But he had at least six targets in six of the seven, including averaging seven a game at the end of the year after he returned. Tre'Quan Smith, who is carrying an ADP well above Ginn's, had exactly one game all year with more than five targets. If Ginn is healthy for 2019, he's the Saints receiver you want after Michael Thomas.
Cody Latimer, WR: My brain tells me Latimer is a veteran on his last legs, but he's still only 26. He's entering his sixth year and only has 666 yards and 4 touchdowns for his career, but in a Giants depth chart that is running low on names (Corey Coleman is out for the year, Golden Tate is suspended for four games, Sterling Shepard isn't 100% yet), the door is wide open for Latimer to contribute.
Dallas Goedert, TE: Sure, everyone knows Goedert. But it's worth acknowledging that while handcuffing is typically a running back thing, there might be no more valuable handcuff in the fantasy game this year than Goedert. Even if Zach Ertz stays healthy all year, Goedert's likely to see upward of 60 targets. If something happens to Ertz? Goedert is a top-three tight end.
JJ Arcega-Whiteside, WR: DeSean Jackson will have his moments, but isn't likely to be any kind of target monster; that's just not the kind of player he is. Alshon Jeffery has only topped 100 targets once in the last four years. There will be targets available for the rookie Arcega-Whiteside, who has drawn positive reviews from his performance since the draft.
Matt Breida, RB: The outlook for Jerick McKinnon keeps getting worse, with some forecasts having him hitting IR. That would leave Tevin Coleman, coming off of an underwhelming RB2 season in Atlanta, and Breida, who was a pleasant surprise for the 49ers in 2018. Coleman's probably the back you want there, but Breida is going almost twice as deep in drafts, and he could offer decent value that late.
Jalen Hurd, WR: No team has a wider gap between level of talent among receivers and how settled the depth chart is than the 49ers, who will sort out Hurd, Deebo Samuel, Marquise Goodwin, Dante Pettis, Trent Taylor, and Kendrick Bourne in some order. Hurd's versatility could be a boon to him in that case, as he carries a former running back resume to go with his receiving skills — some have likened him to a latter-day Cordarrelle Patterson — and that gadget ability could be a big value.
David Moore, WR: Is it possible Moore, and not D.K. Metcalf, is the Seahawks receiver you want behind Tyler Lockett? He scored five touchdowns on only 50 targets last year and has drawn praise this offseason. He's worth a look as a late flyer.
John Ursua, WR: Is it possible Ursua, and not Metcalf or Moore … okay, no, not really. But the Seahawks don't have an obvious slot weapon at present, and Pete Carroll said the seventh-rounder Ursua could fill the role. It's a deep dive, but he's one to watch.
Will Dissly, TE: Dissly had all of 25 receptions, 336 yards, and 3 TDs in four years in college. So of course he opened his NFL career with six receptions, 147 yards, and 2 touchdowns in his first two games, sitting as the No. 3 fantasy tight end. He cooled from there, with only two receptions for nine scoreless yards in Weeks 3 and 4 before a torn patellar tendon ended his rookie season prematurely. Is the Week 1-2 Dissly still in there? Who knows. But not many tight ends have two-week stretches like that.
Breshad Perriman, WR: On only eight receptions and 12 targets over the season's final month, Perriman was the No. 32 PPR receiver, with 233 yards and two scores. Dominant? Absolutely not. But for a guy who washed out in Baltimore and looked to be nearing his end, it was enough to score Perriman a deal with the Buccaneers. And this is a team that put up three top-26 fantasy receivers last year and a fourth at WR43; there is perhaps more value to being the Bucs' No. 3 than for any team outside of Los Angeles.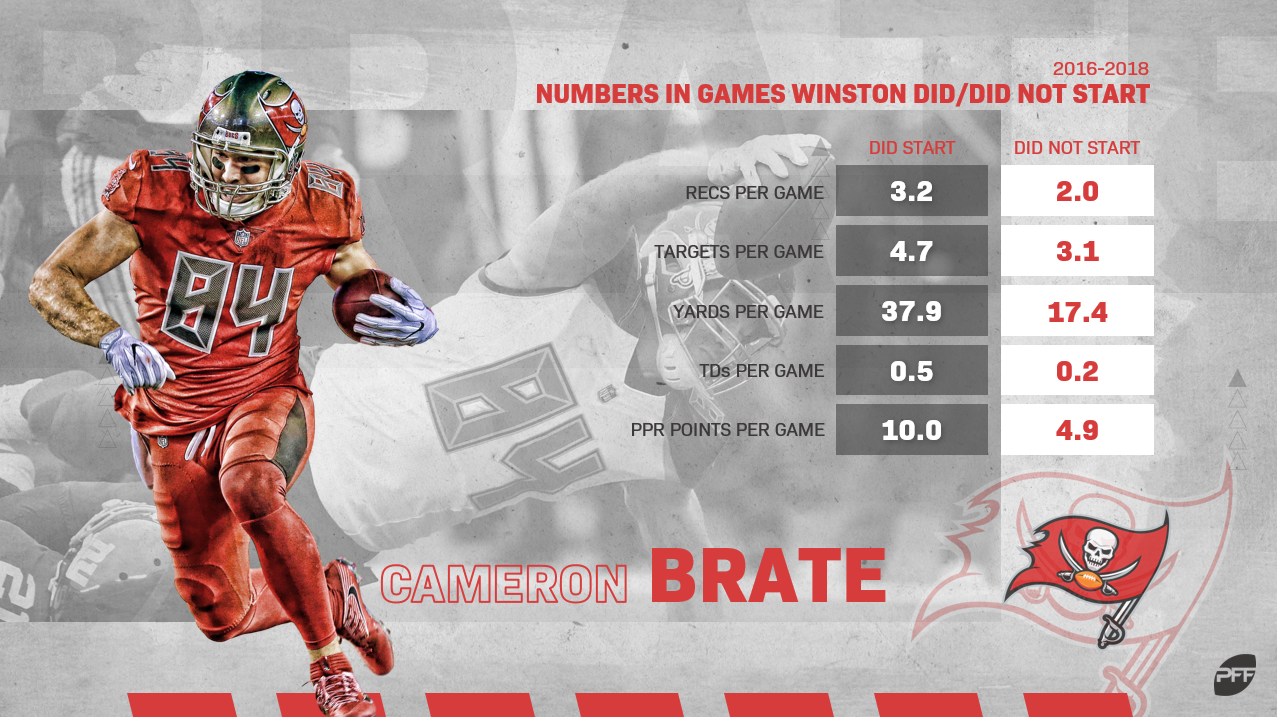 Cameron Brate, TE: Everybody loves O.J. Howard this year, and for good reason, but he's also missed eight games across his two years and hasn't shown he can be healthy for a full year. Brate's numbers when paired with Jameis Winston are pretty ludicrous — 10.0 PPR points per game in games Winston has started the last three years, compared to 4.9 in games he hasn't. If something happens to Howard again, Brate's a borderline top-10 tight end.
Jordan Reed, TE: Nobody is ever going to ignore Reed completely, but he's going as an afterthought in drafts this year despite only positive reports about his health coming out of camp. Is it possible you'll draft Reed and see him miss a load of games again? Of course. But if he's healthy and productive, you won't find a better value.
Trey Quinn, WR: Real talk: Every receiver in Washington is a sleeper, because no one thinks anyone there will offer much value. Quinn, though, might be the most interesting one, as he appears to have a solid line on the team's slot role.