Finding value in fantasy football drafts is how you win. Sometimes that means getting a first-round value out of your second-rounder, sure, but sometimes it just means getting a virtually free player who gives occasional starter value.
That's the quest today. We're combing through each roster in the AFC to find players going in the mid-to-late rounds of drafts who can offer sneaky fantasy value in 2019. Some of these players could barely see the field in 2019 while others are just No. 2 options on their team, so not every value is made the same. I'll indicate what sort of value to assign each. But these 30 names are all AFC sleepers for 2019.
(Check back Friday for the NFC.)
Justice Hill, RB: If the Ravens run anywhere near as much as they did with Lamar Jackson starting last year, there will be more carries than just Jackson and Mark Ingram can handle. Another running back will step up.
Gus Edwards, RB: See Hill, Justice.
Willie Snead, WR: Snead is the forgotten man in the Ravens passing offense, which makes some sense, with a quarterback with questionable passing ability, two high-profile rookies, and a tight end who had an excellent rookie season last year. On the other hand, Snead is the only wide receiver on the offense with anything more than a passing familiarity with Jackson, and sometimes familiarity can breed success.
Devin Singletary, RB: The Bills loaded up on running backs this year, with LeSean McCoy, Frank Gore, and T.J. Yeldon all ahead of Singletary on the depth chart. But McCoy and Gore are both nearing the end of their respective runs, while Yeldon is there to mainly be the receiving back. It wouldn't be remotely surprising to see the 2019 third-rounder Singletary be the lead back by midseason.
Cole Beasley, WR: Buffalo brought in John Brown to pair with Robert Foster to capitalize on Josh Allen's passing ability. But the team also signed the veteran Beasley, who is as not-a-deep-target as exists in the game. There's a reason the team added him, and if that reason is a plan to try to make Allen more of a well-rounded passer (and that plan is at all successful), Beasley could offer sneaky PPR value.
John Ross, WR: With A.J. Green likely out for at least the first week or two and maybe longer, Zac Taylor's new offense is going to get tested right away. Ross has been a pretty massive disappointment through his first two seasons, but if he is going to have the famous third-year breakout, he should have that chance with the veteran out.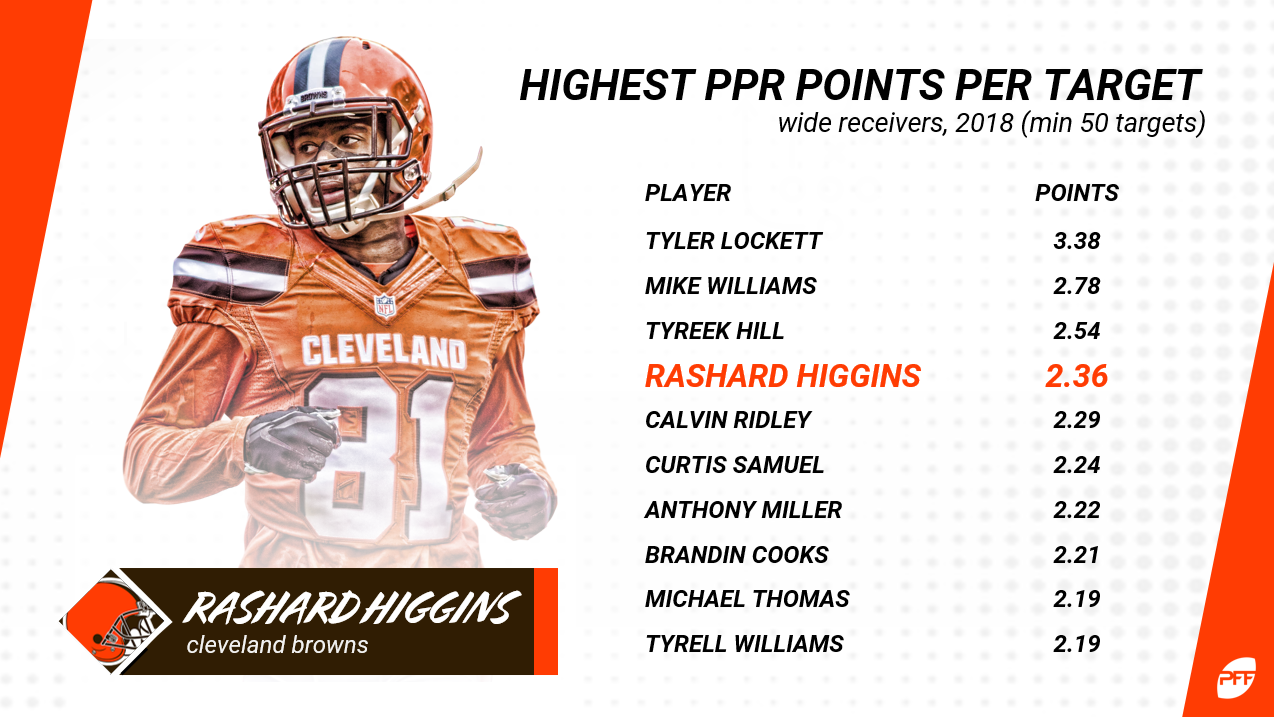 Rashard Higgins, WR: Antonio Callaway has been suspended, and if the Browns offense is as potent as optimism says it will be, Higgins could see real value even with Odell Beckham Jr., Jarvis Landry, David Njoku, and the running backs getting their touches. Somewhat under the radar, Higgins finished 2018 with the fourth-most PPR points per target (2.36, min. 50 targets) among all receivers, behind only Tyler Lockett, Mike Williams, and Tyreek Hill.
Dontrell Hilliard, RB: Duke Johnson's departure should mean an increase in targets for Nick Chubb, but it also opens the door for Hilliard to fill a third-down role backing up the second-year Chubb, at least until Kareem Hunt's suspension ends. In deeper PPR leagues, Hilliard could end up with sneaky value.
Royce Freeman, RB: Yes, it's not as simple as "Freeman beat Phillip Lindsay in yards after contact per attempt by almost a full yard, so he's better." Still, Freeman beat Phillip Lindsay in yards after contact per attempt by almost a full yard. He's very good.
Tim Patrick, WR: Courtland Sutton and DaeSean Hamilton are Broncos receivers who were 2018 rookies who draw the attention, but it was Patrick who led the team in receiving yards in the month after Emmanuel Sanders' injury last year, with 242 (60 more than Hamilton, 96 more than Sutton). In that span, Patrick averaged only 1.56 yards per route run, which isn't any great shakes, except that Hamilton averaged 0.99 and Sutton averaged 0.86. More importantly, Sutton and Hamilton both command at least a little draft capital. Patrick's free.
Jordan Thomas, TE: Most of the fantasy value in Houston is fairly obvious, with a big-name quarterback and three receiver and two running backs all getting buzz. But as a rookie last year, Thomas actually had a wholly respectable 72.5 PFF receiving grade, 14th among 54 tight ends with at least 20 targets. He was horrible as a pass-blocker, bringing down his overall grade, but if he's used primarily as a receiver in 2019, he could improve on his four touchdowns as a rookie.
Deon Cain, WR: Like Houston, there isn't a lot subtle about the Colts in 2019, unless you think Parris Campbell would qualify for this space. But Cain, who the Colts spoke highly of as a 2018 rookie before he tore his ACL in the preseason, could be relevant, especially if Campbell and/or Devin Funchess strikes out. Cain has draw high praise from the Colts' brass this preseason after Cain had 2,040 yards and 20 touchdowns in three years at Clemson.
D.J. Chark, WR: Chark had only 174 scoreless yards as a rookie last year. He still has Dede Westbrook to contend with, and I've touted Westbrook's fantasy stock before this offseason. But after Westbrook, there are only unknowns in this offense. Marqise Lee might not be ready for the start of the season. Keelan Cole appears to have fallen out of favor. Terrelle Pryor is on his four team in the last two calendar years and doesn't even have 500 yards in that time. That leaves the second-rounder Chark as one of the few names who could pop, at least to start the season.
Chris Conley, WR: Like Chark, only with the added bonus of having at least a little history with QB Nick Foles.
Josh Oliver, TE: A "serious" hamstring early in camp likely pushes whatever development Oliver might offer back at least a little bit, but the Jags have what is probably the league's weakest TE room (and that's really saying something) and not exactly a star-laden receiving corps, so if Oliver can get healthy and contribute, it won't take a lot for the rookie third-rounder to have occasional relevant weeks.
Mecole Hardman, WR: Hardman is sprinting away from sleeper consideration with all the buzz he's drawing this preseason. But sprinting away from things is kind of what the speedster does, after he was the fastest receiver in this year's combine and the Chiefs traded up to the second round to get him. Maybe the team was worried about a Tyreek Hill absence at the time, but now, Hardman's just another weapon. Maybe he's buried on the depth chart right now, but Sammy Watkins has never been the paragon of health, and if anything happens to him and/or Hill or Travis Kelce, Hardman could have massive value.
Darwin Thompson, RB: Thompson is another guy it might not be fair to call a sleeper, but he is still only third or fourth on the backfield depth chart. But Damien Williams is unproven and Carlos Hyde is … well, Carlos Hyde. Thompson will be heard from.
Travis Benjamin, WR: I'm literally the only person I've seen mention Benjamin as a (deep) sleeper this offseason, but I stand by it. The team made a point to keep him around this offseason and even with Tyrell Williams leaving, didn't add anyone else of note at the receiver position. Benjamin is the best-equipped receiver to replace the deep threat that left town.
Ryan Fitzpatrick, QB: We know who Fitzpatrick is and it's (probably) a quarterback who will give you week-winning performances 2-4 times in the season, assuming he starts all 16 games. Is that worth the weeks where he Fitzes himself to a four-point finish? That's up to the fantasy manager. But if you draft him in two-QB and/or super-deep leagues, you'll be happy on occasion.
Mike Gesicki, TE: Gesicki's rookie year "featured" 202 scoreless yards, and his camp was described as "uneven" earlier in the month. Still, there's room for hope. First off, the Dolphins have essentially nothing else at tight end and are looking to the future, so Gesicki's leash is long. Second, he is still the same guy who was the No. 2 tight end on the PFF big board for the draft a year ago and the second one drafted. The talent's there.
Damien Harris, RB: Sony Michel's knee is always going at least on the fringes of being an issue, while James White is never going to be a three-down back. The Patriots drafted Harris in the third round this year for a reason, and while that reason might not be "immediate heavy use" … it also might be.
Maurice Harris, WR: White and Julian Edelman are basically the only roles in the New England offense we can consider a rock-solid lock. N'Keal Harry has the draft pedigree, while Jakobi Meyers has the training camp buzz. But Harris has drawn raves so far in camp, with some calling him likely to open as the starter. Harris was also the only Washington player with a hundred-yard game in 2018.
Ty Montgomery, RB/WR: Everything we've heard out of Jets camp this preseason is that it isn't a four-man battle for the No. 2 role in the backfield behind Le'Veon Bell; it's a three-man battle for the No. 3 role behind Bell and Montgomery. And given Adam Gase's penchant for splitting backfield work, that could be very lucrative for Montgomery.
Chris Herndon, TE: Herndon was the No. 16 PPR tight end a year ago, No. 9 from Week 6 on (once his role in the offense cemented). And that was as a rookie. A year of development for both him and Sam Darnold can only help. His suspension to start the year definitely depresses his value, but when he's back he's intriguing.
Darren Waller, TE: The Raiders appear committed to making Waller the No. 1 tight end after Jared Cook's departure. This despite the fact that he's entering his fifth year in the league and doesn't even have a hundred-yard season. Still, the Raiders just produced the No. 5 tight end a year ago. The fantasy industry has buzzed about Waller all offseason, but there's still sleeper value.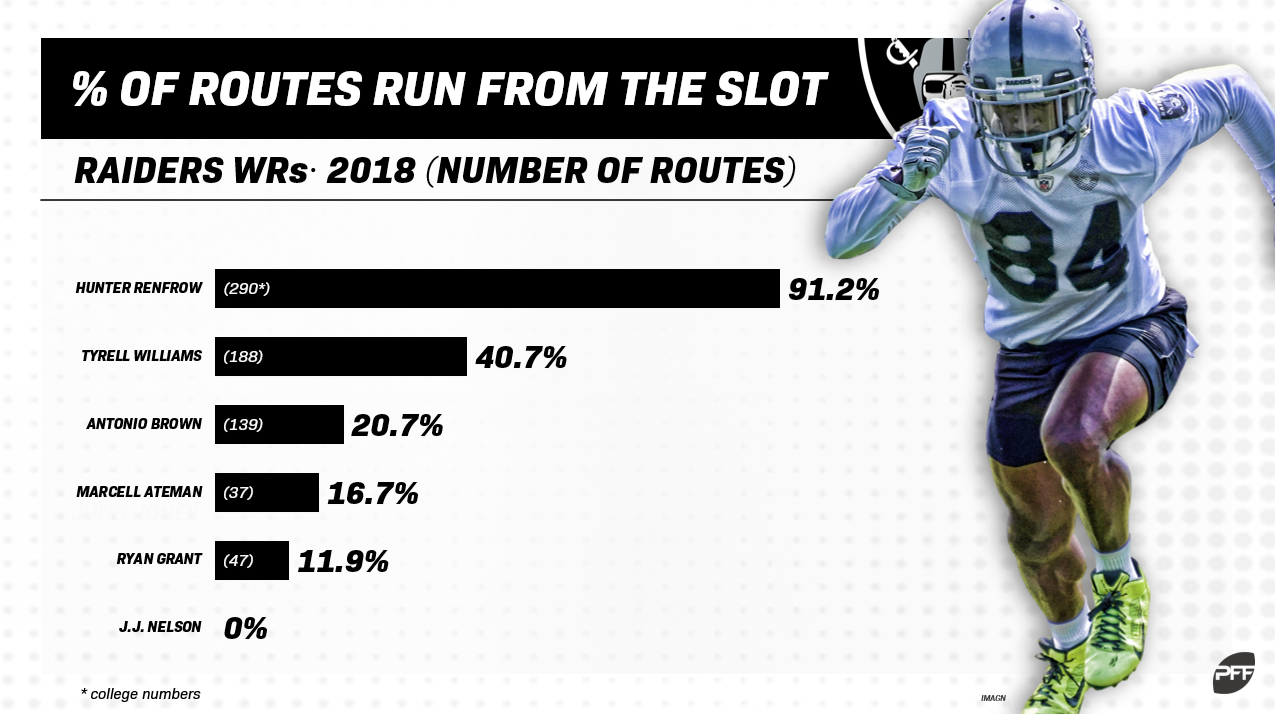 Hunter Renfrow, WR: For all the names the Raiders brought in this offseason at receiver, the slot didn't get a lot of attention; Tyrell Williams and Antonio Brown are the only players on the roster who ran even 50 routes out of the slot in the NFL a year ago, and both spent more time outside. The rookie Renfrow, though, ran 91.2% of his routes at Clemson last year from the slot. If this team has a slot weapon, it's him.
Diontae Johnson, WR: Of all teams, the Pittsburgh Steelers somehow have a third-round rookie receiver going the furthest under the radar. Johnson was the second pick of the third round, the 11th receiver drafted. So far, though, some combination of Donte Moncrief and James Washington have gotten the buzz as the likeliest name or names to run along JuJu Smith-Schuster. But if Johnson grabs that role, it's a lucrative one.
Adam Humphries, WR: If you've read more than a piece or two of mine this offseason, you know that, for a variety of reasons, I'm not buying the Titans as suddenly this crazy run-heavy offense. And if I'm right, the offseason signing of Humphries should pay fantasy dividends.
A.J. Brown, WR: Everything I just said about Humphries? It also applies to 2019 second-rounder Brown.
Marcus Mariota, QB: The shine is all the way off Mariota at this point, but he does have a QB11 season on his resume, has the third-highest QB rushing grade across the last two seasons, and has the best stable of weapons of his career. Late in deep drafts, Mariota won't wow anyone, but he's interesting.