Fantasy football success is built on sleepers, so I'm here to attempt to identify some of the top sleepers for Week 5 of the NFL season. Fantasy points are the natural measure of short-term fantasy success, but with a longer view, talent tends to win out. It doesn't matter how many touchdowns a back has scored in the past. If a teammate is more efficient than he is, that teammate will likely take his touches next week or next month. My rushing and receiving Yards Added metrics compare a skill player's yardage totals on their plays relative to expected totals based on factors like the down and distance, distance from the end zone, quality of run-blocking, and quality of coverage. As such, they are perfect tools to evaluate player effectiveness and identify fantasy sleepers who could soon break out or maintain their recent fantasy success despite lesser expectations. Here are the skill players Yards Added suggests could be sleepers for Week 5 and beyond.
Chubb has carries of 63, 41, and 17 yards on just 10 tries so far this year, and so he is unsurprisingly annihilating the field with 50 Yards Added. That total in of itself doesn't mean a whole lot, but Chubb looks like the freakish power/speed back he was advertised to be coming out of Georgia.
More relevant is the fact that teammate Carlos Hyde has cost the Browns 15 yards relative to an average back on his attempts. He leads the NFL with 83 carries, but his top three runs have produced meager totals of 22, 16, and 12 yards. Hyde has been an excellent fantasy option for the first month of the season because of his 5 touchdowns, but those touchdowns have all come within 5 yards of the end zone. They are the product of opportunity and not talent, and Hyde will need to flash a lot more talent on his between-the-20s carries if he wants to keep Chubb on the bench.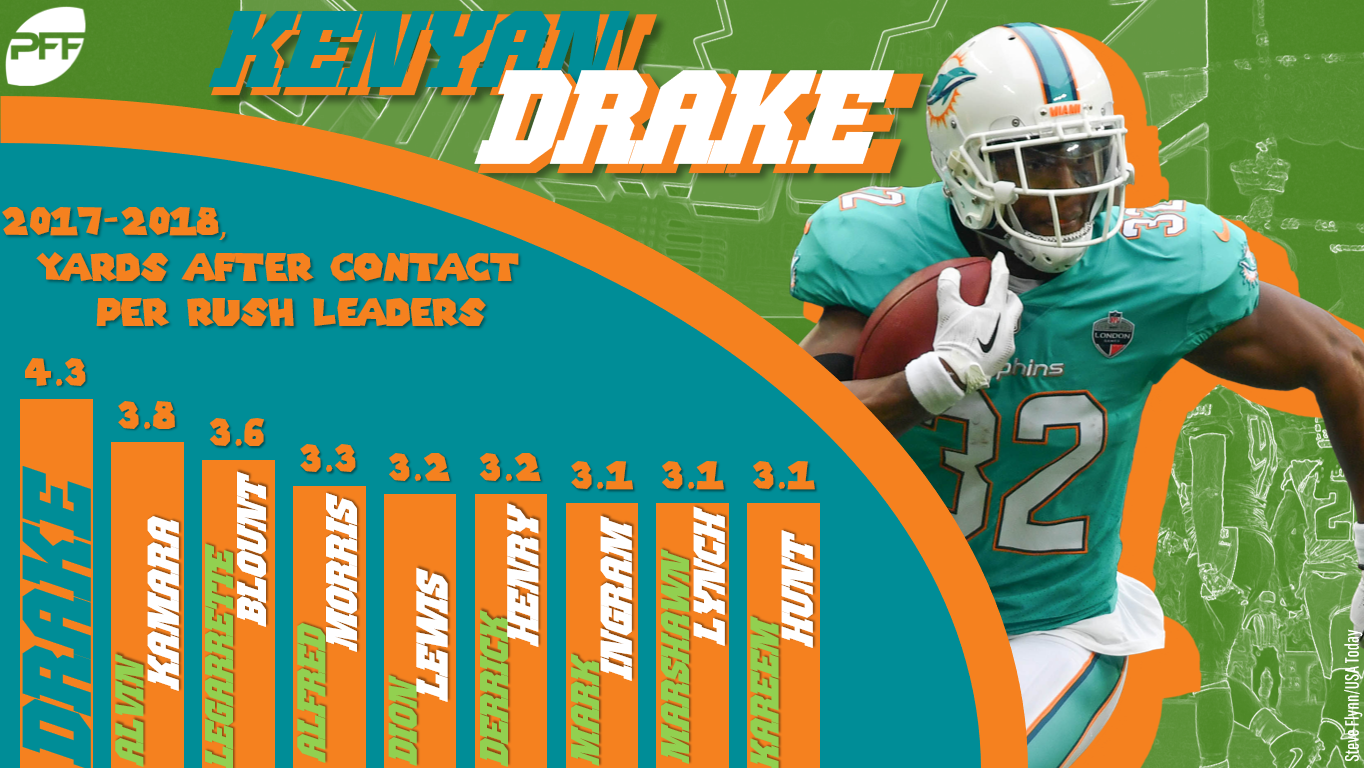 Drake carried the ball just eight times combined in Weeks 3 and 4. That isn't close to the kind of workload you need to maintain fantasy relevance — unless your name is Nick Chubb — but I am bullish on Drake's long-term fantasy prospects because he has continued to demonstrate excellent efficiency. Despite limited opportunities, he is fourth at the position with 23 Yards Added. Like last season, Drake has consistently overachieved on what tend to be poorly blocked attempts by piling up yards after first contact. Since the start of 2017, his rate of 4.3 yards after contact per attempt leads all backs with at least 100 carries. Alvin Kamara is second, half a yard behind him.
I suspect there are several culprits for Drake's lack of opportunities. Last week, the Dolphins quickly fell behind the Patriots by multiple scores and had to rely almost exclusively on their passing offense. And even including their wins, they have taken just one snap within 5 yards of the end zone, where running backs tend to get work and score their most fantasy points. Twelve different teams already have 10 such plays this season. When Kenny Stills, Jakeem Grant, and Albert Wilson stop scoring from their own side of the field, Drake should be able to spearhead a few traditional, extended drives.
Jones has returned from his two-game suspension with a pair of modest fantasy performances. He has 129 totals yards and one touchdown on 19 touches across the two weeks he's played. But while that fantasy production will not jump out at you, Yards Added is much more impressed. He has outpaced his time-share partner Jamaal Williams 7 Yards Added to minus-9 on the season, and that comes on the heels of a similar 28/minus-34 split in 2017.
Jones and Williams have different strengths and weaknesses, so it makes sense to continue to split their workload in some respects. As the bigger back, Williams will likely continue to handle the team's third-and-short and goal-line opportunities. But I don't see the justification to continue an almost-even workload split. Over the next few weeks, look for Jones to take more and more of the team's early-down work. Given his explosiveness, he could follow in the footsteps of early-career Jamaal Charles and Chris Johnson and enjoy fantasy success without a ton of close-in touchdowns.
Ridley can point to the 6 touchdowns he's scored the last three games as the primary source of his fantasy breakout. But unlike Hyde, Ridley has demonstrated the efficiency that suggests his amazing fantasy performances could continue. He leads all wide receivers — rookie or otherwise — with 29 Yards Added, and four of the five receivers just behind him — JuJu Smith-Schuster (23), Odell Beckham Jr. (23), Golden Tate (21), and Tyreek Hill (16) — are established fantasy stars. Smith-Schuster is an excellent template for Ridley's fantasy prospects for the rest of this season. He was the No. 21 PPR receiver in his rookie year in 2017 playing alongside fantasy's No. 2 receiver, Antonio Brown. I expect Ridley to have similar success.
Funchess has been pretty much neutral so far this season in Yards Added, and so it's hard to get as excited about him as Ridley. Still, I will note that neutral efficiency represented a new career standard for Funchess in 2017, and fantasy production followed. He edged out Smith-Schuster to finish at the back-end of the top-20. By the end of this year, I could see Funchess competing with Ridley in a similar fashion.
The key to turning around his slow fantasy start should be improved cornerback matchups. So far this season, Funchess has faced some of the toughest cover corners based on their Yards Added tendencies since the start of last year. William Jackson, Dre Kirkpatrick, Byron Jones, and Ricardo Allen have all cost receivers at least a third of a yard per catchable target and were on Funchess for 12 of his 15 catchable targets.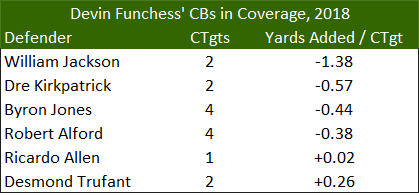 Expect Funchess' weekly target totals to increase with the Panthers coming off their bye.