The exact definition of a fantasy football sleeper or bust is difficult to pin down. For my purposes, I keep it simple: Sleepers are players who I expect to outperform their norm or their expectation, even by a little, and busts are players I expect to fall short. Sometimes, this means a guy is in store for a monster week; sometimes it means a little-used player needs to crack lineups.
Either way, each week in this space I'll use PFF advanced stats to try to identify a handful of the week's key sleepers and busts for fantasy.
Week 14 fantasy football sleepers
Kirk Cousins, QB, Minnesota Vikings: It's hard to imagine the Vikings leaning hard on Dalvin Cook in Week 14, given how banged up he has been in recent weeks. Detroit's defense has been very friendly to running backs (third-most PPR points per game allowed) but also to quarterbacks (eighth-most), so this seems like a good week to lean on the passing game.
Ryan Fitzpatrick, QB, Miami Dolphins: Over the last five weeks, Fitzpatrick is the No. 5 fantasy quarterback, with 8 passing TDs and 2 rushing. He also has the No. 5 PFF passing grade. Fitzpatrick has the risk of turning back into a pumpkin at any given moment, but for now, he's been elite, and with Jamal Adams likely out Sunday, the Jets pass defense will be well below full strength.
Kyle Allen, QB, Carolina Panthers: The Falcons shut down the Carolina offense last time these two faced off, with Allen throwing 4 interceptions and no touchdowns. In two games since, though, he has a 5:1 TD:INT ratio, plus a rushing score, and while he hasn't been a good real quarterback, the tanking of the Carolina defense has kept him fantasy relevant. We can expect that roll to continue against an Atlanta team that didn't continue the strong defense run of Weeks 10-11.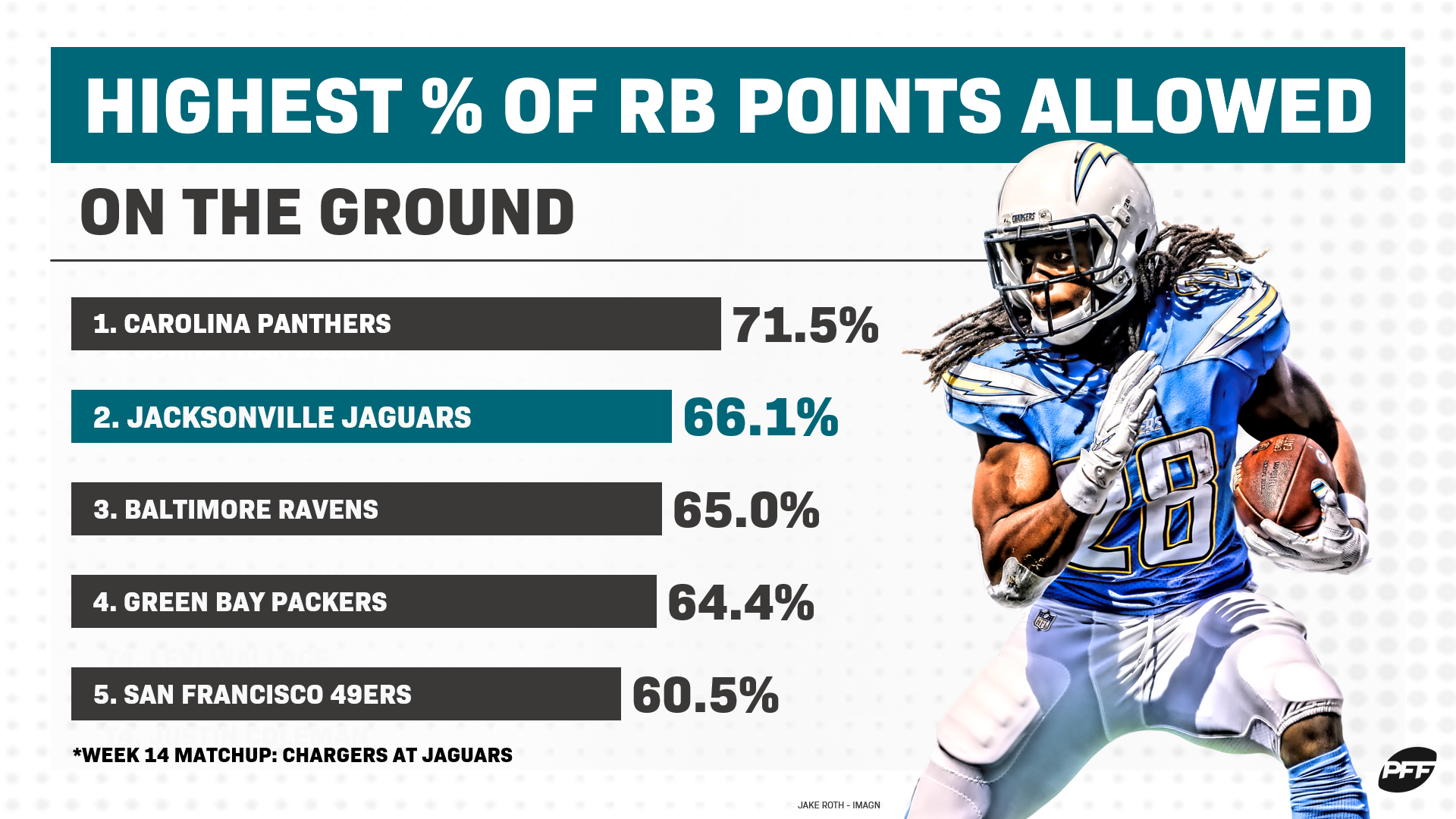 Melvin Gordon, RB, Los Angeles Chargers: The Jaguars have been vulnerable to running backs this year, allowing the eighth-most PPR points per game to the position. In the last four games, the Jags have allowed a whopping seven running backs to reach double-digit points. And crucially for Gordon, almost two-thirds (66.1%) of the points the Jaguars have allowed to running backs have come on the ground, the second-highest percentage in the league. This has all the makings of a Gordon week over an Austin Ekeler one.
Alexander Mattison, RB, Minnesota Vikings: I mentioned above how Cousins makes sense as a big performer in Week 14, but there's another way this game could go, and that's with the Vikings taking it easy on Cook and/or Cook getting re-injured and Mattison taking control. The rookie is actually averaging more yards after contact per attempt (3.36 to 3.17) and more forced missed tackles per attempt (0.21 to 0.18) than the starter, and while that is not a way of saying he's as good as or better than Cook, Mattison with a big workload against the Lions could be a week-winner.
Darwin Thompson, RB, Kansas City Chiefs: The Chiefs signed Spencer Ware this week, and while Ware off the street isn't likely to jump right into a big workload, it is at least a small hint that the team is nervous about the going-forward availability of Damien and/or Darrel Williams. And with Andy Reid going very easy on LeSean McCoy lately, that leaves Thompson to get the work. He was a popular sleeper this preseason for a reason.
Zach Zenner/Patrick Laird/Myles Gaskin, RB, Miami Dolphins: It's not a good matchup for the Miami backfield against the Jets, but what do the Dolphins have to lose at this point? They traded away one starting running back, released another, and put the third on IR. Why not see what the current group can do down the stretch? My pick would go to the newly acquired Zenner, who we've at least seen have flashes in the past, but if diving deep, there is a tiny bit of potential here.
Robert Woods, WR, Los Angeles Rams: Woods has 34 targets over the last four weeks … and that's despite missing Week 11 in that surprise "personal business" inactive. The only player with more than one game in that span and more targets per game than Woods' 11.3 is D.J. Moore, at 11.5. In the same span, Cooper Kupp is averaging 6.0 targets per game, and no other Ram is over 5.0. Yes, it's frustrating that Woods hasn't found the end zone on a reception, but with that target load it'll come.
Robby Anderson, WR, New York Jets: In the last two weeks, Anderson has 15 targets, Jamison Crowder 13. On a 19.0-yard average depth of targets, Anderson has caught 11 of his passes for 187 yards. On a 9.0-yard aDOT (theoretically making for easier catches), Crowder has caught 4 for 26 yards. Anderson is setting himself apart from his teammates lately. The Dolphins have tied for a league-worst 10 TDs on passes targeted 20-plus yards down the field, Anderson's specialty.
Zach Pascal, WR, Indianapolis Colts: Ex-PFF'er Pat Thorman tweeted out the other day that the Colts have had complete turnover in their passing game from the players who ran the most routes in Week 1 to Week 13, and while the team still might get T.Y. Hilton and/or Marlon Mack back at some point, Pascal and Jack Doyle are the team's main pass-catchers now. Pascal erupted for 7 catches and 109 yards last week against the Titans, his fourth game this year with 70-plus yards — Hilton missed three of those four and is unlikely to play this week.
Anthony Miller, WR, Chicago Bears: The Cowboys have been susceptible to teams' No. 2 receivers in recent weeks — John Brown scored 10.8 points against them on Thanksgiving, Cole Beasley 23.0. Kenny Golladay scored 4.4 in Week 11, Marvin Jones 19.9. They've also been just as vulnerable to the slot (17.8 PPR points per game allowed) as to outside receivers (18.2), a rarity. Miller, who lines up mostly in the slot and is second to Allen Robinson, fits the bill and has been on the rise lately.
Vance McDonald, TE, Pittsburgh Steelers: Tight end against Arizona. Moving on.
Jack Doyle, TE, Indianapolis Colts: As mentioned above in the Pascal section, the Colts offense is running out of players, but the ones that are left, like Doyle, are getting huge opportunity. Doyle just set season-highs in snaps, targets, receptions, and yards in his first game with Eric Ebron on IR, and we can expect him to do that again.
Ian Thomas, TE, Carolina Panthers: Thomas was the No. 6 PPR tight end over the last five weeks of 2018 once Greg Olsen was out. Assuming Olsen misses this week with his concussion, a matchup against the Atlanta defense could push Thomas up the list again.
Kaden Smith, TE, New York Giants: As of this writing, there's a chance Evan Engram returns Monday for the Giants, which would push Smith off this list. But if Engram misses again, Smith has filled in for him capably the last two weeks, catching 11-of-13 targets for 87 yards and a score. At tight end, that's enough.
Busts
Dak Prescott, QB, Dallas Cowboys: As mentioned in this week's look at the best and worst fantasy matchups, the Bears have gone 22 games without allowing a quarterback to reach 20 fantasy points. Prescott, whose rushing has dipped slightly this year, has all of 2 touchdown passes in his last two weeks. His ceiling has dropped.
Josh Allen, QB, Buffalo Bills: The Bills and Ravens both offer very tough offenses, and while both team's quarterbacks are quasi-unicorns and aren't always comparable to their peers, it's worth noting that both teams have allowed under 10 rushing yards per game to quarterbacks, something only five total franchises can say. The Ravens haven't allowed a 15-point game to an opposing quarterback since Week 7, a 17-point one since Week 3.
Tom Brady, QB, New England Patriots: Brady's Week 13 looks good in retrospect because of a hot finish in comeback mode; before that he hadn't reached 20 fantasy points since Week 6. And the Patriots offense is notorious lately for relying on Julian Edelman and not much else; the Chiefs allow the second-fewest PPR points per game to receivers on the season. It's hard for me to find a way for Brady to put up a big game even opposite a good offense.
Alvin Kamara, RB, New Orleans Saints: Is Kamara's injury lingering? He hasn't been nearly as elusive as he once was since returning from injury, forcing barely over 1.0 missed tackles per game. And facing a tough San Francisco defense that has only allowed 3 touchdowns to running backs all year, this isn't the week to get him going.
Dalvin Cook, RB, Minnesota Vikings: I listed both Kirk Cousins and Alexander Mattison as sleepers above based on the idea that Cook isn't likely to be 100% and might not get his full workload. Well, it's clear what that should mean for Cook himself.
Chris Carson, RB, Seattle Seahawks: Carson has been roughly as good as always in recent weeks, but as Rashaad Penny has come on and gotten more work, there is less for Carson. If this becomes a full-blown committee, that definitely caps Carson's upside.
Derrius Guice, RB, Washington: Guice had a monster Week 13, turning 10 carries into 129 yards and 2 touchdowns. Of course, that came one week after he had the same number of carries against the Lions and managed only 32 scoreless yards. Both are bad run defenses. The simple truth is that while Guice has worlds of upside, he isn't getting the workload you'd like for a fantasy back, and that makes him hard to trust.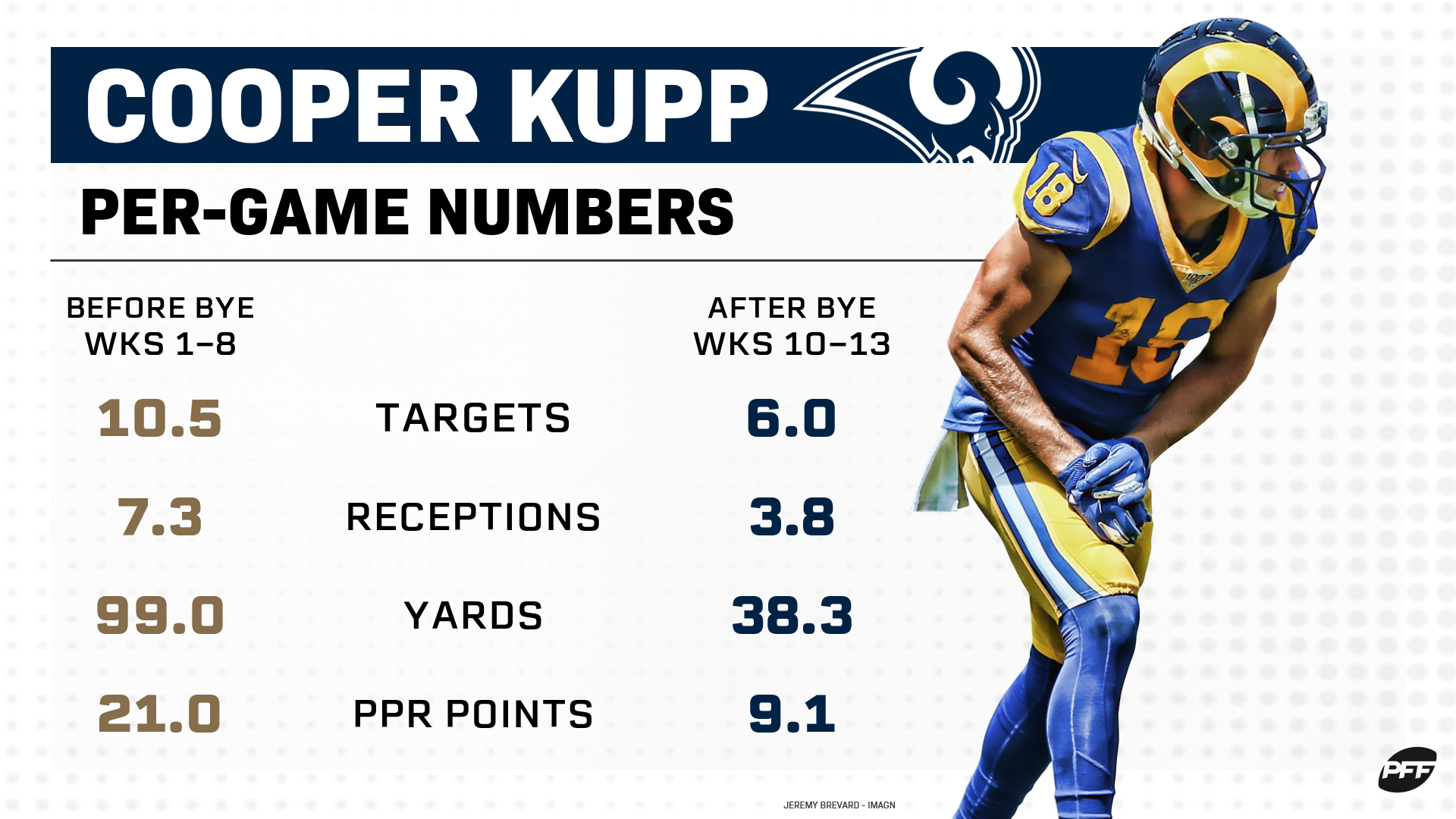 Cooper Kupp, WR, Los Angeles Rams: I mentioned above that the Rams have looked Robert Woods' way a crazy amount in recent weeks. That has meant Kupp has seen his workload drop. After 100-plus yards in five of his first eight games, Kupp hasn't topped 65 (and has only 153 total) in four games since the team's bye.
D.J. Chark, WR, Jacksonville Jaguars: The Jaguars are in a tailspin of late, losing four straight games by an average score of 32.3-11.8. That alone is enough to scare you off of the team's top offensive options at their previous level, because a team scoring 12 points a game is unlikely to produce much fantasy value. Add in that Chark, who has had 47 or fewer yards in three of his last four games, is likely to see a shadow from Casey Hayward, and he's hard to trust.
John Brown/Cole Beasley, WR, Buffalo Bills: Brown and Beasley have proven to be a productive duo for the Bills this year, with Brown being a borderline WR1 so far this year and Beasley scoring 5 touchdowns in his last seven games and being WR13 since Week 7. But does any of that matter this week? Per our WR/CB matchup chart, they have two of the toughest matchups of the week, against a Ravens defense that hasn't allowed a 100-yard receiver since Week 4 and only 3 touchdowns to the position since acquiring Marcus Peters.
Travis Kelce, TE, Kansas City Chiefs: To be fair, Kelce should still be a top-two (or better) tight end in most rankings this week. But a matchup against an elite Patriots defense has to bring down all the Chiefs' top weapons a bit.
Kyle Rudolph, TE, Minnesota Vikings: Rudolph was in this space a week ago under the thinking that Adam Thielen would be making his return, only for Thielen to suffer a setback afterward. So the same logic applies here: If Thielen is back, Rudolph likely goes back to his pre-Thielen-injury status as an afterthought in this offense. If Thielen remains out, ignore this paragraph.
Jacob Hollister, TE, Seattle Seahawks: Hollister exploded onto the scene in Weeks 9-10, catching 12-of-16 targets for 99 yards and 3 touchdowns, and it made us all snap to attention under the thinking that Hollister could be the new Will Dissly. In two weeks since, though, he has only 8 catches for 66 yards. That's more in line with who Hollister likely is, a low-end TE2 you hope finds the end zone and not someone to count on outside of a Week 16 game against the Cardinals.