The exact definition of a fantasy football sleeper or bust is difficult to pin down. For my purposes, I keep it simple: Sleepers are players who I expect to outperform their norm or their expectation, even by a little, and busts are players I expect to fall short. Sometimes, this means a guy is in store for a monster week; sometimes it means a little-used player needs to crack lineups.
Either way, each week in this space I'll use PFF advanced stats to try to identify a handful of the week's key sleepers and busts for fantasy.
Week 13 fantasy football sleepers
Nick Foles, QB, Jacksonville Jaguars: Foles gets a dream matchup against a sievelike Buccaneers pass defense that is allowing the second-most fantasy points per game to opposing quarterbacks, per our points allowed matchup chart. And Foles has come back slinging it, with 95 pass attempts in two starts since returning from injury, nine more than any other quarterback in the league. That matchup with that pass-happiness? Foles has a huge ceiling.
Sam Darnold, QB, New York Jets: Over his last four games, Darnold has faced the Dolphins, Giants, Washington, and the Raiders. He struggled against Miami, but has 76.3 fantasy points in the other three games, third in the league behind Lamar Jackson and Josh Allen. If you want to credit his easy schedule for that, I won't argue, but the fact that he faces the Bengals this week just means that friendly schedule continues.
Ryan Fitzpatrick, QB, Miami Dolphins: Over the last five weeks, Fitzpatrick has quietly been a top-10 fantasy quarterback, with more points than Dak Prescott, Kyler Murray, or Russell Wilson in that span (albeit in one more game played). He has multiple touchdown passes, a rushing score, and/or 300-plus yards in every one of those games. And while the Eagles pass defense has improved of late, It's still only 21st in PFF coverage grading.
David Montgomery, RB, Chicago Bears: Yes, we were all burned by Montgomery against the Lions just a couple weeks ago, but we're going back to the well, because there was a reason the matchup made so much fantasy sense, and that's still true. The Lions have allowed the second-most PPR points per game to opposing backs. The Bears are three-point favorites in this game, and that's with Jeff Driskel expected to be the starter. If David Blough has to take the reins, this should be an extremely run-heavy gamescript for Chicago.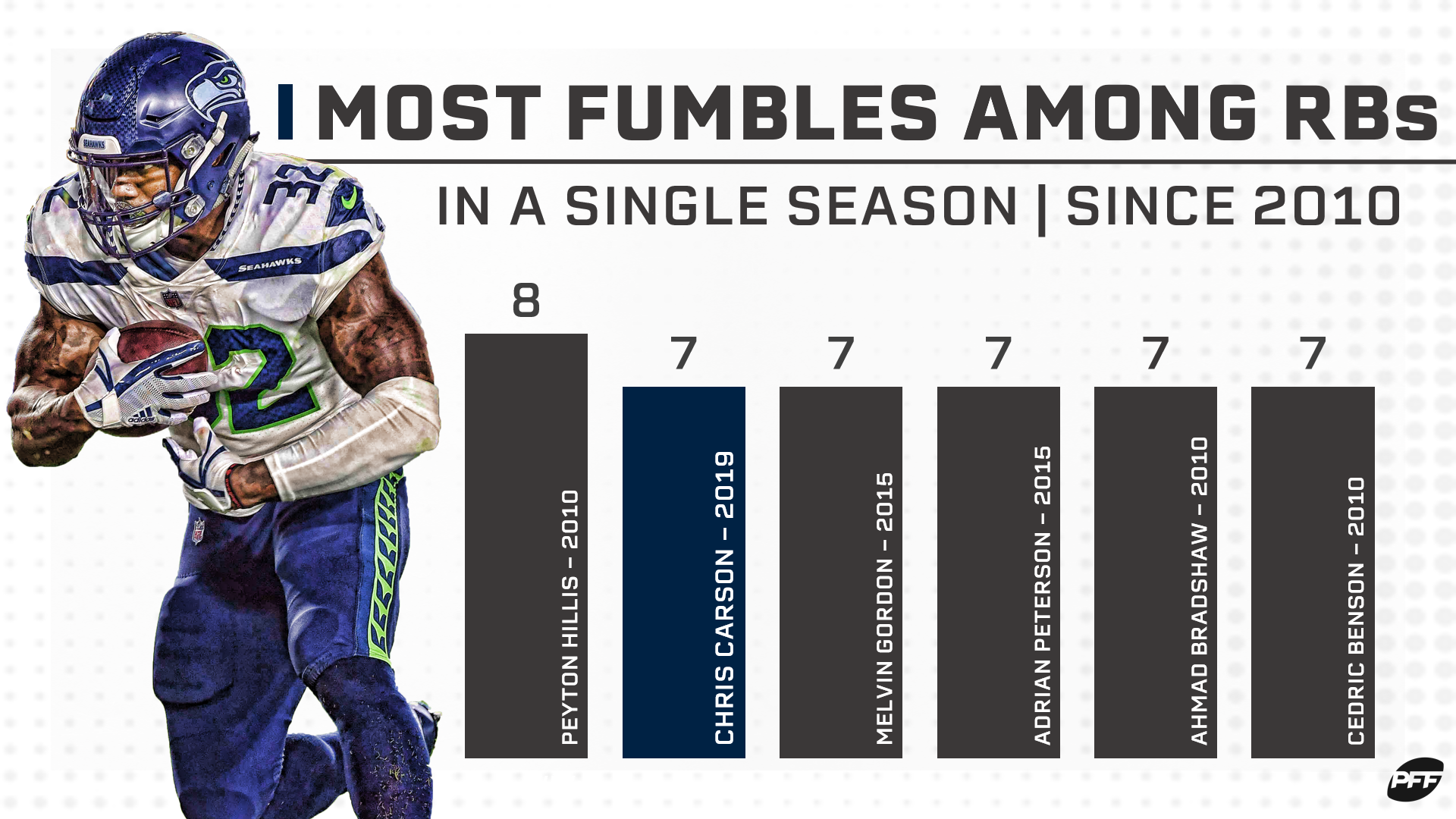 Rashaad Penny, RB, Seattle Seahawks: Penny set a career-high in carries and rushing yards last week against the Eagles, carrying the ball 14 times for 129 yards. If the Seahawks have been scared by Chris Carson's fumble issues (he has 7, three more than any other running back), we could see an increased role for Penny the rest of the way, and while the Vikings are a tough matchup, Penny has a high ceiling.
Benny Snell, RB, Pittsburgh Steelers: Snell returned from injury last week and immediately ran away (pun intended) with the quasi-workhorse role in the Steelers backfield, getting 21 carries compared to 10 for all the team's other running backs. He's not likely to do much in the passing game, but with James Conner still out this week and the Steelers having passed the ball 64.3% of the time the last time Devlin Hodges started, Snell could get plenty of carries again.
Davante Adams, WR, Green Bay Packers: Adams, a sleeper? Well, his early-season struggles have him rolling with the perception of a low-end WR1, but I'm very comfortable putting him back up near the top in this week's PFF Fantasy staff rankings. The only players with longer active streaks of 10-plus targets than Adams' current four-game streak are Michael Thomas (seven games) and Julian Edelman (six). And our WR/CB matchup chart shows that Adams matchup against Janoris Jenkins this week is the single biggest advantage for any receiver this week.
Tyler Boyd/Auden Tate, WR, Cincinnati Bengals: In Andy Dalton's eight starts this year, the Bengals threw the ball nearly 70% (69.3%) of the time. Yes, that's gamescript as much as scheme, but this is still a bad team. When Ryan Finley took over, the team went much more run-heavy, barely throwing the ball half the time (51.2%) despite largely the same awful gamescripts. Now with Dalton back at the helm, we can expect more passes again, and that means good things for the team's top receivers.
Anthony Miller, WR, Chicago Bears: Miller's stock used to be on the rise a few weeks ago, with three straight games of 50-plus yards in Weeks 5-8. And then, out of nowhere, it disappeared, as Miller caught 1-of-3 targets for 7 yards in Weeks 9 and 10 combined. But just as suddenly, it's returned, and he has 12 catches on 17 targets for 131 yards the last two weeks. With Taylor Gabriel back in the concussion protocol, Allen Robinson likely to be covered by Darius Slay, and no tight end to speak of, Miller could see a big Thanksgiving performance.
Russell Gage, WR, Atlanta Falcons: Gage has been flirting with fantasy relevance ever since Mohamed Sanu left Atlanta. This week, against a Saints team allowing the sixth-most PPR points per game to opposing slot receivers, I think that flirtation reaches full-blown romance.
Zay Jones, WR, Oakland Raiders: Jones hasn't done much since joining the Raiders, with 11 catches on 14 targets for 88 scoreless yards in five games in Oakland. So this is a deep pull, but with Hunter Renfrow out, Jones makes sense as the next man up in the offense to grab some of his target load.
Gerald Everett, TE, Los Angeles Rams: We all know the Cardinals' run against tight ends this year. Everett's work has slipped of late (2 or fewer targets in three of his last four games), but there's reason to believe the matchup brings it back this week. (Everett is on the injury report with a knee issue, and if he misses the game, pretend I said all of this about Tyler Higbee.)
David Njoku, TE, Cleveland Browns: If you've been scuffling along at the tight end position this year (and who hasn't?), Njoku could be a late-season savior. He's got a shot to be activated for the Browns' game Sunday against the Steelers, who have allowed the ninth-most PPR points per game to tight ends. And it's easy to forget now, but Njoku came into the season with plenty of buzz, and opened well, with a 4/37/1 line in Week 1 before getting hurt in Week 2.
Jack Doyle/Mo Alie-Cox, TE, Indianapolis Colts: There are two ways the Colts can play the Eric Ebron injury: They can give Ebron's work to Doyle, or they can give it to Alie-Cox. If it goes to Doyle, he's interesting as a low-end TE1. And if it goes to Alie-Cox, he has flyer written all over him. Either way, these guys are worth watching.
Busts
Dak Prescott, QB, Dallas Cowboys: Prescott runs. The Bills haven't allowed a quarterback to top 35 rushing yards this year (and only Carson Wentz has topped 14). Prescott throws it to Amari Cooper. Bills CB Tre'Davious White hasn't allowed a touchdown in coverage this year in 693 defensive snaps, most in the league. Prescott scores fantasy points. The Bills have allowed the third-fewest fantasy points to quarterbacks.
Jimmy Garoppolo, QB, San Francisco 49ers: Sunday's 49ers/Ravens game has a healthy-if-not-enormous over/under of 45.5 points, but there are plenty of scenarios where this game ends up as a 10-7 defensive slugfest. It's hard to imagine Lamar Jackson getting seriously held in check, but Garoppolo is no Lamar Jackson, and the Ravens haven't allowed an opposing quarterback to top 17 fantasy points since Week 3, or 15 points since Week 7.
Mark Ingram, RB, Baltimore Ravens: Much of Ingram's production this year has come on touchdowns, and the 49ers have only allowed 3 touchdowns to running backs all year (second-fewest in the league). It will be hard for Ingram to get much space in this one.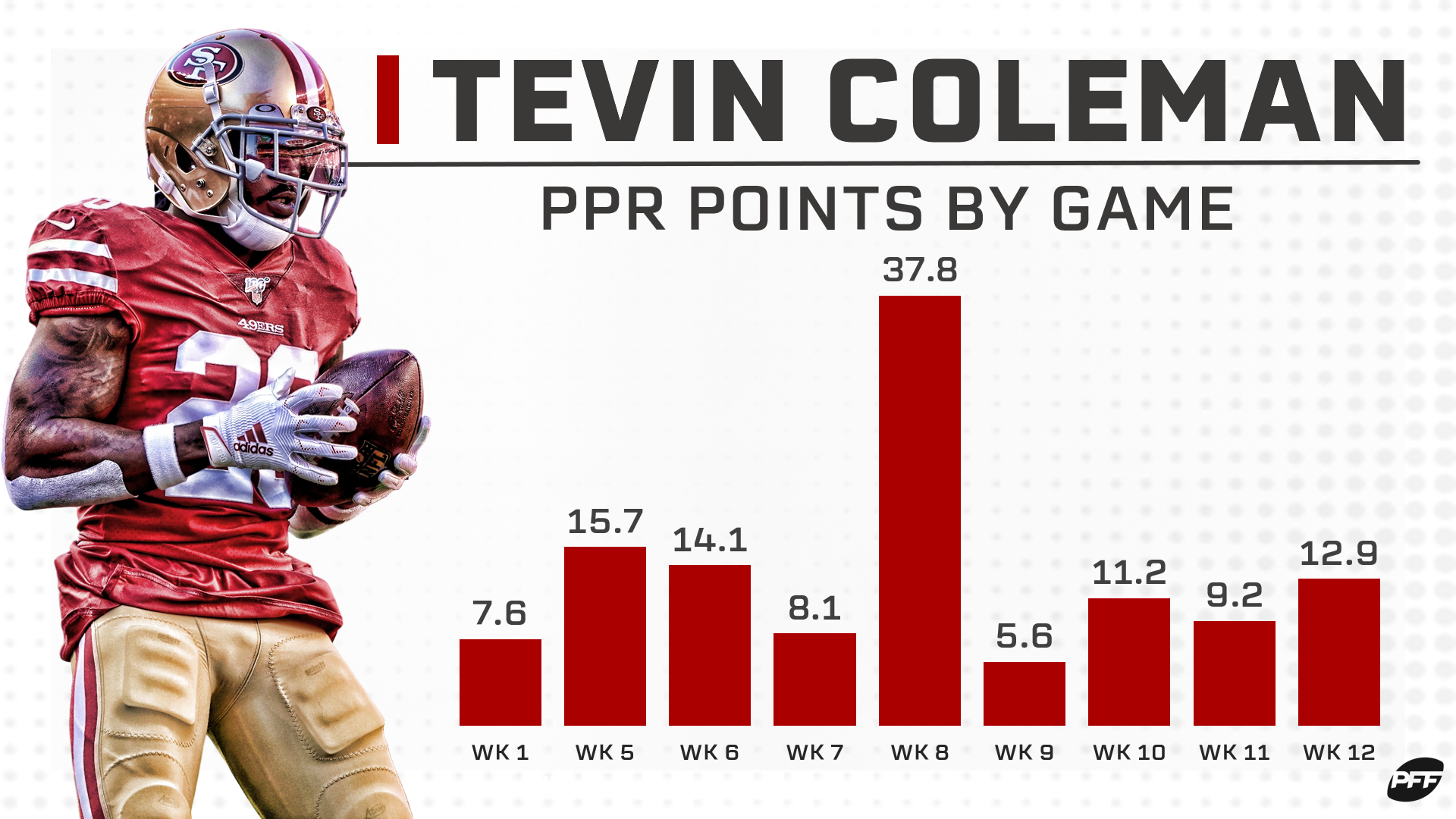 Tevin Coleman, RB, San Francisco 49ers: And opposite Ingram is Coleman, who hasn't had more than 12 carries or 15 touches in a game since Week 7, averaging 11.0 carries a game in that time. He hasn't had more than 40 rushing yards since his Week 8 explosion against the Panthers. And the Ravens have been lights-out against running backs since some early-season blips.
James White, RB, New England Patriots: As mentioned in the Week 13 players to drop, White hasn't had more than 16.4 PPR points in a game all season, and only has one game with more than 13.8. He has averaged only 2.8 receptions a game over the last month and only has two touchdowns all year. He's not going to vanish from this offense, but he doesn't have much upside.
Amari Cooper, WR, Dallas Cowboys: As mentioned above, Cooper is likely to see shadow coverage from Tre'Davious White in this game, bad news for any cornerback. And given the success that Michael Gallup and Randall Cobb have had of late, it doesn't make a lot of sense for the Cowboys to force the ball to Cooper when the others can do fine.
Kenny Golladay/Marvin Jones, WR, Detroit Lions: Assuming Jeff Driskel plays Thursday, he hasn't made much out of either of his big-name receivers in his three starts so far, with the two combining for 71.4 PPR points in his three starts (that combined total would be behind either of Michael Thomas or Jarvis Landry in that stretch). And if Driskel is out and David Blough starts … well, there's a reason Blough is a third-stringer that a lot of people haven't heard of.
Will Fuller/Kenny Stills, WR, Houston Texans: Fuller's return signaled the likely end of Stills' real relevance. But that doesn't mean we want much of Fuller this week, likely to see coverage from Jonathan Jones and the stout Patriots defense. DeAndre Hopkins is DeAndre Hopkins, but otherwise you want no part of the Texans' receivers this week.
Dallas Goedert, TE, Philadelphia Eagles: Goedert's stock for this week comes down largely to which and how many receivers the Eagles get back on the field. If Alshon Jeffery and Nelson Agholor are back, his ceiling drops. But even without them, Goedert hasn't topped 40 yards in a game since Week 7. He's a low-floor, low-ceiling option.
Vance McDonald, TE, Pittsburgh Steelers: Speaking of 40 yards, that's the most McDonald has managed in a game all year, the worst "best" game for any of the top 40 tight ends. Even with the Steelers weapons banged up all around the offense, McDonald hasn't seen his work climb.
Kyle Rudolph, TE, Minnesota Vikings: In Weeks 7-11, Rudolph was fantasy's No. 2 tight end, behind only Travis Kelce. Not coincidentally, Adam Thielen played only 16 snaps in that span. When Thielen was healthy early in the year, Rudolph was all but irrelevant in fantasy, with 9 receptions for 72 yards in Weeks 1-7, TE49 in that span. Well, Thielen is expected back this week.