Looking back on what you thought before can be very beneficial in fantasy football It helps you hold yourself accountable. It helps keep you humble. It shows you areas where you can improve.
When reviewing a prediction, you want to have been right for the right reasons. Everything else, and even that, teaches an important lesson. Remember, you can be right for the wrong reasons. You can also be right but not right enough.
Anyway, below we're going to reverse-engineer a decision journal to see if we can't learn any lessons for 2020. Here were five my boldest calls from the 2019 season (starting from best to worst):
1. "The single greatest fantasy value in current drafts (at any position) is Lamar Jackson (ADP QB15), my single-highest-owned player this year." (August 2019)
Reasoning: Due to the severity of the Konami Code, Jackson was already high on my list of draft-day targets. For all the reasons outlined in my look at the quarterbacks with the most rushing potential – a new mobile-quarterback-friendly offensive coordinator, a new scheme tailored to Jackson's strengths (rather than Joe Flacco's), new speedy playmakers added via the draft, underrated accuracy in college, historically great point-per-dropback numbers, etc. – he was not only my No. 1 target at the position, but my No. 1 target in all drafts.
Result: What happened? Jackson scored the most fantasy points by any quarterback ever, and, with a 10th-round ADP, was arguably the best pick you could have made in fantasy football last year.
Ruling: Right for the right reason.
Lessons learned: The Konami code is real. For 2020, downgrade quarterbacks who lack rushing upside – the top-five quarterbacks by rushing attempts all ranked top-seven in fantasy points. Don't overreact to a one-year sample – especially with highly-drafted rookies. Don't ignore coaching changes.
2. "I think there's a really good chance Chris Godwin outscores Mike Evans/supplants him as the team's WR1.. And I'm not really/haven't ever been a 'Godwin guy' and I really don't hate Evans as a player. (August 2019, when their ADP was three rounds apart)
Reasoning: Following two years of unmaterialized hype on hyper-efficiency but part-time playing time, a new regime came into Tampa Bay and offered us hope. New head coach Bruce Arians had said Godwin would be used as an "every-down player" with "100-catch upside" in the "Larry Fitzgerald/slot role". Of course, this all could have been typical hyperbolic coach-speak, but, Arians' passing offense has historically run through his slot wide receiver, and, even if Arians overshot his expectation by 20%, Godwin still would have been an immense value (he finished the season on pace for 98 receptions).
Result: Godwin finished the season ranking behind only Michael Thomas in fantasy points per game (19.7). He finished ahead of Evans, but only by two spots and 1.8 fantasy points per game.
Ruling: Mostly right for the right reasons. The regime change wasn't appropriately factored in to Godwin's ADP. That's right, but Godwin's ascension had little impact on Evans. This was the most efficient season of his career, and his 17.9 fantasy points per game was the third-most of his career.
Lessons learned: Not all coach-speak is "coach-speak." Regime changes matter. Coaching history matters.
3. "Mark Andrews breaks the PFF record for yards per route run this year." (September 2019)
Reasoning: I explained why Andrews was my favorite sleeper at the position (ADP: 13th round, TE15), and touched on some of the broader points there. However, the YPRR take can be made a good deal simpler. Basically, tight ends tend to make a significant leap in their sophomore seasons. In 2018, Andrews averaged 2.01 yards per route run, which ranked 35th-best of the PFF era, and best by any rookie tight end in PFF history. He showed terrific rapport with Jackson, specifically averaging an absurd 3.70 YPRR when Jackson took over as the starter. In his junior year at Oklahoma (2017), Andrews averaged 2.63 YPRR — the second-best rate of the PFF College era (2014-2018), bested only by Dallas Goedert in 2017 (3.00).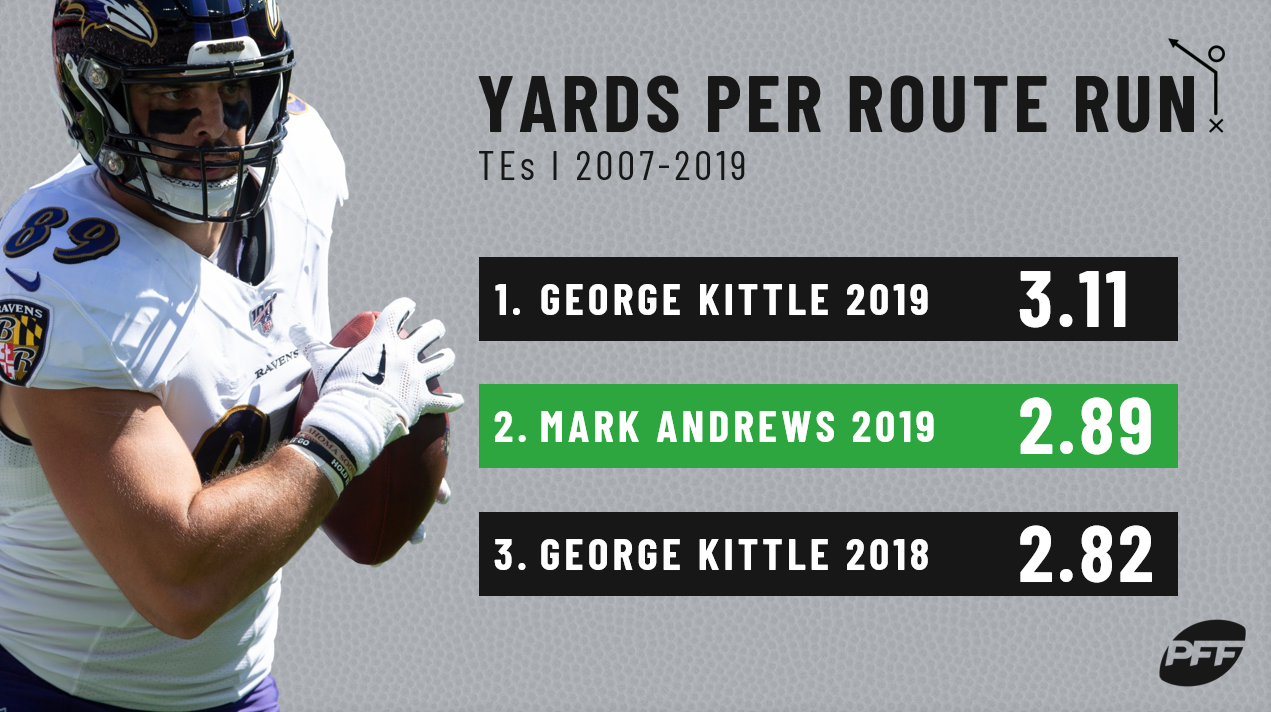 Result: In 2019, Andrews broke George Kittle's record (2.83), averaging 2.89 yards per route run. (Kittle actually broke the record by even more.) He also led all tight ends in best ball win rate, with Andrews owners winning 17.5% of their leagues.
Ruling: Right for the right reasons. Andrews is just really good.
Lessons learned: For any receiver, YPRR continues to be the best and most predictive efficiency stat in fantasy football.
4. Fade Derrick Henry in Round 4 of PPR Drafts (August 2019)
Reasoning: There's no doubt Henry is a phenomenal runner, but he has always been an afterthought in the passing game. Dating back to 2014, he's never reached even 20 targets in a single season. (He had 24 in 2019.) Remember, in PPR leagues, targets are worth 2.83 times as much as a carry for running backs. And, because he was such a liability in the passing game, Dion Lewis outsnapped Henry 600 to 401 on the 9-7 2018 Titans. With Vegas projecting Tennessee to regress in 2019, that's a problem.
Result: In 2019, Henry averaged 20.0 fantasy points per game, which ranked third-most among all running backs.
Ruling: Though the premises may have been correct, it still didn't matter. My conclusion was false – fading Henry in the fourth round was a poor decision. Henry still wasn't used in the passing game, but he did average 16.7 fantasy points per game on the ground – the third-most by any player this past decade. And, I think that's the most important point. Henry is just really good. He averaged 4.18 yards after contact per attempt in 2019, the second-most of the PFF-era (2007-2019). The running back season that ranked first? Derrick Henry in 2018 (4.21).
Lessons learned: Elite talents can break some of our best rules.
5. Ranking David Johnson as a top-five pick (all offseason)
Reasoning: Following the hiring of Kliff Kingsbury, I couldn't stop drooling over Johnson's PPR upside. As outlined when I hyped Johnson's potential for a bounceback season, I envisioned elite volume along with similar efficiency to his 2016 season. I also blamed all his issues from 2018 on Steve Wilks' inept offense.
Result: Playing in 13 games, Johnson finished just 37th in fantasy points.
Ruling: It's hard to tell. I correctly predicted Johnson's good volume – through the first six games, he ranked fifth in XFP per game (17.5), and was quite efficient (+2.8). Then, he popped up on the injury report as questionable for four straight games with back and ankle injuries. His usage and production were never the same after that. Though, Kenyan Drake ranked fourth in fantasy points from Week 9 on.
Lessons learned: If there were a takeaway, it would have been that I should have taken my own warnings seriously here – that Johnson's abysmal 2018 did in fact point to a player in his decline. However, if Johnson's poor second half was due entirely to injury, this wouldn't be an instance where our process was wrong.