It can be dangerous to assume you know which matchups will be good for fantasy players and which will be bad before the NFL season even starts. So much changes with coaches, rosters, and player health from one season to the next that outlier defensive teams often fall back to the mean or switch from being a good to a bad fantasy draw or vice versa. Because of that inconsistency, my new weekly ranking system heavily regresses defensive tendencies from previous seasons. But even with the reduced extremes of my projections, offenses face clearly differentiated strengths of schedule. In fact, the difference between the best and worst schedule for passing is nearly 20 projected fantasy points in 2018.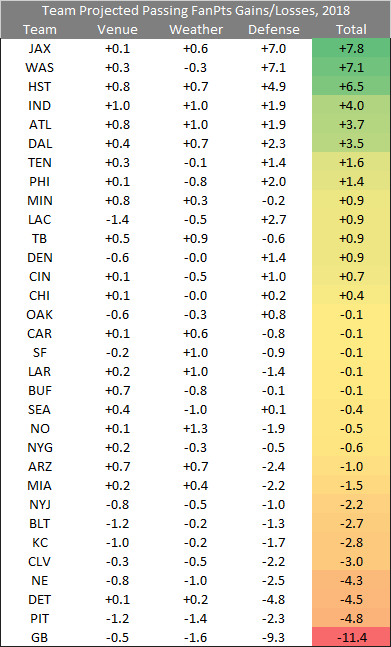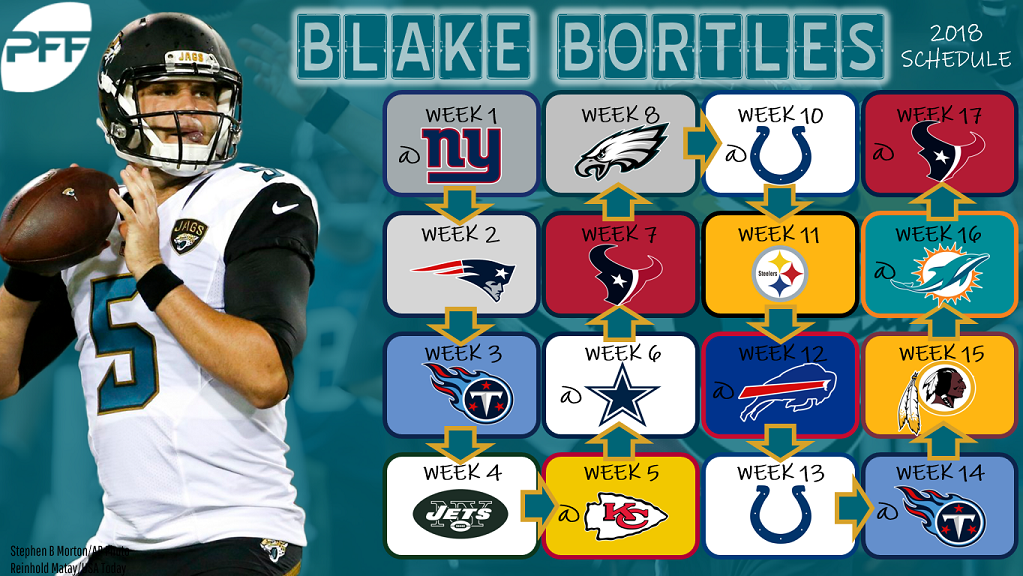 You know what the best part of Jacksonville's schedule is? They don't have to face their own defense, which happens to be top-five in restricting total pass plays, completion percentage, and yards per attempt and top-five in increasing interceptions per attempt and fumbles per dropback in my system.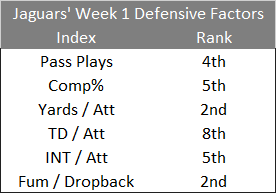 But as it turns out, the entire AFC South landed in the top-seven of most favorable fantasy passing schedules. It helps to have two domes and two outdoor home stadiums in the south that will likely dodge cold weather. Meanwhile, a lot of the windfall of passing points for teams in the division is really a side effect of excellent run defenses. All three of Tennessee, Houston, and Indianapolis allow fewer rushing yards and touchdowns per attempt than an average team, and Philadelphia and Miami have similarly stout run defenses and are members of the two outside divisions that landed on AFC South schedules this year.
The other standout team with a favorable fantasy passing schedule is the Washington Redskins, who have an even better slate of defenses to face than the Jaguars but give a little back because of some likely cold-weather affairs in December. As mentioned, the Redskins actually have to face the Jaguars — that is in Jacksonville in Week 15, so be mindful of that as you plan for the fantasy playoffs later this year — but they also play the rest of the AFC South teams with relatively weaker pass defenses than run defenses. The Panthers, Buccaneers, Giants, and Packers are also on their schedule with similar pass and run defensive tendencies. Few analysts are buying into Alex Smith's career-best No. 6 fantasy finish from last season, but excellent offensive skill talent and a passer-friendly schedule in 2018 make him my favorite sleeper at the position.
The Packers, themselves, have the misfortune of having far and away the worst schedule for fantasy passing this year. From a venue and weather perspective, that's nothing new for them. Lambeau is the frozen tundra, after all, and they close with three games there, one in Chicago, and one in New York over their final five. The real kicker is that their defensive opponents are also the most difficult for passing production thanks largely to a difficult division opponent in the Vikings, a divisional matchup with the NFC West, and unique draws of both the Redskins and Falcons with strong pass defenses.
Aaron Rodgers has the athleticism to take what his opponents give him and put up some stronger rushing numbers to counterbalance the expected loss of passing points. But I wonder if that difficult schedule will precipitate a team shift to a run-heavier offense. Jamaal Williams and in particular Aaron Jones looked like draft hits in their rookies seasons in 2017, and Rodgers' injury history is a stronger motivator for a team philosophical change than anything Drew Brees and the Saints had last year when they made the rushing push.