The Pro Football Focus fantasy football projections have taken a big step forward in 2019. For the first time our numbers are powered by the data science team here at PFF. The partnership between our data science team and our fantasy team allows us to leverage the best of both worlds to produce the most accurate numbers in the industry.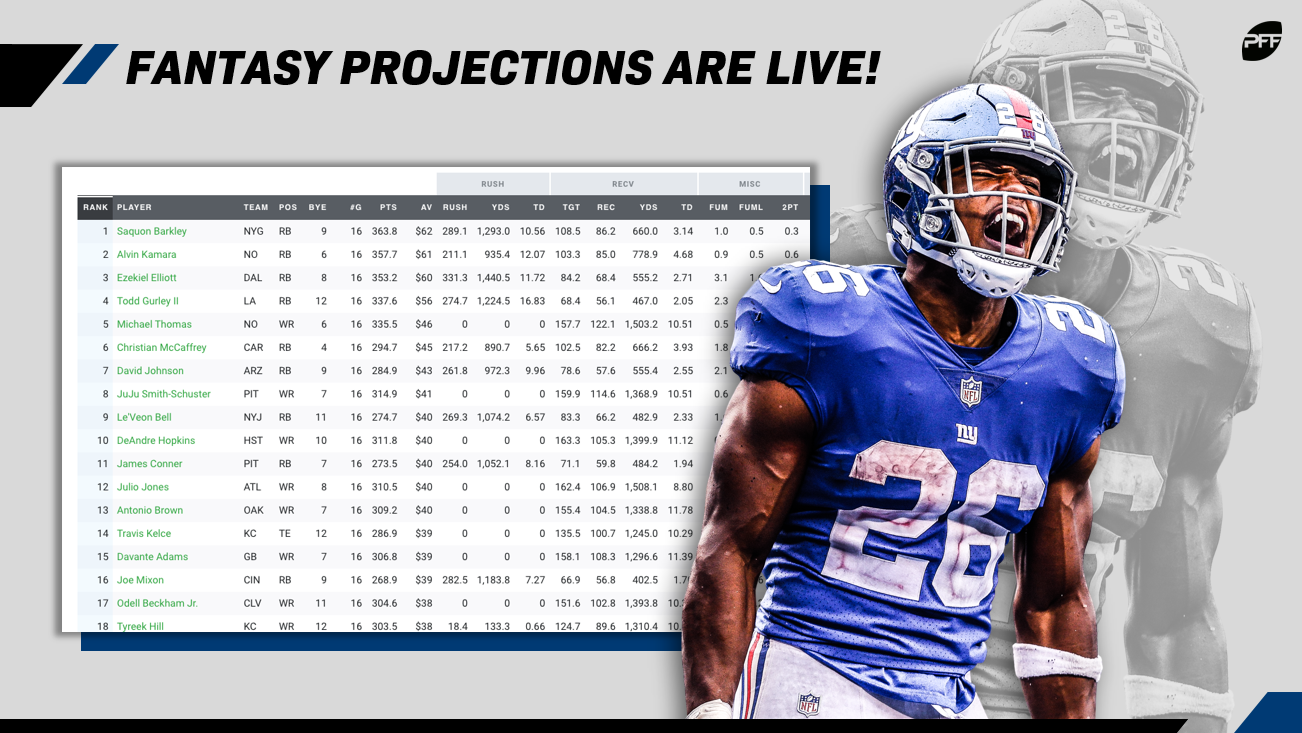 To kick off this new era in PFF Fantasy history, we've released the first batch of numbers in our 2019 fantasy football projections. These numbers now align with PFF Greenline, which was tremendously successful last season, going 55.6% against the spread and 68.5% on the moneyline. At the same time, our numbers lean heavily on the insights and analysis of our fantasy team with their in-depth knowledge of team tendencies, player usage, and other elements of the game.
Of course, this first batch of numbers will change after the draft later this month, but we can still get an overall sense of what to expect from each team this season. So let's take a look at some of the interesting numbers from this first batch of projections.
Quarterback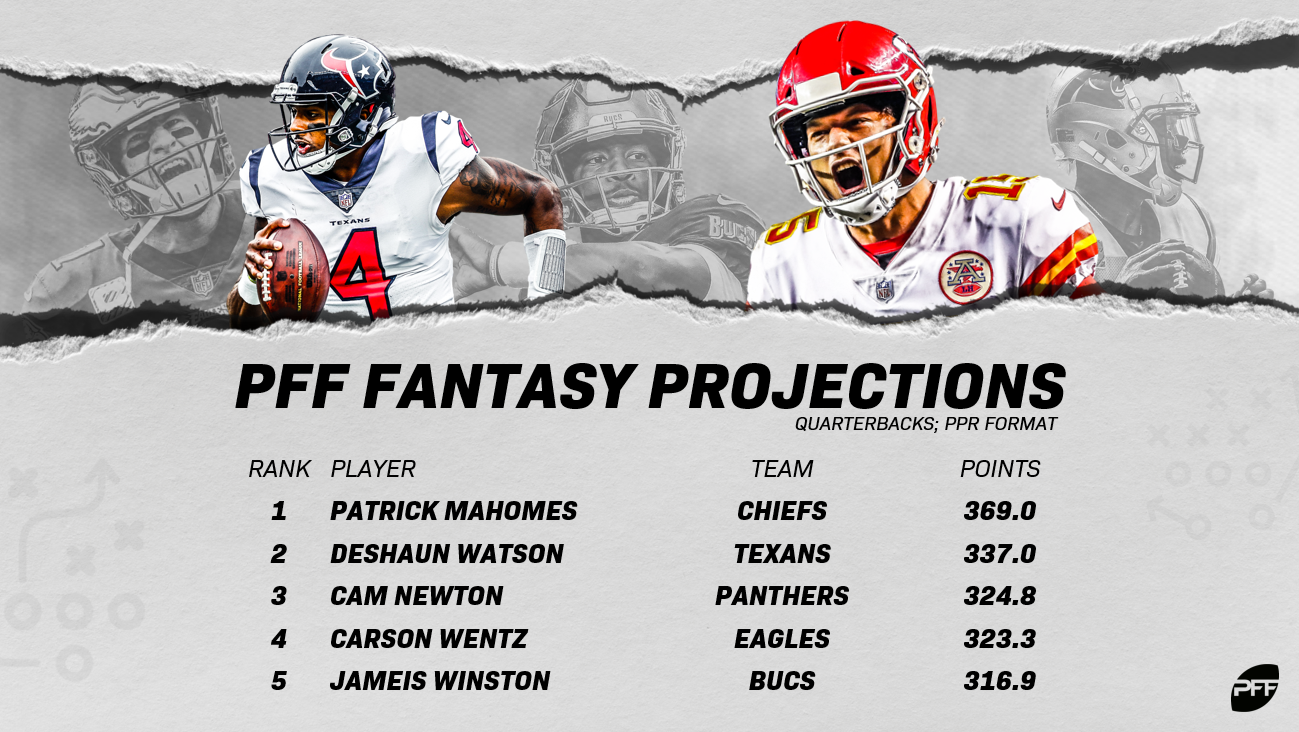 There are no surprises at the top. Patrick Mahomes is coming off a historic breakout season and is projected to pace the league's quarterbacks in fantasy scoring. Our model has Mahomes leading the league in passing yards with nearly 300 more than second place. While we have him regressing dramatically from his 50 passing scores last season, Mahomes is still projected to lead the league with 36.7.
Of course, we need to point out the obvious surprises in the top 10. Our model projects strong fantasy seasons from Carson Wentz, Jameis Winston, and Lamar Jackson. This is an important time to remind you that rankings and projections aren't the same thing. Projections serve as an excellent starting spot for rankings, but they should not be considered the end destination. However, to explain the model, Wentz is surrounded by a talented supporting cast and has shown elite fantasy ability in the past. Winston hasn't displayed those chops, but his receivers and Bruce Arians' offense gives him big time breakout potential. Jackson gets the fantasy cheat code boost of being projected to lead all quarterbacks in rushing yards. His abilities as a runner make Jackson more a more valuable fantasy asset.
We're starting to see the decline of several fantasy mainstays. Aaron Rodgers comes in seventh in our initial set of numbers and is not one of the 12 signal-callers projected to top 30 passing touchdowns. We have Drew Brees projected to finish second in passing yards, but he comes in as just the 11th fantasy scorer thanks in large part to his limited usages in the run game. Tom Brady enters this season with arguably the worst group of receivers he's had as a pro. His passing numbers took a hit last season, and we're predicting that decline continues in 2019.
One other player to note at quarterback is Baker Mayfield. Some may be surprised to see him come in at just 15th among quarterbacks. Mayfield has been widely drafted inside the top 10 quarterbacks in best ball drafts this offseason, but our number suggest he may be a bit overvalued. Touchdown regress plus a slight decline in completion percentage due to an anticipated increase in average depth of target are the biggest factors. But the fantasy takeaway is that we may be collectively too high on Mayfield right now.
Running back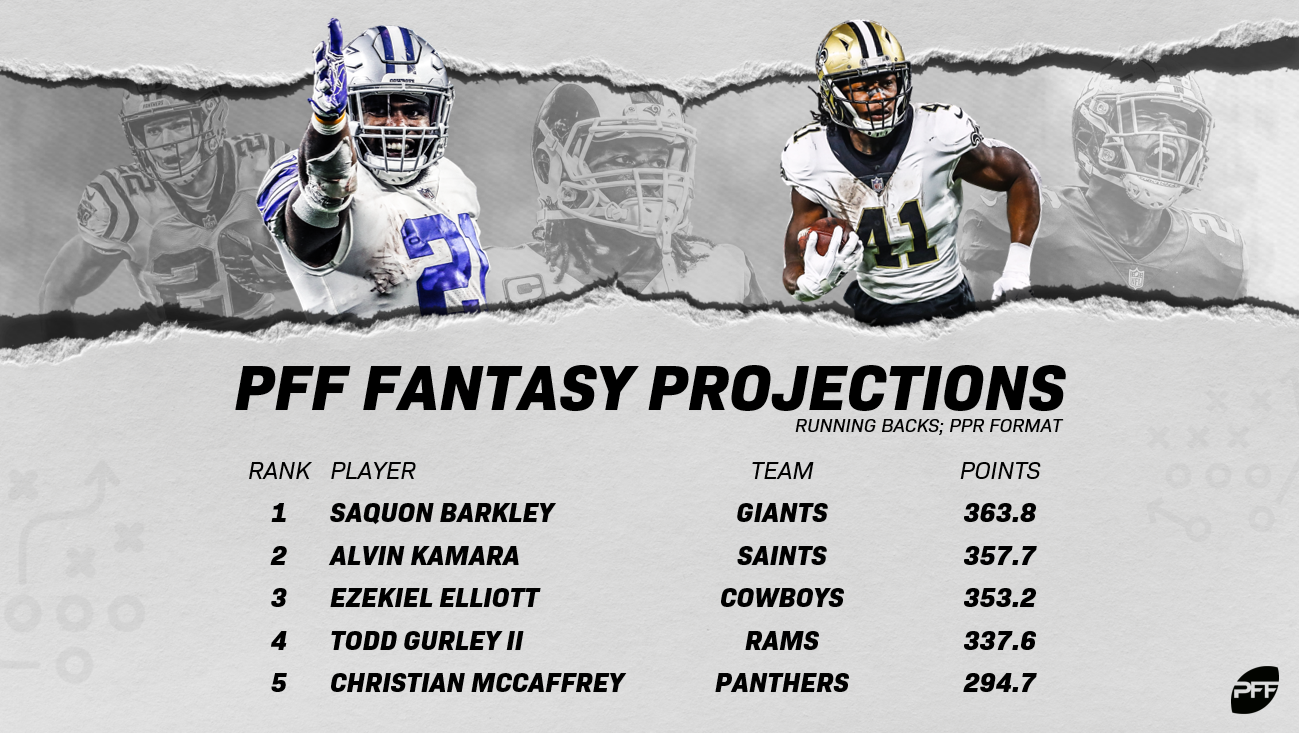 This first batch of numbers show just how wide open running back is at the top. Last year, it was essentially Todd Gurley and everyone else. But this year's numbers are extremely close between Saquon Barkley, Ezekiel Elliott, and Alvin Kamara. You can also toss Gurley in the mix, though we still need more clarity on his injury situation. Likewise, Christian McCaffrey should also be considered part of the conversation.
Elliott led the league in rushing yards last year, and our numbers have him as the odds-on favorite to do so again along with leading the league in carries. We also saw Elliott's role dramatically increase in the passing game in 2018. Look for that volume to continue this year, as Elliott projects sixth among running backs in targets.
Le'Veon Bell was one of the biggest disappointments of the 2018 fantasy season. The good news is that Bell will not be holding out this year, and he's positioned to see a heavy workload with the Jets. Our numbers have him seeing a healthy 349 touches. With that sort of volume, it will be tough for Bell to not finish as a top-10 fantasy running back.
Wide receiver
The projections came in fairly chalky at the top for wide receivers, with DeAndre Hopkins, Michael Thomas, and Julio Jones pacing the position. Of course, former teammates (and Twitter adversaries) Antonio Brown and JuJu Smith-Schuster also come in right near the top. Brown is in an excellent position to see heavy volume in Oakland, Likewise, Smith-Schuster is now locked in as the clear No. 1 option in Pittsburgh. There's a fair debate to be made about taking one player over the other, and our numbers have this as a razor-thin edge to Smith-Schuster.
You may have heard that Odell Beckham Jr. was traded to Cleveland this offseason. Beckham steps into an appealing situation with an ascending Mayfield. However, our numbers have Beckham at No. 7. While that's certainly not to say that he's going to be a bad fantasy option this year, it is worth noting, especially give where our model has Mayfield.
Chris Godwin has been perhaps the most-hyped fantasy wide receiver this offseason. I've already broken down why many fantasy players and pundits are too high on Godwin, but the numbers paint a similar picture. We have Godwin coming in at 75 catches for 978 yards and six scores. Those aren't bad, by any means. But they do have him as a back-end WR2. That's certainly going to come in short of the widespread belief that he's going to be one of this year's biggest breakouts.
Tight ends
If you had Travis Kelce, Zach Ertz, or George Kittle last season, you did pretty well for yourself. Don't expect much to change at the top this year, as that trio again projects out as the top three. However, things are a bit confusing from there, as Eric Ebron and O.J. Howard come in at Nos. 4 and 5. Both players have teammates who can also catch the ball in Jack Doyle and Cameron Brate, so neither is a sure thing. Likewise, many are pegging Hunter Henry for a breakout year, but he's still an unproven fantasy commodity. From there, tight end remains a complete mess. Some things never change.
So those are some of the numbers that stood out after this first batch was produced, but go and take a look at the PPF fantasy football projections for yourself. Don't forget that you can also check our full team DST projections as well. In May we'll be unveiling the new-and-improved IDP and returner projections. And be sure to be on the site during the NFL draft where we'll be adding in new players in real time as they get drafted. You'll get instant projections for all of these players to help you get an early edge in your best ball contests and dynasty rookie drafts.